The best depilator products to get fuzz-free without pain or nicks
Our expert guide to the best depilator creams, mousses, and gels for every area of the body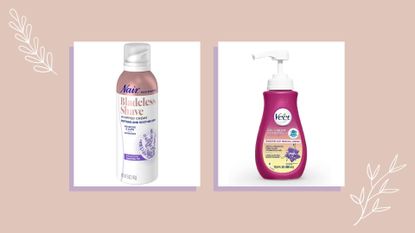 (Image credit: Future)
Maybe you're looking for the best depilator because it's already your preferred way to de-fuzz, or maybe it's because you're not happy with whatever else you've been using. Either way, finding a hair removal method that ticks every box can be challenging. Some are quick and painless but short-lived—looking at you, shaving—while others offer longer-lasting results, but the discomfort can be too much to bear.
If you're bored of the constant regrowth that goes along with using even the best razors for women, the best depilator‒meaning cream, lotion, or gel product that dissolves hair‒could be a perfect solution. Depilators are pain-free and quick to use at home, plus they have a longevity edge over shaving, according to board-certified dermatologist Dr. Debra Jaliman, MD.
"Unlike shaving, which just cuts the hair at the surface, depilatories use chemicals to penetrate the hair follicle," explains Dr Jaliman. "Using such a product causes the hair to cut off lower in the skin's surface. However, be advised that it does not remove hair as deeply as waxing does." The best depilator will also do away with shaving side-effects such as razor burn and ingrown hairs, although as with any chemical skincare ingredients, some caution is still necessary. "Always do a patch test to make sure you are not allergic to the product. And look for products that contain ingredients such as aloe and vitamin E which will help reduce irritation," advises Dr Jaliman.
After that, it's down to you to pick the best depilator for your personal skin smoothing needs. From creams to mousses and sprays, we've tested the best the market has to offer to find the perfect depilatory preparation for every skin type and budget.
THE BEST DEPILATOR, AS CHOSEN BY OUR EXPERTS
Why you can trust Woman & Home Our expert reviewers spend hours testing and comparing products and services so you can choose the best for you. Find out more about how we test.
1. Nair Sensitive Hair Removal Cream
Best overall depilator
Specifications
RRP: $8.09/£6.19
Texture: Cream
Active ingredients : Ylang ylang, camellia, beeswax
Scented: Yes
Areas to use product: Legs, underarms, bikini
Reasons to buy
+
Versatile usage
+
Gentle and non-irritating
+
Works quickly
+
Nourishes skin
If you're a first-timer to the world of depilatory products and wondering how does Nair work, welcome! It's fair to say that Nair Sensitive Hair Removal Cream does exactly what it promises; it removes hair quickly and effectively and does so in a sensitive manner.
The cream itself is typical of many of the best depilator products, in that it's got a thick yogurt-like texture and a mild chemical odor, partially disguised by a pleasant flower fragrance. Included in the box you'll find a very serviceable spatula with a flat edge for spreading the cream onto larger areas, and a little curve on the end for getting into awkward angles like the upper lip. Spread it on, test a patch after five minutes then make sure you remove the whole lot after 15. Almost every hair on our large testing area was entirely dissolved, leaving a mere handful of stragglers that were easily plucked.
Our skin felt soft and, crucially, we experienced absolutely no stinging or redness after use, not even a hint of warmth or a tingle. You can expect the hair to stay away for the best part of a week, with softer regrowth as time goes on. Essentially this does everything you could possibly want from a hair removal cream at a very reasonable price. Our only gripe is we wish it came in a jumbo-sized tube so we could keep it in constant supply.
2. Clean + Easy Cream Gentle Depilatory For Face + Body
Best depilator cream for face and body
Specifications
RRP: $6.95/£28
Texture: Cream
Active Ingredients: Aloe vera and cucumber
Scented: Yes
Areas To Use Product: Arms, legs, chest, bikini area, and face
Reasons to buy
+
Milder odor
+
Mitigates irritation and inflammation
+
Can safely be used on the face and body
+
Works in ten minutes
Reasons to avoid
-
Could be too powerful for sensitive skin
If you are forever wondering which hairs you shouldn't pluck and want the best depilator to use in several areas, this product will become your new bestie. It can tackle hair removal jobs big or small‒whether that's the lip, arms or bikini area‒with practically no risk of irritation thanks to soothing aloe and cucumber. It applies smoothly and has a pleasingly subtle odor as hair removal creams go. Afterward, our skin was left smooth and comfortable, even in areas where the skin is thinner such as the face and bikini areas.
Like many depilatories, this product works in around ten minutes, and we found all but the thickest and coarsest hair was effectively dissolved in that time. However, that means this is powerful stuff, so do a patch test and don't be tempted to leave it on for too long. Going over the maximum time can be harmful to the skin in some instances. Similarly, if you have extremely sensitive skin or allergies, consult with a dermatologist or physician before using this product. That way, reactions can be kept to a minimum.
3. Veet Sensitive Skin Hair Removal Gel Cream
Best depilator for sensitive skin
Specifications
RRP: $8.97/£12.99
Texture: Gel
Active Ingredients: Aloe and vitamin E
Scented: Yes
Areas To Use Product: Legs, arms, underarms and bikini area
Reasons to buy
+
Works well in most areas
+
Contains aloe and vitamin E
+
Gel feels refreshing
+
Gently removes short and stubborn hair
Looking for the best depilator product that is safe for sensitive skin? Thanks to soothing aloe and vitamin E, this creamy depilatory gel is as refreshing as the ocean and as gentle as a cloud from start to finish. We also love that just a little of this goes a long way. The slippy texture helps it to spread easily and evenly onto the skin and makes applying to large areas like the legs and arms particularly straightforward with no dragging.
We found this gel wasn't just simple to apply, it provides a cooling, soothing feel that would particularly suit sensitive or reactive skin types. Like all the best depilator products this can be used to provide a nick-free alternative to shaving in the bikini area and a pain-free experience that even the best IPL hair removal devices can't provide. Another reason why we love it? It effectively removes all the short and stubborn hairs you may usually end up tweezing, we found it gave us a perfectly smooth finish after the directed ten minutes.
4. Neomen Hair Removal Cream
Best fast-acting depilator
Specifications
RRP: $13.99/£23
Texture: Cream
Active Ingredients: Aloe vera, baby oil, and vitamin e
Scented: Yes
Areas To Use Product: Underderarms, bikini line, arms, and legs
Reasons to buy
+
Does not cause a burning sensation
+
Contains baby oil
+
Hair grows back less thick
+
Bottle size is larger
Reasons to avoid
-
The included spatula can be difficult to use
Compared with every other product on our list, this removal cream gets a gold star for its speed; it works in just five minutes, making it our best depilator for speedy results.
Not only does it get to work incredibly quickly, but it also doesn't sacrifice any effectiveness in the name of speed. This thick-textured cream manages to tackle thicker growth such as the underarms or a hairy bikini line with no problem and leaves the skin velvety soft thanks to aloe vera, baby oil, and vitamin E. It also boasts a significantly larger bottle size than other depilatories on the market, meaning you can cover multiple areas at a time and still have plenty of product left.
However, this cream does contain a strong odor that can be off-putting to sensitive noses. Its included spatula is fairly large and can be tricky to maneuver, making product application a bit difficult at first. You'll get the knack soon enough though, or else use an old spatula from another formula.
5. Nad's for Men Hair Removal Cream
Best depilator for larger areas
Specifications
RRP: $8.99/£8.99
Texture: Cream
Active Ingredients: Aloe vera
Scented: Yes
Areas To Use Product: Body, chest, arms and legs
Reasons to buy
+
Removes coarse and thick hair
+
Does not cause itching
+
Hair grows back slower
+
Easy to use on larger areas
Reasons to avoid
-
Requires a generous amount of cream
While its drugstore price point is worth writing home about, don't be fooled into thinking this is a substandard bargain buy. This depilatory cream's rich texture is highly spreadable, making it perfect to use on larger areas, plus its soothing aloe ingredients prevent irritation.
Forget the gendered marketing as well. Sure, this has for men on the title but due to being designed to dissolve thicker fuzz, this works extremely well for anyone with dark or coarse hair. It works in just ten minutes for most areas, although for particularly thick hairs you might want to give it the maximum 15. We found it works particularly well in removing shorter body hair that may have survived several passes of a razor, already, and we found with continued use our hair grew back more slowly as well.
The results of this depilatory cream speak for themselves—our skin was smooth for almost a week as well as being free of any post-removal itching associated with shaving. Though, to ensure hair is removed completely, you'll need a larger than usual amount of product to get the job done. Make sure you add at least two bottles to your shopping cart if you are looking to cover a lot of ground.
6. Nair Bladeless Shave Whipped Creme
Best mousse depilator
Specifications
RRP: $12.99/£10.04
Texture: Whipped Creme
Active Ingredients: Lavender oil, rosewater oil
Scented: Yes
Areas To Use Product: Bikini, legs, arms, and underarms
Reasons to buy
+
Creme texture is fluffy and soft
+
Legs are left smooth and silky
+
Works in just ten minutes
Reasons to avoid
-
The scent may be overpowering for some
If your idea of the best depilator is a drugstore classic from a reliable brand, trust that this Nair créme will fit the bill. Its whipped texture is fluffy and soft, which coupled with a relaxing lavender aroma helps turn a mundane grooming task into something edging towards pampering or self-care.
Because of its light airy texture, the application of this depilatory product is simpler than most; puff out a ball onto your legs, bikini line, or whichever area you want to de-fuzz, then rub in with your hands and wash them thoroughly. After ten minutes, wipe it off with a damp, clean towel, and enjoy silky-smooth skin that you won't be able to stop touching. We found it gentle and non-irritating, and our leg hair took at least five days to grow back to pre-removal lengths, making this a longer-term solution than other speedy methods like shaving.
There are some caveats to keep in mind. Like many other depilatories, be mindful of leaving it on for too long, which can cause irritated skin and a stinging sensation. And if you are sensitive to perfume, be aware that this product is made with a fairly powerful fragrance. It comes in either rosewater or lavender scents, which do help mask that nose-tingling hair removal cream whiff but might be overpowering‒or irritating‒to some.
7. Roots and herbs Neem and Fennel Depilatory Powder Mask
Best natural depilator
Specifications
RRP: $16.89/£13.64
Texture: Powder
Active Ingredients: Neem, aloe vera powder, vitamin E oil, basil oil, tea tree oil, sweet fennel oil, bentonite clay, salts
Scented: No
Areas To Use Product: Bikini, legs, upper lip, and underarms
Reasons to buy
+
Contains natural ingredients
+
Keeps skin smooth
+
Nourishes the skin
Reasons to avoid
-
Application is messier than other depilators
While chemical depilatory products are generally effective, their ingredients may not be your cup of tea if you're a clean beauty or natural skincare loyalist. So if your idea of the best depilator is one that skips the long ingredient list, you won't have to look any further; this mask-like product tackles hair removal with the help of neem, aloe vera, powder, vitamin E oil, and other natural ingredients.
Keep in mind the application of this product is messier than most. Because it is powder, it needs to be mixed with water in order to make it into a paste. You'll probably want to buy a special mixing bowl to use for this, and avoid using your best china. However, once prepared correctly, it effectively removes hair wherever you use it, whether that's the legs, upper lip, or bikini area. We love that it leaves smooth and silky, and irritation is kept to a minimum. Be aware that the size of this product is on the smaller side, so you'll want to stock up if you're forgoing waxing and sugaring altogether.
---