The best razors for women to get a silky-smooth shave without nicks
We've tested all the best razors for women and these are our pick of the bunch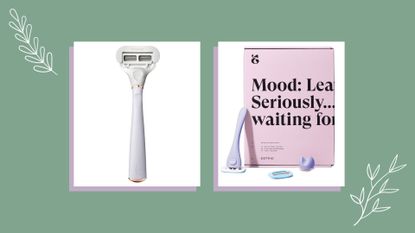 (Image credit: Future)
woman&home newsletter
Sign up to our free daily email for the latest royal and entertainment news, interesting opinion, expert advice on styling and beauty trends, and no-nonsense guides to the health and wellness questions you want answered.
Thank you for signing up to . You will receive a verification email shortly.
There was a problem. Please refresh the page and try again.
You can't really write about the best razors for women without addressing the fact that shaving, and women's body hair in general, is a bit of a political hot potato. You may choose to shave your legs, underarms and elsewhere, or maybe you'd rather sack that off and spend your energy on something more fun and fruitful (as I do for about four months of the year) that's absolutely fine. Porpoise-smooth skin is not a prerequisite for being female.
That being said, assuming you are here looking for the best razors for women because you do in fact shave, and want to do so in the smoothest, skin-friendliest way possible, welcome. Shaving is a fairly functional act but that doesn't mean you can't love your razor and find one that loves you back with ne'er a nick, ingrown hair, or red-hot razor burn fiasco.
From gentle designs with the bikini line in mind to handy subscription services that look pretty in your bathroom, this tried-and-tested guide will help you find the best razor for women at every price, for every area.
How to choose the best razors for women
Why you can trust Woman & Home Our expert reviewers spend hours testing and comparing products and services so you can choose the best for you. Find out more about how we test.
According to 2021 Statista research (opens in new tab), 13.36 million people in Great Britain use refillable razors—but how can you tell which one best suits your needs? Consider the following:
Shaving behavior: Which areas you wish to shave, and how often you do so are crucial factors. If you do a bi-weekly leg shave you'll want plenty of blades and a handle made from a durable material. For delicate areas such as the bikini line, soothing strips and protective features will be a priority. Is your razor used for a quick underarm shave every morning and that's it? A smaller model with built-in shave gel bars will save time and shower space.
Materials: Despite an estimated 5.5 million people in the UK using disposable razors, single-use plastic is not only appalling for the environment, it's also pretty poor for shaving with. Sturdy re-usable handles made with metals, grippy rubberized coatings, or recycled and recyclable plastics are much better shout.
Budget: Prices can range from ultra-cheap disposable models into the hundreds for luxury options. As with all of the best skincare devices, price does have an impact on quality, durability, and performance—but it's not the whole story. check what's included in the box, lots of blades should be a top priority as top-ups tend to be steep. If you're on a budget, modern subscription services tend to offer value, introductory offers, and savings on replacement blades.
The best razors for women, chosen by our beauty team
1. Wilkinson Sword Quattro for Women Rose Gold
The best razor for women overall
Specifications
RRP: $24.99/£15
Material: Metal
Blade count: 4
Included : Razor handle plus five blade cartidges
Reasons to buy
+
Attractive design
+
Pivoting head
+
Great value
+
Very durable
If there's one thing guaranteed to glow up the functional-borderline-ugly design that even the best razors for women suffer from, it's a touch of good old rose gold. This glossy rosé-toned metal isn't just a looker though, it's pleasing to use too—cooling and weighty, and a real cut above your usual plastic job. It'll feel good in your hand and look glam in your bathroom. Tick, tick.
In terms of performance this razor more than measures up, the pivoting head hugs your skin and has a lovely glide. On testing, it didn't drag or scrape in larger areas and we experienced zero nicks even in notoriously slice-prone spots like the ankles. Like most modern razors it has a built-in moisture strip, although you'd definitely still want to use shaving foam or gel as it doesn't deposit much of that onto the skin. The cherry on the top of this excellent razor is how good value it is. For a relatively low initial investment, you get an incredibly generous five replacement blade cartridges in the box, which, along with the indestructible metal handle, will keep you going for ages.
2. Sunny Razor
Best budget razor for women
Specifications
RRP: £8 (UK only)
Material: Rubber-coated plastic
Blade count: 5
Included: Razor handle plus one blade
Reasons to buy
+
Great value
+
Fun design
+
Excellent grip
+
Smooth shave
Reasons to avoid
-
Could include more accessories
"Let's face it—it's shaving your legs, not saving the world," said Sunny on launching this bubblegum-sweet and budget-savvy razor—amen to that. While this brand clearly has its sights set on a millennial and Gen-Z audience with their sassy chat and color palette, there is much to love here for anyone seeking a good, straightforward razor at a not-exorbitant price.
The design is great, both in terms of form (pretty pink and teal shades) and function (five ultra-fine blades and a grippy rubber handle that prevents nick-causing slips.) Shaving with Sunny is a pleasingly smooth experience, as long as you use shaving foam as the "lubrastrip" is on the thin side. As another plus, this model is particularly easy to rinse hairs away from after shaving, which should give it superior longevity. The only gripe worth mentioning is that the box only contains one blade, although they are on the inexpensive side to replace it would be nice to see a spare or two thrown in.
3. Gillette Venus for pubic hair and skin
The best razor for pubic hair
Specifications
RRP: $14.99/£10
Materials: Plastic
Blade count: 2
Included: Razor handle and two blade cartridges
Reasons to buy
+
Very gentle shaving
+
Precision trimmer on the back
+
Smaller head
+
Thoughtful design
Reasons to avoid
-
Not so versatile for other areas
Did the name of this razor take you by surprise? That's kind of the point. So much female grooming is shrouded in euphemism, we talk about the best razors for women to use on their 'intimate area' or 'bikini line' rather than just doing what Gillette has done and called a spade a spade. Kudos. Refreshing honesty aside, this is clearly a thoughtfully designed razor for anyone who shaves their hairy bikini line. It's got two robust and ultra-sharp blades surrounded by irritation defense bars that ensure the blades almost never come into contact with the skin. You can imagine how useful this is for avoiding horrible, hot razor rash and a plucked chicken appearance.
The razor head is smaller than usual, which suits awkward crevices and there's a precision trimmer that replicates the neat and tidy effect of the best bikini trimmers. The handle is as we expect from Gillette, sturdy enough, slimline, and comfy in the hand. Obviously, this is a specific product designed for a specific area, so it isn't really ideal for larger zones like the legs. But if you do shave your public hair, having one of these in your arsenal would definitely save you some discomfort and plenty of premature head replacements on your main razor.
4. Flamingo razor
Best intelligently designed razor for women
Specifications
RRP: $9.99/£8
Materials: Rubber-coated plastic
Blade count: 5
Included: Razor handle, one blade, wall mount
Reasons to buy
+
Lightweight and flexible
+
Attractive design
+
High-quality blades
+
Great value
Reasons to avoid
-
Wall mount can fall off easily
At first glance, Flamingo looks nice enough, but not necessarily 'wow.' On testing, however, it's clear that, unlike its avian namesake, this razor is all about understated excellence. In fact, it packs in so much cleverness it's a wonder they're not charging twice as much. Every element has been thought through. This was the lightest-feeling razor tested, but what little weight there is here is purposefully, ergonomically placed so the handle sits comfortably and securely in the hand at any angle, while the textured rubber underside of the handle enhances grippiness.
The five "German-engineered blades" are, as promised, ultra-sharp and precise, and sit on a gently flexible mechanism that adapts to curves instead of scraping rigidly against the skin. This means it offers an incredibly close shave, but also a comfy one with no nicks or dragging. We used plenty of shaving mousse as the moisture strip, while helpful, isn't enough to forgo lubricating products entirely. On the negative side, the closely-packed blades are a little trickier to rinse hairs away from, and as a real nitpick the little sucker on the wall mount didn't want to stick to my shower tiles for long. But these are tiny gripes for an incredibly impressive, great value option.
5. Finishing Touch Flawless Dermaplane Glo
Best razor for facial hair
Specifications
RRP: $19.99/£19.99
Materials: Plastic, LED light
Blade count: 1
Included: Device, six replacement heads
Reasons to buy
+
Quick and easy hair removal
+
LED light for visibility
+
Generous extra heads
And now for something completely different. This handheld device bills itself as a 'dermaplaning tool' which translates to: absolutely one of the best razors for women to remove facial fuzz with. Attach one of the six—generously included—blades, and run at an angle along your upper lip, chin, or anywhere you require precision hair removal. Shaving women's faces still has some taboo attached to it but honestly, this is way less complicated than figuring out how does Nair work and way less messy and smelly than even the best depilator creams. It also isn't remotely painful like waxing, and can be done in all of three seconds, so is worth considering.
One of the best things about this device is that it has a little LED light in the head. This will be a godsend for anyone with fading eyesight who only spots rogue upper lip hairs in aggressively-lit public spaces. Even those with 20/20 vision can benefit, flick it on and be guaranteed some previously-invisible facial fuzz will appear. Clearly, this is a tiny little device with a single blade, so using it on any other area would be a time-consuming and blade-wasting fool's game. But as an easy solution for anyone worried about which hairs you shouldn't pluck on the face, it's a winner.
6. Estrid
Best razor subscription service for women
Specifications
RRP: £7.95
Material: Rubberized steel
Blade count: 5
Included: Razor handle, two blades, wall mount
Reasons to buy
+
Supremely comfortable
+
Stylish design
+
Ultra-gentle shave
+
Handy replacement head subscription
Reasons to avoid
-
Moisture strip can get messy
Is it possible to fall in love with a razor? Asking for a friend. Estrid has incorporated everything you could possibly want from the best razors for women into one cute design. Firstly, it looks great. Smooth and fluid lines, chunkier than most in a choice of six lovely matte colors to suit whatever bathroom trends you're following. It's made of steel with a tactile rubbery coating on the underside, meaning it's sturdy, pleasantly weighty, and very easy to control.
Shaving with Estrid is pretty dreamy. Mainly due to the heavier weight and a far more-moisturizing-than-most moisture strip. This lubricating layer surrounds the blades, top and bottom, and means you can get away without shaving foam in a pinch. It also means that if you leave it somewhere wet it can go all soft and gunky, so use the included wall mount (also in your chosen color, which is a nice design touch) The fact Estrid is a subscription service may be a plus or a negative to you. But it is a low-obligation one. You can cancel any time and choose how often the good-value replacement head deliveries happen—plus, you'll never cut yourself using a far-too-old razorblade again.
---
Expert tips for a perfect shave every time
The best razors for women go a long way to ensuring a smooth, close shave, but your technique is just as crucial. Follow Dr Toni Philips, Group Clinical Director at DestinationSkin's tips:
Shave in the shower: "Rather than in the bath as hot water isn't good for your skin particles. Hot water can also dry out your skin, stripping it of necessary natural oils."
Use shaving gel, foam, or cream: "It is vital to getting a close shave and minimizing bumps and redness. What's more, conditioning your skin before shaving will soften the hair and the hair follicle, leading to a smoother shave."
Go in the right direction: "Go against the hair: on your legs for a closer shave–beginning at your ankle, slowly and carefully shave upward for the best results. However, when it comes to your bikini line, shave in the direction of hair growth and hold a cool wet cloth against your skin afterward to reduce ingrown hairs and redness."
Take the pressure off: "It might feel like you're getting a closer shave if you press down with your razor, however, the harder you press down, the more uneven the skin surface becomes, leading to a less even shave."
Moisturizing: "Helps to seal moisture within your skin for that silky-smooth feeling. The best moment to apply is within three to five minutes of showering, while your skin is still damp."
---
woman&home thanks Dr Toni Philips, Group Clinical Director at DestinationSkin (opens in new tab) for her time and expertise
Beauty Editor, womanandhome.com
As woman&home's Beauty Channel Editor, Fiona Mckim has tried more products than she's had hot dinners and nothing makes her happier than raving about brilliant finds on womanandhome.com or her instagram grid (@fionamckim if you like hair experiments and cute shih-tzus). Fiona joined woman&home as Assistant Beauty Editor in 2013 under industry legend Jo GB, who taught her everything she needed to know (learn about ingredients and employ extreme cynicism). She has since covered every corner of the industry, from interviewing dermatologists and celebrities to reporting backstage at Fashion Week and judging the w&h Beauty Awards.