How to prevent razor burn (or soothe shaving rash and irritation)
Razor burn remedies and preventative tips so you can stay calm—and keep your freshly-shaved skin in the same condition, too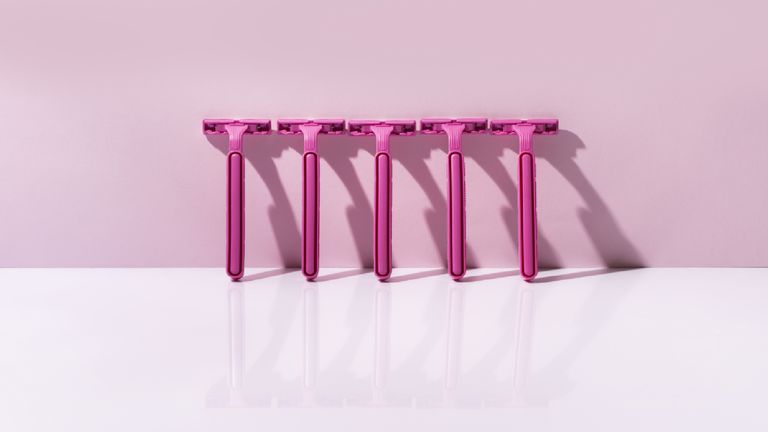 (Image credit: Getty Images)
Have you been burned in the past by shaving? Razor burn can leave your legs, underarms, and bikini line with red shaving rashes and that horrible itching, burning sensation.
"Unfortunately, if you're shaving, the burning and irritation are simply a part of the territory," especially if you have sensitive skin, says Salome Sallehy, founder of Sugar Sugar Wax. 
"There's been enough research in the scientific community on the effects of shaving—we know shaving destroys the protective barrier of the skin," she explains. For instance, freshly shaved skin is more likely to absorb certain chemicals and become irritated with razor burn or ingrown hairs. That's almost certainly not what you're aiming for when you reach for the razor and shaving gel. 
Luckily, there are ways to soothe razor burn and, potentially, sidestep it altogether.
How to prevent razor burn
If you've dealt with razor burn in the past, there are some things you can do to minimize your chances of irritation the next time you shave.
1. Use a new, sharp blade
Old, dull, or misshapen blades are a surefire way to encourage razor burn and irritation. "Check your blade for any rust or warping, or just use as fresh a blade as you can find," Salome says. Even if you're using one of the best razors for women, dermatologists recommend changing out the blades after five to seven shaves. 
2. Shave in the direction of hair growth
Usually, the advice is to shave against the grain to get the closest shave, especially if you're removing leg hair. But if you move the razor with the grain, you'll be less likely to tug at your skin and cause irritation. This is especially important in more sensitive areas like your bikini line and underarms.
3. Apply gentle pressure
Once the razor's in your hand, Salome says to "be as light with your hold as possible" so the razor glides across the surface without pressing down. "Digging into the skin with a blade isn't going to help your cause" if you're prone to getting shaving rashes, she explains. 
4. Don't keep shaving the same spot
Once you've shaved a certain area, move on. Passing your razor back over the same spot will only aggravate the skin—it certainly won't doing much for you in terms of hair removal. 
5. Go fragrance-free
Skin experts at the Yale School of Medicine believe certain fragrances used in shaving creams and gels can reduce the skin's protective properties and make it more sensitive. Instead, reach for fragrance-free products to hydrate your skin without potentially causing harm.
How to soothe and get rid of razor burn
If it's too late—you've already shaved and have somehow been left with uncomfortable shaving rashes—the good news is any skin irritation will likely clear up naturally after a while. However, certain techniques can help speed along the repair process or offer immediate relief from the discomfort. 
Apply a topical treatment
To help shaving rashes heal a little more quickly, treat the area with one of these remedies:
Cold compresses can work wonders for calming shaving rashes.
Aloe vera gel is a great choice for reducing inflammation and soothing damaged skin.
Emollient creams—such as gentle, alcohol-free moisturizers—add an extra layer of hydration and protection.
Astringents such as witch hazel, tea tree oil, and apple cider vinegar can help repair the skin and calm inflammation. 
Give your razor a rest
If you're noticing angry red spots and irritation, wait two to three weeks between shaves to allow sensitive skin to recover. You'll reduce the risk of additional irritation, inflammation, or infection this way.
Encourage good circulation
Once the immediate irritation has died down and you're no longer looking at red, raw skin, promoting good circulation at the site of the rash can help your skin heal quicker. 
"In those periods of rest, use a dry brush to exfoliate and increase circulation in the shaved areas. This really helps with the repair," Salome explains. Soon enough, that shaving rash will be a thing of the past.
woman&home thanks Salome Sallehy of Sugar Sugar Wax for her time and expertise.
Eunice Lucero-Lee is the Beauty Channel Editor for woman&home. A lifelong creative writer and beautyphile, she graduated from De La Salle University in 2002 and was hired a year later to front all beauty coverage for Pink Magazine, a teen lifestyle publication, after submitting a page-long thesis on why Stila was the best brand to come out of the Aughts. She was hired an hour later. 
Her writing—which has since then expanded to cover pop culture and astrology, both equal passions—led her to spearheading columns in Chalk Magazine, K-Mag, Metro Working Mom, and SugarSugar Magazine. Upon receiving her stripes at New York University's Summer Publishing Institute in 2008 she was immediately headhunted to work as the Beauty Editor, thereafter Managing Editor of Stylebible.ph, the digital home of Preview, the Philippines' best-selling fashion magazine, where she also did double-duty as Associate Editor of the print edition.
It was during this stint that the hallyu wave started taking hold and when she was tapped to co-found Sparkling, Asia's first-ever English K-Pop print magazine. Originally planned as a one-off, the project became a runaway hit and saw her taking Korean classes on the weekends for three years, as she found herself frustrated by the lack of breadth translators provided for celebrity profile coverage. She was Editor-in-Chief until her move to New York in 2013. The now-iconic magazine has remained in publication since 2009 due to massive fan support.
A beauty, astrology, and pop culture obsessive and insider for over 18 years, Eunice is an internationally published editor (and now certified astrologer) whose work has been featured in publications such as Cosmopolitan, Esquire, and The Numinous, among many others. The former Editor-in-Chief of All Things Hair and a (very) proud cat mom, she spends her time in Manhattan figuring out the correct Pilates-to-sushi ratio, obsessing over celebrity natal charts, luxury skincare, and Scandi-noir crime procedurals, as well as finding the perfect K-Pop vid to save the day. She can still order drinks perfectly in Korean. Find her on Instagram @eunichiban.