5 need-to-know new skincare ingredients that will give you perfect skin
Take advantage of these new skincare ingredients now that lockdown has placed our makeup bags temporarily out-of-action.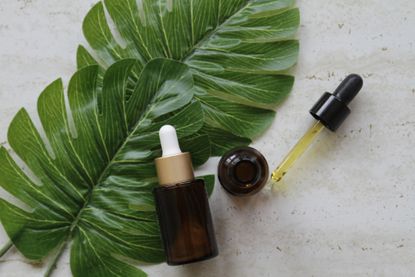 (Image credit: Getty Images)
Are you a skincare obsessive who wants perfect skin? Well time to invest in these new skincare ingredients...
For many of us, lockdown placed our make-up bags placed temporarily out-of-action. And this has only fuelled our obsession with having perfect skin.
So what's the secret to a flawless complexion? For some, it's taking the time to carry out a DIY at-home facial, while others swear by a simple three-step daily routine.
If you're looking to shake-up your regime, we've got you covered. Look no further than these need-to-know new skincare ingredients…
5 new skincare ingredients for perfect skin
Bakuchiol
What does bakuchiol do?
A punchy antioxidant with anti-inflammatory properties, bakuchiol evens out skin tone and increases firmness. It's really calming too, and can help skin tolerate higher strengths of retinol.
Who needs bakuchiol?
Anyone who wants to combat signs of ageing will benefit from bakuchiol.
It is often recommended as a natural alternative to retinol, but according to Paula's Choice founder Paula Begoun, this is nothing more than a beauty myth.
'If you're thinking bakuchiol is somehow replacing retinol, it absolutely does not,' Paula says. 'It has brilliant properties which work beautifully with retinol, though. That's why we formulated them together in our Paula's Choice 0.3% Retinol + 2% Bakuchiol Treatment, £53.'
You can use both ingredients in one targeted treatment like Paula's, or layer individual serums.
Boots Ingredients Bakuchiol Serum, £7, is a good, purse-friendly starting point. There's no sun sensitivity from bakuchiol, so you can use it both day and night.
SHOP NOW: Boots Ingredients Bakuchiol Serum, £7, Boots
Or, if you're happy to splash the cash, Biossance Squalane +Phyto-Retinol Serum, £61, is brilliant. Teaming together bakuchiol, retinol and nourishing squalene, skin is left refreshed.
SHOP NOW: Biossance Squalane +Phyto-Retinol Serum, £61, Cult Beauty
Tranexamic Acid
What does tranexamic acid do?
Relatively new to the skincare scene, tranexamic acid has been proven to fade dark spots and pigmentation.
Who needs tranexamic acid?
If you have been left with dark scarring from past breakouts, suffer from melasma or are just prone to pigmentation, try tranexamic acid.
Some active ingredients shouldn't be mixed, but one of tranexamic acid's biggest selling points is how nicely it plays with others. Easy to add into your existing routine, it's really compatible with both hyaluronic acid and retinol.
Pair it with skin-brightening vitamin C, and you'll see even more impressive results. The Inkey List Tranexamic Acid Night Treatment, £14.99, contains both, so you don't have to buy more than one serum. Apply to clean skin as part of your night time skin routine and wake up to a clearer complexion.
SHOP NOW: The Inkey List Tranexamic Acid Night Treatment, £14.99, Cult Beauty
Poly-hydroxy acids (PHAs)
What do Poly-hydroxy acids do?
PHAs like gluconolactone and lactobionic acid are chemical exfoliants. A gentle alternative to gritty manual scrubs, they carefully break down the 'glue' that holds dead skin cells together. With these out the way, the brighter, fresher skin beneath is revealed. PHA's attract moisture to the skin too, increasing hydration levels.
Who needs PHAs?
PHAs are suitable for everyone, but they're especially good for sensitive skin.
As they're larger in size than alpha-hydroxy acids (AHAs), they penetrate the skin more slowly. This offers the same glow-giving results, just with less chance of irritation.
Balance Me PHA Clarifying Mist, £18, takes us one step closer to perfect skin by clearing out congestion. By pairing PHAs with zinc and witch hazel, it works wonders to to reduce redness and control excess oil.
SHOP NOW: Balance Me PHA Clarifying Mist, £18, Feel Unique
Protinol
What does protinol do?
Avon's newest discovery, Protinol works by rebuilding two different types of collagen within our skin to replace the fullness and firmness we naturally lose with age.
Who needs protinol?
If you struggle to get on with retinol crave it's youth-boosting benefits, give Protinol a whirl. It promises the same skin plumping, line-banishing results, but with no irritation.
Unlike your average serum, Avon's Anew Skin Reset Plumping Shots, £18, are an intense 7-day anti-ageing solution. Use occasionally to enjoy perfect skin before a big event or once a month for maintenance. The result is plumper skin with less prominent lines, wrinkles and sagging.
SHOP NOW: Avon's Anew Skin Reset Plumping Shots, £18
Probiotics
What do probiotics do?
In the same way popping a probiotic pill soothes bloated, stressed-out stomachs, probiotic skincare helps to calm inflammatory conditions like acne and rosacea. It's all thanks to the 'good' bacteria they contain, which works to reduce any 'bad' bacteria present on the skin.
Who needs probiotics?
With everything from harsh cleansers, pollution and even taking antibiotics upsetting the skin's natural eco-system, probiotics will benefit all skin types.
Although as mentioned, they're especially effective on sensitive complexions and those suffering from chronic skin conditions.
With continued use probiotics speed up the skin's repair process and strengthen its barrier, reflected in a clearer, more comfortable complexion. 'As our largest organ and our first line of defence, skin actually requires good bacteria to thrive,' explains Nicolas Travis, founder of Allies of Skin. 'Probiotics help boost the natural reparative process of the skin.'
A gentle solution for spot-prone complexions, Gallinée Foaming Facial Cleanser, £15, teams probiotics with exfoliating lactic acid to carefully remove daily oil and grime.
SHOP NOW: Gallinée Foaming Facial Cleanser, £15, Look Fantastic
Carry on the good work with Allies of Skin's Peptides & Antioxidant Firming Daily Treatment, £105. The daily leave-on treatment harnesses probiotics, peptides, and antioxidants to firm and repair skin. There's no denying it's expensive, but the results are worth it.
SHOP NOW: Allies of Skin Peptides & Antioxidants Firming Daily Treatment, £105, Cult Beauty
Or, upgrade your facial spritz with Zelens Z Balance Prebiotic & Probiotic Facial Mist, £48.
SHOP NOW: Zelens Z Balance Prebiotic & Probiotic Facial Mist, £48, John Lewis
Prebiotics are essentially food for probiotics so by adding them into the mix, it guarantees even better results.
Jess Beech is an experienced fashion and beauty editor, with more than eight years experience in the publishing industry. She has written for woman&home, GoodtoKnow, Now, Woman, Woman's Weekly, Woman's Own and Chat, and is a former Deputy Fashion & Beauty Editor at Future PLC. A beauty obsessive, Jess has tried everything from cryotherapy to chemical peels (minus the Samantha in Sex and The City-worthy redness) and interviewed experts including Jo Malone and Trinny Woodall.