The Best Vitamins For Women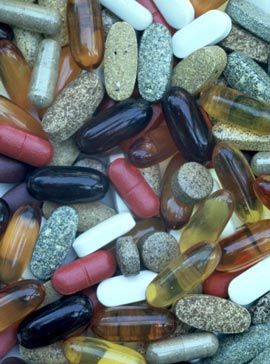 Find out what vitamins you should be taking - whatever your age
Confused about the best vitamins for women? We don't blame you. With so many different products out on the market, it can be difficult to know which vitamins for women are worth investing in. Especially when so many of them claim to turn back the clock, give you more energy, help you lose weight and keep fit! But can vitamins and supplements really help?
The answer is yes! While a nutritious diet and a regular exercise regime is essential for a healthy lifestyle, boosting your health or targeting specific issues with vitamins can be incredibly useful.
That's why we've asked the experts to discover the best vitamins for women in their 30s, 40s, 50s, 60s and beyond. Because depending on your age, your body will have different needs. So from how to get through PMS and deal with stress to managing menopause symptoms and boosting your energy levels, find out which vitamins and supplements can help you feel your best.
If you're unsure about what to take, these tips below will help you get started. They're the basic vitamins and supplements that all women can add to stay on top of their health.
Multivitamins The first step for optimal health is a good multivitamin and mineral combination, says Shabir Dayer, a UK-trained pharmacist. Try My Favorite Multiple Energizer by Natrol, £16.50 for 60 tablets.
Essential omegas Essential fatty acids are crucial to the body, insists Shabir. The body can't make them, so it's down to diet and taking omega supplements every day. Try Essential Oil Omega 3-6-9 by Harmony Formulas, £17.95 for 90 capsules. Vitamin D Vitamin D is vital for women because female hormone insufficiency leads to bone and joint problems, says Shabir. Try Vitamin D3 by Life Extension, £17.75 for 250 capsules.
Keep reading for more information about the best vitamins for women at every stage in life...
The Best Vitamins For Women: What Vitamins To Take In Your 30s
Michele Sadler, Scientific Director of the HFMA (Health Food Manufacturers' Association) says, "All adults are recommended to eat one portion of oily fish a week, yet many women do not manage this – hence a fish oil supplement can be useful to ensure adequate intakes (about 250 milligrams a day) of the omega-3 fatty acids DHA and EPA which are needed for brain function and vision, and are also important in pregnancy for the developing foetus." Try these Cod Liver Oil Capsules by Simply Supplements, £11.20 Right now, if you're often stressed, on a diet or trying to get a handle on PMS. Try these to smooth the way… PMS Chaste Berry allows the body to make its own progesterone to achieve hormonal balance. Nature's Plus Chaste Berry Extract, £18.20 for 60 capsules. DIET CRAVINGS Sugar Control by Nature's Plus features chromium, which studies have shown can reduce carb cravings, £22.65 for 90 capsules. PARTYING HARD Ease that toxic lifestyle with Milk Thistle & Dandelion Formula by Herbs Hands Healing, £29.95 for 250ml. STRESSED OUT Solgar Rhodiola Rosea helps relieve stress, 16.54 for 60.
The Best Vitamins For Women: What Vitamins To Take In Your 40s
Into their 40s women may like to consider taking an iron supplement particularly if the menstrual losses have become heavier, Michele Sadler, Scientific Director of the HFMA (Health Food Manufacturers' Association)advises. Ensuring adequate intake of iron can help to keep tiredness and fatigue at bay and makes anaemia less likely. Try these Iron + Vitamin C tablets by Holland & Barrett, from £2.59 If you're juggling work and home, feeling frazzled and hate the idea of ageing and the perimenopause. Help is at hand. BUSY BUSY Try chlorella, a super algae with loads of amino acids and B vitamins to give you energy. Sun Chlorella, £24.99 for 300 tablets. BIG ON BONES Get realistic about bone density before the menopause. New Chapter Bone Strength, £37.29 for 60 tablets. HOT FLUSHES Sage Complex by Food Science of Vermont contains hormone-mimicking herbs that can help. £24.50 for 90 capsules. HIGH ANXIETY Stress Away can help ease irritability and relax muscles. £9.95 for 60 capsules.
The Best Vitamins For Women: What Vitamins To Take In Your 50s
This is a time when it is particularly important for women to look after their bones, explains Michele Sadler, Scientific Director of the HFMA. To help reduce losses of bone mineral and reduce the risk of fractures later in life; taking a calcium supplement (800 milligrams a day) can help to ensure an adequate calcium intake. Menopause, insomnia and the battle of the bulge. Keep calm and carry on with a fine-tuned supplement. MID-LIFE MIDDLE Guggul, trikatu and triphala – this Ayurvedic formula of spices supports digestion and helps eliminate toxins. Pukka Herbs Guggul Plus could help healthy weight loss. £14.75 for 90 capsules. FULL-ON MENOPAUSE Ease symptoms with Black Cohosh & Sage Compound, £8.50 for 100ml. MOODY BLUES Lift the gloom and get a good night's sleep with 5-HTP, said to help control mood and maintain a balanced outlook. Solgar 5-HTP, £26.96 for 60. DRYNESS Sex no fun? An omega-7 essential fatty acid supplement helps to nourish the mucosa. Cellular Support by Sibu, £25.48 for 90 capsules.
The Best Vitamins For Women: What Vitamins To Take 60+
Michele Sadler explains what vitamins you need most when you reach your sixties: Vitamin D supplements (10 micrograms a day) are important at this age - vitamin D is thought to improve muscle function and reduce the risk of falling, which helps to reduce the risk of bone fractures; vitamin D also helps to ensure that calcium is absorbed properly into the body. As a still-gorgeous woman, you just want to keep on feeling as good as you do right now. Looking after your heart, your joints and your marbles is key! STAY SHARP Research is revealing that resveratrol and pterostilbene, powerful antioxidants found in grapes, blueberries and the Indian Kino Tree, may offer protection for the cardiovascular system, eye and brain health, plus the ageing of the whole body. Resveratrol with Pterostilbene by Life Extension, £23 for 60 capsules. KEEP FLEXIBLE Studies have shown that GOPO, the key component in rosehips, can be very effective for easing joint pain. Eighty-three per cent of patients who tried the active compound reported pain reduction in three weeks. You can find it in Litozin Joint Health Capsules by Lanes, £17.99 for 120 capsules. Find more health and diet tips
Sign up to our free daily email for the latest royal and entertainment news, interesting opinion, expert advice on styling and beauty trends, and no-nonsense guides to the health and wellness questions you want answered.