How to use a hair dryer without damaging your hair, according to the pros
Do hair dryers damage hair? They can, but we've got plenty of tips and tricks to protect your strands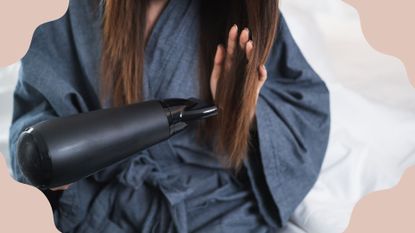 (Image credit: Getty / Future)
You're here because you are wondering, do hair dryers damage hair? And while we'd love to give you the answer you want to hear, unfortunately, the truth is yes they do.
The best hair dryers are your shortcut to guaranteed good hair days. Unless you've been naturally blessed with very good genes, it's almost impossible to get the same level of shine, volume, and smoothness by air-drying alone. But like many good things, those hair-boosting benefits come at a price, with a potential increase in frazzled hair and dry, thirsty lengths.
"A hairdryer doesn't get as hot as straightening irons or curling tongs so it's harder to damage the hair, however, it should still always be protected," explains pro hairdresser and creator of the BLOW Hair Dryer, Michael Douglas (opens in new tab). It's not all doom, gloom, and split ends though – there are plenty of ways to help keep dryer damage to a minimum and we've grilled the experts for their top tricks.
9 ways to minimize hair dryer damage
1. Towel-dry first
It makes sense that the drier your hair is before you start blow drying, the less you'll need to use your hairdryer. "Remove excess water from the hair after showering," says pro hairdresser and ghd ambassador Patrick Wilson. (opens in new tab) "I always recommend using an old T-shirt or microfibre towel to squeeze out any moisture before picking up a hairdryer." The absorbent fibers of microfibre towels and the softness of a cotton t-shirt make these gentler options than a traditional towel. The technique matters too, as squeezing and patting the hair won't rough up the hair cuticle like rubbing at it will, which makes for a smoother, frizz-free finish.
2. Use heat protection
Most of us wouldn't dream of leaving the house on a sunny day without our best facial sunscreen, but we don't give our hair the same level of care."Always use heat protection," agrees Wilson. "It's a step that many people forget." To get the best heat protection for hair you need to consider its type and texture. If your hair is fine or gets greasy easily, opt for a lightweight spray. People with thicker or curlier hair will likely prefer something oilier or creamier to nourish strands at the same time.
3. Detangle with care
Before you start blow drying your hair, you should have already teased out any knots and tangles that have formed prior to or during washing. According to Wilson, the best technique is to "detangle the hair from the ends and never start brushing from the top of the head." If you start at the roots, you're more likely to rip through the hair and cause breakage. Think of it like untangling fine jewelry chains that have become intertwined – you need to go slow and be gentle.
4. Rough dry before styling
Even after towel drying, it's always best to give your hair a chance to air dry before you blow dry. "When hair is wet it's at its most vulnerable," adds Douglas. "Blow-drying hair that's nearly dry is less damaging." Depending on how thick or fine your hair is, ten minutes might be enough, or you might need as long as an hour.
If you're in a hurry, you can still take a similar approach with your styler. "Take the nozzle off and turn the heat to a medium setting," says Wilson. "Then blast until around 70% dry." With the majority of the moisture out of the hair, the more intense styling part will be easier and require less work.
5. Avoid too much tension
Both bouncy blow dries and sleek, straight ones require the help of a brush and a degree of tension to create. Just be cautious of going overboard. "Putting too much tension on the section that is being blowdried and then too much heat onto that same section is when damage occurs – so be careful," explains Douglas. "As the section dries, you can apply more heat and more tension. It's all in the timing." Having a lot of excess hair in your brush can also prevent hair from being able to grip efficiently and lead to damage, so make sure you're cleaning yours regularly.
6. Balance heat and speed
Are you new to learning how to blow dry your hair or do you consider yourself something of a pro? Which camp you're in will impact the heat settings you use. "Depending on how good you are at blow drying your hair, this should determine how hot the hairdryer should be set," says Douglas. "If you're good and can handle your hair, then by all means have it on the hottest setting. However, if you're still learning how to best blow dry your hair on your own then having it on a cooler setting gives less chance for errors."
The quicker you dry your hair, and the better you are at using the brush to smooth it without snagging, the less damage you'll cause. Plus, if you are a rookie, you don't want to use high heat to set a style you're not happy with, or that you can't achieve on the other side of your hair, then have to restyle with more heat.
7. Concentrate the airflow
If you can get your blow-dry technique down to a tee, then you won't need to rely on other heat tools like straighteners and tongs to pick up the pieces (aka frizzy hair at the roots and fluffy ends). So, if you've left the attachments for your hairdryer in the box until now, this is the time to get them out.
"To get the most out of your blow dry you want to concentrate the airflow of the styler," explains Wilson. "This is when you want to be using the nozzle attachment to control the hairdryer and direct the air in the correct placement." This precision will not only help you to achieve the desired result on the section you're working on, but prevent you from accidentally drying other sections before you're ready to style them.
8. Keep your distance
In the same way that you don't need to stand directly in front of the radiator to feel the benefits of your central heating, a hairdryer doesn't need to be placed directly onto your hair. "A good tip is to hold the hairdryer further away from the section of hair you're drying," advises Douglas. "It will take slightly longer to dry your hair but there can be virtually no damage to the hair by doing this. The better one becomes at blow drying their hair, then the less likely they are to cause any damage to their hair at all." Try it after your next wash and see how you get on.
9. Avoid where possible
We know this is annoying to hear, but prevention is always better than cure when it comes to heat damage. That means trying to avoid your hair dryer and other heated tools like your best hair straighteners or best curling tongs, where possible.
If you can eke out wash days, do. Washing your hair every day can strip hair of its natural oils at the scalp, causing it to become dry. The drier hair is, the more brittle it becomes, and therefore the more prone it is to breaking. It's a bit like the difference in texture between dry spaghetti, which is hard and easy to snap, versus when it's been cooked in water and becomes soft and flexible.
"Everyday heat styling can take its toll, so ideally limit it to about 3 times a week," advises Douglas. Instead, utilize ways to make your blow dry last longer, such as avoiding tying it up and sleeping on a silk pillowcase, to reduce the need for repeated use.
Jess Beech is an experienced fashion and beauty editor, with more than eight years experience in the publishing industry. She has written for woman&home, GoodtoKnow, Now, Woman, Woman's Weekly, Woman's Own and Chat, and is a former Deputy Fashion & Beauty Editor at Future PLC. A beauty obsessive, Jess has tried everything from cryotherapy to chemical peels (minus the Samantha in Sex and The City-worthy redness) and interviewed experts including Jo Malone and Trinny Woodall.