The 7 best solid perfumes to try in 2023, including designer favorites and drugstore alternatives
The best solid perfumes are practical, long-lasting, and can save you a lot of money – these are our top picks to keep you smelling your best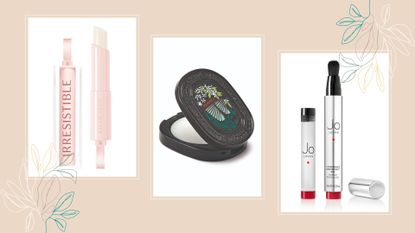 (Image credit: Givenchy, Diptyque, Jo Loves)
woman&home newsletter
Sign up to our free daily email for the latest royal and entertainment news, interesting opinion, expert advice on styling and beauty trends, and no-nonsense guides to the health and wellness questions you want answered.
Thank you for signing up to . You will receive a verification email shortly.
There was a problem. Please refresh the page and try again.
The best solid perfumes don't just rival traditional sprays in terms of scent, but also longevity and bang for your buck. If you are looking to expand your perfume collection or are curious about how solid fragrances work, one of these stunning scents could become your new favorite.
If you are a fan of the best perfumes for women but find yourself getting through your bottles at speed, it may be worth considering a solid perfume. The small but mighty pans tend to take a while to use up, and the handy small sizes are ideal for storing in your handbag for touch-ups throughout the day. Plus, you can get cult favorites, like the best Jo Malone perfumes, as solids.
One of the key benefits of solid fragrances is that "they are easily portable without the hazard of flammable liquid or spillage," says Pia Long (opens in new tab), director and creative perfumer at Olfiction. "Also, on wear and application onto the body, a solid perfume is not sprayed into the air and can therefore be friendlier to apply in public or by an asthma sufferer." Plus, they offer an opportunity to get your signature scent for a fraction of the regular price. Fancy giving solid fragrance a whirl? Take a look at the best solid perfumes to try this year, chosen by us.
How we tested the best solid perfumes
Why you can trust Woman & Home Our expert reviewers spend hours testing and comparing products and services so you can choose the best for you. Find out more about how we test.
As with any fragrance testing, the reaction any of us has to a scent is highly personal. However, there are several properties we paid close attention to when using each solid perfume. The main factor we looked at was lasting power, and how much of each fragrance we had to use to get a strong smell. We also assessed the price point and size, plus how each one traveled in our bag throughout the day. Mainly, we considered how these solids compared to our favorite sprays, and which ones truly rival the best liquid perfumes.
The best solid perfumes, chosen by our beauty team
1. Diptyque Do Son Solid Perfume
Best solid perfume overall
Specifications
RRP: $68/£48
Top notes: Tuberose, Orange Blossom, Jasmine
Base notes: Marine Accord
Reasons to buy
+
Strong scent
+
Refillable
+
Beautiful packaging
Do Son is one of our all-time favorite spray fragrances, but the high price tag can put us off repurchasing. Finding the solid version for a fraction of the cost felt like a huge win, and the best part is that it gives just as good a scent as the spray – it even lingers in the air after just opening the case, akin to the best Diptyque candles. After testing, this is certainly one of our top picks for a long lasting perfume that lasts all day.
This is also one of the most 'spreadable' solid perfumes we have tried, as the thin texture glides easily across the skin and won't tug on application. This makes it ideal for all skin types, especially dry. We also found that it absorbs quickly and leaves no waxy cast, behaving exactly like a traditional spray. Plus, the packaging is absolutely beautiful, and really added a touch of luxury to our fragrance collection. If you want to treat yourself to a Diptyque fragrance without the steep cost, you will not be disappointed with this product.
2. Glossier You Solid Perfume
Best unique solid perfume
Specifications
RRP: $30/£24
Top notes: Pink pepper
Middle notes: Ambrox, ambrette
Base notes: Musk, iris root
Reasons to buy
+
Affordable
+
Gorgeous scent
+
Long lasting
Probably one of the best-known solid perfumes out there, Glossier's solid scent has a cult following for a reason. Not only does it offer a cheaper alternative to the spray version of You, but many swear that it is even more long-lasting too. When we put this to the test we certainly agreed - we could still smell You on the spots we applied it to even after a long day.
We found the consistency to be smooth and easy to apply without being oily, and a little bit does go a long way. We also love that this is a refillable perfume, as it saves on waste and means that it is cheap and easy to top up. This is now a permanent fixture in our handbag, as the gorgeous pink case doesn't take up too much room and keeps the perfume solid even in higher temperatures. If you're just getting into solids, there's no going wrong here.
3. Lush Vanillary Solid Perfume
Best natural solid perfume
Specifications
RRP: $15.50/£10
Top notes: Vanilla
Middle notes: Jasmine
Base notes: Tonka
Reasons to buy
+
Natural ingredients
+
Budget-friendly
+
Range of solid scents available
Reasons to avoid
-
May be too sweet for some
We think that Lush fragrances are severely underrated, particularly the solids. One of the first mainstream retailers to stock solid perfumes back in the day, the brand has been perfecting its natural formulas ever since, and we believe they deserve a place in every perfume collection. Vanillary is not only one of the best vanilla perfumes, but also one of the best affordable solids. When testing, we found that this light scent lasts all day and comes in a generous size - almost double the weight of Diptyque and Glossier's offerings.
If you want a vanilla perfume with a little more sophistication, this is it. Thanks to its minimal notes, we found that the jasmine cuts through to form a mature yet sweet scent that will linger throughout the day. But if vanilla isn't your thing, or you are on the hunt for a specific perfume for winter, we thoroughly recommend sniffing your way around all 12 of Lush's solid perfumes.
4. Jo Malone The Energetic Solid Scent Duo
Best classic solid perfume
Specifications
RRP: $76/£66
Top notes: Mandarin | Blackberry
Middle notes: Basil | Bay leaves
Base notes: Amberwood | Cedarwood
Reasons to buy
+
Cult favorite scents
+
Customizable duo
+
Portable
Reasons to avoid
-
Not as aesthetically pleasing as the brand's liquid fragrances
We all know that Jo Malone fragrances are some of the best money can buy, and this handy solid allows you to have two of your favorite scents in a handy pocket size. Select from a range of the brand's cult classics yourself, or opt for one of the suggested scent pairings if you struggle with how to choose a perfume.
You can expect the same strong scents in solid form as you get in liquid, which we found clung well and settled nicely into the skin. Though the solid scent doesn't follow you around all day to the same extent as the spray, it was still strong on the points of application. Plus, it is incredibly easy to reapply when out and about. We appreciate there is limited creative freedom with a small pan, but the one thing we were disappointed by was the minimalist packaging that doesn't feel particularly Jo Malone-esque. Nevertheless, the scents are still gorgeous and range from fruity and feminine to muskier unisex fragrances.
5. Boots #Mood Fresh
Best cheap solid perfume
Specifications
RRP: £3 (UK only)
Top notes: Melon & Tuberose
Middle notes: Sandalwood & Vanilla
Base notes: Musk
Reasons to buy
+
Very affordable
+
Cute packaging
+
Four scents available
The solid perfume market isn't all that saturated, and until recently it was impossible to find a good solid scent at the drugstore. Enter, #Mood. Boots' range is both accessible and affordable, and this pen in particular is certainly one of the best cheap perfumes available at the moment. The clue is in the name with this scent - it is an extremely fresh, yet slightly sweet perfume that will suit plenty of ages and tastes. When testing, we loved the ease of the pen design that removed the messy hands-on application you get with other solids.
We found that it is less oily than other solid perfume formulas, and feels drier on the skin. However, this isn't at all uncomfortable and will work well for those who like something lightweight. It isn't quite as long-lasting as the more expensive solids on this list, but for just £3, we can't complain. The vibe and design of the product is perhaps more suited to a younger audience, but we think anyone will enjoy using this. It also makes a great, affordable gift. Store in your handbag alongside the best long lasting lipsticks for easy top-ups.
6. Givenchy Irresistible Solid Perfume
Best designer solid perfume
Specifications
RRP: $38/£32
Top notes: Pear Accord, Ambrette Absolute
Middle notes: Rose Essential Turkey, Iris Butte
Base notes: Cedarwood Essence, Blond Wood
Reasons to buy
+
Beautiful design
+
Easy to use
+
Great for layering
Reasons to avoid
-
May be too floral for some
Givenchy is one of the few designer brands to release solid versions of hero scents, and we particularly love Irresistible. The scent is slightly tricky to describe from the notes alone, but is one of the best floral fragrances that gives a gorgeously feminine scent appropriate for everyday wear.
When testing, we probably enjoyed using this solid the most. The packaging is not only practical but also looks beautiful – just like a lipstick or balm – and the product applies effortlessly. Givenchy recommends using this solid as a means to intensify the spray version, however, if you prefer a more subtle scent, it can certainly be worn alone. We found that the scent lasts well, but is not overbearing, giving a 'your skin but better' aroma. If you want a big-name solid scent to rival the best Dior perfumes or to keep your perfume strong throughout the day, this is the one.
7. Jo by Jo Loves Fragrance Paintbrush
Best sophisticated solid perfume
Specifications
RRP: $55/£40
Top notes: Grapefruit
Middle notes: Lime
Base notes: Guaiac wood
Reasons to buy
+
Unique formula and packaging
+
Range of gorgeous scents
+
Long-lasting
Jo Loves fragrances are another firm favorite of ours, and the paintbrushes in particular have been on our radar for a while, thanks to the totally unique concept. Though this is not quite a solid, it is not quite a liquid either, so it only felt right to include it here. The paintbrush packaging holds a gel-like formula that dries on the skin in seconds after application with the brush. We were sold on the packaging alone!
When testing, we loved how this formula felt on the skin. The consistency made it soothing to apply, and the brush ensures that you get just the right amount out - no wastage here. This particular scent is both mature and punchy, creating serious competition for the best Chanel perfumes, and it lasted well on our skin throughout the day with only a small top-up needed when we wanted an extra hit. You can also easily purchase refills of each scent to put into your paintbrush, so you can switch between the best fruity perfume or zesty citrus scents. If you're turning away from liquids but want to ease yourself into the solids game, this is certainly one to try.
---
Are solid perfumes better than liquid?
Long tells us, simply, no! No perfume type is 'better' than another, as this comes down to personal preference. In most cases you will find the scent payoff to be very similar, as the fragrance doesn't necessarily differ between sprays and solids, only the base does.
"The solvent base for a liquid is ethanol. For solids, wax is used. Synthetic is typical and imparts less odor in itself, but mixtures of synthetic and natural wax bases are also used," Long explains. Other than that, you are looking at the same scent in solid or liquid form.
ARE SOLID PERFUMES MORE LONG LASTING THAN SPRAYS?
"Not really – it all comes down to the perfume formulation itself," says Long. "However, you can layer a solid under a liquid perfume to give a boost to longevity. Solid perfumes on their own can appear weaker than their liquid counterparts because they don't have the lift from an alcohol solvent," Long explains. Fragrance layering is not only a great way to improve lasting power, but also to create a more unique perfume. However, on testing, we found that many of these scents lasted on our skin all day, just the same as our favorite spray perfumes.
How should solid perfumes be applied and maintained?
"Store at normal room temperature and avoid extreme temperature changes. If kept in a pocket, they can melt," warns Long. In terms of application, she suggests you "warm a small amount with fingers and apply anywhere you'd like to be scented – the neck, wrists, and décolletage work well."
How to choose a solid perfume
"Picking a scent that's right for you is an artform in itself," says Nick Gilbert (opens in new tab), Director at Olfiction. However, there are a few things you can do to navigate the world of fragrances. If you are shopping in person, Gilbert recommends you "write the names down, allow the top notes to wear off, and see how you feel about the fragrance. If you don't like it after a few minutes, you're not going to like wearing it," he says. "Carry on about your day. See how the fragrances wear, how you feel about them over time. If there's one you can't stop sniffing, that's usually a good sign."
But when it comes to how to buy fragrance online, the process gets even trickier. Luckily, there are a range of tools out there to help you match up your favorite perfumes. "One way to choose a fragrance when shopping online is use one of the fragrance databases like basenotes.com (opens in new tab) or fragrantica.com (opens in new tab) to find the notes your favorite fragrances have, see if they share any, and look for similarities in notes lists of new fragrances," Gilbert suggests. Paying attention to base notes in particular will really help you to identify what you gravitate towards.
However, he warns "this method isn't entirely foolproof, as notes are a bit like saying which colors are in a painting, so it is also useful to try to find what families of fragrances you like. The databases have plenty of reviews too, so you can see what people say about the fragrances, and see if that resonates with you – and see what else those people have reviewed and liked!"
Amelia joined woman&home after graduating with an MA in Magazine Journalism from City University in 2022. She specialises in lifestyle journalism and throughout her undergraduate degree she wrote for a variety of student publications, where she developed a love for all things style, beauty and sustainable fashion. She has previously written for titles including OK! Magazine, New! Magazine and Notion before she started her career as a lifestyle journalist with woman&home after completing an internship with the brand.