Unisex fragrance: 12 cool, gender-neutral scents that cater to everyone
This is the best unisex fragrance according to our beauty team: it's not who's wearing it - but how you wear it!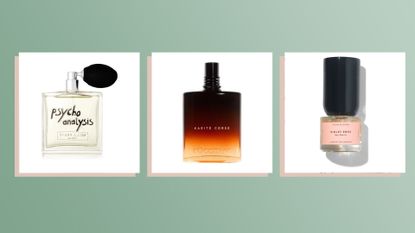 (Image credit: Future)
Unisex fragrance isn't a brand new concept, but it certainly feels of the moment. As the boundaries of what's viewed as 'masculine' or 'feminine' continue to soften day by day, fragrances that cater to all genders are becoming more fashionable.
When choosing the best perfume for women, certain ingredients have traditionally been considered as solely for the female of the species. For example, any sort of flower fragrance like rose perfume. According to British perfumer Roja Dove, this view is utterly incorrect. "I have always said that a rose has no gender," says Dove. "A rose on a woman smells like a feminine rose, whereas a rose on a man is a masculine rose." Echoing this, Justin Welch, Director of Marketing at Firmenich Fine Fragrance, says, "I like to think of fragrances as being gender-fluid - people should have the freedom to choose and travel amongst different olfactive profiles."
To find a great gender-neutral scent, consider perfume notes that are often reserved for the best men's colognes. This may include sweeter notes like the best vanilla perfume as well as sandalwood, black pepper, neroli, and vetiver - nothing should be off limits. "Stereotyping a particular ingredient to a particular gender is so Victorian," confirms Dove. "If you find a scent you love, that makes you feel sexy, that makes you walk a little taller, wear it." Amen to that.
How to pick the perfect unisex fragrance
Why you can trust Woman & Home Our expert reviewers spend hours testing and comparing products and services so you can choose the best for you. Find out more about how we test.
There are several factors to consider when investing in your latest unisex fragrance, but according to both experts, it's all about how it makes you feel.
Notes: Think warm, spicy, woody, citrus scents that smell super clean and dry. Notes such as vetiver, black pepper, grapefruit, frankincense, leather, and perfumes with patchouli are ingredients that tend to delight everyone's senses and make perfect fall fragrances.
How it sits on you: "It's amazing how the same fragrance can smell completely different on different people," says Welch. "On one hand, your physical chemistry has a part to play. On the other, I believe that your own personality and spirit dance in the perfume's alchemy. You, the full you, are a key ingredient in how this is perceived by others."
The season: Perhaps you're the type of person who religiously sticks to one signature scent, or maybe you like to change with the season. Traditionally, spicy scents are considered for the chillier months and citrus scents are seen as more suited to sunshine. However, bear in mind that when it comes to unisex fragrance, the rules are out the window - so you do you.
If you're planning to shop the web for your unisex fragrance, figuring out how to buy fragrance online can be a bit of a challenge, especially if you've never caught a whiff of it before. Luckily, many brands provide the option to order samples before you commit to a full-size bottle, which can also help you work out which perfume lasts longest on you too.
12 best unisex scents, chosen by our beauty team
Our list includes options for all budgets, and remember that some of the pricier options often sell miniature, more affordable bottles. These are a great option should you be a bit non-commital, like us, when it comes to investing in a new scent.
1. Calvin Klein CK One
Best timeless unisex fragrance
Specifications
RRP: $44.95/£35 for 200ml EDT
Top notes: Lemon, mandarin, fresh pineapple, papaya, cardamom, bergamot
Middle notes: Green tea, nutmeg, violet, jasmine, lily of the valley, rose
Base notes: Green accord, musk, cedar, sandalwood, oakmoss, amber
Reasons to buy
+
Iconic example of the genre
+
Good projection
+
It's often on special offer
Arguably the first proudly unisex fragrance, CK One pushed the boundaries of branding back when we lived in far more binary times. It was released in October 1994, with an ad campaign that featured androgynous models of all genders and sexualities. A campaign that said, "this is for everyone," and it still truly is.
It has crisp, fresh, citrusy top notes that settle into a more warm and spicy middle. The base note that lingers and follows you all day is just plain clean. Like the smell of fresh laundry that's been air-dried on a warm sunny day.
If you want your scent to take people back to a very specific time, spritz a bit of this iconic fragrance on. Better still, totally douse yourself in it because CK One truly suits everyone. In my personal experience, the best thing about this scent is that, despite it being incredibly recognizable, few people can actually identify it - so you can retain an air of mystery.
2. MALIN + GOETZ Bergamot
The best citrus blast unisex fragrance
Specifications
RRP: $95/£78 for 50ml EDP
Top notes: Bergamot, lime, lemon, grapefruit, green pepper and mandarin orange
Middle notes: Ginger, black pepper, mint, cardamom and lily-of-the-valley
Base notes: Musk, woody notes, cedar and amber.
Reasons to buy
+
Combines clean and woody notes
+
Great sillage
+
Minimalist branding
Reasons to avoid
-
Not particularly heady, if that's your thing
If you're looking for something zesty and crisp with great longevity and a dry down that smells like perfectly fresh laundry - this is your guy. It's reminiscent of Spanish-style colonia (aka cologne) in how it marries citrus, freshness, and a hint of warm spice. It smells clean, which is what lovers of Malin + Goetz's best skincare products and scents have come to admire in this brand.
A little history: In March 2004, Matthew Malin and Andrew Goetz opened the doors of their flagship store in the smart New York City neighborhood of Chelsea. Their apothecary-style company produces, "uncomplicated luxury skincare and fragrance for the modern, design-conscious individual." Well done to them, because they've succeeded in that mission, and although a commitment to using unisex fragrance runs through the whole brand, this Bergamot eau de parfum is a stand-out product.
3. Escentric Molecules Escentric 04
Best unisex fragrance for fragrance nerds
Specifications
RRP: $150/£79 for 100ml EDP
Notes: (no top/heart/base) Grapefruit, juniper, osmanthus, rose, matic, and galbanum
Reasons to buy
+
A fragrance with plenty to talk about
+
Great for layering
+
Will be unique to you
Reasons to avoid
-
Unpredictable as it smells different on everyone
At the heart of Escentric Molecules 04 is a fragrance molecule called Javanol, which takes the woody element of sandalwood into a new dimension. This melts together with aromas of grapefruit, juniper, osmanthus, rose, and galbanum. This combination, to me, smells like iced tea on a sunny day and all the warm fuzzy feelings that would evoke. However, it could smell totally different to you - which is the beauty of this scientific brand.
Escentric Molecules harness fragrance in a revolutionary way. The molecule their whole brand is based upon, Iso E Super, was created in a laboratory in 1973. Described as having a "velvety, cocooning effect," It's highly prized by master perfumers and features in many well-known scents at relatively low concentrations, but Escentric Molecules set it at the center of their brand.
The brand's fragrances are launched in pairs, with one Molecule scent and one Escentric. The Molecule is simply whichever molecule the scent is based on (in this case Javanol) diluted in alcohol - which reacts with your skin in a totally unique way. The Escentric boasts a high concentration of the molecule amongst other notes to create a more traditional composition. Many perfume lovers use this perfume in fragrance layering, as it can bring a whole new dimension to the projection of your scent.
4. Bella Freud Psychoanalysis
Best unisex fragrance to suit any season
Specifications
RRP: $275/£165 for 100ml EDP
Top notes: Neroli, petitgrain
Middle notes: Tobacco, tobacco blossom
Base notes: Leather
Reasons to buy
+
A scent for all seasons
+
Stylish packaging
+
Unique
Reasons to avoid
-
Not the most travel-friendly bottle
Bella Freud has become synonymous with sumptuous, deep, warm scents that stimulate all the senses. The delicate freshness in the top notes of neroli and petitgrain capture the essence of intelligence and heritage in this eau de parfum. The warmth and depth of the notes are lifted by a hint of tobacco flower, with deep, dense resins and a base accord of cedarwood, dry amber, and dark musks.
Okay, let's talk about the bottle. If you want to start your day feeling like you're straight out of old Hollywood - then get spritzing. Hell, even in your workout gear you'll feel like a million dollars. With that said, the old-school atomizer puff does make this scent slightly less portable than others.
Much like the best Jo Malone perfumes, this is the kind of unisex scent that elicits yummy noises from those who smell it, so expect plenty of compliments. And although it's quite pricey, a little goes a long way.
5. Lush Devil's Nightcap
Best unique unisex fragrance
Specifications
RRP: $235/£150 for 100ml EDP
Top notes: Oakmoss
Middle notes: Ylang ylang
Base notes: Clary sage
Reasons to buy
+
Natural ingredients
+
Unique
+
Very long lasting
Reasons to avoid
-
Not everyone is going to love it
This fragrance is for those who dare, as it's a truly unique, very long-lasting perfume but should be considered a bit of a Marmite option - some people love it and others... well you can fill in the rest.
Personally, I was shocked by this fragrance which is described as, "a walk through the ancient countryside with the sea air in your lungs." Shocked because that description is exactly what this smells like. The top notes of oakmoss are perhaps the strongest I've ever smelled and once it settles, it just smells completely green.
Another slightly surprising thing about this scent is the price, which does feel a little steep for a brand best known for democratically-priced bath and body products. But then again the generous 100ml bottle does explain that somewhat, as does the fact that natural ingredients are generally a bit more precious and tricky to formulate with. This is unique, and evocative but also one that you should certainly try before you buy.
6. L'Occitane Karité Corsé
Best gourmand unisex fragrance
Specifications
RRP: $109/£72 for 75ml EDP
Top notes: Bergamot, clary cage, cardamom and black pepper
Middle notes: Mediterranean orris, coffee, warm cocoa, roasted shea nuts
Base notes: Roasted Shea almond accord, bourbon vetiver, cedarwood
Reasons to buy
+
Chocolatey gourmand smells truly delicious
+
Despite spice and smokiness, smells fresh
+
An all-season scent
Reasons to avoid
-
Could be too sweet for some
L'Occitane is one of those rare brands that's well regarded in the worlds of fragrance, skincare, and beauty. They were also one of the first large companies to focus on sustainability and creating ethical, clean beauty products in a meaningful way.
Karité Corsé translates to, "roasted shea nuts" and although the bottle seems to be aimed squarely at men, with its homme tagline, just ignore that. This unisex fragrance is comprised of a mixture of truly delicious ingredients, including cocoa, coffee, almonds, and bourbon, which makes it - and you - smell good enough to eat. Although its sillage (the linger-factor on the skin) is a bit more muted than your average scent aimed at a unisex or masculine market, that actually works in its favor, as it'll never be overpowering.
This might be better for winter than summer because, although none of its notes are specifically Christmassy, Karité Corsé just reminds me of the Holidays! Perhaps that's just down to how luxurious it smells, and the overall gourmand impression. Either way, this smells like a real treat and, as long as you enjoy sweet scents, you'll probably want to drink it up.
7. 4711 Original Eau de Cologne
Best unisex fragrance for those on a budget
Specifications
RRP: $21/£18.69 for 200ml EDC
Top notes: Lemon, bergamot, and orange
Middle notes: Lavender and rosemary
Base notes: Neroli and pettigrain
Reasons to buy
+
Affordable
+
Classic, timeless sent
+
Recognizable
Reasons to avoid
-
Less longevity than others
4711 Original Eau de Cologne came from the nose of Wilhelm Muelhens and was launched in 1792. The clean, citrusy, refreshing, and slightly herbal-smelling scent is something your grandparents may well have worn - and yet it still smells completely modern and like one of the best lavender perfumes for right now.
Many compare it to fragrances that cost far more than it does (ahem, Tom Ford Neroli Portofino) and in light of how affordable it is, you forgive the fact it doesn't last as long as some others on your skin. This is simply due to the fact it is an eau de cologne, with a lower concentration of perfume oils than any other perfume strengths you may be weighing up, such as eau de toilette vs parfum.
With a huge bottle at a very reasonable price and nice light nature, this is perfect for a little spritz of sunshine, and a great starter scent for any younger fragrance fans in your life.
8. Vilhelm Parfumerie Stockholm 1978
Best unisex fragrance for citrus lovers
Specifications
RRP: $150/£120 for 50ml EDP
Top notes: Black pepper, lemon, and almond
Middle notes: Geranium and rosemary
Base notes: Patchouli, black amber, and moss
Reasons to buy
+
Sophisticated
+
Excellent longevity
+
Unique - nobody will smell like you
Vilhelm Parfumerie was founded by Jan Ahlgren - a former model, handbag designer, and now niche perfume expert. The high-end brand describes itself as more than a perfume, saying, "Vilhelm Parfumerie is a library. If some scents are silences, these are tales."
In this instance, its olfactory profile is taking you back to the Swedish capital in the summertime, when ABBA was hot and revolution was in the air. And what does that mean in practice? Well, I can't say I've been to Stockholm, or in fact 1978, but it must have smelled like deliciously clean, spicy, soapy complexity. The peppery and lemon top notes give it an initial zing, but what remains on the skin is more of a warm, comforting funk from patchouli and amber. This particular olfactory 'tale' is definitely one I'd like to have lived through. And the feeling this fragrance evokes lingers for a long time because, mama mia - this scent lasts and lasts.
9. Tom Daxon Laconia
Best unisex fragrance for citrus lovers
Specifications
RRP: $220/£175 for 100ml EDP
Top notes: Lemon, bergamot, orange, mandarin
Middle notes: Water mint, green violet leaf, jasmine
Base notes: Sea salt, vetiver, cardamom
Reasons to buy
+
Understated elegance
+
A long-lasting citrus
+
Sunshine in a bottle
Reasons to avoid
-
Might be too zingy for some
Laconia Eau de parfum is like summer, but more explosive, and evokes memories of sunny days, with salty skin, and freshly squeezed lemon in a perfectly chilled G&T. From the nose of British perfumer Tom Daxon Bowers, who set up Tom Daxon back in 2013, it joins the ranks of other incredible unisex scents from the brand, such as Iridium and VSOP.
Tom described this particular scent for summer as something he imagined while on holiday. Laconia, he says, is, "inspired by a fresh lemonade, made from lemons grown at the hotel I was staying in near Monemvasia in Greece. It's a sunny natured pick me up and, unusually for citrus, it really lasts." Daxon really knows his stuff with scent. The perfumer grew up surrounded by fragrance, as his mother was a long-time creative director in the cosmetics industry, and it's clear his skill was learned from a young age. His fragrances are clean, modern, and understated - ideal for those who want to smell great, without filling a whole room.
10. Maison Margiela When the Rain Stops
Best unisex fragrance for lovers of aquatic scents
Specifications
RRP: $144/£49 for 100ml EDT
Top notes: Bergamot oil, vegetal accord, and pink pepper
Middle notes: Watery notes, rain notes, Turkish rose, and jasmine
Base notes: Moss, pine tree, and patchouli.
Reasons to buy
+
Fantastically verdant scent
+
Smells just like summer rain
+
Evocative
Reasons to avoid
-
Slight metallic notes won't appeal to everyone
As one of Maison Margiela's Replica collection, this particular scent is designed to awaken olfactory memories of - you guessed it - summer rain. When the Rain Stops is a very clean watery scent with hints of rose and pepper that lifts your spirits and takes you back to that period after there's been a midsummer deluge. Hints of mossiness and verdant accents mean it's got plenty of greenery on the nose too.
This isn't the only excellent unisex scent crated by Margiela, the now-iconic replica collection began with three fragrances back in 2013 and has now expanded to 13, all designed to evoke a specific mood including Sailing Day, Springtime in a Park, and By the Fireplace.
11. Roja Parfums Oceania
Best luxury unisex fragrance
Specifications
RRP: $370/£295 for 100ml EDP
Top notes: Lemon, bergamot, grapefruit, lime, mandarin, litsea cubeba, rosemary, thyme, lavandin
Middle notes: Geranium, Jasmin de Grasse, ylang ylang, violet, jasmine sambac
Base notes: Galbanum, Moss Notes, Vetiver, Cedarwood, Juniper Berry, Sandalwood, Benzoin, Vanilla, Orris Sur cèdre, orris, labdanum, musk
Reasons to buy
+
Unique, precious ingredients
+
Lasts extremely well
+
Charitable donation
+
Beautiful bottle
Reasons to avoid
-
Very costly, one for the wish-list
Roja Parfums is one of the most highly regarded perfume houses in the world and has gained a name for creating luxurious scents. This particular example is a wonderful mixture of citrus, wood, herbs, and spices that smells like a glamorous summer brunch.
Not only is its projection impressive, but as an eau de parfum containing high levels of perfume oil, my gosh does it last. We're talking 12 hours plus, even after a day's work and gym session. This fragrance has plenty to say, will make itself known, and certainly stands out from the crowd.
Yes, it's a tad pricey, so won't suit everyone's budget. But if you can splash out, what you're paying for here is a truly unique scent. The fact that a donation from every sale of Oceania Eau De Parfum is made to charities dedicated to protecting the planet's oceans is an extra excuse to treat yourself.
12. Boy Smells Violet Ends
Best unisex fragrance with a smokey finish
Specifications
RRP: $98/£105 for 65ml EDP
Top notes: Rhubarb, violet, black pepper, and bergamot
Middle notes: Tobacco, black tea, olibanum, and iris
Base notes: Leather, birch, and papyrus
Reasons to buy
+
Smoky and sexy
+
Dries down beautifully
+
Cool brand for the dressing table
Violet Ends is like a bunch of flowers sitting in a library filled with leather-bound books, that have a faint smell of pipe smoke on their spines. This scent is unafraid of taking strong notes and putting them together, in a way you'd never expect to work - but it seriously does. It's the sort of fragrance that sits as easily on the skin of someone in their seventies as it does on someone in their twenties and will always turn heads.
As fragrance houses go, Boy Smells is one of the newer, cool kids on the block and originated in LA, where founders Matthew Herman and David Kien teamed up to "wrap traditionally masculine scents in a prettier bouquet." Their brand message is self-described as, "genderful," embracing fragrances considered masculine and feminine and mixing them together in a bold way. Truly, they've done an excellent job. You will truly never smell anything even close to Violet Ends, so it's an ideal choice for those of us who enjoy individuality.
---