Perfumes with patchouli: 10 seriously sophisticated, musky and earthy scents
A beauty editor's pick of perfumes with patchouli – from those packing a punch to softer, woody and floral combinations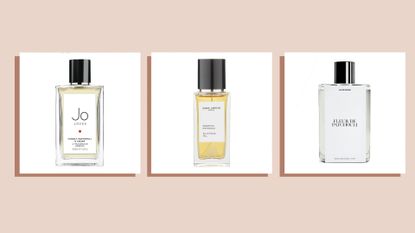 (Image credit: Jo Loves, Sana Jardin, Zara)
woman&home newsletter
Sign up to our free daily email for the latest royal and entertainment news, interesting opinion, expert advice on styling and beauty trends, and no-nonsense guides to the health and wellness questions you want answered.
Thank you for signing up to Woman & Home. You will receive a verification email shortly.
There was a problem. Please refresh the page and try again.
Perfumes with patchouli tend to belong to the musky, woody and floral fragrance families, so if you're drawn to those types of scents it is probably already a note that's caught your nose.
In high concentrations, the earthy quality and slight sweetness that this plant brings to a perfume is very recognizable. But because of its depth, it's often used as a base note, as well as a middle note, in many of the best perfumes for women – from Lancôme's La Vie Est Belle to Gucci Guilty, Chanel No. 5, and Creed Aventus for Her.
"Patchouli is a unique natural extracted from the leaves of the patchouli plant," explains perfumer and Escentric Molecules creator Geza Schoen. "It has a cool, rather aloof woodiness to it. I love it for its moody beauty. Unlike 99% of perfume ingredients, we associate it with a particular period, the sixties and seventies, and that bohemian spirit." It's also a nostalgic scent for many, as patchouli is found in a lot of the best men's colognes, often reminding us of family and loved ones.
"Patchouli is considered a woody note, but it has depths of green, spice, and herbal notes that make it nuanced and layered with interesting effects," adds perfumer Ruth Mastenbroek. "The patchouli plant is related to other aromatic plants like lavender and sage, which means it's a versatile ingredient. Patchouli has a balancing and grounding effect on mood, and is calming and relaxing."
10 beautiful perfumes with patchouli, chosen by our beauty experts
Why you can trust Woman & Home Our expert reviewers spend hours testing and comparing products and services so you can choose the best for you. Find out more about how we test.
1. Sana Jardin Celestial Patchouli Eau De Parfum
Best perfume with patchouli overall
Specifications
RRP: $145/£95 for 50ml
Top notes: Coriander seed
Middle notes: Rose absolute, orris, osmanthus
Base notes : Patchouli, sandalwood, cedarwood, cinnamon bark, cypriol, leather
Reasons to buy
+
Complex and elegant
+
Uplifting
+
Socially conscious brand
Reasons to avoid
-
Could be a little intense for some
Perfume is so subjective that it would be nigh-on impossible to crown just one as the overall best. But Celestial Patchouli was such a standout because it is, in short, beautiful. Patchouli is surrounded by coriander seed, rose, cedarwood, and a little cinnamon and leather for a very elegant and sophisticated scent with lots of depth.
While testing perfumes with patchouli our beauty editor immediately packed it for her upcoming holiday because it was love at first spritz. The brand's social and sustainability credentials are also very worthy of mention – Sana Jardin enables its floral harvesters to generate additional income by selling products made from the waste generated during the fragrance creation process.
2. INITIO Parfums Privés Rehab Extrait De Perfum
Best luxury perfume with patchouli
Specifications
RRP : $350/£220 for 90ml
Top notes : Bergamot, lavender
Middle notes: Patchouli, sandalwood
Base notes: Musk, hedoine
Reasons to buy
+
Incredibly long-lasting
+
Luxurious
+
The perfect balance of sweet, musky and woody
A divine concoction of patchouli, creamy musk, and cedar with a hint of vanilla sweetness, Rehab promises "an ecstatic return to the pleasure of perfume" – and delivers it. It's warming, musky, woody, and most importantly – totally unique.
Yes, it is the most expensive in our round-up by some way, but this is partly down to it being an Extrait De Parfum. These contain higher concentrations of fragrance ingredients than Eau De Parfum and Eau De Toilette, and therefore last significantly longer on the skin; we were still able to smell it the following morning. So if you were wondering which perfume lasts longest on this list, here's your answer. And If you're looking for something super luxurious, this ticks that box and then some. It's a mouthwateringly good statement scent.
3. Zara Fleur De Patchouli EDP
Best affordable perfume with patchouli
Specifications
RRP: $39.90/£25.99 for 90ml
Top notes: Peony
Middle notes: Patchouli
Base notes : Guaiac wood
Reasons to buy
+
Affordable
+
Pretty floral
+
Great for everyday wear
Proof that cheap and cheerful fragrances don't have to smell cheap and cheerful are the eight fragrances created for high street favorite Zara by Jo Malone CBE, one of which is this delightful patchouli number.
Quite sweet without being at all sickly, Fleur de Patchouli makes us think of sun-soaked festivals and hazy summer days spent outdoors. It is on the lighter side, as perfumes go, but considering that it's barely more than $39/£25 for a generous-sized bottle, the scent lasts for a good amount of time. A great everyday spritzer that's kind on most budgets.
4. Jo Loves Cobalt Patchouli and Cedar
Best crisp perfume with patchouli
Specifications
RRP : $155/£115 for 100ml
Top notes : Grapefruit
Middle notes : Vetiver, geranium
Base notes: Patchouli, cedarwood
Reasons to buy
+
Very crisp, clean feel
+
Instantly uplifting
+
Refreshing
Reasons to avoid
-
Could be too fresh for some
If you're a follower of Jo Malone CBE's fragrances then this relative newcomer from her current brand may already be on your radar, but if not, then we advise you to take note.
Cobalt Patchouli & Cedar opens with incredible crispness and freshness when you first spritz, thanks to some of Jo's favorite notes, grapefruit, and vetiver. It then gradually wears down to that comforting patchouli and cedar combination while retaining that fresh and clean vibe. You can tell that it was inspired by the optimism of blue skies and possibilities – but this isn't just a scent for summer, we love it as a perfume for winter too as it offers an instant mood boost at any time.
5. Escentric Molecules M+ Molecule 01 + Patchouli Eau De Toilette
Best perfume with patchouli for layering
Specifications
RRP : $47/£47 for 30ml
Notes: Patchouli, Indonesian patchouli, iso E super
Reasons to buy
+
Warming
+
Great for layering
+
A spin on classic Escentric Molecules 01
+
Reasonably priced
Reasons to avoid
-
Very popular so others might be wearing it
The classic and straightforward comfort of woody Escentric Molecules 01 is a popular fan favorite, but this twist on the original comes with the very prominent addition of patchouli – of which it features two qualities. "The biggest chunk is Patchouli Coeur, a very clean, soft patchouli oil fraction with the camphor-like top note stripped out, resulting in a lighter and more sophisticated scent profile," Schoen explains.
"I have also included a patchouli oil from Indonesia to round it out with a bit of a top note. Perfumery is all about proportion, and just a little of that borneol and camphor top note gives Molecule + Patchouli a lift." Our verdict? If you want patchouli to be front and center in a nice and reasonably priced fragrance, this is well worth looking into.
6. Aesop Rōzu Eau De Parfum
Best unisex perfume with patchouli
Specifications
RRP : $190/£135 for 50ml
Top notes : Rose, pink pepper, shiso
Middle notes : Jasmine, rose, guaiacwood
Base notes : Patchouli, vetiver, myrrh
Reasons to buy
+
Long-lasting
+
Dries down beautifully
+
Unisex
Technically, any perfume can be unisex fragrance, though there are some that lend themselves more readily to that label. Billed as a fragrant interpretation of "the full life cycle of a rose", Aesop's Rōzu is an incredibly sexy scent that's floral, spicy, and slightly smoky all at once.
It wears down to a woody base, which pairs that all-important patchouli with vetiver and myrrh, and we love that it lingers for hours. You can get away with it at this time of year, but it's an ideal addition to your fragrance wardrobe as we veer towards the winter months.
7. Ruth Mastenbroek Signature Eau De Parfum
Best niche perfume with patchouli
Specifications
RRP : £135 for 100ml
Top notes : Bergamot, pineapple, blackcurrant, pink peppercorn, mandarin
Middle notes : Rose, jasmine, lily
Base notes: Patchouli, oakmoss, sandalwood
Reasons to buy
+
Niche perfumer
+
Very evocative
+
Fresh, as well as earthy
Reasons to avoid
-
Unusual, so won't suit everyone
If you want something that's a bit more under-the-radar, Signature by Ruth Mastenbroek is a lovely uplifting choice that really celebrates patchouli's earthy elegance alongside a supporting cast of floral and woody notes. "I wanted to conjure the feeling of meandering through a forest on an autumn day, with the crunch of wet leaves, moss and earth underfoot," explains Mastenbroek.
"For me, patchouli is a unique ingredient that adds warmth, texture and depth as bergamot and rose bring light and freshness; these are the sunlight peeking through the canopy of trees overhead. The finishing touch that brings Signature to another dimension is the spicy pink pepper, which serves to surprise the senses on the first spray." And after testing, we agree. Prettier florals and citrus always complement the best patchouli perfumes well, but it's rare to find one that's this lovely, in our opinion.
8. Jo Malone London English Pear & Freesia Cologne
Best fruity perfume with patchouli
Specifications
RRP : $155/£110 for 100ml
Top notes : King William pear
Middle notes : Freesia
Base notes : Patchouli
Reasons to buy
+
Fruity and delicious
+
Patchouli brings lovely subtle warmth
+
Crowd pleaser
Reasons to avoid
-
Quite light, as a cologne
This is a widely-recognized classic for those fans of the best fruity perfumes, its overall fruitiness rounded off with a lovely twist of patchouli to give it that little bit of musky depth. It's definitely on the lighter side, as, like many of the best Jo Malone perfumes, it's a cologne, but we think it perfectly captures the juiciness of a pear with a little floral and woodiness for a well-balanced scent.
Sure, it's popular with the masses, but that isn't a bad thing in our book and only serves as a symbol of its greatness. For a limited time, it's also available in this pretty fluted bottle, for a twist on the classic Jo Malone London design.
9. Cochine Vanille & Tabac Noir Eau De Parfum
Best vanilla perfume with patchouli
Specifications
RRP : $145/£110
Top notes : Bergamot, cardamom, nutmeg, basil
Middle notes: Tobacco flower, rose
Base notes: Patchouli, vanilla, amber, cedarwood, tonka
Reasons to buy
+
Spicy and warming
+
Classic combination
+
Lovely drydown
Reasons to avoid
-
On the sweet side for some tastes
Vanilla and tobacco is a timeless fragrance combination, with its contrasting sweetness and bitterness loved by perfume enthusiasts the world over, and versatile patchouli is often found as a supporting complimentary note in the best vanilla perfumes.
Cochine's Vanille Tabac Noir is deliciously warming and makes for quite a sexy evening spritz, with the patchouli working in harmony with cedar, tonka, spicy cardamom and nutmeg, for a gorgeously complex fragrance. It's a bit of a statement, but a great one, and it lasts brilliantly – we caught whiffs of it all day and evening long.
10. Confessions of a Rebel Morning After Eau De Parfum
Best fresh perfume with patchouli
Specifications
RRP : $110/£105 for 100ml
Top notes: Italian lemon, lavender, cardomom
Middle notes: Geranium, artemisia, coconut wood
Base notes: Patchouli, tonka bean
Reasons to buy
+
Very fresh
+
Patchouli is made more striking with citrus notes
+
Unisex
Reasons to avoid
-
Could be too masculine for some tastes
We'll let you decide the inspiration behind this fragrance's name, but the main thing to know is that it is wonderfully fresh. Opening with zingy clean notes of lemon and vetiver, patchouli comes into play later on with geranium and tonka bean.
It may lean a little too far masculine for some tastes, but it does have a sweetness and the brand notes that it's worn and loved by both men and women. If you wanted to sweeten it further it would layer nicely with a more traditionally 'feminine' scent, the best rose perfumes or floral fragrances, say. But either way, it's addictive and is sure to grab people's attention – they'll be desperate to know what scent you're wearing.
---
What does patchouli smell like?
Patchouli strikes that balance between earthy, musky, woody and perhaps even grassy. "It's a powerful and mysterious scent that delves into your subconscious and conjures old memories," Mastenbroek tells us. "It smells of rich dark earth, of damp woods, of blackened leaves rotting under fallen trees in an ancient forest. It is a clean smell because it has hints of camphor – also found in eucalyptus and rosemary – while at the same time having something dirty about it. It is raw, peppered with spice, and has something sensual about it."
"It's possible for patchouli to go under the radar as it's such a versatile note, complementing other woody, green, sweet and spicy ingredients," adds Mastenbroek's son, also a perfumer, Nic Mastenbroek. "I would advise any perfume lover to try to smell the pure patchouli oil as they may be surprised by what they discover."
Over the years we've sprayed countless perfumes with patchouli to be able to bring you an edit of both those that put this earthy and woody note front and center, as well as some those in which it compliments a complex cocktail of other notes, to help you find the patchouli perfume to suit your preferences.
How to choose the best patchouli perfume for you
Consider how prominent you want patchouli to be: We assume, as you're here, that you're already a fan of perfumes with patchouli, but consider whether that warm and earthy note is what you want to be the standout. Some fragrances put the spotlight on patchouli, while in others it is one of a few key players that work together to form a beautiful scent. If patchouli is in the name of your fragrance-of-choice, that's a good sign that it's going to be the focus of the scent.
Think about complimentary notes: If there are other notes you're drawn to and they're listed alongside patchouli, it's one indicator that a fragrance could be a new favorite of yours. Patchouli is incredibly versatile, so there are many other notes that it layers well with. But it's a good idea to have some knowledge of these before you shop, especially if you are somebody who likes fragrance layering. "Patchouli blends beautifully with vanilla and maltol to create a warm chocolate accord, which can be combined with amber and other woody and musky notes in an eastern-inspired fragrance – see Thierry Mugler's Angel, for example," says Mastenbroek. "Bergamot, black pepper, sandalwood, ginger, and citrus notes of lemon and mandarin are great partners for patchouli," she adds. "It also combines brilliantly with contemporary floral, woody, and musky fragrances."
Try before you buy: Ideally you'll smell your fragrance in person before you purchase an entire bottle. You can buy tiny samples online, sometimes even free of charge, before you commit to the full-size deal. Discovery kits containing a patchouli fragrance are also worth looking into, as some brands permit you to redeem the cost of the kit if you purchase a full-size bottle later on. If, for whatever reason, it's really not possible to try before you buy then do as much homework as possible beforehand. Read our guide on how to buy fragrance online next.
Think: when will you wear it? When you come to smelling perfumes with patchouli, it's important to bear in mind where and when you hope to wear your eventual purchase. Think: is this a scent that you plan to wear every day, or one that you only spritz on special occasions? Do you think the scent is too punchy, too light, or the best patchouli perfume for this scenario? See our guide on how to choose a perfume for handy beginners tips on shopping for a scent that suits you.
Sign up to our free daily email for the latest royal and entertainment news, interesting opinion, expert advice on styling and beauty trends, and no-nonsense guides to the health and wellness questions you want answered.
Lucy is a UK-based beauty journalist who has written for the likes of Marie Claire, Cosmopolitan, OK!, Women's Health and more, as well as contributing to woman&home. Her work covers everything from expert skin and haircare tips to the latest product launches and the show-stopping beauty looks spotted backstage at London Fashion Week. During her career she's interviewed some seriously famous faces, from Little Mix to Drag Race royalty The Vivienne, as well as chatting to the industry's leading hairdressers, dermatologists and make-up artists.