We've spotted new deals and extra free gifts in the Jo Malone Cyber Monday sale 2022
Last call to snap up a Jo Malone Cyber Monday deal! Here are the very best offers we've found at every retailer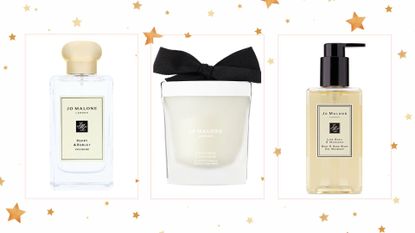 (Image credit: Future/Jo Malone London)
Jo Malone Cyber Monday deals are always a hot ticket at this time of year. This luxurious brand is hugely desirable, especially during the festive season when timeless fragrances in oh-so-chic packaging make for a perfect gift.
It's also widely known that the best Jo Malone fragrances and best Jo Malone candles rarely go on discount, and the brand never cuts prices on their official site, no matter what the time of year. So, finding those rare offers takes patience, perseverance, and a bit of insider knowledge.
Luckily for you, we've got the skill set to make that happen. Black Friday may be over, but Cyber Monday presents a chance to have one last crack of the whip, and we've spotted extra free gifts on Jo Malone London's official site as well as new products going on offer at other retailers, just for today. So if you are looking to shop for some of the best Christmas gifts for her and best Christmas gifts for mom, step right this way. Here is every Jo Malone Cyber Monday deal and discount, from every corner of the virtual shopping universe. Enjoy!
The best places to find Jo Malone Cyber Monday deals in the UK
Best current Jo Malone deals in the UK
The best places to find Jo Malone Cyber Monday deals in the US
Best current Jo Malone deals in the US
---
What's the difference between Jo Malone and Jo Loves?
Jo Malone London and Jo Loves were founded by perfume entrepreneur Jo Malone CBE. Jo Malone London was Malone's first fragrance brand, which she sold to Estee Lauder in 1999, staying on as Creative Director until 2006. It was after this that Malone launched her second fragrance brand, Jo Loves.
Both are highly sought-after, luxury fragrance houses, and many of Malone's original creations remain Jo Malone London's top-selling scents, along with modern classics developed by the brand's expert 'nose' Celine Roux. As well as Jo Malone Black Friday deals, we've spotted some excellent discounts on Jo Loves fragrance and home fragrance in this year's Black Friday sales.
How long will the Jo Malone Cyber Monday sale last?
As Jo Malone is available at such a vast range of retailers, there are plenty of opportunities to shop the sale throughout Cyber Weekend, although Cyber Monday does tend to be the last chance to snag a deal. In the US, Saks 5th Avenue has confirmed all sales will end at Midnight Monday 28th November, while Bloomingdales is offering an extra chance to shop with deals ending Tuesday 29th.
Jo Malone Black Friday deals have been a little harder to come by in the UK, but Allbeauty is currently offering discounts, which we would expect to continue through until the end of Monday at least. Jo Malone London's official site is always classily discreet about Cyber Monday, offering free gifts instead of money off, and those offers will end at Midnight on Wednesday 30th November, in both the US and UK.
What products were in the Jo Malone Cyber Monday Aand Black Friday sales last year?
Last year saw discounts of up to 20% off Jo Malone's signature scents and home fragrances in both the US and the UK, meaning customers could invest in their favorite Jo Malone products for less. The biggest savings were to be had on high-value items, such as the large-sized scented candles and 100ml sizes of the brand's signature colognes.
On Jo Malone London's official website last year shoppers were treated to added bonuses like a complimentary travel pouch and two scented miniatures when they spent $125/£125 or more. A similar deal was on offer at Look Fantastic in the UK, where Jo Malone customers enjoyed a freebie after spending £100.
In the US, Net-A-Porter offered great Jo Malone deals online with the code 'BLACKFRIDAY' last year, with everything from diffusers to the best men's cologne discounted. Net-A-Porter also offered Jo Malone Black Friday deals in the UK last year, but the best discounts were found at All Beauty, where shoppers could get 20% off.
Savvy buyers enjoyed the best discounts on gift sets, which make perfect Christmas gifts for friends and family. Or, even better, a luxe festive treat for yourself!
How often does Jo Malone have sales and where is the cheapest place to buy Jo Malone products?
Jo Malone doesn't usually offer big discounts on their own website - even across the Black Friday and Cyber Monday weekend - however, there were discounts of up to 20% available during this period last year.
Luckily, Jo Malone London is available at a multitude of retailers and the best place in the US and the UK to find Jo Malone deals is usually Net-A-Porter, Sephora, or All Beauty. All Beauty does offer various savings throughout the year, but the Black Friday and Cyber Monday sales usually see even bigger price drops across the range.
If you want to shop offline, sometimes the cheapest place to buy Jo Malone products outside of the Jo Malone Black Friday sales is in the Duty-Free section at an airport, where you can pick up the products with a decent discount.
Is the Jo Malone Advent Calendar available yet?
Yes, the 2022 Jo Malone Advent Calendar is now available and it's among our pick of the best beauty advent calendars this year. Always a popular calendar of the festive season, it is set to sell out pretty quickly.
With a new tradition forming that sees many of us steering away from traditional Christmas advent calendars and opting for more luxurious picks like candle advent calendars, jewelry advent calendars, or even alcohol advent calendars, it should come as no surprise that Jo Malone has their very own advent calendar too.