What is a deep clean vs a normal clean – and why is it so important for your home?
How does a normal, everyday clean differ from a deep clean? The experts reveal why a semi-regular deep clean is essential, and the step-by-step process for completing one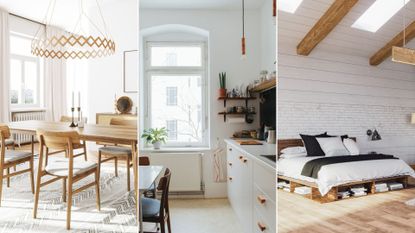 (Image credit: Getty Images)
woman&home newsletter
Sign up to our free daily email for the latest royal and entertainment news, interesting opinion, expert advice on styling and beauty trends, and no-nonsense guides to the health and wellness questions you want answered.
Thank you for signing up to Woman & Home. You will receive a verification email shortly.
There was a problem. Please refresh the page and try again.
Doing a deep clean of your home is arguably one of the most rewarding tasks. There's nothing quite like relaxing at the end of the day with the house looking (and smelling) fresh from hours spent cleaning it top to bottom.
But given that many of us are likely cleaning our homes on a weekly or daily basis, how is a deep clean different from a normal clean? Essentially, a deep clean is a clean that gets into all of those smaller, often neglected nooks and crannies.
If you're planning a deep clean though, you may be wondering which specific spots you should be tackling – especially when planning how to clean a kitchen, or how to clean a bathroom – and how best to do so.
To ensure you complete your deep clean as thoroughly as possible, we spoke to cleaning professionals who undertake deep cleans all the time, to get their expertise on the process. They share the spots that are so often missed during normal cleans – and why regular deep cleans of these areas are so essential.
Plus, if you're planning a deep clean this weekend, they've also shared their insights on how long a deep clean should really take.
What is a deep clean vs a normal clean – and why is it so important for your home?
Simply put, a deep clean is a process that tackles all of the areas within our homes that generally don't get as much of a look in during our regular cleaning routines.
In fact, cleaning expert Chris Willatt, owner of Alpine Maids, explains how a deep clean should address the tasks that you don't address on a regular basis.
"Deep cleaning involves the harder to get to items and areas – the ones that will be a little more physically exhausting, time-consuming, and that may require special tools. This might include, for example, light fixtures, ceiling fans, door frames, and tops of cabinets."
A normal clean, on the other hand, involves cleaning areas and items that you notice and use more often. Cleaning professional Marla Mock, president of Molly Maid explains, "Routine cleaning involves the regular tasks we do to keep your space clean and tidy on a day-to-day basis."
This would include how often you vacuum and how often you mop the floors. Expanding further, Chris says: "A normal clean is going to be that eye-level stuff – cleaning up messes, mopping, vacuuming, cleaning countertops, sinks, etc."
So even though deep cleans aren't as regular as 'normal' cleans, why is it essential that we carry out deep cleaning routines every so often?
It turns out, deep cleaning our properties is key when it comes to protecting our health and keeping our homes running without issue – as well as preventing any unwanted bacteria growth.
"So many areas are left behind when we are cleaning regularly," says Steve Evans, owner of house cleaning specialists Memphis Maids. "As such, a deep clean can remove potential risks for our health, such as germs, pet dander, and mold growth, and it can improve air quality in our homes in general, too."
How to deep clean your house, according to professionals
Though a deep clean is a necessity for every home, the requirements will likely vary slightly, depending on the property. For example, some homes may have more appliances that require cleaning, while others may already clean certain areas normally addressed in a deep clean, during their weekly cleans.
It's important to tailor the idea of a 'deep clean' to your preferences and home – but below is a solid, general guide for how to deep clean your house filled with unmissable expert cleaning tips...
1. Make a plan
The first thing to consider when it comes to how to deep clean your house is where you're going to clean, and what tools you're going to need to do this.
Chris explains, "You may need things like high dusters, step ladders, microfiber towels, magic erasers, and grout brushes, for example. Put a kit together so you have it ready to go."
If you're unsure of where might need a deep clean, cleaning expert Alessandro Gazzo, of Emily's Maids, suggested a clever tactic. "Take a look at each room and ask yourself, what haven't I cleaned in here for more than three months? Write these areas down and add them to your deep cleaning checklist."
2. Do a quick declutter
A great life hack for getting a deep clean done as thoroughly and efficiently as possible is doing a speedy declutter before you dive in.
Marla suggested, "Take the opportunity to remove unnecessary items and organize your belongings before deep cleaning." By doing this, you will be able to get into all of those smaller areas that might otherwise be filled with 'stuff'. After all, a deep clean is far easier if you aren't cleaning around items that you don't intend on keeping long-term anyway.
Decluttering your home can be a lengthy process though, so try getting rid of just a few things in each room before deep cleaning. Check our expert guide for staying motivated to declutter.
3. Clean high-priority rooms – starting top to bottom
A deep clean obviously requires you to clean all of your rooms, but experts suggest being particularly thorough with areas that get lots of traffic.
"Pay special attention to areas like the kitchen and bathroom, where detailed cleaning may involve scrubbing sinks, toilets, showers, cupboards, and any appliances," suggests Marla. When tackling all rooms – but specifically the kitchen and bathroom – Chris advised starting from the top-down, to ensure you catch any dirt that may fall.
In the kitchen, he suggests, "Just work your way down – this way you aren't cleaning areas multiple times. In regards to the spots, you should hit, and clean the vent hood and filters by putting them in the sink with hot water and dishwashing liquid. Then do the fronts of cabinets, and upper cabinets, going on to lower cabinets later," Chris suggested.
"For the refrigerator, pull all parts out and clean it with hot water, dishwashing liquid, and a microfiber cloth. Do the same with all other appliances in the kitchen, be it your coffee machine, washing machine or toaster." However, be careful not to use too much water around electric appliances, and always make sure they are unplugged before cleaning.
These essential tips for keeping a clean kitchen are also great to bear in mind, to avoid the area ever getting too messy.
The same rules apply to your bathroom. Start with areas close to your ceiling, by cleaning things like your shower head, windows, or light fixtures.
Then employ your usual methods for cleaning a bathroom – from using white vinegar when cleaning toilet stains, to a baking soda and vinegar mix for cleaning your shower. Steve also suggests, "If you have enough time, use a drill brush attachment to deep clean the grout in your bathroom."
One area that is, again, often forgotten when deep cleaning a bathroom (no matter how often you clean your bathroom) are shower curtains and doors; so don't leave them out of your routine!
"If you have curtains, soak them in a bucket filled with water and one cup of bleach," advises Steve. "If you have shower doors, mix baking soda and hydrogen peroxide until you form a paste, apply with a soft brush along your doors and your tiles, let sit for 30 minutes and then rinse with plenty of water."
4. Deep clean neglected surfaces
Though you might get rid of dust somewhat frequently, a deep clean is a chance to dust all surfaces that often go untouched throughout the months.
Cleaning professional Nathaly Vieira, founder of Inspire Clean, said, "You'll want to pay attention to hard-to-reach surfaces that haven't been cleaned in some time, such as behind appliances, on top of baseboards, around door and window frames and windowsills, and under beds."
This may mean moving furniture around and pulling out appliances to get at the floor underneath to avoid common cleaning mistakes of missing areas.
This might feel like a lot of effort, but it's an important step if you want your home to be as healthy as possible. Alessandro explains, "These areas need to be cleaned because, if you don't, they might grow mold for example, or leave nasty messes to fester."
In fact, due to them being hidden, Chris explained of these surfaces, "This is where dirt, debris, and bacteria can build up the most."
5. Tackle your windows and surrounding areas
"You'd be surprised how much dirt and grime can build up in areas like windows and sliding doors, which can potentially make these areas of the home inoperable", Chris explained. As such, tackling these areas in your home during a deep clean is vital.
To do this, Chris advises working from the outside in. "Clean the outside of the windows (or sliding glass doors) first with a microfiber cloth and window cleaner," he said. "Or if you don't want to use chemical-based cleaner, you can always use vinegar mixed with water." Cleaning with vinegar is great for the environment and your weekly shopping budget.
Next, get to work on the inside. He advised, "Clean the blinds first; use a microfiber towel to wipe these down, getting into all the crevices. Then clean the inside of your windows with a microfiber cloth and window cleaner, or vinegar and water."
Once these areas are clean, it's time to address the tracking area around your doors and windows.
"A lot of the window cleaner and dirt may have dripped down into this area," Chris said. "A toothbrush is handy here to get into the hard-to-reach areas. Then use a microfiber to wipe up any existing residue."
6. Address your upholstery
Very few of us deep clean our upholstery on a regular basis, especially not when cleaning a living room fast, but according to Angela Lee, a cleaning expert at Hellamaid, it's essential to do this on a semi-regular basis.
"Dust, allergens, and pollutants can easily settle into carpets and upholstery, contributing to poor indoor air quality," Angela explains.
If you have carpets to clean and/or rugs to clean in your home, a good option is to shampoo them, to really get into the fibers – allowing for adequate drying time afterward, of course.
For sofas and armchairs, use your best vacuum first, making sure to clean areas including cushions and the base, before spot-cleaning any stains.
Then, Steve advises using an upholstery cleaning machine, if you can access one. "The best way to deep clean a sofa would be with an upholstery cleaner/steam cleaner – a good example is the Bissell Little Green Portable Carpet Cleaner," he suggests. "An upholstery cleaner is great because it will help you to dig deep down and remove everything that's inside or beneath the fibers."
7. Finally, deep clean remaining floors
If not addressed when following the above step (e.g. if you have hard floors), the final step in your deep clean is to wipe down any wood or tiled floors in your home. You will likely need to move around furniture items to get at the floor underneath – so make sure you have another set of hands to help if required.
Vacuum up any existing dirt and dust that may have fallen during the rest of your deep clean, before using either a mop or steam cleaner to properly sanitize the floors whether cleaning tile floors or cleaning hardwood floors.
You may also want to run a clean microfiber cloth around any hard-to-reach corners or use the crevice tool on your vacuum.
How long does it take one person to deep clean a house?
While it pays to rope other family members or friend in when planning how to deep clean your house, how much time should you set aside if you're doing it solo?
According to experts, it's tricky to put a timeframe on the task, given how the requirements for each home differ. Steve explains, "This depends on the size of the house, the last time you did some deep cleaning, and other factors (such as time availability, energy, etc)."
However, most agree that a deep clean typically requires at least a couple of hours of work. "I would say, for non-professional cleaners, a realistic time for a deep clean is around 3 to 4 hours," suggests Steve.
Marla agreed that "generally, a top-to-bottom cleaning project can take anywhere from several hours to a full day, if done by one person." However, she suggested breaking it down, to avoid getting too tired or overwhelmed. "To make it more manageable we suggest breaking the tasks into smaller sessions, or recruiting extra help to reduce the overall time it takes," she said.
Wondering how often to clean your house on a deeper level? Thankfully, this lengthy task is something experts only advise doing around four times a year on average, depending on the general state of your home. Busier households or homes in warmer locations may require a deep clean more often, for example.
Where do you start when a messy house is overwhelmed?
Deep cleaning an overwhelming, messy home can feel like an impossible task. As such, Steve reiterates that decluttering is the first thing you should do, in order to make a deep clean as straightforward as possible.
"Many of have a serious issue with having excessive clutter in our homes, and it makes no sense to deep clean thousands of items that we don't care for anymore. So first of all, declutter your home. I like the KonMari method, but really there are many different strategies," he said.
Aside from this, creating a list of what to tackle – and in what order – can also be incredibly useful when dealing with an overwhelmed, messy house.
"The best piece of advice that I can think of is to create a list of what you need to incorporate in a deep clean," Alessandro said. Again, this will vary for every home - so write down your non-negotiables, and be sure to prioritize the tasks that will make the biggest impact on your day-to-day living.
Sign up to our free daily email for the latest royal and entertainment news, interesting opinion, expert advice on styling and beauty trends, and no-nonsense guides to the health and wellness questions you want answered.
Amy Hunt is an experienced digital journalist specialising in homes, interiors and hobbies. She began her career working as the features assistant at woman&home magazine, before moving over to the digital side of the brand where she eventually became the Lifestyle Editor up until January 2022. Amy won the Digital Journalist of the Year award at the AOP Awards in 2019 for her work on womanandhome.com.