13 secrets to maintaining a clean kitchen - from professional chefs
There's no one better at keeping a clean kitchen than those who work in them – so here are the cleaning tips and tricks pro chefs have gathered over the years...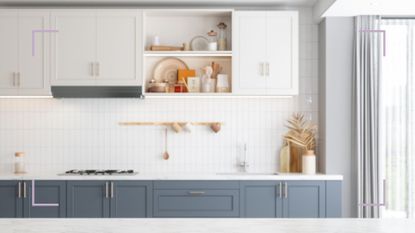 (Image credit: Getty Images)
Keeping a clean kitchen is one of the trickiest household jobs. Because even if you've just tidied up, the space is guaranteed to get just as messy again with the preparation of the next meal!
And no one knows this better than professional chefs. For those for whom cooking is a job, keeping a tidy kitchen is not just ideal - it's essential for prepping meals hygienically, and with ease. So it makes sense that these experts would know all of the tricks for cleaning a kitchen and keeping it that way almost all the time; and especially during the actual cooking process.
To help you do the same, they've shared the hacks for keeping a consistently clean kitchen learnt from years of working in professional kitchens. Whether you're after cleaner countertops, or help cleaning a stubborn cast iron skillet, these tips from the experts involve simple changes to the way you operate in the kitchen, to help limit how much mess there is to clean up before, during and after cooking.
13 secrets to maintaining a clean kitchen, from professional chefs
1. Use a bowl for peelings
When cooking, half of the mess usually comes in the form of peelings from vegetables, potatoes, garlic, and the like. To avoid these messy peels clogging up your clean countertops, Margie Nomura, professional chef and host of the Desert Island Dishes podcast shared one of her favorite hacks.
"My top tip is to keep a bowl next to you as you work for peelings, and that way you keep your area tidy, and you don't have to constantly clean your countertops and make trips to the bin."
Fergus Smithers, chef and head of recipe development at Grubby, agreed with this tip, explaining that during food preparation, "I use two containers on the countertop to separate food waste and other waste (be it packets, tins or anything else) when I'm prepping. This means you can work faster and cleaner."
2. Reserve a place to put your spoon
Who else regularly contends with the battle of placing a dirty spoon or spatula onto a nice clean countertop? According to Sarah Manning-Ball, private chef and owner of the catering business Glorious Grazes & Posh Picnics, there's a very easy trick for addressing this and keeping your workspace clean.
"Have a plate at the side of the hob to put your spoon on between stirs," she suggested. So simple, but so effective. When cleaning the wooden spoon if you don't want to dirty a plate, you could always lay a piece of kitchen roll there - though that's arguably the less environmentally-friendly option.
3. Use larger chopping boards
Rupert Cooper, the chef at Philleigh Way Cookery School and Cove Café, Cornwall, suggested that small chopping boards could actually be standing in the way of a clean kitchen. The idea is that a small chopping board will quickly overspill with food items, especially if you're prepping lots of different veg, meats, or fish.
"Big boards, small problems!" he says. "Make your main chopping board wooden, and large. More space on the board makes chopping far more pleasurable and tidier. Then, use a plastic one on top of it for meat and fish."
4. Use both sides of your chopping board
Speaking of chopping boards, Sarah also insists that if you tend to chop both meat (or fish) and vegetables on a regular basis, you can actually use the same chopping board to save another one from dirtying your kitchen and needing to be washed up.
"Prep your veg before meat, and if you want to use the same chopping board, then you can just flip it over and use the other side," suggests Sarah.
To keep this as sanitary as possible, make sure you've wiped down your organized kitchen countertop with an antibacterial spray beforehand – and never chop raw meat first.
5. Fill your sink with hot soapy water before cooking
Mark Hartstone, award-winning chef proprietor of La Fosse at Cranborne suggests that, instead of waiting until after you've finished cooking to fill your sink for washing up, you should do so beforehand.
He said, "Have a sink of hot soapy water to drop utensils in as and when you finish using them, so you do not have a pile to contend with during or after cooking. This involves multi-tasking, but it makes you more efficient, and you'll be thankful at the end of the night when there's less clearing up to do."
Not only that but placing your cooking tools in the sink straight after use also means less clutter on your countertops while you finish prepping your meal. It also can't harm when it comes to cleaning a stainless steel sink, because no food spillages are coming into direct contact with the surface because they are soaked immediately.
6. Let kitchen spray do its job for fridge cleaning
Cleaning the fridge, along with cleaning washing machines and cleaning dishwashers, is a highly important part of kitchen cleanliness. Why? Because it can be one of the dirtiest areas of our kitchens, thanks to falling food debris, spills, and general stickiness from bottles of sauces, condiments, and drinks.
And the bottom drawers are usually the worst part. Sarah said, "I hate cleaning the fridge under the veg draws; the grooves make it so difficult to get out any bits that have escaped from the draw." However, she's come up with a handy solution during her time as a professional chef.
"To help tackle this job, I spray the bottom of the fridge with a multipurpose cleaner and place a kitchen towel on top. Leave it for five minutes and the kitchen towel soaks up the spray and brings all of the food debris along with it, so you don't need to arduously scrape it out." Genius.
7. Clean your hob immediately
Another area of our kitchens that can get filthy during cooking is the hob, or stovetop. "I dread cleaning the hob, but when working in a restaurant we would be responsible for washing down the whole kitchen at the end of every shift, so you get used to it," Margie confessed.
As such, she has found that cleaning the hob straight after use is usually the easiest way to return it to its best. "If you clean your hob right after cooking you will find it much easier to clean than leaving it until the next morning," she said.
Wondering how best to do it? Margie suggested, "A bowl of hot, soapy water does the trick, combined with a good sponge. And I always use a roll of kitchen paper to dry it afterwards." This works especially well when cleaning a glass stovetop, which requires gentle treatment.
8. Use large pots and pans
Lots of spills on our hobs arise from food or water splashing out of our pans. As such, Fergus advised that using large saucepans – with ample room for any sauces, or water – is a great way to avoid these annoying spills.
"For a clean kitchen, use the right equipment for the job - don't overfill your saucepans, as this likely will lead to spills and mess. Use a larger pan if you have it."
This is also a great tip if you're wondering how to keep an oven clean; using larger pots or baking trays in your oven will help ensure less food spills out of them.
9. Try and tidy as you go
This is perhaps one of the most obvious tricks for a clean kitchen, but it's one that chef Margie swears by – and one that many of us often seriously neglect.
"Whilst waiting for your ingredients to cook or simmer, use this time wisely to clean and tidy as you go," she said. "Although it's tempting to let everything pile up and leave it for later, this will only make you want to put off doing the dishes more.
"Always try to clean a little bit as you go, or at least make sure you load the dishwasher when you have some time to spare." So if you don't already use this tried-and-tested clean kitchen tip, it could well be time to start – even if it is begrudgingly!
10. Prep your food first - then chop
If you hating cooking a meal with the debris of your food prep lingering on your counter – or don't have a lot of counter space to begin with – Rupert advises a simple but very logical tip for a clean kitchen.
He suggests preparing your vegetables first, then cutting them, to keep your space consistently clean.
"When using veg, prepare it first before chopping and cutting. Take all skins and ends off and bin them – then start chopping." That way, you'll have a clear space in which to properly cook your food.
11. Keeping a pot of hot water aside for utensils
How many times have you pulled yet another utensil out of your drawer, forgetting that you'd already used one to stir your meal? Chef Vanessa D'Souza – otherwise known as 'The Autistic Chef' – who is currently appearing on MasterChef UK, shared that she likes to keep a pot of hot water to hand for that very problem.
"Having a pot of hot water where you can dunk and keep spatulas and spoons to use when cooking/for tasting can be essential in clearing clutter, and in stopping yourself from using too many unnecessary items, which later need to be washed up."
This trick will also prevent you from having to putting dirty spoons or spatulas down on your clean countertop in between stirs.
12. Always keep a damp cloth to hand
At the end of a cooking session, dealing with all of the various spills and stains on our worktops can be a bugbear, especially if they have hardened since they were made.
To avoid this, one of Margie's favorite tricks is to "keep a damp cloth handy while you cook." Why? "That way, you can quickly wipe down your cutting board, countertops, and other surfaces as you work."
13. Soak pans ASAP - and use vinegar if that doesn't work
Another very sensible tip we should all be implementing (but probably aren't), is soaking any burnt or caked-with-food pots and pans immediately. "For meals like oatmeal or scrambled eggs, get those pans soaking ASAP; they both set like concrete, and you can damage your pans trying to clean them off," Mark said.
However, if that trick ever lets you down, he also suggested cleaning with vinegar, for sparkling pans. "Vinegar is also a great way to cut through grease and grime on pans without damaging them. Try bringing stubborn pans to the boil with a mix of water, vinegar and bicarbonate of soda," Mark told us.
What is the hardest thing to clean in your kitchen?
Pinning down the trickiest thing to clean in the kitchen is pretty subjective, and is likely to change with whoever you ask. However, most of the chefs we spoke to agree that either the hob, the fridge, the oven, or our pans can be some of the most difficult things to clean in a kitchen.
For the hob and pots and pans, the difficulty can lie in the fact that food often gets burnt onto these items, leaving stains that can feel exceedingly tricky to get off. However, as Mark suggested above, vinegar can be a great way to tackle stubborn stains in both of these areas. Just be sure to dilute it with water, and scrub gently using a non-abrasive sponge, to avoid damaging either surface.
The fridge, being home to all of our fresh food, and with its many nooks and crannies, can also be a difficult appliance to clean. However, removing drawers and shelves to scrub hard-to-reach corners, and scrubbing the appliance down often, is a good way to tackle this job.
Regular cleaning is also the trick when it comes to our ovens, too, Fergus says. Detailing his method, he told us, "I spray it with oven cleaner the night before I plan on cleaning it. I also chuck any oven trays that have food burnt onto them in there as well. The dirt practically wipes off the next morning, so no need to scrub too hard.
"It also helps to clean it little and often, rather than waiting for it to get really bad. Then, it really is a case of elbow grease and scrubbing."
What are 3 hygiene rules in the kitchen?
To keep things as hygienic as possible in your newly clean kitchen, the chefs we spoke to had some universal rules that we should all be sticking to:
Don't continually re-use sponges and cloths: "Change your washing up sponge at least once a week. It's a given that we'll clean our work surfaces and do the washing up, but the sponge we use is often so overlooked, and it can harbor so much bacteria," Vanessa said. Not doing so is one of the most common cleaning mistakes we all make. The same applies to our dish towels, which Sarah says can also hold more bacteria than you'd think. In fact, she suggests that if they're not clean, "Stop drying your dishes with a tea towel – in fact, leave them to air dry. Dish/tea towels are a breeding ground for bacteria, so you're smothering your plates with bacteria after you've washed them."
Always keep raw meat separate from other food items: One tip mentioned by all chefs we spoke to was to ensure that there is no cross-contamination of fresh food. Mark explained, "Eliminating cross-contamination is a very basic but important part of hygiene and cooking. Use separate boards for meat/vegetable/fish, and do not let uncooked food interact with cooked food." Fergus also stated that this habit should follow into your fridge, too. "Make sure your fridge is organized properly and cleaned regularly, with no raw meat/fish next to fresh vegetables or fruit. Also, use plastic wrap or containers to store any opened raw meat/fish."
Wash your hands and surfaces: Aside from that, it's vital to practice the very basics when in the kitchen. When asked about his most important hygiene rule, Fergus said, "It sounds simple, but wash your hands! Especially before you start prepping food." The same applies to your worktops, too. "I always recommend getting into the habit of giving your work surface a clean before you start cooking and when you've finished; this should be a non-negotiable," Margie said.
Amy Hunt is an experienced digital journalist specialising in homes, interiors and hobbies. She began her career working as the features assistant at woman&home magazine, before moving over to the digital side of the brand where she eventually became the Lifestyle Editor up until January 2022. Amy won the Digital Journalist of the Year award at the AOP Awards in 2019 for her work on womanandhome.com.