These sex toy kits make for perfect presents to gift (or keep) this year
These are the best sex toy kits for a partner, friend or for yourself, as tried and tested by us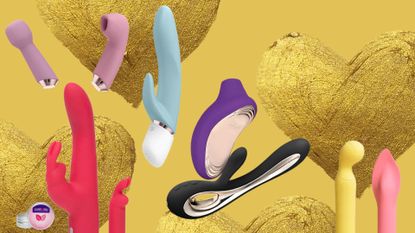 (Image credit: Lovehoney, LELO, Satisfyer)
Sex toy kits can be a great way to try out different sorts of toys if you're a novice to the whole experience or to widen your horizons and try something new. From kits to use with a partner to bundles with a focus on self-care, there's a variety of sex toy kits out there that make for perfect presents.
Sex toys have come a long way in the last few years as female masturbation becomes less of a taboo subject. You can even find certain toys on sale from retailers like Target and Urban Outfitters now. Plenty of sex toys arrive in discreet packaging and look so sleek you'd never guess what their function was at first glance. With so many brands to choose from as well, you'll find innovative functions and helpful add-ons no matter what type of toy you choose to go for.
Buying a sex toy for the first time can be daunting and there's the added pressure of knowing what the other person would actually enjoy if you're getting a sex toy kit as a gift for a friend or partner. Pleasure is incredibly subjective and knowing which of the best sex toys is best suited for you or the recipient of the kit is the first place to start. However, many of the best sex toy kits will offer plenty of variety when it comes to toys, so if you're undecided on rabbit vibrators vs clitoral stimulators, for example, you'll often find both of these popular options.
How we tried and tested the best sex toy kits
Why you can trust Woman & Home Our expert reviewers spend hours testing and comparing products and services so you can choose the best for you. Find out more about how we test.
When testing the best sex toys, we followed the advice of Ky Hoyle (opens in new tab), founder of the UK's first sex toy store for women, Sh! Women's Store (opens in new tab). If you're buying a sex toy kit for someone else, such as a partner, Hoyle recommends choosing "a box of beautiful products they'd love to play with", noting that "if they've mentioned wanting to try a clitoral suction toy, for example, you should make sure the kit contains one, plus accouterments like lube". With Hoyle's advice in mind, we considered options based on these factors:
Variety: As Hoyle explains, there's no point getting a kit with several sex toys that essentially serve the same function. "Your choice of sex toy kit should be based on the type of sexual pleasure you want to explore. You definitely don't need three rabbit vibes," she says. While some people are definitely more accustomed to pleasure of a certain kind, buying a sex toy kit can be a great opportunity to try something new, so we chose a selection of kits which offered different ways to explore new sensations.
Who is it for? Lots of sex toy kits can be gifted to a partner, for their birthday or St Valentine's Day for example, and so will have a focus on toys and accessories that can be easily used with another person. However, this doesn't always mean that those same toys can't be used for solo play. If you're buying for a friend, or for yourself, you're more likely to want to try something which focuses more on self-pleasure, and there are plenty to choose from on this list.
Aesthetics: Sex toys come in an array of different colors, shapes, sizes and aesthetics. Hoyle advises thinking about the person you're buying for (even if that's yourself) and ensuring that they'll actually like looking at the toys included in the kit. "Some prefer to match their sex toys to their bedsheets and choosing the right color is a nice touch, which shows that you've paid attention," she says.
Delivery: As we've noted, sex toys and kits can be purchased from all manner of retailers now. But it'll be just as important that the delivery process and the packaging involved is discreet for many customers, especially if they don't live alone.
Price: Getting a sex toy kit can be a great way to save money on these sometimes-pricey bedroom accessories, so we assessed kits at a range of price points. You'll often find that you're saving money buying a bundle rather than individual items anyway though, especially as most of the sex toy kits on our list also included lube of some kind.
Charging: The sex toys included in the kits on this list can be charged in a variety of different ways, from battery-powered devices to clever charging cables.
The best sex toy kits, as tested by the health team
1. Smile Makers Self-Exploration Kit
Best sex toy kit for beginners
Specifications
RRP: $100 / £75.95
Materials: Silicone
Charging: Requires one AA battery each (not included)
Discreet delivery?: Yes
Waterproof?: Yes
Includes: 1 x 'Tennis Pro' vibrator, 1 x 'The Firefighter' vibrator, case
Reasons to buy
+
Easy to use
+
Small and non-intimidating vibrators
+
Very quiet
Reasons to avoid
-
Requires batteries, which aren't included
If you're buying a sex toy kit for someone new to the world of toys and want it to include the best sex toys for beginners, this kit is the perfect beginner-friendly option. Smile Makers is known for being an inclusive and informative sex toy brand, and all of its toys are aesthetically pleasing, colorful silicone products that are inexpensive and easy to use. While this kit only comes with two vibrators and doesn't include lube or any other accessories, you could throw in a bottle of Smile Makers' Generous Gel lubricant (opens in new tab) or one of the brand's scented candles (opens in new tab) at the same time to make it a set.
The larger surface of The Firefighter means it might not be suited to those who want pinpoint-specific vibrations, but it does mean that this nifty vibrator can be used on all sorts of people and it's a great beginner toy for those who haven't used a vibrator before. The Firefighter is definitely better suited for someone wanting external stimulation as inserting the toy would likely be an uncomfortable experience, but the Tennis Pro is designed for both internal and external vibration. Both are whisper-quiet; I found that these vibrators were two of the quietest I tested overall. They were also the simplest to use, with a quick press of the smiley-face button at the bottom of both toys allowing me to cycle through the four speeds and two pulsation modes easily, though this button would probably be harder to reach if a partner was using the toy on you.
While quiet, both vibrators were super powerful, with the Tennis Pro offering a slightly more intense feeling due to its ball-shaped tip. The feel of the silicone is also another pro to these toys - the material is really soft and they can easily be used alongside a water-based lube for an even smoother experience.
The only downside to this kit is the charging method. While both toys offer four hours of runtime, it does feel pretty old-school to have to put batteries into the toys (which aren't included), considering all the different (and more simple) charging methods used by some of the other toys on our list.
2. Satisfyer Marvelous Four
Best vibrator sex toy kit
Specifications
RRP: $139.95 / £100.95
Materials: Silicone
Charging: USB magnetic
Discreet delivery?: Yes
Waterproof?: Yes
Includes: 4 x vibrator attachments, 1 x control base
Reasons to buy
+
Control base is easy to switch on and off of the attachments
+
Attachments suited for both solo and partnered play
+
Easy magnetic charging
Reasons to avoid
-
Only vibrating attachments
-
No lube included
Satisfyer - home of the ever-popular Satisfyer Pro 2 Air Pulse Stimulator - is one of the most well-known sex toy companies nowadays with one perk of the toys being that many of them can be used alongside the free app for even more fun. While the toys in the Satisfyer Marvelous Four won't connect to the app, unfortunately, the technology of this vibrator kit is still super impressive.
There's one base included in every kit, which can be charged with a magnetic connection to a USB lead, and this will attach to all four of the vibrator attachments with a simple twisting and locking motion. There's something for everyone in this kit: the unique rabbit vibrator has the longest insertable length, while the clitoral suction attachment is smaller and more accessible with a larger 'mouth' compared to many other clitoral suction toys. The other attachments are a g-spot stimulator, which could also be used for some external stimulation, and a wand attachment that's well-suited for solo play or with a partner and can also be used to massage anywhere on the body. Together, this set is easily one of the most varied kits for fans of the best vibrators.
The attachments are all really soft as well, being made from silicone, and even though there are 10 vibration speeds and patterns with 11 pressure wave intensities on the suction toy, nothing was so loud that I would feel self-conscious sharing a wall with someone.
Because it's only the base which gives the vibrations, these toys are also the easiest to clean out of all those we tested. There's no risk of damaging the mechanics as you will have already popped off the base and the toys themselves are waterproof, so you can jump into the shower with them after use.
However, I did find that there wasn't too much range in intensity. The set would definitely suit beginners but if you are someone who knows they need quite a high intensity of vibration to orgasm, these attachments might not hit the spot for you. The wand attachment made for one of the best wand vibrators I tried though, as it was easy for both myself and my partner to grip onto and it was the perfect size for getting the right angle without being too big, a common problem with wand vibes generally. If you're someone who prefers a vibrator over a dildo or any other type of toy, this kit should be on your list as the addition of a clitoral suction attachment is a big plus.
3. Lovehoney Tempt Rechargeable Rabbit Kit
Best rabbit sex toy kit
Specifications
RRP: $94.99 / £79.99
Materials: Silicone
Charging: USB
Discreet delivery?: Yes
Waterproof?: Yes
Includes: 1 x rabbit vibrator, 1 x mini rabbit vibrator, 1 x 'pleasure balm' lube
Reasons to buy
+
Soft silicone material
+
Easy USB charging
+
Gel-like lube is thicker than normal lube
Sometimes people know what they like and if you're not looking for lots of variety with your sex toy kit, this could be the one for you. The best rabbit vibrators give you the best of both worlds: an insertable shaft for hitting the G-spot and two rabbit ear-shaped stimulators for external vibrations.
Lovehoney's Tempt Rabbit (the larger of the two toys) has two different buttons, one for cycling through three speeds and nine different patterns for the shaft and the other for controlling the three speeds in the ears. The great thing about these two elements being controlled with separate buttons is that you can work your way up to an orgasm by inserting the shaft or just using the 'ears' on your clitoris and then turning on the vibrations of the whole toy or a combination of the two. I found that the rabbit was definitely suitable for beginners, as it's quite slim in shape and not too girthy, a contrast to the shape of the bunny ears which are fairly thick.
For something much smaller in both ways, there's the mini rabbit in the same color and style as the larger toy. But this one isn't for insertion, instead it basically functions as a small bullet vibe with the ears offering an extra level of precision. There are three speeds to work through with the smaller toy and the silicone material and super-slim feel of the mini rabbit makes it really easy to hold in place, which is another plus.
The third part of this sex toy kit is the lube, which has a balm-like feel and is particularly great for those who recoil at the thought of cold, liquidy lube being applied to sensitive areas. By the time you scoop some out from the tin, your (or your partner's) hand will have already warmed up the gel.
This kit isn't going to add anything revolutionary but it is an affordable set that will definitely keep you entertained if you're a fan of the classic rabbit or a curious beginner.
4. Natural Love Company Delight Hamper
Best sustainable sex toy kit
Specifications
RRP: $215.94 / £134.95
Materials: Silicone, glass
Charging: 2 x magnetic USB, 1 x 'invisible' charging hole
Discreet delivery?: Yes
Waterproof?: Yes
Includes: 1 x 'tongue' vibrator, 1 x wand vibrator, 1 x bullet vibrator, 1 x glass 'tear drop' butt plug, 100ml water-based lubricant
Reasons to buy
+
Good variety of toys included
+
Vegan-friendly, organic water-based lubricant
+
Sustainable packaging and materials
Reasons to avoid
-
Different charging types could get confusing
I was particularly impressed with the Natural Love Company's Delight Hamper for many reasons but its sustainable credentials were truly unique, as it's not a feature you often see in the sex toy industry. They'll plant a tree for every order, their company is powered by renewable energy, the packaging is all plastic-free, and their water-based lube is organic and vegan-friendly.
But it's not all in the production, the final products are great too. The Myrtle toy is designed to imitate a tongue on your clitoris while the Ambrette is a discreet, ribbed alternative to a hefty magic wand, and the Elemi is a sleek, simple bullet vibrator with three intensity settings and seven rhythm/speed settings. The Elemi was one of the best bullet vibrators I tried out of them all thanks to the silky-soft silicone material and the whisper-quiet 'gentle touch' mode, which is ideal for beginners who aren't quite sure of the level of intensity they're looking for in a vibrator. My personal favorite of the bunch was the Ambrette though, due to how easy it was to hold onto with the 'cone' shape and a tapered end.
When it comes to aesthetics, the toys in this kit are definitely the most pleasing to look at out of all those we tested. I loved the different colors of the vibrators and the silicone material is super-soft. For those wanting to experiment with heat play, the glass material of the butt plug is also suited to this, and all the components of this kit are small and subtle enough to not be too intimidating to first-time buyers or receivers of sex toys.
The only downside to the vibrators in this sex toy kit is that as the whole toy vibrates, so your hand can become fairly numb after not much time holding onto the toy. Overall, though, this sustainable sex toy company gets top marks from us; the eco-friendly packaging is a big plus, and the value for money you'll get when considering how much the toys cost separately is unmatched.
5. Sh! Orgasmic Kit 3
Best sex toy kit for couples
Specifications
RRP: £199
Materials: Varies
Charging: USB
Discreet delivery?: Yes
Waterproof?: No
Includes: 1 x bullet vibrator, 1 x clitoral suction toy, 1 x rabbit vibrator, 1 x glass dildo, 1 x silicone butt plug, set of kegel balls, nipple clamps, mirror, set of 5 'pleasure gel' lube
Reasons to buy
+
Huge variety of toys
+
Discreet delivery
+
Range of colors and materials
Reasons to avoid
-
May be too many options in one kit
-
Only available to buy in the UK
This set has the biggest variety of toys I found in a kit, and also comes with accessories you might be seeking if you want to foray into kinkier territories with a partner, as well as lots of options for lube.
The highlight for me is the ridged rabbit vibrator with its rocking or 'waving motion'. The larger shaft of this toy, which is designed to be inserted and stimulate the G-spot, moves back and forth rather than vibrating (like most rabbits do) and replicates the 'come hither' motion that can help you to have an orgasm. The rabbit ears are controlled by the separate vibration button and are designed to sit on your clitoris to add extra stimulation. If you're wondering how to use a vibrator and are a bit hesitant about the size of this vibe or the fact that it has two separate elements to it, I'd suggest using it with a partner to explore its functions together (it's also probably easier for someone else to hold it, due to the angle needed).
All elements of the kit can be used alongside one of Sh!'s sexual wellbeing 'homework' courses as well, so if any of the toys seem daunting rest assured that they're for beginners as well as seasoned pros. For instance, while the glass dildo may be too girthy for some, its two different ends - one being slightly wider and more textured, while the other is slimmer and just has one, smaller head - make it easier to cater to your sex toy needs. Similarly, the clitoral suction toy only has three speeds, and its pear-shaped design makes it easy to hold and use for a beginner, but the seven 'pleasure settings' and capacity to create quite an intense 'throbbing' sensation means it'll still suit those who are used to the air pressure technology involved in clitoral suction toys, one of the most common types of vibrators.
It's worth noting that the rabbit in particular is fairly loud (and has quite a high level of intensity, with even the lowest vibration option being a bit of a shock), and the bullet vibrator, as well as being more intense than others I tested, was also far from quiet. Both these toys are ones to build up to, making sure you're relaxed and have used lots of lube. But if you're not ready to use those toys yet and you want to try out some of the others first, the clitoral suction toy or the glass dildo are both great options for beginners - there is so much variety in this kit. Whether you're someone who knows you need clitoral stimulation to orgasm or are seeking out a blended orgasm (in which case, the rabbit vibrator in this kit should be your go-to), the different options in this kit make it a great gift for either a partner or yourself - whoever the recipient, they'll get their money's worth.
6. LELO Fresh N Steamy Kit
Best premium sex toy kit
Specifications
RRP: $280 / £280
Materials: Silicone, plastic
Charging: USB
Discreet delivery?: Yes
Waterproof?: Yes
Includes: 1 x clitoral vibrator, 1 x rabbit vibrator, 2 x sachets of lube
Reasons to buy
+
Soft silicone material
+
Looks high-end
+
Toys offer the best of both worlds
LELO is considered premium toys for a reason - we gave their new Lelo Dot 4.5 stars in our review - and the sleek design of both of these toys is only adding fuel to the fire. The typical 'ears' look of the clitoral stimulator on the Soraya 2 rabbit vibrator have been omitted in favor of a slim, sculpted tip which makes the toy look much better than a lot of others I've tried. It feels better compared to many as well since there's more range of pressure available here and there aren't any pointy ears to work around. The shaft is also able to replicate a 'waving' motion without vibrating, which is helpful if you feel a bit daunted by the prospect of both internal and external stimulation happening at the same time.
The Sona 2 Cruise is the pebble-shaped vibrator in the kit and it also boasts twelve settings, with the same 'plus' and 'minus' buttons that are on the rabbit vibrator. With a curved design making it easy to hold onto and keep in place, I loved using this clitoral vibrator.
I found you get the best of both worlds with this set though as the larger rabbit is a great toy to try out with a partner thanks to its shape and size, which make it easier for someone else to hold, and all the different modes and their combinations were more fun to explore in a couple. In contrast, the Sona 2 Cruise is better suited for solo use for opposite reasons.
There's no denying this set will cost you more than most others on our list, but the sleek design of the toys and the range of colors to choose from means you'll be proud to own this premium selection.
7. My Viv Pamper Kit
Best sex toy kit for self-care
Specifications
RRP: $69.25 / £65
Materials: Silicone
Charging: USB
Discreet delivery?: Yes
Waterproof?: Yes
Includes: 1 x wand vibrator, bath salts, 1 x scented massage candle
Reasons to buy
+
Fully submersible in water
+
Bath salts and candle are nice additions
+
Easy to hold and use
If you're wanting to gift a sex toy kit to a friend or as a treat for a touch of self-care, the My Viv Pleasure Kit is the perfect option. While it only involves one toy, I found that the silicone wand vibrator is best suited for using on yourself as unlike the popular-but-bulky wand vibrators of the past, this wireless toy has a slim body which makes it easy to hold on to. Though you could definitely still use it with a partner, the addition of a relaxing scented candle and the bag of bath salts makes this a kit best for using in your own time.
While lots of sex toys claim to be waterproof, the small print often suggests that they shouldn't be fully submerged, making them better for sex in the shower than in the tub. I tested this vibrator in the bath to fully grasp the extent of its waterproof capabilities as the collection promotes itself as a bath time stress reliever and it's safe to say the toy delivered - it's certainly fully waterproof. The wand vibrator has ten different settings in total, which are easily flicked through and range from a very low rumble to several pulsation modes. However, while the vibe is definitely effective, I found it never turned into an overpowering and too-intense sensation. The other two pieces of the kit - the massage candles and bath salts - had a similarly sweet scent to each other and while using both at the same time was a little overpowering, you only need a pinch of the bath salts for a calming effect.
If you're on the hunt for one of the best Valentine's Day gifts for friends, they'll definitely appreciate the night of relaxation afforded by this set. My only gripe would be that the My Viv kit doesn't come with any lube so a bottle of water-based lube wouldn't go amiss as an addition in any updates. But I loved the addition of two extra self-care essentials alongside this good-looking vibrator and found the wand so easy to use that I'd recommend it in a heartbeat.
How to choose the best sex toy kit for you
When choosing a sex toy kit for yourself, a partner or a friend, it's important to consider what the recipient might like to try and what they know they already like. There are other options to think through when investing in a sex toy kit, too though. Hoyle offered us some extra top tips to keep in mind whilst shopping around:
Choose top quality products: Hoyle advises that a great sex toy kit should "offer great discounts and even free products. As long as you choose a kit with top-quality products that you are excited to try, the kit will be great value for money." But she warns, "If a kit seems too good to be true price-wise, it probably is."
Make sure you'll actually use all the products: It sounds obvious, but ensuring that you have chosen products that yourself/your partner/your friend will actually enjoy using and get a lot of use out of is essential. "If you are not excited by all or most of the products in the sex toy kit, you are much better off buying the individual products you are interested in," says Hoyle. "Poor value happens when you buy a kit but only use one or two products."
Choose toys that compliment each other: To explore your "full orgasmic potential", Hoyle recommends buying a sex toy kit that has a variety of toys which "offer different pleasures [clitoral suction, G-spot stimulation, dual pleasure, etc], plus all those essentials, like a selection of pleasure-enhancing gels."
Do your research: "The best sex toy kits are made up of top quality, best selling products," says Hoyle, so it's important to research the options available and make sure you're "investing in a selection of cherry-picked goodies". Watch out for sex toy kits which are put together simply to move less popular stock and always check the materials in the toys included to ensure that you're investing in body-safe products. Hoyle adds that "if you can't find this information from individual products on the website, avoid the kit".
Can you buy sex toy kits on Amazon?
Yes, lots of the best vibrators on Amazon are also included in sex toy kits from the retailer. Just make sure that you're getting the best price for the kit as opposed to other retailers and also that you've checked out the details of each product in the kit before buying.
Hannah is the UK Shopping Writer for woman&home. As a shopping writer, Hannah has written on everything from period pants to wine subscriptions, and is especially interested in sustainable alternatives to well-known products, as well as books and homeware accessories.
Before she joined the team at woman&home Hannah headed up the social media accounts for Wonderland in 2019, where she was also a Contributing Editor for the magazine's sister titles. During the COVID-19 pandemic, Hannah also explored evolving shopping trends at New York Magazine's The Strategist UK, researching everything from face masks to status candles and even pens.