NutriBullet vs Vitamix – which blender should you buy?
They're both powerhouses of the blender world, but which is best?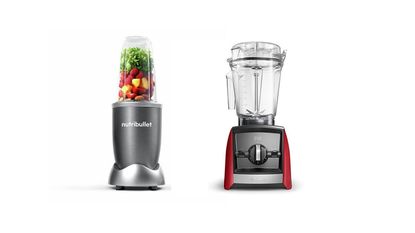 (Image credit: NutriBullet/Vitamix)
woman&home newsletter
Sign up to our free daily email for the latest royal and entertainment news, interesting opinion, expert advice on styling and beauty trends, and no-nonsense guides to the health and wellness questions you want answered.
Thank you for signing up to Woman & Home. You will receive a verification email shortly.
There was a problem. Please refresh the page and try again.
Smoothie lovers have never had it so good with the range of high-power, high-quality blenders on sale today. And both NutriBullet and Vitamix have rightly earned their reputation as two of the very best blenders on the market – but which is right for you?
NutriBullet is a relatively new kid on the block, with the first incarnation – the Magic Bullet – hitting shelves in 2003. Its purpose was to offer a compact yet high-powered personal blender, so users could make decent smoothies at home. The NutriBullet followed in 2012 and has seen several incarnations and upgrades - including the NutriBullet Blender Combo - since then.
Vitamix blenders have been around a lot longer. In 1949, company founder William G Barnard demonstrated his Vitamix blender on American television and its reputation as a helpful, time-saving way of preparing whole foods grew. In 1969, the first blender that could make hot soup, blend ice cream, grind grain and knead bread dough – the Vitamix 3600 – was born, and the product line has been improved and expanded ever since.
What are the similarities and differences between the NutriBullet vs Vitamix?
It's important to state at this point that Vitamix blenders – even the entry-level models – are more versatile than NutriBullets, which is reflected in their price.
Vitamix blenders - including the Vitamix Ascent A2300i - can blend hot soups, make frozen desserts and knead dough, while NutriBullets are designed for making smoothies, sauces, dips, nut butters and dressings (all of which Vitamix blenders can do, too).
Vitamix blenders have a much bigger capacity than NutriBullets, so are better for batch cooking and preparation. The NutriBullet was only ever designed for personal use though - much like the best hand blenders - so this shouldn't be a black mark against it. As a result, Vitamix blenders are bigger and bulkier than NutriBullets – although whether that's a good or a bad thing will depend on what you want out of a blender, and how much space you have to spare in your kitchen, of course.
Vitamix vs Nutribullet: pros and cons
The pros and cons of the Vitamix
Reasons to buy
+
One of the biggest wins for Vitamix is that all its blenders have a self-cleaning function – simply let the self-clean mode do its thing
+
Vitamix blenders can do so much more than make smoothies – it has a kneeding function, can make hummus, and so much more
Reasons to avoid
-
It's expensive. Even the 'basic' Vitamix models cost well over £300 – but if it means you can do without other small appliances, the price becomes more justifiable.
The Vitamix is best for cooks who want one appliance to do lots of different things and for those who need to make lots of different blender recipes in bigger batches. Its selling point is definitely its versatility.
The pros and cons of the NutriBullet
Reasons to buy
+
The NutriBullets do less than Vitamix blenders, but what they can do (blend smoothies) they do extremely well - better than other models.
+
With a NutriBullet you can blend and drink from the same cup - a simple but super handy perk - and less washing-up if you're never quite sure
how to clean a blender.
+
And at less than £40 for the original Magic Bullet, the Nutribullet most certainly won't break the bank.
Reasons to avoid
-
It isn't a versatile a machine - the NutriBullet has one primary function, to blend smoothies. That said - it can be a great help with things like dips, sauces, and even cocktails!
The NutriBullet's USP is convenience and it's aimed at people who plan to make smoothies most of the time, with the odd foray into sauces, dressings and dips. They're also best for those who want a compact appliance that won't take up much worktop or cupboard space, and don't need to make things in large quantities. And for those wondering how to use a Nutribullet, you'll be pleased to know that it's incredibly easy to set up and navigate, too.
NutriBullet vs Vitamix - which one is better then?
So, which is best? In short, it really depends what you need this blender for, and what you're planning to make with it.
If you're a diehard smoothie lover who's all about the convenience, get a NutriBullet – you simply won't get the use out of a Vitamix blender to justify the cost.
But if, however, smoothie recipes make up only a small part of your repertoire and you like to make food from scratch, but don't want to spend ages prepping it, a Vitamix blender will become your new best friend. Expensive, yes, but it's worth every penny for a keen novice chef.
Sign up to our free daily email for the latest royal and entertainment news, interesting opinion, expert advice on styling and beauty trends, and no-nonsense guides to the health and wellness questions you want answered.
As an interior stylist and writer with a penchant for way too many vases and cushions, Laurie Davidson eats, sleeps, and breaths interiors. She's lucky enough to have been in the industry for over 20 years, working across TV and magazines, and alongside some of the top UK brands and names.

If Laurie isn't knee-deep in boxes for a shoot or preparing mood boards, you'll most likely find her testing appliances and accessories for buyer's guides. With a wealth of experience, features, and shoots under her (stylist's) belt, Laurie has become a much-called upon expert.