NutriBullet Blender Combo review
There's more to this piece of kitchen kit than its status as a smoothie machine, as we discovered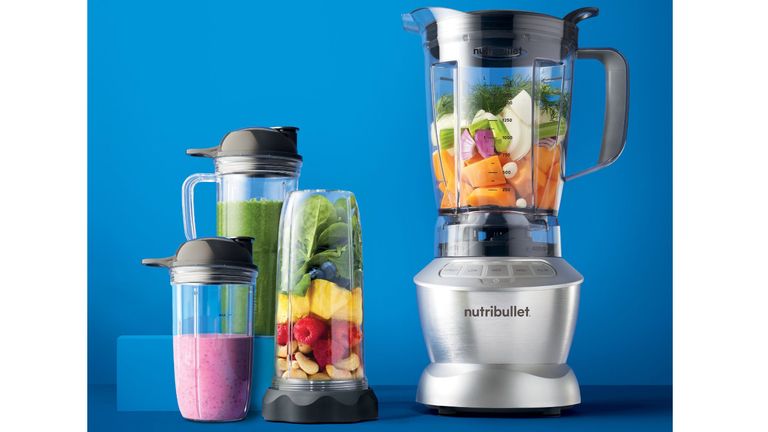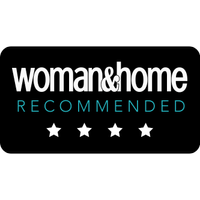 (Image credit: NutriBullet)
Woman & Home Verdict
Switch effortlessly between large tasks and speedy healthy drinks with the NutriBullet Blender Combo
Reasons to buy
+

Jug blends hot soup

+

Large buttons

+

Generous capacity
Reasons to avoid
-

Accessories to store

-

No recipe book

-

Three cups but only two lids
For those who've ever looked at their NutriBullet and wished it was a bit bigger, or who can't justify buying a personal blender as well as a larger one, the NutriBullet Blender Combo is for you. It brings together everything that won the original NutriBullet so many fans – a speedy smoothie maker that blends into on-the-go lidded cups – with a full-sized blender for everyday tasks. This fact alone could help to make it one of the best blenders we've tried, so this model's extras – large cups and a tamper for frozen ingredients, making it one of the best blenders for smoothies plus a jug that can blitz hot liquids – are all added bonuses.
Considering that an original Nutribullet costs around £50-60, the Blender Combo's average price tag of £150 doesn't seem much of a leap, especially given that it functions as two appliances. Most retailers (such as Currys, JD Williams and Argos) list it at around this price. If you're looking for just the full-sized blender (without cups), however, it's available for around £100.
NutriBullet Blender Combo design
The shape of the Blender will be instantly familiar to those who've owned a NutriBullet before. It has a slightly squat, rounded base that's a nod to the personal blender's bullet form. The reference to the original design continues with the three cups – a 500ml short cup, 700ml travel cup and 900ml colossal cup. There are six buttons located on a panel on the front, which might feel crowded. All the buttons are clearly labelled, though, which is great for anyone who doesn't want to search for their specs before whipping up a morning smoothie.
Suckers on the compact base keep it firmly planted while in use, and both the jug and cups twist into the base. The jug's 1.8-litre capacity is generous for a machine of this size, too, and the lid comes off easily when you're finished thanks to a handy pull loop. On the downside, there's no cable tidy so its 1m length tends to trail, there are only two lids for three cups, and no recipe book in the box – you'll have to head online for inspiration.
NutriBullet Blender Combo functionality
There's only one programme on the NutriBullet Blender Combo but it's the one you'd probably use most often anyway; Extract. This is the same programme you'll find on the original NutriBullet, that whizzes its way through fruit, vegetables and frozen ingredients. This programme can be used with both the cups and the jug, and automatically stops when your drink is ready. Alongside this, there are three speeds: low for whisking and batter-making, medium for soups and frothy milkshakes, high for thick mixtures.
Beyond the Extract programme, the automatic stop doesn't interfere with jug blending, so you can work your ingredients until you are happy with their consistency. There's also a pulse button, which is good for chopping when you don't fancy hauling out a large food processor or hand blender, and an on/ off button nestled at the front. It's worth bearing in mind that when it comes to hot liquids, only the vented jug – not the cups – can be used for blending.
NutriBullet Blender Combo performance
Considering its small base unit, the NutriBullet Blender Combo manages to pack in a sizeable 1200W of power. This helped the machine breeze through our testing, to make it on to our list as one of the best blenders right now. Our green smoothie was consistent in colour and didn't feature any pear grit, fruit fibres or particles of spinach, while the pulse turned cubes of ice into snow in about 30 seconds. We used the medium speed to blitz soup, which took less than a minute to turn warm cooked ingredients into a hearty, creamy blend with just a little texture remaining. In terms of noise levels, it's loud on all settings, but not unbearably so. Plus, as blending times are relatively short, we didn't find this intrusive.
NutriBullet Blender Combo weight
The NutriBullet Blender Combo isn't too weighty for a multifunctional machine; coming in at just under 5.7kg, it can be moved around the kitchen easily. Where it might present an issue is finding somewhere to store the amount of kit that comes with it, especially the handled cup that can't be stacked into the others.
NutriBullet Blender Combo cleaning
Wondering how to clean a blender? For those who like an easy life, the jug, cups and lid can all be cleaned in the dishwasher, although they're not any trouble to keep clean without this option. It's suggested that the tamper and cup blades are cleaned by hand, so you'll need a brush to remove debris safely.
NutriBullet Blender Combo warranty
It's best not to read too much into the guarantee of a year on the NutriBullet Blender Combo. While it's not as long as some of the warranties on other brands and models, the blender appears to be pretty solidly built, as are the cups and lids. Properly maintained, it should outlast the basic cover.
Summing up… the NutriBullet Blender Combo
There's a lot to like about this small but mighty blender: a reasonable price point, plenty of functionality for everyday use and easy one-touch buttons. It doesn't skimp on performance either. Perhaps the only area we could see some improvement would be in its design; the curvy base could look out of place on a sleek kitchen countertop, plus it's only manufactured in one colour. It would also benefit from including an extra lid for that third cup – a small niggle, but one that seems like a reasonable request. Otherwise, this machine offers a great-value package. Worth considering.