22 easy and delicious blender recipes you can make in under an hour
These delicious blender recipes will give you tasty meals, drinks or desserts with minimal effort.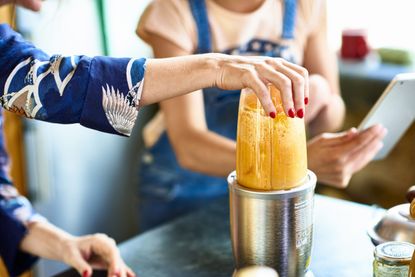 (Image credit: Getty Images)
You've bought yourself the very best blender and you're ready to go - but what blender recipes can you actually make in this handy piece of kitchen kit that isn't a smoothie?
A good blender can cut down your time in the kitchen significantly, meaning you can throw together all kinds of blender recipes in no time at all.
If you've had a blender for years, but have only ever used it to whizz up the occasional smoothie, you're missing a trick. There is all manner of recipes that utilize blenders' capabilities (and which cut down your prep time in the kitchen, too). Reassess how you think about this piece of kitchen kit; blenders can do so much more than just post-gym protein shakes or sweet breakfast drinks.
In fact, you can pretty much make breakfast, lunch and dinner in one of these machines, as our selection of blender recipes below show.
Easy blender recipes you can make in under an hour
Sauces and salsa recipes
Using a blender to blitz sauces gives a wonderfully smooth consistency, while the force of the blades helps dressings to emulsify in seconds. A blender is your best friend when you're trying to make a quick flavor-packed meal, too—from whizzing up rich tomato pasta sauces to making spicy jalapeño salsas.
One of our favorite blended sauces is a simple salsa verde, served with roasted salmon. Made with lots of parsley, plus olive oil, anchovies and capers, this moreish medley adds a little magic to fish, meat and vegetables and can be pretty much made in seconds. We love its bright-green finish; a meal that looks as good as it tastes really seals the deal.
Sauce and salsa recipes you can make with a blender:
Soup recipes
There's something incredibly satisfying about a delicious, silky soup, and what better way to perfect the texture than at the touch of a button (i.e. using your blender).
We'd recommend using lots of root vegetables to get a nice smooth finish; potatoes are perfect, as are parsnips, sweet potato and squash. In contrast, leafy greens such as kale, while delicious, can be very fibrous, meaning it's harder to puree them completely. A word of warning: If you're going to put soup stocks and ingredients in the blender, allow the mixture to cool properly before putting into the machine. That way, if there are any accidents or splatters you won't get burnt by hot liquid. Alternatively, you can use a hand blender to minimize any risk. See our guide to the best hand blenders here, if you're keen to buy one, or upgrade your current model.
One of our favorite blender recipes is this simple lentil recipe, which uses store-cupboard essentials to make a healthy, hearty meal. The instructions call for a hand blender, but you could also use a traditional stand blender one.
Soup recipes you can make with a blender:
Pancake recipes
Our fondness for this breakfast treat is only tempered by the faff of mixing the pancake batter. Use a blender to make this classic recipe in minutes, and this concern disappears! Simply throw all the ingredients for the batter into your blender of choice, then blitz for a few seconds to achieve a rich glossy texture. Classic crepe or the denser, American-style batters both work this way. Beyond the obvious sweet versions, a savory mixture can achieve a satisfyingly substantial meal. Try our recipe combining tangy Wensleydale cheese with fragrant herbs (above) and see for yourself.
Pancake recipes you can make with a blender:
Ice cream recipes
You probably didn't expect ice cream to be in our list of blender recipes! Because, while many ice cream recipes call for the best food processor, they can actually be made just as well in a blender. If you're following a regular ice cream recipe, you can also use your blender to routinely blitz your ice cream throughout the freezing process. By taking this extra step to remove ice crystals, which form from water in the mixture, your end result should be a silky soft scoop.
One of our favorite ice cream recipes to make in the blender is this cherry ice cream, which uses frozen berries and whipping cream to create a speedy, lusciously smooth finish – and with only four ingredients. If you prefer, you can swap out cherries for frozen strawberries, raspberries or blackberries.
Ice cream recipes you can make with a blender:
Cocktail recipes
While cocktails may not count as essential sustenance, they can certainly bring a whole lot of happiness. Throw together an espresso martini at the start (or end) of a dinner party and keep the party energy raised all evening. And using a blender, instead of shaking up your cocktails in the traditional way, is a great way to get your cocktails out a little more quickly (not to mention, more easily). No muscles necessary, just throw all your ingredients into your blender and blitz for a few seconds to get a perfectly frothed cocktail. Cheers!
Cocktail recipes you can make with a blender:
Dessert recipes
If you've just figured out how to use your blender, you may not have guessed that you can use it to make some delicious desserts. But there are a plethora of delicious sweet treats you can make in a blender, with the blender making it much easier to mix ingredients together.
One of our favorites is chocolate mousse. Where regular chocolate mousse makes use of an electric whisk to whip air into egg whites, this simple vegan version uses a surprising element to get a silky finish: avocado. Using your blender will ensure your mixture is free of lumps and that all of the individual flavors are brought together seamlessly in a perfectly balanced dessert.
Dessert recipes you can make with a blender:
Sign up to our free daily email for the latest royal and entertainment news, interesting opinion, expert advice on styling and beauty trends, and no-nonsense guides to the health and wellness questions you want answered.
Rosie Conroy is a food and drinks journalist with over a decade of experience working for big-name titles in both print and online. Formerly the Digital Food Editor of woman&home, Rosie went on to head up the team at SquareMeal, reviewing the best London restaurants and hunting out emerging culinary trends. With previous experience in food styling and recipe development, Rosie knows what to look for in a good piece of kitchenware and has extensive experience testing consumer goods—from kitchen electricalz and cooking accouterments through to new foodie treats.