The very best pancake recipes whether you're after sweet or savoury
Mouth-wateringly good pancake recipes to enjoy on the big day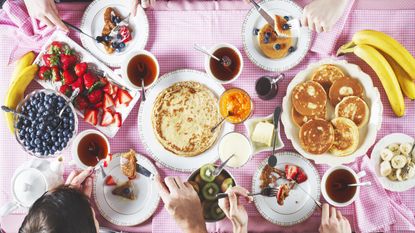 (Image credit: Getty Images)
Whatever you prefer - savoury or sweet - we've got pancake recipes that will put a smile on your face!
Pancakes are so quick and easy to make and they're great any time of the day. All you need is your best induction frying pan and a great flipping technique, whether you prefer a fluffy American style or classic French crêpes.
Get together with family and friends to flip pancakes and tuck into the most delicious pancake recipes. Pancakes can be enjoyed year-round and not just for breakfast or on Pancake Day, also known as Shrove Tuesday. Looking for a basic recipe to start with? Check out our classic pancake recipe, which is perfect with a squeeze of lemon and sugar.
When you've mastered the art of pancake batter, we've got plenty of great pancake recipes to inspire you, including indulgent sweet treats and topping ideas. And if you don't have a sweet tooth but want to join in the Pancake Day festivities, then we've got savoury pancakes too.
Buckwheat pancakes with chocolate and Nutella
Our buckwheat pancakes have a great nutty taste and a chewier texture. Drizzled with melted dark chocolate and rich Nutella, they're the ultimate Shrove Tuesday treat.
Get the recipe: Buckwheat pancakes with chocolate and Nutella (opens in new tab)
Pansy petal pancakes
These are actually crêpes, so the batter can be made the night before, just give it a little shake in the morning.
Get the recipe: Pansy petal pancakes (opens in new tab)
American blueberry pancakes
The ultimate brunch, inspired by a diner menu classic - this American blueberry pancakes recipe will fast become a family favourite!
Get the recipe: American blueberry pancakes recipe (opens in new tab)
Indian roti pancakes
This savoury Indian roti pancakes recipe is simple and delicious - serve with tandoori chicken, and cooling raita and cucumber for a mouthwatering dinner to share.
Get the recipe: Indian roti pancakes recipe (opens in new tab)
Buttermilk blueberry pancakes
Pancakes don't instantly mean lemons and sugar, so try these buttermilk blueberry pancakes recipe. These delicious pancakes are as light as a feather and you can make the batter without adding the egg white the day before.
Get the recipe: Buttermilk blueberry pancakes (opens in new tab)
Crispy duck pancakes
Healthier, cheaper and much tastier than a takeaway, try this crispy duck pancakes recipe.
Get the recipe: Crispy duck pancakes recipe
Tropical fruit pancakes
Our tropical fruit pancakes are proof that a classic, light pancake batter can taste luxurious when topped with the right ingredients. These fruit pancakes are so quick to put together, and bring a little sunshine into the kitchen with the caramelised pineapple and fresh mango. So no matter how cold it is outside, with one mouthful of our tropical fruit pancakes, you'll be transported to the sunny shores of the Caribbean!
Get the recipe: Tropical fruit pancakes (opens in new tab)
We're hungry just looking at these delicious recipes...
Rose Fooks is the Deputy Food Editor at woman&home. Rose completed a degree in Art at Goldsmiths University before beginning her career in the restaurant industry as a commis chef at The Delaunay in 2015. She then worked at Zedel and went on to become part of the team that opened Islington's popular Bellanger restaurant.
To hone her patissier skills, Rose joined the Diplome de Patisserie and Culinary Management course at Le Cordon Bleu. She ran a food market in Islington and cooked for a catering company that used only surplus food to supply events, before finding her way into publishing and food styling.