The best mini food processors for expert food prep
These mini food processors will make quick work of food prep without taking up too much counter space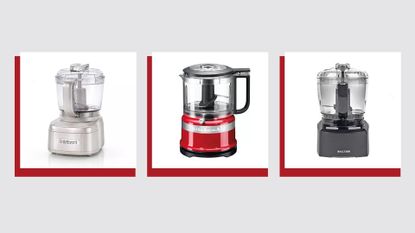 (Image credit: Future)
The best mini food processors are there to simplify food prep and creation without taking up too much space on the worktop.
While the best food processors will help cut food prep time by whisking up batters, grating large amounts of carrot or helping you make big batches of soup, mini food processors are more useful when it comes to smaller jobs like chopping up herbs and garlic cloves or blending spices. Some models can even multitask and grind coffee beans too—helpful for if you already own one of the best coffee machines on the market but don't want to spend a fortune on a coffee grinder too.
Some can even do the jobs that a full-sized model would, just on a smaller scale. They're also more affordable than large food processors or even the best blenders—and are useful for those who tend to cook for one person at a time.
The best mini food processors as chosen by our experts
Why you can trust Woman & Home Our expert reviewers spend hours testing and comparing products and services so you can choose the best for you. Find out more about how we test.
As with all the kitchen essentials we review—from the best inductions pans and best cast iron skillets to the best stand mixers and best cookware sets—we tried and tested all of these mini food processors to ensure we bring you only the most useful and accurate advice.
We assessed options based on their functionality: the variety of settings offered, the design, the parts included, and the ease of use. We elaborate on our selection process in greater depth in our FAQ section.
(opens in new tab)
1. Cuisinart Mini Prep Pro food processor
Best mini food processor for grinding coffee beans, whole spices and meat
Specifications
RRP: $49.95/£50
Dimensions: H23.5 x W14 x D18cm
Weight: 1.28kg
Power: 250W
Capacity: 0.9ltr
Dishwasher-safe parts: Yes
Attachments/ extras: Yes
Reasons to buy
+
Powerful motor
+
Specific grinding function
+
Stylish pearlescent finish
+
Works with lots of different types of ingredients
This lovely-looking processor has two functions, chop and grind. And, as the blade spins in both directions, the whole process is more efficient and chopping is more even. A handy spatula is also included. Overall, it's a powerful machine worth the extra money.
(opens in new tab)
2. KitchenAid mini food processor
Best mini food processor for those after a range of speeds
Specifications
RRP: $49.99/£69
Dimensions: H22.2 x W17.8 x D14.3cm
Weight: 1.2kg
Power: 240W
Capacity: 0.83ltr
Dishwasher-safe parts: Yes
Attachments/extras: No
Reasons to buy
+
Powerful
+
Two speed options
+
Sleek retro-style look
+
Various colors available
Reasons to avoid
-
Expensive
-
No extras, which isn't great considering the price
The Kitchenaid mixers can be found in the kitchens of many keen home chefs, so it's not surprising the brand has a reliable mini processor too. Many mini food processors only have one speed function, but this model has two speeds, giving you more control over how finely or coarsely you chop. This allows for making smoother dips and sauces such as mayonnaise or thicker, chunkier foods like hummus.
It's not cheap, but for the price you get a pretty powerful mini processor. It makes easy work of herbs, spices and even cooked fruit and veg. If you're heart is set, but your budget isn't up to it then there are often Kitchenaid deals around. The brand is famous for beautiful design, with a range of gorgeous glossy colors to choose from.
And if this is model is your first Kitchenaid, you can find out more about how to use a Kitchenaid food processor, to really make the most of your new purchase.
3. Hamilton Beach Mini 3-Cup Food Processor & Vegetable Chopper
Best mini food processor for meal prep
Specifications
RRP: $24.99/£49.99
Dimensions: L5.9 x W5.2 x H8.54 in.
Weight: 2.95lbs
Power: 350 watts
Capacity: 0.7ltr
Dishwasher-safe parts: Yes
Attachments/extras: No
Reasons to buy
+
Durable stainless steel blades easily chop, puree and emulsify mixtures
+
Easy to clean
+
Simple to use
+
Glass bowl
Reasons to avoid
-
According to some shoppers it is smaller than expected
-
Certain foods may need to be cut into pieces before using it
Compact, but mighty, the Hamilton Beach mini food processor has durable blades and an ingenious patented design. There are no difficult lids to twist or lock, simply stack your food and press chop. For liquids, there is an oil dispenser on the lid for less mess and waste.
Each part of the appliance—bowl, lid, removable blades—is dishwasher safe; and all food zones are BPA free. The glass bowl means it stays free from smells and stains and there are no scratches from the blades, meaning your bowl stays looking newer for longer.
(opens in new tab)
4. Russell Hobbs Food Collection mini chopper
Best mini food processor for smaller budgets
Specifications
RRP: £15.99 (UK only)
Dimensions: H14 x W20 x D12cm
Weight: 0.81kg
Power: 130W
Capacity: 0.5ltr
Dishwasher-safe parts: Yes
Attachments/extras: No
Reasons to buy
+
Low price
+
Lightweight
+
One-touch operation
Reasons to avoid
-
Not very stylish design
-
Small capacity
If you're after a no-frills option for small quantities of food, you'll struggle to find a cheaper mini food processor than this. The parts are dishwasher safe and, while it's not the best-looking model, it does exactly what it promises.
It's simple to use with a one-touch button on the top that you hold down to blend and it does a good job at with herbs, spices and even nuts.
(opens in new tab)
5. Salter EK3171 8-in-1 Compact Prep Pro Mini Food Processor
Best mini food processor for great value-for-money
Specifications
RRP: £32.99 (UK only)
Dimensions: H25.3 x W21 x D21cm
Weight: 1.52kg
Power: 200W
Capacity: 1ltr
Dishwasher safe parts: No
Attachments/extras: Yes
Reasons to buy
+
Eight functions
+
Great value
+
Generous capacity
This miniature processor is a brilliant all-rounder; it can mix, stir, blend, whip, grate, chop, grind and even knead, thanks to its bi-directional blade. Unfortunately, hard working as it is, its food processor attachments are not dishwasher-safe, which makes the clean-up a bit more complicated.
Other than that, it's hard to find fault with this compact piece of kit, which will look sleek on the countertop and will save you space by doing the job of several other appliances too.
(opens in new tab)
6. Lakeland mini food processor
Best mini food processor for beginners
Specifications
RRP: £49.99 (UK only)
Dimensions: H27 x W20 x D16cm
Weight: 1.1kg
Power: 200W
Capacity: 0.5ltr
Dishwasher-safe parts: Yes
Attachments/extras: No
Reasons to buy
+
Compact design
+
Stylish steel-and-black finish
Reasons to avoid
-
Small capacity
-
No extras (not great, considering its price)
With two functions—pulse and chop—as well as smart looks, this stylish design is a great all-rounder with suction feet to keep it steady. It does, however, have a smaller capacity than most which we think lets it down a little.
But for those looking for an affordable and straightforward machine for all of your food processor recipes, this one works well. It's easy to use and the sleek finish will look good in the kitchen.
(opens in new tab)
7. Breville VBL241 Blend Active compact food processor
Best mini food processor and smoothie-maker in one
Specifications
RRP: £37.99 (UK only)
Dimensions: H28.9 x W14.7 x D27.9cm
Weight: 2.26kg
Power: 300W
Capacity: 0.45ltr
Dishwasher-safe parts: Yes
Attachments/ extras: Yes
Reasons to buy
+
Food processor and smoothie maker in one
+
Very powerful
Reasons to avoid
-
Design might not be to everyone's taste
-
Small capacity
This Breville design blurs the line between personal blender and food processor, but because it can do everything you'd expect of a food processor—chop, grind, make dips, pastes and sauces—we consider it a food processor with smoothie-making abilities.
It comes with a 600ml drinks bottle with a lid, which doubles as the container your smoothie is blended in.
8. QOOC 4-in-1 Mini Baby Food Maker
Best mini food processor for making baby food
Specifications
RRP: $99.99 (US only)
Dimensions: L10.3 x W9.3 x H7.8 in
Weight: 4.07lbs
Power: 360 watts
Capacity: 300g
Dishwasher-safe parts: Yes
Attachments/extras: Yes
Reasons to buy
+
Versatile
+
One-handed controls
+
Quiet motor
Reasons to avoid
-
Blending power could be stronger
-
Costly for its size
Made with parents in mind, this multi-purpose appliance integrates the functions of four devices: it steams, blends, reheats, and defrosts food in a short duration of time.
The practical controls require just one hand to produce a batch of purees out of fresh fruits, vegetable or meat. For added assurance, the QOOC mini baby food maker is made of BPA, lead, and phthalate free materials, boasting innovative (and safe) construction and materials.
FAQ about the best mini food processors
What can a mini food processor do?
You might be wondering how to use a food processor if you're contemplating buying your first smaller model. First and foremost, remember that a mini food processor is your best friend for that much-hated kitchen prep job: chopping. Fruit, vegetables, fresh herbs, nuts, hard cheeses and chocolate—anything you would normally use a knife for—can be chopped by a mini food processor in seconds.
Mini food processors are also ideal for whizzing up sauces, spice pastes, salsas, pestos, dips and nut butters, as well as batches of homemade baby food. They can also grind and make light work of meat, coffee and spices. Their small size means they are perfect for reduced quantities or small batches; if you are following a recipe that only calls for one chopped chilli, for example, a mini processor is the perfect tool for the job.
However, mini food processors do have some obvious limitations. Because of their structure—usually a wide bowl and a flat blade configuration—they're not great for making things like smoothies, so you'll need to stick with a blender for this. For the same reason, mini processors will not make super-smooth purées or soups.
Why do I need a mini food processor?
If you have bad knife skills, lack the patience for chopping or roll your eyes at the thought of grinding spice-and-herb mixes in a pestle and mortar, a mini food processor could be one of the best kitchen gadgets you have.
If you're a fan of cooking homemade Asian dishes, you'll know they can take a while to prep especially curry pastes and spice mixes with seemingly endless lists of ingredients. This kind of task is when a mini food processor really comes into its own.
As well as working well for specific cuisines, the mini food processor is also handy for small households. If you're cooking just for yourself (or perhaps your partner or child), if you have a small kitchen or struggle with kitchen cabinet organization due to limited space, a mini food processor makes sense.
Key Features To Look Out For
Model Size: Go for a device that's compact in size and design and check this as sizes vary.
Versatile Function: Look for a multi-functional model, starting with the attachments. Options can include blades, discs, whisks, and cups that chop, mix, dough, slice, and shred.
Cleanability: It's a pain to clean food processors (and maintain them). If you plan to use yours regularly, seek out models with dishwasher-safe parts or, at the very least, designs with minimal places where food debris can congregate.
As an interior stylist and writer with a penchant for way too many vases and cushions, Laurie Davidson eats, sleeps, and breaths interiors. She's lucky enough to have been in the industry for over 20 years, working across TV and magazines, and alongside some of the top UK brands and names.

If Laurie isn't knee-deep in boxes for a shoot or preparing mood boards, you'll most likely find her testing appliances and accessories for buyer's guides. With a wealth of experience, features, and shoots under her (stylist's) belt, Laurie has become a much-called upon expert.