The best mini food processors that'll expertly prep food without taking up all of your kitchen counter space
Our pick of the best mini food processors will make food prep easier and quicker...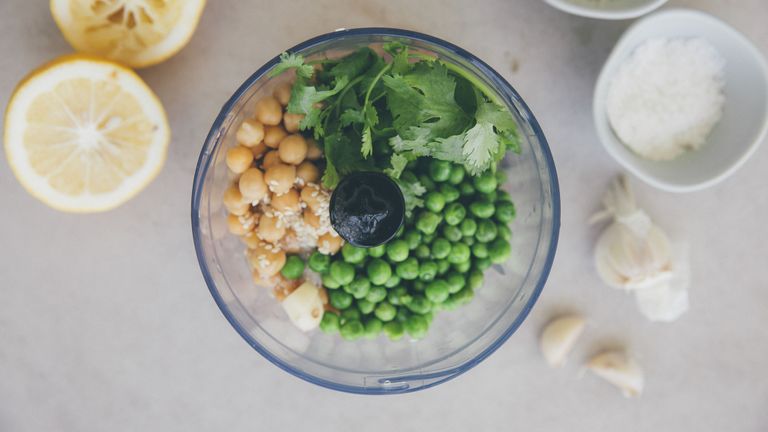 (Image credit: Getty Images)
The best mini food processors are there to simplify food prep and creation. And while keen cooks will want nothing less than the best food processor on their countertop - sometimes a smaller version is necessary for more limited spaces.
No matter how good your knife skills are, chopping, dicing and grinding can take up a lot of time when cooking. Plus, getting these products to the consistency you want them to be can taxing for our hands and arms - even if we have the best blenders on hand to help. It's also mind-numbingly boring, so any tool that has the ability to take the hassle out of some of the most dull kitchen tasks is always welcome.
While full-sized food processors are hugely popular, we're now shining a light on best mini food processors: one of the ultimate kitchen essentials that belong in every home, much like induction pans. Don't let the differing sizes mislead you; these compact piece of kitchen kit still perform many of the tasks of the full-sized machines, just on a smaller scale. Mini food processors can be incredibly useful for those with smaller kitchens, or those who have less available counter space. Plus, they're often much more affordable too - making them a great option for many of us. To create the most useful curation, we've texted and assessed options based on their functionality: variety of settings offered, design elements, parts included, and ease of use. We elaborate on our selection process in greater depth through our FAQ section.
The best mini food processors as chosen by our experts
1. Cuisinart Mini Prep Pro food processor
Best mini food processor for grinding coffee beans, whole spices and meat
Specifications
Dimensions: H23.5 x W14 x D18cm
Weight: 1.28kg
Power: 250W
Capacity: 0.9ltr
Dishwasher-safe parts: Yes
Attachments/ extras: Yes
Reasons to buy
+Specific grinding function+Powerful+Stylish pearlescent finish
Reasons to avoid
-On the more expensive side
This lovely-looking processor has two functions, chop and grind, so you can choose the right process for your ingredients. Plus, as the blade spins in both directions, the whole process becomes more efficient (this helps clear food from the side of the bowl, for more even chopping). A handy spatula is included too. Overall, it's a powerful machine that is worth the extra money.
2. Russell Hobbs Food Collection mini chopper
Best mini food processor for smaller budgets
Specifications
Dimensions: H14 x W20 x D12cm
Weight: 0.81kg
Power: 130W
Capacity: 0.5ltr
Dishwasher-safe parts: Yes
Attachments/extras: No
Reasons to buy
+Low price+Lightweight+One-touch operation
Reasons to avoid
-Less-than-stylish design-Small capacity
If you're after a no-frills option to chop and blitz small quantities of food, you'll struggle to find a cheaper mini food processor than this. The parts are dishwasher safe and, while it's not the best-looking model, it does exactly what it says on the tin. It's simple to use, and does the job as well as you need it to.
3. Salter EK3171 8-in-1 Compact Prep Pro Mini Food Processor
Best mini food processor for great value-for-money
Specifications
Dimensions: H25.3 x W21 x D21cm
Weight: 1.52kg
Power: 200W
Capacity: 1ltr
Dishwasher safe parts: No
Attachments/extras: Yes
Reasons to buy
+Eight functions+Great value+Generous capacity
Reasons to avoid
-Not dishwasher-safe
This miniature processor is a brilliant all-rounder; it can mix, stir, blend, whip, grate, chop, grind and even knead, thanks to its bi-directional blade. Unfortunately, hard working as it is, its food processor attachments are not dishwasher-safe, which makes the clean-up a bit more complicated. Other than that, it's hard to find fault with this compact piece of kit.
4. Lakeland mini food processor
Best mini food processor for beginners
Specifications
Dimensions: H27 x W20 x D16cm
Weight: 1.1kg
Power: 200W
Capacity: 0.5ltr
Dishwasher-safe parts: Yes
Attachments/extras: No
Reasons to buy
+Compact design+Stylish steel-and-black finish
Reasons to avoid
-Small capacity-No extras (not great, considering its price)
With two functions – pulse and chop – as well as smart looks, this stylish design is a great all-rounder that also has suction feet to keep it steady on your worktop. It has a smaller capacity than most, which we think lets it down a little. But for those looking for an affordable and straightforward machine for all of your food processor recipes, this one works well.
5. Breville VBL241 Blend Active compact food processor
Best mini food processor and smoothie-maker in one
Specifications
Dimensions: H28.9 x W14.7 x D27.9cm
Weight: 2.26kg
Power: 300W
Capacity: 0.45ltr
Dishwasher-safe parts: Yes
Attachments/ extras: Yes
Reasons to buy
+Food processor and smoothie maker in one+Very powerful
Reasons to avoid
-Design might not be to everyone's taste-Small capacity
This Breville design blurs the line between personal blender and food processor, but because it can do everything you'd expect of a food processor – chop, grind, make dips, pastes and sauces – we consider it a food processor with smoothie-making abilities. It comes with a 600ml drinks bottle with a lid, which doubles as the container your smoothie is blended in.
6. KitchenAid mini food processor
Best mini food processor for those after a range of speeds
Specifications
Dimensions: H22.2 x W17.8 x D14.3cm
Weight: 1.2kg
Power: 240W
Capacity: 0.83ltr
Dishwasher-safe parts: Yes
Attachments/extras: No
Reasons to buy
+Powerful+Sleek retro-style looks
Reasons to avoid
-Expensive-No extras, which isn't great considering the price
While most of the best mini food processors only have one speed function, which can also be used to pulse, this model has two speeds, allowing you more control over how finely or coarsely you chop and grind your ingredients. Being a KitchenAid, it's beautifully designed – we love the glossy red finish – but it's not cheap. And if this is model is your first foray into the popular Kitchenaid brand, you can find out more about how to use a Kitchenaid food processor, to really make the most of your new purchase.
7. Hamilton Beach Mini 3-Cup Food Processor & Vegetable Chopper
Best mini food processor for meal prep
Specifications
Dimensions: L5.9 x W5.2 x H8.54 in.
Weight: 2.95lbs
Power: 350 watts
Capacity: 0.7ltr
Dishwasher-safe parts: Yes
Attachments/extras: No
Reasons to buy
+Durable stainless steel blades easily chop, puree and emulsify mixtures+Easy to clean+Simple to use
Reasons to avoid
-According to shoppers, a bit smaller than expected-Certain foods may need to be cut into smaller pieces before using it
The compact, but mighty Hamilton Beach mini food processor leverages durable blades that blitz and prepare a variety of foods, from hard-to-crush nuts to dense hummus. Its ingenuity stems from its patented design: no difficult twisting or locking lids, simply stack your items and press to chop. For liquids, use the oil dispenser on the lid to create less mess and waste. Each part – the bowl, lid and removable blades – is dishwasher safe; and all food zones are BPA free. In simple terms, BPA stands for Bisphenol-A, which is an estrogen-imitating chemical used to produce reusable plastic products.
8. QOOC 4-in-1 Mini Baby Food Maker
Best mini food processor for making baby food
Specifications
Dimensions: L10.3 x W9.3 x H7.8 in
Weight: 4.07lbs
Power: 360 watts
Capacity: 300g
Dishwasher-safe parts: Yes
Attachments/extras: Yes
Reasons to buy
+Versatile +One-handed controls+Quiet motor
Reasons to avoid
-Blending power could be stronger-According to shoppers, water reservoir could be easier to clean-Costly for its size
With little ones (and parenting woes) in mind, this multi-purpose appliance integrates the functions of four devices in one: it steams, blends, reheats, and defrosts food in a short duration of time. The practical controls require just one hand to produce a batch of purees out of fresh fruits, vegetable or meat. For added assurance, the QOOC mini baby food maker is made of BPA, lead, and phthalate free materials, boasting innovative (and safe) construction and materials.
FAQ about the best mini food processors
What can a mini food processor do?
You might be wondering how to use a food processor if you're contemplating buying your first smaller model. First and foremost, remember that a mini food processor is your best friend for that much-hated kitchen prep job: chopping. Fruit, vegetables, fresh herbs, nuts and even hard cheeses and chocolate – anything that you would normally wield a knife at can be chopped by a mini food processor in seconds. How finely or coarsely you want the dice or slice can be controlled at the touch of a button, too.
Mini food processors are also ideal for whizzing up sauces, spice pastes, salsas, pestos, dips and nut butters, as well as batches of homemade baby food. They can also grind and make light work of meat, coffee and spices (but maybe not at the same time!) And because they're smaller than regular food processors, they're specifically designed to tackle reduced quantities or small batches; if you are following a recipe that only calls for one chopped chilli, for example, a mini processor is the perfect tool for the job. The same lone chilli wouldn't get the same treatment in a full-sized food processor.
That said, mini food processors do have some limitations. Because of their structure – usually a wide bowl and a flat blade configuration – they're not great for making things like smoothies, so you'll need to stick with a blender for this. For the same reason, mini processors will not make super-smooth purées or soups – if you think about it, they're probably too small to make a decent-sized portion of soup anyway.
Why do I need a mini food processor?
If you possess the aforementioned bad knife skills, lack the patience for chopping or roll your eyes at the thought of grinding spice-and-herb mixes in a pestle and mortar, you'd definitely benefit from owning a mini food processor. Which leads us (sort of) neatly to Asian cuisine. If you're a fan of cooking homemade Asian dishes, you'll know that the delicious, often speedy-to-cook dishes can also take a while to prep. Especially if it comes to a curry paste or spice mix, with a seemingly endless list of ingredients. This kind of task is when a mini food processor really comes into its own, saving you so much time and effort.
As well as working well for specific cuisines, the mini food processor is also handy in a household that doesn't have an army of hungry mouths to feed or a kitchen the size of the Bake Off tent. If you're cooking just for yourself (plus your other half perhaps) or you have a small kitchen with limited worktop and cupboard space, a mini food processor makes perfect sense.
Key Features To Look Out For
Model Size: Go for a device that's compact in size and design. Many options feature a large bevy of tools and parts, all of which will determine how to situate your handy appliance. In comparison, bulkier options tend to take up excess storage space, plus can be more difficult to assemble.
Versatile Function: Look for a model with multi-functional purpose, starting with the attachments. Today's options include blades, discs, whisks, and cups that chop, mix, dough, slice, and shred (basically, they do it all). This is especially important if your kitchen space is tight.
Cleanability: To be candid, it's a pain to clean food processors (and maintain them). If you plan to use yours regularly, seek out models with dishwasher-safe parts or, at the very least, designs with minimal places where food debris can congregate and fester.
Shop Now