7 food processor recipes you can make in less than 30 minutes
Lacking in cooking inspiration? These food processor recipes will get you excited to be back in the kitchen...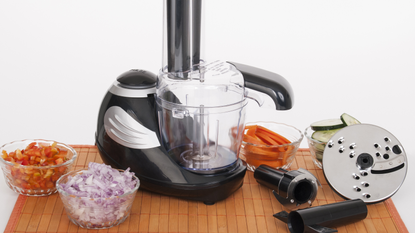 (Image credit: Getty)
If you're a keen cook you'll be familiar with the fact that, for sheer speed, there's no beating a food processor. This incredible invention not only cuts out the middleman (that is, the knife), but today's best food processor options can also beat, grate and blitz ingredients at the push of a button.
Our favourite food processor recipes play on the convenience factor of this kitchen gadget and allow you to produce delicious food for the family in just a few minutes. From savoury dinner-party starters and snacks through to main meals and even breakfast staples, there really is no limit to what you can whip up with a little know how and a brilliant food processor.
Below are seven of our favourites, as well as some of our top-pick processors to use to make them. If you have a hero food-processor recipe that you'd like to share, we'd love to hear about it in the comments below.
1. Banana pancakes
Total prep time: 8 mins
A favourite breakfast treat, these are easy to whip up in a food processor, which also removes the need for any heavy whisk work. All you need to do is throw the ingredients in together in the bowl, give the mixture a few pulses and – as if by magic – you have a smooth banana batter ready to cook. This recipe uses just three ingredients and takes under ten minutes from start to finish, meaning there's no longer any excuse for not starting the day the right way.
Recipe: Banana pancakes
2. Summer gazpacho
Total prep time: 15 mins
Gazpacho is the perfect summer lunch and couldn't be easier to whip up in just a few minutes. You'll need a handful of your favourite seasonal veg as well as bread, olive oil, sherry vinegar and a little garlic – but that's it. Using a food processor's main blade attachment you simply whizz everything together into a smooth, chilled soup and serve.
Top tip: Make sure this chilled soup stays ice cold in warmer weather by freezing a little gazpacho in ice cube trays, and adding these icy elements to each portion before serving.
Recipe: Gazpacho
3. Mackerel pâté
Total prep time: 15 mins
High in essential fatty acids, oily fish such as mackerel is thought to help keep our skin looking top notch and aid the recovery of our bodies after exercise or strain. As a side-note to this, according to the Marine Conservation Society handline-caught mackerel from the southwest of England is among the most environmentally sound seafood Brits can tuck into, thanks to a ring-fenced quota and low-impact fishing methods. All in, there's not much to dislike about the smoked version of this British fish. One of our favourite ways to eat it is in this herby mackerel pâté, which can be on the table in just fifteen minutes and is as perfect as a starter as it is a light lunch or picnic addition.

Recipe: Herby Mackerel pâté
4. Sweetcorn fritters
Total prep time: 30 mins
Quick, easy and nutritious – and made from store cupboard ingredients – you can't deny the joy of a sweetcorn fritter. Our classic recipe calls for hand-mixing but, to speed things up, you can throw everything (apart from the sweetcorn and spring onions) into a food processor and blitz together until a smooth batter forms. Then, and only then, stir through the star ingredients (aka, the remaining vegetables). With the time you've saved you can whip up a poached egg to go on top of your fritters, making a more substantial meal.
Recipe: Sweetcorn fritters with harissa yogurt and lime salsa
5. Easy falafel
Total prep time: 20 mins
Crisp on the outside, soft and richly spiced in the centre, these easy falafel are wickedly moreish and a cinch to make. Without the dressing these are conquerable in less than half an hour, but if you give yourselves an extra five minutes, you can indulge in the green goddess sauce too. Why would you deny yourselves this wonderfully potent mix of herbs, anchovies, capers and garlic? With so many ways to serve falafel – in a wrap with hummus, on a mezze plate with halloumi and roasted veg, as a picnic finger food – you could never get bored of them, so don't be surprised if they make their way onto your weekly meal rotation.
Recipe: Easy falafel with a green goddess dressing
6. Thai turkey meatballs
Total prep time: 20 mins
While this recipe doesn't specifically call for a food processor, it's easier to bind all the ingredients together with the help of our favourite piece of kitchen kit. As well as just six components, these Thai meatballs have the added benefit of being a lean source of protein and low in saturated fat. What better option for a simple, healthy meal when you're short on time but aren't willing to sacrifice home-cooked food.
Top tip: Remember not to over-blend the mixture as it can (and will) become gluey. Instead, do a few shorter pulses until everything is just combined.
Recipe: Thai turkey meatballs
7. Veggie burgers
Total prep time: 15 mins
While the food processor isn't strictly essential, you can use your trusty assistant for a time-saving hack: pulse the beans instead of hand-mashing them, and dinner will be on the table a whole lot faster than if you'd used a fork. We also particularly love the sweetness that the apple puree brings to this Deliciously Ella recipe, which has an easily adaptable format; tailor the recipe to your own preferences by swapping in your favourite beans, herbs and spices.
Recipe: Deliciously Ella's black bean burgers
Three of the best food processors to use to make these recipes
If you're new to the world of food processors, or fancy upgrading your current model, then we've done the hard work for you. These are the very best food processors we've found on the high street right now.
1. KitchenAid Mini Food Processor
Ideal for those who have compact kitchens or want to keep their worktops as clear as possible, this dinky version of a food processor has two speeds as well as a pulse function. We think this is best for small portions – for example, chopping herbs and prepping sauces – or those cooking for just a couple of people at a time. It's one of the best mini food processors around.
Buy it: KitchenAid Mini Food Processor, £69, John Lewis
2. Magimix Compact 3200 Food Processor
One of the original food processor brands, Magimix products have stood the test of time, with owners holding onto these reliable machines for decades on end. Truly built to last, even the compact version comes with three different bowls, multiple blades and a high-speed setting plus a pulse function.
Buy it: Magimix Compact 3200 Food Processor, £199.95, John Lewis
3. Kenwood MultiPro Classic Food Processor
With up to eight speed settings, this is a food processor for the perfectionists among us. Alongside its various settings this gadget also comes with its very own glass blender for smoothies and the like, plus various attachments for help with tasks such as slicing, grating and kneading.
Buy it: Kenwood MultiPro Classic Food Processor, £159.99, Amazon
Sign up to our free daily email for the latest royal and entertainment news, interesting opinion, expert advice on styling and beauty trends, and no-nonsense guides to the health and wellness questions you want answered.
Rosie Conroy is a food and drinks journalist with over a decade of experience working for big-name titles in both print and online. Formerly the Digital Food Editor of woman&home, Rosie went on to head up the team at SquareMeal, reviewing the best London restaurants and hunting out emerging culinary trends. With previous experience in food styling and recipe development, Rosie knows what to look for in a good piece of kitchenware and has extensive experience testing consumer goods—from kitchen electricalz and cooking accouterments through to new foodie treats.