5 types of food processor attachments and what they do
Our guide to the 5 types of food processor attachments, and what they do, is guaranteed to improve your results in the kitchen.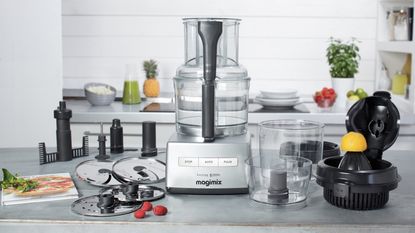 (Image credit: Magimix)
If you're guilty of using your food processor for the same task time and again, now's the time to explore the key attachments that unlock the full potential of this piece of kitchen kit.
Food processors are one of the greatest kitchen accessories going. The clever gadgets that, in many ways, have revolutionised the way we cook today in the modern world, can do so much more than puree soups and sauces though. The thing is, even those of us who have researched and bought the best food processor (opens in new tab) on the market often don't know how to maximise the potential of this kitchen tool.
That's why we've created a cheat sheet of five of the most common food processor attachments, along with the kinds of recipes you can make with their help. Do note that, while no two food processor models are exactly the same, most machines have similar standard attachments.
Main knife blade
If you own a food processor you're probably well-acquainted with the knife blade, which often comes in two sizes to suit both the small and large bowls of a standard sized machine. These super-sharp, double-sided blades blitz, pulse and puree to give you silky smooth sauces and soups as well as dips and dressings. They're also great for making rough-cut recipes such as falafel, cauliflower rice and even a quick shortcrust pastry.
Slicing disc
The slicing disc really comes into its own when you are feeding a crowd – think about utilising this feature to make layered bakes such as a quick potato Dauphinoise, or even for slicing onions (if you're looking to batch-make a favourite curry recipe). Usually food processors come with slicing discs in a couple of thicknesses, so you have options to create the ideal slice for whatever you are trying to achieve. A slightly thinner setting is great for making quick radish or cucumber pickles, for instance.
Grating disc
A traditional dish in France, carotte râpée is a quick, nutritious recipe of simply dressed grated carrots. It couldn't be any easier to make, unless of course you swap grating by hand for the push-button-to-activate grating disc on your food processor. Another smart hack is grating cheese in large quantities and freezing it for ease; this works particularly well with Parmesan which gets harder as it ages, so you can grate it all while it's still fresh, ready for topping pastas at a later date (simply store in small tubs and defrost as you go). As with the slicing disc, grater attachments generally come in a couple of sizes, offering you options to suit your recipe's needs.
Dough blade
The clue for this food processor attachment's function is in the name. Helping make doughs a doddle, you can whip up bread, brioche, scones or pizzas using the short, blunt plastic blade. This attachment replaces the need for kneading, throwing the dough round the bowl at a considerable speed. However, some home cooks who use their food processors on a daily basis swear by using the regular blade, rather than the one designed for doughs, for breads and batters. The reason is simple: as it's a little bigger, it can reach further into the corners of the bowl to do a more thorough job.
Also, be sure to read our guide of best food processors with a dough blade (opens in new tab).
Egg whisk
Save huge amounts of time whipping air into all sorts of classic recipes, with help from your machine's whisk attachment. Get perfectly stiff-peaked egg whites for meringues with none of the faff; create a light-as-air chocolate mousse; or keep things simple with whipped cream-topped strawberries. A whisk attachment for your food processor has the added benefit of creating (or saving) cupboard space, as it removes the need for buying a separate electric whisk.
Rosie Conroy is a food and drinks journalist with over a decade of experience working for big-name titles in both print and online. Formerly the Digital Food Editor of woman&home, Rosie went on to head up the team at SquareMeal, reviewing the best London restaurants and hunting out emerging culinary trends. With previous experience in food styling and recipe development, Rosie knows what to look for in a good piece of kitchenware and has extensive experience testing consumer goods—from kitchen electricalz and cooking accouterments through to new foodie treats.