The best KitchenAid mixers to help you up your baking game
In our guide to the best KitchenAid mixers, we've found an option to accommodate all your cooking needs, whether you prefer a hand-held machine or stand mixer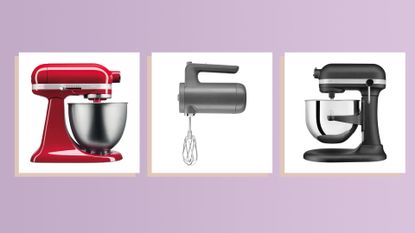 (Image credit: Future/KitchenAid)
Think of a stand mixer and the best KitchenAid mixers will likely come to mind. The iconic brand has become synonymous with stylish, colorful products that are designed to be easy to use, and produce practically perfect results every time.
Thanks to the reputation of KitchenAid, no keen chef or baker will be without one. The products are kitchen essentials, be it a stand mixer, a hand-held design, a blender or a food processor.
KitchenAid has been around since 1919, and the brand has a history of making consistently reliable kitchen tech. However, their designs have come a long way since the first industrial-looking 10-quart stand mixer was launched to the market.
The brand's best stand mixers now come in an array of colors to suit any kitchen style—there's everything from Fired Clay to Milkshake, Whispering Floral and Candy Apple Red to choose from. And while they are pricey, you're paying for that brand name, the reliability, and a timeless design that's built to last.
As there is such a huge range of KitchenAid mixer models on offer and the products are such an investment, knowing which one to choose can be slightly overwhelming. We've put the brand's best stand mixers and hand mixers to the test, to find the best KitchenAid mixer for all baking skill levels.
How we chose and tested the best KitchenAid mixers
Why you can trust Woman & Home Our expert reviewers spend hours testing and comparing products and services so you can choose the best for you. Find out more about how we test.
We tested a range of hand and stand mixers at varying price points in order to pick the best KitchenAid mixer. For testing purposes, we've assessed each model on the following factors:
Weight
Number of speeds and attachments
Power (e.g.. how well the model mixed our recipe together)
How easy the mixer was to store
Whether or not the model was easy to clean
Value-for-money
We used each attachment to prepare food as part of a real recipe, so it was easy to identify any shortfalls, and we even lifted the mixers to and from a cupboard to see how comfortable they were to move.
The best KitchenAid mixers as tested by our expert
1. KitchenAid 5KSM7580X
Best luxury KitchenAid mixer
Specifications
RRP: $700/£699
Weight: 13.1kg
Wattage: 500W
Speeds: 10
Capacity: 6.9 litres
Attachments included: Four
Dishwasher safe attachments: Some
Reasons to buy
+
Super quiet
+
Large bowl
+
Highly efficient
Reasons to avoid
-
Bulky to store
-
Whisk isn't dishwasher-safe
One of the largest of the KitchenAid stand mixers, this whopping bowl-lift model is just as efficient as it looks. Tall, sleek, and sturdy, it has a large, 6.9 litre, stainless steel bowl that can handle large quantities of food–meaning it is ideal for large families or those that entertain regularly.
So, what is it that made this our top pick? To start with, we found this to be the quietest of all the models we tested, which you may not expect from such a large design. It's the best KitchenAid mixer if you have a large, open-plan kitchen where you don't want noisy appliances disrupting someone else.
It's also a really capable mixer and made short work of mixing dough, with no rattling or shaking at all. As well as the usual attachments, this mixer also comes with a pouring shield to prevent splashing, which is very handy. Unfortunately, it's not dishwasher-safe, and nor is the whisk, but that is our only gripe.
In short, it's a professional, heavy-duty model that's ideal for baking bread, making cakes and a whole lot more. It's certainly on the more expensive side, but we reckon it's worth the investment for keen bakers and cooks. Our best KitchenAid mixer option overall.
2. KitchenAid Mixer Tilt-Head 3.3L 5KSM3311X
Best small KitchenAid mixer
Specifications
RRP: $350/£349
Weight: 6.5kg
Wattage: 250W
Speeds: 10
Capacity: 3.3 liters
Attachments included: Three
Dishwasher-safe attachments: Some
Reasons to buy
+
Light
+
Compact
+
More affordable
Reasons to avoid
-
Not as good for batch cooking
-
Shakes on high speed
If you have a small or shared kitchen and have been put off buying a stand mixer because of their size and bulk, then this could be the model for you. The smaller, much lighter 5KSM3311X is described by KitchenAid as 'mini but mighty' and it's easier to store, easier to lift in and out of cupboards and just as versatile as its bigger brothers. This KitchenAid mixer is not to be sniffed at and could be the ideal pick for those who don't want the bother of a larger model.
And, just because it's smaller, it doesn't mean there's a compromise in performance. The tilt head makes it easy to get ingredients in and out of the bowl and take attachments on and off. Plus, we found it incredibly powerful for what is essentially the smallest of the best KitchenAid stand mixers.
In fact, we couldn't find a flaw with this mixer, except for its bowl limitations (it was only just big enough for our single-batch ingredients) and the fact it shook slightly at a higher setting—all in all, a great lower-priced design that delivers.
3. KitchenAid Artisan 5KSM175PS stand mixer
Best KitchenAid stand mixer for an iconic colour
Specifications
RRP: $449.99/£499
Weight: 24.2lb/10.98kg
Wattage: 300W
Speeds: 10
Capacity: 5 quarts/4.8 litres & 3 quarts/2.8 litres
Attachments included: Five
Dishwasher-safe attachments: Some
Reasons to buy
+
Two bowls included
+
Powerful
+
Comes in KitchenAid's Color of the Year
We just had to show you this stand mixer, as it comes in KitchenAid's 'Color of the Year'—Honey—which we think is a beautiful addition to the existing color palette. (Not to be confused with Pantone's Color of the Year 2022 - with is 'Very Peri'!)
As well as the three standard attachments, this 10-speed design comes with a flexi-beater, splash guard, and a second handleless 3-quart bowl which we found especially useful for making two batches of dough and leaving them to prove in each bowl.
As with all KitchenAid stand mixers, there are lots of extra attachments available (even an ice-cream maker!), so it's easy (if expensive) to expand the capabilities of this design. It's slightly annoying that the wire whisk isn't dishwasher safe, and at over 24lb, we'd keep this one on the worktop.
It is also important to note that this particular model only comes in Honey, though other models in the Artisan series are available in 15 shades.
4. KitchenAid Artisan Premium 5KSM185PS stand mixer
Best KitchenAid mixer for baking large quantities
Specifications
RRP: $600/£599
Weight: 11.1kg
Wattage: 300W
Speeds: 10
Capacity: 4.8 litres
Attachments included: Three
Dishwasher-safe attachments: Yes
Reasons to buy
+
Solid build
+
Choice of 4.8 and 3-litre bowls
Lighter than the average Artisan stand mixer, the Artisan Premium is that bit more swish with a roomy 4.8-liter capacity bowl that makes baking for the hoards easier. Solid and powerful, one feature we really like about this model is that you can personalize it by choosing an extra glass or patterned ceramic bowl and having it engraved—meaning this would make for an excellent Christmas gift for mom or birthday gift for couples who love to cook and bake. The two bowls also definitely made things easier in the kitchen, as we didn't have to wash up in-between ingredients.
We found the tilt head easy to lift and the bowls themselves are made of stainless steel, just like the mixer. There was no shaking at high speeds, it's a nice sturdy design as you'd expect. Stain-resistant and easy to clean, this model is ideal for anyone wanting a low-maintenance (but still top-quality) mixer.
5. KitchenAid Classic K45SSWH stand mixer
Best KitchenAid mixer for casual bakers
Specifications
RRP: $299.99/£349
Weight: 22lb/10.5kg
Wattage: 275W
Speeds: 10
Capacity: 4.5 quarts/4.3 litres
Attachments included: Three
Dishwasher-safe attachments: Some
Reasons to buy
+
Classic design
+
Good all-rounder
+
Stylish
KitchenAid refers to this as its entry-level stand mixer model but it certainly doesn't skimp on quality. It has a nice roomy bowl, feels super sturdy and does all the basics—mixing, whipping and kneading—flawlessly.
We do wish the whisk was dishwasher-safe and maybe that it wasn't so heavy, but well-built it most certainly is. It also wouldn't kill KitchenAid to throw in a flexi beater and a splashguard for this price, but it's not a deal-breaker.
The best thing about this stand mixer is the number of additional extras, such as a pasta roller, that you can buy to customize it. Although this mixer is just as efficient as some of the pricier models, there are more capable mixers if kneading dough is your biggest requirement. We'd recommend this as the best KitchenAid mixer for the casual baker—for example, those who decide on a bit of weekend baking every once in a while, rather than those who regularly fit it into their schedule.
6. KitchenAid Cordless Hand Mixer 5KHMB732
Best KitchenAid mixer for flexibility
Specifications
RRP: $99.99/£149
Speeds: Seven
Tools: Two x beaters, electric charger
Volts: 110
Reasons to buy
+
Cordless
+
Easy to store and compact
+
Stand-up design
Reasons to avoid
-
No whisk or dough hook
-
Needs charging
If you're looking for one of the best hand mixers to do light work and take up limited storage, then this KitchenAid cordless model is a fantastic option. With no need to plug it in, you have the freedom to use it anywhere, rather than simply where your power point is situated. The only thing to keep in mind is to charge your mixer when the battery is low. If you don't remember to charge it, you may be waiting a while to start mixing when you next want to use it as the charge point is only accessible when the mixer is off, meaning you can't plug it in while using it. This shouldn't be an issue though, as KitchenAid say that this model should be able to make a whopping 200 cookies in four batches on a full charge!
We tested the matte charcoal grey mixer (which also comes in Black, Empire Red and White) and its super-shiny appearance is ideal for matching up with KitchenAid's other appliances. This mixer has a rounded shape with a curvy handle that makes it almost retro in design, while power-wise we can't fault it, as the seven speeds adjust smoothly without splattering ingredients everywhere. Could we have done with a whisk for the egg whites? Yes. Is it the lightest hand mixer around? No. What it is though, is easy to use, powerful enough, flexible and the best KitchenAid mixer if you have few power points in your kitchen.
7. KitchenAid Classic Hand Mixer KHM512AQ
Best KitchenAid mixer on a budget
Specifications
RRP: $54.99/£79.99
Speeds: Five
Tools: Two beaters
Wattage: 60W
Reasons to buy
+
Great price
+
Lockable swivel cord
+
Quiet
As hand mixers go, this one is particularly easy to use, with a slim, lightweight design, manual slide controls and a soft grip. We particularly like the swivel cord, which locks into either the left or right side of the mixer, making it easy to access ingredients from any angle.
The five different speeds easily got the job done when it came to our light batter, but if you're looking to make a heavier dough you may want to scale up to the seven-speed model featured in this guide. We did find it fairly quiet though, even on the highest setting, so a good one to pick if noise is a consideration.
We tested a white model which felt a little basic-looking, but the Ice and Aqua Sky colorways definitely look more stylish. In short, it's a great alternative to a heavy stand mixer, especially when you don't have the counter space to sacrifice—and most important, it's really good value for money, making it one of the best KitchenAid mixer options for those on a budget.
8. KitchenAid 9-Speed Hand Mixer KHM926ER
Best KitchenAid mixer for serious chefs with limited space
Specifications
RRP: $99.99/£109
Speeds: Nine
Tools: Two x beaters, two x dough hooks, whisk, blending rod, storage bag
Wattage: 85W
Reasons to buy
+
Lots of speeds with soft start
+
Lockable swivel cord
+
Great range of accessories
Reasons to avoid
-
More expensive hand mixer
Looking for an all-singing, all-dancing hand mixer? Then this is the model to invest in, with big results and a whopping nine speeds. You'll be spoilt for choice with attachments too, as it comes with two beaters, two dough hooks, a whisk and a blending rod (ideal for smoothies and sauces), plus a soft-start feature that we found helped ingredients stay in our bowl with no messy splashes when going up a speed or two.
The stainless-steel Turbo Beaters are great for mixing heavy doughs or big bowls of ingredients, and while the soft-grip handle makes it easy to hold with one hand, it did make our arm ache a little when on the top speed when we mixed for a while. The LED display is easy to see, though, and it has a lockable swivel cord as per the five-speed model. Want to take it with you when you're away? Then the cotton storage bag will come in useful. Now, it's not cheap, but you do get a top-notch model for your money.
What to consider when buying a KitchenAid mixer
Purchasing a KitchenAid mixer is an investment, so it's important to think about which model would best suit your needs at home. It can be helpful to think about:
Capacity—this one really only applies to the stand mixers that come with a bowl. If you're an avid bread baker for example, going for a mini stand mixer with a smaller bowl isn't going to cut it. Similarly, if you only cook for two people, you're not going to need a design with a huge bowl, and a hand mixer may well suffice instead.
Power—Look for a model that has a motor of 300W or more to make sure it's delivering enough power, and if you can find a model with a flexi beater (or add it as an optional extra), so much the better.
Size and weight—think about where you're going to be storing your mixer, as some models are more compact than others. Or, do you have room on your worktop for one? And, if you're going to be lifting it out of a cupboard, you might want to choose a lighter option. If you're short on space, then a hand mixer may well be more suitable.
Attachments—KitchenAid has more than 10 motor attachments that work with all its stand mixers, from pasta cutters to meat grinders and food processors, so you can add to your collection as and when you need them, but you'll want to choose the ones you need the most immediately. Hand mixers will include beaters, a wire whisk, dough hooks and a mixing rod.
A tilt head or a bowl lift—consider which one you'd prefer—a tilt head has a bowl that twists onto the base of the mixer, with the head of the machine tilting forward when in use and lifting back when you want to change ingredients or attachments. A bowl lift has a bowl that extends from the body of the mixer, with a lever to raise and lower it. The latter is a more sturdy option, but bear in mind that it takes up more space.
Speed—the more speed settings you have, the easier the mixer will be to adjust and control, so generally, a mixer that has six speed settings or more will cover all bases when prepping food. You don't want a model that's too powerful if you're only ever mixing lighter ingredients, for example.
What kind of attachments do I need for a stand mixer?
We'd hold off buying every KitchenAid attachment that catches your eye right away; use the mixer for a while first to see if you really need any of them.
But aside from the 'standard three'—a wire whisk, dough hook, and flat beater, which most already have—there are a myriad of attachments you can buy to turn your KitchenAid stand mixer into a different piece of kitchen kit, from a pasta press to a spiralizer. Here are the best options that'll make your KitchenAid multi-functional.
Juicer—if you don't already have a separate juicer for making juice, purées, jam and coulis, this handy attachment is worth considering. This attachment can even make the best blenders redundant!
Food processor—even the best food processors can be bulky and space-consuming, getting a food processor attachment for your stand mixer, to chop and grind ingredients, can both widen its scope no end and save room in your kitchen.
Meat grinder—dedicated carnivores can experiment with the cuts of meat used to make ground meat, as well as the coarseness, with a grinder attachment. This gadget can even stuff sausages too.
Is a KitchenAid mixer worth buying?
Quite frankly, if you know without a shadow of a doubt that you're going to be baking time after time, then a stand mixer is a must-have. And you really can't get a much more consistently reliable and efficient model than a KitchenAid mixer. And that aside, there are so many different KitchenAid models with different capacities, attachments, power and price points—meaning there's literally one for everyone, whatever your baking/cooking needs.
Plus, most of the best KitchenAid mixer options come with a one-year warranty, and you can buy an extended three years of coverage should you want. You also have the luxury of being able to choose from a whole kaleidoscope of colors which is one of the most fun parts—especially when you consider that some of the stand mixers are available in up to 47 different colors.
What size mixer is best for me?
This completely depends on the size of your kitchen and how much cupboard or worktop space you have to store it. Check the dimensions of the mixer you're keen on and measure the space you plan to keep it in. In terms of volume, a 4.5-quart bowl is enough for a family of four and will handle most food prep tasks with ease.
Those that are 5 quarts and above are ideal for those who cook in large quantities. If you're short on worktop space though, then a hand mixer may be the better option.