Kenwood Blend-X Fresh BLP41.A0GO review
An affordable way to blitz, how does this Kenwood model stand up against the best blenders out there today?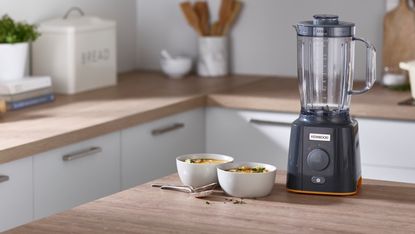 (Image credit: Kenwood)
Compact and fairly capable, but the Kenwood Blend-X Fresh may still need a helping hand
Reasons to buy
+

Ice-crush button

+

Easy-to-use controls

+

Lightweight
Why you can trust Woman & Home Our expert reviewers spend hours testing and comparing products and services so you can choose the best for you. Find out more about how we test.
Kenwood's Blend-X Fresh has seen several versions, the latest of which is the BLP41.A0GO. In this incarnation, the brand has done away with the unexciting white base unit and opted for a smarter graphite grey with an orange trim. Otherwise, the Kenwood offering is still doing what it's always done well – offering simple, variable-speed blending in an affordable package. The only features that can be described as frills are an ice-crush button and the ability to detach the blades for a thorough clean. These do, however, provide enough of a reason to consider it alongside the best blenders (opens in new tab) you can buy today. This Blend-X Fresh is also available with a mill attachment for those who want to grind ingredients, as well as blitz them, which is a nice addition.
Bought direct from Kenwood, the Blend-X Fresh costs around £52.99 (opens in new tab), but it's also available at retailers such as Currys and eBay for a similar price. As new models are released, previous versions tend to be reduced in price, so it's worth keeping an eye out for sales and offers.
Want more blender reviews? Read our in-depth reviews of the NutriBullet Combo (opens in new tab)and Vitamix Ascent A2300i (opens in new tab) Blenders here
Kenwood Blend-X Fresh design details
There haven't been any major shape changes to the Blend-X Fresh since its launch. That said, the new brightly coloured trim, metal branded plaque and panel detailing on the fascia of the BLP41.A0GO help it to feel more stylish. There's a fair amount of twisting needed to assemble this blender, so it's not all that suitable for those who suffer with wrist issues. A blade unit of four angled blades twists in at the bottom of the plastic two-litre (1.5-litre working capacity) jug, which in turn twists into the base. The unit is finished with a twist on-lid. After the construction, however, the controls are simple – three speeds and a pulse on the dial, plus a large push button below that offers high-speed bursts. There's also integrated cord storage at the back of the base, to hide away the blender's 1m cable, anti-slip feet underneath and one recipe in the instructions to get you started.
Functionality of the Kenwood Blend-X Fresh
The Blend-X Fresh doesn't have any pre-programmed functions, but it does have a choice of speed – three of them, in fact, plus the pulse and ice crush – which should be enough options for most everyday blending. What might cause more of an issue is that the maximum run-time is 60 seconds, so if ingredients aren't successfully blended within a minute, you'll have to wait 15 minutes for the 650W motor to cool down and try again. Additionally, unlike other models that we tested to find the best blenders for you, the Blend-X Fresh's jug isn't suitable for hot ingredients, so any soup will need to cool to room temperature before you can blitz it. It's also not suitable for frozen lumps, so be sure to defrost clumps of berries or leaves for smoothies before you reach breakfast or snack time.
Kenwood Blend-X Fresh performance
It's not clear what exactly the ice-crush button does that the pulse can't but, on the plus side, it does its job well. Around 20 pushes turned cubes into consistently crushed ice, perfect for a cocktail. The Blend-X Fresh also handled batter well; our recipe emerged bubbly and smooth without any lumps. However, even though we made this using the lowest speed setting, the blender was very noisy. Where this model came unstuck was when we challenged it to make a green smoothie; we used a combination of speed 2 followed by 3, both of which were piercingly loud, but it couldn't shift the larger pieces of fruit in the minute allowed for operation. The resulting drink was unevenly blended with a lot of foam. We found that starting with smaller chunks of fruit helped to resolve that issue, but that did mean more initial food prep.
Weighing up the Kenwood Blend-X Fresh
One factor that does lean in the Kenwood Blend-X Fresh's favour is that, compared to powerful pro-style models, it's refreshingly light at just 1.96kg. This means you can move it around the kitchen easily, or store it away in a cupboard or on a shelf when it's not in use, without any struggle. You'll also be able to pour out of the jug without any issues, as the plastic it's made from is quite thin and light.
Cleaning the Kenwood Blend-X Fresh
Want to know how to clean a blender? (opens in new tab) While the jug and lid are dishwasher-safe, the detachable blade unit needs to be cleaned by hand so, either way, there's always some hand washing involved with this machine. Also, as the jug itself is tall and narrow, it's tricky to clean by hand without detaching the blade unit first, meaning some disassembly and reassembly is required.
Kenwood Blend-X Fresh warranty
Given that the Kenwood Blend-X Fresh is a budget blender, its guarantee of a year isn't surprising. However, if it's only used to blend thinner mixtures, we anticipate that it should outlast this.
Summing up...the Kenwood Blend-X Fresh blender
Even though the Kenwood Blend-X Fresh is an affordable blender, there are some features – such as the one-push ice button, stylish finish and retractable cable – that make it feel a bit better than basic. That said, where you save on cost, you'll need to invest extra in terms of time – the best results come when you carry out extra food prep ahead of blending. Because of this, it's probably best suited to someone who'll use it mostly for drinks, soups, sauces and batters rather than anything too heavy duty.
Rachel Ogden is a UK-based freelance journalist with more than 20 years' experience of writing, editing and sub-editing. For the last 13 years, she has worked exclusively in interiors, writing about everything from extending your home to kitchen worktops, flooring, storage and more.
She has worked for a huge swathe of brands, including Woman & Home, Ideal Home, Elle Decoration, Real Homes, Grand Designs, Living Etc25 Beautiful Homes, The Evening Standard, The Independent and many many more. She was also shortlisted for Lifestyle & Interiors Journalist of the Year in the 2018 Property Press Awards.