The best multi cookers and Instant Pot alternatives for fuss-free cooking
The best multi cookers will replace the need to have multiple gadgets in your kitchen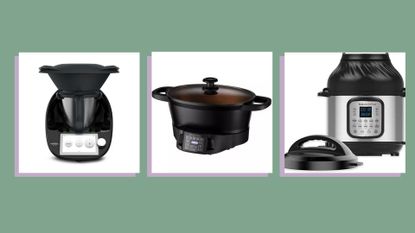 (Image credit: Instant Pot / Russell Hobbs / Vorwerk)
Chances are you've heard of an Instant Pot, but what actually is it? They burst onto the foodie scene a few years ago and their popularity hasn't really waned since, thanks to the device's one-size-fits-all ability to produce meals at the touch of a button.
The best multi cookers can simmer, stew and even air fry. While Instant Pot is certainly the most recognisable brand on the market, it's not the only company that offers multi cookers. The best alternatives give the original a run for its money, adding other features and little cooking hacks that help a busy cook get dinner on the table with minimal fuss.
Multi cookers, as they're more widely known, offer a helping hand to the time-poor (which when we think about it should just about encompass every human on the planet). They're plug-in pieces, typically similar in shape, and come on a stand with a handful of buttons that operate the varying functions. The best multi cookers will fry, boil and slow cook, while some have additional features that can go as far as chopping, baking or blitzing for extended recipe options.
We've heard from so many other cooks that once they took the plunge on a multi-cooker they didn't look back. So can one machine really bring together the qualities of the best air fryer, pressure cooker, slow cooker and more all into one device? We had to find out.
How did we test the best multi cookers and Instant Pot alternatives?
Why you can trust Woman & Home Our expert reviewers spend hours testing and comparing products and services so you can choose the best for you. Find out more about how we test.
The best multi cookers and Instant Pot alternatives vary hugely in their functionality, so it was hard to come up with one dish that we could make across them all. Instead, we tested each one individually, trying to use most—if not all—of their settings.
We looked at how well they produced recipes when compared to traditional techniques and weighed up things like whether or not they were dishwasher safe, how heavy they were and what price point they sat at. They're on the whole, fairly easy to clean: check out our guide on how to clean your Instant Pot for detailed instructions.
We kicked things off with Instant Pot and used it as a point of comparison for all the others, scoring them up or down depending on how they shaped up to the original. While we thought that perhaps their bulkiness might make us resistant to keeping them out on the counter at all times, we have to admit that once we got going we hardly stashed our samples away thanks to how often we ended up reaching for them when looking to make midweek meals.
Instant Pot Duo Crisp + Air Fryer 11-in-1 Multi-Cooker
Best overall multi cooker
Specifications
RRP: $266 / £199.99
Functions: Pressure cook, sauté, steam, slow cook, sous vide, warm, air fry, roast, bake, broil, dehydrate
Dishwasher safe?: Yes
Weight: 10.3kg
Reasons to buy
+
Easy to use
+
Pressure cooker element reduces cooking time massively
+
Easy to clean
+
Great family gadget
Reasons to avoid
-
A big investment
-
Not the best at air frying
-
Heavy
Instant Pot, without a doubt, has become the most recognisable brand when it comes to multi cookers. These clever machines promise a whole host of functions, but do they live up to the hype? Our initial impression was that as a machine it's pretty bulky but given its far-reaching uses – if it performs as it says it does – we think in reality it could be space-saving.
There's no real setup needed, which is handy given there are few instructions included in the box. However, the functions are carefully labelled, and it did feel fairly intuitive. We kicked things off by making a risotto which was simple given you can sauté onions easily to begin with and then switch over to a simmer function to get a hands-free version of a dish that traditionally takes a lot of attention. The results were well cooked rice and a hearty family meal, if it lacked the signature creaminess that consistent stirring creates.
Other standout results were a chicken pressure-cooked in just half an hour which we think is pretty impressive, and the slow cooker which turns out warming winter stews that can simmer away happily all afternoon. Steamed veggies were vibrant and still crisp for healthy cooking without the need for steaming baskets and wide-bottomed pans, plus the easy controls allow you to toggle time and temperature even during cooking. The keep warm and delay start functions were also a bonus.
Come clean up, all removable elements are dishwasher safe, and the front wiped easily with a warm, damp cloth. Overall, we felt like every time we reached for the Instant Pot we discovered a new function (hello, sous vide). A couple of little niggles included the air fryer setting not performing as well as some of our other favourite air fryers, and there being limited guidance from the off. However, overall, we couldn't believe the flexibility this gave for easy family cooking and found it hard to imagine ever going back to life without an Instant Pot
Sample for review provided by Lakeland
Crock-Pot CSC051 12-1 multi cooker
Best multi cooker for first time users
Specifications
RRP: $133 / £99.99
Functions: Pressure cook, slow cook, steam, brown, sauté, keep warm
Dishwasher safe?: Some parts
Weight: 5.6kg
Reasons to buy
+
Simple controls
+
Great entry level machine
+
Handy keep warm function
+
Makes healthy cooking easy
Reasons to avoid
-
Bulky
-
Lacks clear recipes for initial setup
Coming in at under £100, this multi cooker has a much more accessible price point than most yet doesn't underperform alongside the significantly more expensive models. We were pleasantly surprised by the functionality of this piece and felt that for first time buyers of a multi cooker this would be a perfect entry level purchase.
A common gripe of ours with pieces like these is the lack of information provided, and we felt the recipe content included fell a little short. If you're happy to do your own research (cue us watching many a recipe video) then after a little while you'll get the hang of things and find your reliance on instructions wane.
For us, the most impressive functionality of this piece was the pressure cooker setting which produced beautifully tender meat in a fraction of the time of traditional braising and stewing. We also loved this to rehydrate beans and pulses in relatively short time frames for healthy, nutritious meals from scratch that don't take hours over a hot stove. You don't get quite as much intensity as a stovetop pressure cooker model, but this felt safer and comparatively uses much less energy.
The quickfire presets make popular recipes like risotto and chilli a doddle and the ability to sear ingredients ensured an additional layer of flavour was achievable with recipes that traditionally take two-step cookery (or a willingness to sacrifice the browning of meat, for instance). Manual controls were easy to toggle if and when we wanted to have an element of precise control, and the keep warm function was great when we wanted to share a meal with family members on varying schedules.
For the price, this really blew us away with its combination of its instantaneous setup, far-reaching functionality, simple controls, and easy cleaning.
Russell Hobbs Good to Go 28270 Multicooker
Best budget multi cooker
Specifications
RRP: $106 / £79.99
Functions: Sear, roast, sous vide, slow cook, steam, rice, boil, keep warm
Dishwasher safe?: Yes
Weight: Unknown
Reasons to buy
+
Removable pot acts as serving dish too
+
Accessible price point
+
Can roast a whole chicken
+
Ideal for a family
Reasons to avoid
-
Fewer functions than some others
For a big-name brand, we were pleasantly surprised at the price point of the Russell Hobbs Multi Cooker and thought the sleek curved design was relatively attractive (a plus if you don't have the storage space to stash this one away). While it claims to do eight different things, we found this to be a slightly more useful slow cooker in reality. This machine isn't as far-reaching as its contemporaries but if you know you'd never use a chopping element or an air fryer then this could be the perfect way to cut cost and simplify things down to just the few key functions you need.
We were able to fit a whole small chicken in the machine and thanks to the carefully designed insert and temperature controls we found it roasted nicely for an even golden coloring without the need for firing up the oven. The rice cooker element also performed well and was a hands-off process that resulted in perfectly fluffy grains which were kept warm for a little while as we waited for members of our family to assemble. This in fact was one of the best features – which the simple things often are. We loved being able to keep all kinds of meals warm over long periods of time without them spoiling, from soups to stews.
Getting to the slow cooker element, we found that this was as good as any we've tried, turning our tender meat over a good few hours. The ability to remove the central pan and use it as a serving dish was a plus, as was it being non-stick and dishwasher-proof. All in all, we thought this was the perfect model for families who want practicality over a vast number of performance options that they may rarely use.
Cuisinart Cook In Multi Cooker GRMC3U
Best multi cooker for healthy meals
Specifications
RRP: $199 / £150
Functions: Sear, grill, sauté, steam, stew, simmer
Dishwasher safe?: Yes
Weight: Unknown
Reasons to buy
+
Great for healthy cooking
+
Gives great grilling results
+
Easy to store
Reasons to avoid
-
Slightly more limited functionalities
A different shape to most, this clever piece of kit promises grilling, frying, and steaming. From the off we loved the wide open, flat-bottomed cooking area which allowed for more finely tuned control when compared with straighter sided alternatives. The glass lid – which we missed on the Instant Pot – gives you great monitoring ability during cooking so you can tweak temperatures or timings without losing heat from removing the cover. It sounds like a trivial point, but the rectangular body means no space is wasted when stashing it away in cupboards too, something we really appreciated given the neat nature of our kitchen.
The pans heat up extremely fast to allow for near instantaneous cooking, while we found the non-stick coating across all the inserts ensured quick release of grilled meats and veggies. Even when we slightly 'overcooked' a couple of things, food wiped off easily and came out of the dishwasher without any remaining debris – a blessing for busy households.
In an age of touch screens and pre-programs the dial doesn't allow for one touch control which others offer but it is appealing if you like to be able to cook intuitively, tweaking things as you go.
The pan is large enough to comfortably make stews and casseroles for a family of four, and the grilling function was a surprisingly satisfying addition. We got those signature char marks on all sorts of ingredients – from steak and chicken through to Mediterranean sliced vegetables.
Overall, we thought this was a great addition to a family's kitchen armoury. While it doesn't perhaps have all the bells and whistles of other multi cookers, it does the actions you'd use most often, and does them really well. Arguably, this is a simplified but more efficient version of a multi cooker.
Thermomix TM6 Vorwerk UK
Best luxury multi cooker
Specifications
RRP: $1530 / £1149
Functions: Slow cook, sous vide, fry, thicken, boil, simmer, ferment, reheat, keep warm, chop, beat, blend, whip, weigh, grind, knead, mince
Dishwasher safe?: No
Weight: Unknown
Reasons to buy
+
Makes a huge range of meals
+
Easy to use touch screen interface
+
Simple to clean
Reasons to avoid
-
Not dishwasher safe
-
Very expensive
The holy grail of multi cookers, a Thermomix nearly feels like an unfair comparison to most models given its ability to replace nearly every gadget, pot and pan in your kitchen. In fact, we know many Thermomix owners who barely use anything but their machine once they have it in situ.
However, despite the near-universal praise, at over £1,000 we think this would have to work extremely hard to justify the spend. We have to say, we were pleased with the results. The front-facing touch screen feels like a level up from anything else we tried, and with an encyclopaedic app of recipes that syncs to it via Wi-Fi we loved the way this functioned. You can watch step-by-step recipes come to life via the screen, and with the ability to chop, stir and simmer, the Thermomix pretty much takes care of recipes itself, simply requiring you to add ingredients at the right time.
One of our favourite things we tried was risotto, which is processed by the machine chopping and then sautéing the onion before you add the rice and stock, and it stirs everything into a creamy finish – top marks. Other winning recipes were things like soups and stews where both blending, simmering and slow cooking came into their own. Here's the game-changer too, it's a scale – so all recipes are weighed and mixed directly in the bowl. Clever stuff. What this can't do however is grill or brown things, so we felt it would be perfect for busy families where batch cooking saucy dishes is key rather than single-person households or couples who enjoy cuts of meat and fish, grilled or oven-baked. We also found things like mash to come up slightly gluey rather than fluffy because of the blending function which replaces ricing or mashing and works the starch in potatoes more aggressively, for instance. We have the same complaint with meat, which it says it grinds but instead sort of blends into a mush.
Cleaning is also optimised, with the machine coming with a pre-clean setting where you simply fill it with water, whizz the blade around and then rinse out. This was great in between stages of recipes where there are a couple of steps.
It's quite hard to sum up the various functions of this machine in a short review, but essentially, we weighed up whether we thought it was worth the spend. Short answer, yes, but only if you're going to make large-scale family favourites more than a couple of nights a week. Before you buy one you can request a demo to be shown all the features by one of the brand's representatives, which we think is a great idea to help you judge whether or not it suits your lifestyle. Also, be warned, this is a chunky machine and will take up a big proportion of your prep area on your countertop.
Ninja Foodi MAX 14-in-1 SmartLid Multi-Cooker 7.5L OL650UK
Best mid range multi cooker
Specifications
RRP: £199 (UK only)
Functions: Everything! Pressure cook, slow cook, steam, air fries, stews, cooks rice and more
Dishwasher safe?: Yes
Weight: 11.3kg
Reasons to buy
+
Nearly replaces your whole kitchen
+
Cooks meat in half the time your oven can
+
Can simultaneously cook multiple things
+
Room for up to six hearty portions
+
Fits a whole chicken
Reasons to avoid
-
Heavy
-
Bulky
-
Tricky to get used to at first
If ever you lost the use of your entire kitchen (looking at you, home renovations), we're pretty sure this piece of kit from Ninja could take care of you for months on end without you missing your hob. You see, it does fourteen different things and can even simultaneously cook a couple of separate ingredients at once.
We have to say, the initial setup felt quite overwhelming given the number of functions it claims it can do (plus the required reading of multiple manuals), with an interface that feels more like an aeroplane's cockpit than a multi cooker's dials. Once we got used to both the pre-settings and the manual operations we settled into things and found we quickly got used to cooking in a whole new way.
On the positive side of things, the pressure-cooking function of this machine will massively reduce your cooking time. That being said there is a price to pay for playing with physics, and that's the resulting texture of your food. We made a lentil dal as one of our demo dishes and found the resulting recipe to be much smoother than it usually would be, with very little definition in the pulses. On the flip side, we found the meat to be perfectly cooked and meltingly tender. The combination of functions also pays off here, where you can cook a whole chicken in half the time an oven would take and then crisp the skin using the air fryer element. The air fryer definitely isn't as good as Ninja's stand-alone machine, but as a built-in extra we were impressed.
It's quite hard to sum this one up because it does so many different things, but another result we loved was being able to cook a couple of different things simultaneously. We could cook a stew in the bottom – for instance – and rice above it. Using the built-in timer we could organise these to be ready at the same time and even leave them to keep warm for hours on end if needed. Pretty clever stuff.
When trying recipes for the first time we found that we couldn't get them quite right, but after a couple of attempts we began to learn how to tweak things to get our desired outcome.
Overall, this is big and heavy and expensive, but even given those drawbacks we think it's worth it given its far-reaching possibilities and capacity for cooking family-sized meals. It's the kind of thing you get so used to you end up wondering how you lived without it.
Sign up to our free daily email for the latest royal and entertainment news, interesting opinion, expert advice on styling and beauty trends, and no-nonsense guides to the health and wellness questions you want answered.
Rosie Conroy is a food and drinks journalist with over a decade of experience working for big-name titles in both print and online. Formerly the Digital Food Editor of woman&home, Rosie went on to head up the team at SquareMeal, reviewing the best London restaurants and hunting out emerging culinary trends. With previous experience in food styling and recipe development, Rosie knows what to look for in a good piece of kitchenware and has extensive experience testing consumer goods—from kitchen electricalz and cooking accouterments through to new foodie treats.