How to clean an Instant Pot quickly and easily to keep it in perfect condition
These top tips for how to clean an Instant Pot will help you to get the best out of this handy gadget for years to come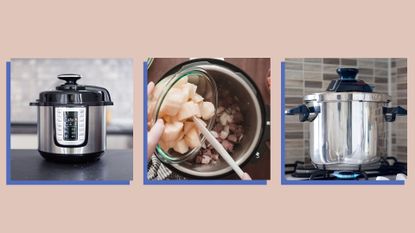 (Image credit: Future/Getty Images)
Instant Pots have moved from a kitchen fad to a must-have kitchen appliance. Because it's used so often, mastering how to clean an Instant Pot is essential for ensuring its upkeep.
This popular multi-cooker has so many functions—it steams, it warms, it sautés—so it's likely you'll be putting it to use daily. Failing to clean your Instant Pot regularly could cause it to stop sealing, which means you'll render your beloved kitchen appliance useless. Combine an everyday cleaning method with a weekly deep clean to keep your Instant Pot looking (and working!) like new.
If you're brushing up on your kitchen cleaning knowledge, you might also want to take a look at our guides on how to clean an air fryer, how to clean a cast-iron skillet, and how to clean a fridge.
How often should I clean my Instant Pot?
As with other kitchen gadgets and general kitchen cleaning, how often you clean your Instant Pot will really depend on how much you are using it and what you are making in it.
For most dishes, you can do a basic clean-up once your meal is over. This will get the parts that come into contact with your food clean so that they will be ready for use the next time.
Weekly, or fortnightly, you'll want to do a deep clean on your Instant Pot, or slightly more often if you use it more frequently, or cook a lot of sticky recipes in it. Heavy usage and sticky sauces can get into the inner parts of the Instant Pot. Over time, this can make it harder for the pot to seal and do its culinary magic.
How to clean an Instant Pot—two methods
Want to keep your Instant Pot looking new and working perfectly? These two methods will help you get it clean, no matter how much you put your favorite kitchen tool to work. Instant Pots are well-made, and this cleaning routine should help ensure it continues to work well for years to come. In other words, a little bit of care will go a long way!
1. Basic clean
When: after every meal
The basic clean couldn't be easier because it requires very little manual labor. Most of the removable pieces of the Instant Pot are dishwasher safe, including the stainless steel inner pot, lid, steam rack and sealing ring. This makes for very easy clean-up after most meals. You should be able to toss these parts in the dishwasher and have them come out as good as new.
Directions:
Unplug your Instant Pot and allow it to cool off.
Place the inner pot, lid, steam rack, and sealing ring into the dishwasher, or a sink of hot, soapy water.
Run the dishwasher, or wash with your usual dishcloth if washing by hand.
Wipe down the exterior part of the Instant Pot with a damp cloth, if needed.
Replace the parts once they are clean and completely dry.
2. Deep clean
When: every week or fortnight
Deep cleaning will help prolong the life of your Instant Pot, and it could help remedy any issues you may have with the pot not sealing itself. During the deep cleaning, you'll be getting out any of the food particles that may have accumulated in the machine's smaller parts, such as under the sealing ring or within the steam valve. The Instant Pot makes it easy to remove and replace those smaller pieces that may have food caught inside, making your work here much faster.
When you do a deep clean on your Instant Pot, take time to inspect all the parts for cracks or other damage. The sealing ring will be the first thing on most machines that will need to be replaced (usually every three to six months or so), and you can grab a new one online. Regular inspections of your Instant Pot will help you solve potential issues before they become major mealtime disasters.
Directions:
Disassemble the Instant Pot by removing the sealing ring from around the lid, the quick-release handle, and the cover on the steam valve.
Inspect the sealing ring for any cracks or damage (these rings can be replaced if necessary).
Take a toothbrush or small scrubbing brush and dip it into some warm, soapy water.
Gently scrub all the pieces you've removed from the machine, taking care to remove any food residue.
Scrub the rim of the lid where the sealing ring sits.
Wipe down the cooking housing of the Instant Pot with a nearly dry cloth, being sure to avoid getting any part of the housing too wet.
Spray a little white vinegar on your cloth, then wipe the exterior of the housing (if your model is stainless steel) to keep it shiny.
Check the condensation collection cup and clean it out.
Thoroughly dry all the pieces, and then replace them on your appliance.
A final Instant Pot cleaning tip
Store the lid upside down on the pot rather than keeping it fully closed and sealed, as this will allow the ring to air out while your pot is not in use.
Amy Hunt is an experienced digital journalist specialising in homes, interiors and hobbies. She began her career working as the features assistant at woman&home magazine, before moving over to the digital side of the brand where she eventually became the Lifestyle Editor up until January 2022. Amy won the Digital Journalist of the Year award at the AOP Awards in 2019 for her work on womanandhome.com.