'What I wish I had known before buying an air fryer' reveals a kitchen appliance expert
Get insider insights on what you need to know before buying an air fryer to invest wisely for your home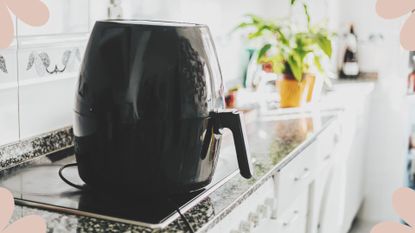 (Image credit: Getty Images)
Air fryers have become increasingly popular in recent years, and for good reason. They offer a convenient and healthy way to cook your favourite foods, while still producing delicious results. But if you're new to air frying, there are a few things you should know before you get started.
Not only do I use an air fryer regularly at home, but I've written endless features about them, and have been lucky enough to test out some of the best air fryers money can buy. This extensive air frying experience means I have become a professional expert, and often have friends and family asking my advice on everything from how to use an air fryer to what brand to buy.
Thanks to my air fryer know-how and also that of a couple of experts who I quizzed, I can guide you through everything you need to know before buying an air fryer – handy to know before browsing the best Black Friday air fryer deals.
What you need to know before buying an air fryer
Before diving into the world of air fryers, several key considerations can significantly impact your overall satisfaction with the appliance.
Clare Andrews, the author of The Ultimate Air Fryer Cookbook available at Amazon, says before you even think about parting with your cash, you need to do your research.
"There are so many different brands out there now you want to make sure you choose the right one for you," she says. "Look at things like size, style, ease of use and two drawers or one."
Reading online reviews is a great place to start, especially if you don't have time to go and test them, as I did. But what else do you need to consider?
Versatility
Some air fryers are basic and just do that, while other multi-cookers offer a variety of services, including slow cooking and a dehydrator. Some can even be controlled via an app on your phone. "Make sure it is the right kitchen gadget for you and your household," says Clare. "Ask yourself how often you are going to use it. It might be that prepping food in the morning, putting in the slow cooker and coming back to a meal ready-to-go is better for your lifestyle.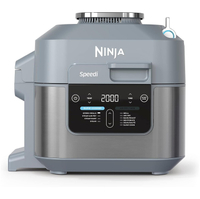 Ninja Speedi: was £249, now £138 at Amazon (save 45%)
For versatility, w&h recommends buying a multi-cooker with an air fryer function, such as the Ninja Speedi (currently reduced by 45% at Amazon).
Power
Air fryers vary in the power they use. While a more powerful air fryer will cook food faster, it will also use more energy, and sometimes can be more expensive than using your oven or microwave. Not sure how much it costs to run an air fryer? Use the wattage and current cost of electricity to work it out. For example, if you had a 1500W air fryer and used it for an hour, it will use 1.5kWh.
w&h recommends the Cosori Small Air Fryer for an energy-efficient option. It heats up fast due to the neat capacity, and no energy is wasted when cooking for one.
Price
Air fryers can range in price from £50 to £250, depending on factors such as brand, model, size, and wattage. Work out your budget before you go shopping – and don't always assume that expensive is better. I've tested out some great budget air fryers over time that work just as well as the more established brands.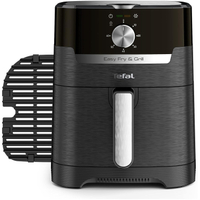 Tefal Easy Fry Classic 2in1 Air Fryer: was £99 now £49 at Amazon (save 51%)
Our Head of Shopping, Millie Fender, has tested the Tefal Easy Fry and thinks it's great value for money. It's currently reduced by an additional 51% at Amazon, costing under £50.
Size
Air fryers come in a variety of sizes, so it is important to choose one that is right for your needs. Consider how many people you typically cook for and how much food you like to make at a time.
The Instant Versazone (reduced by £80 at Amazon right now) has a drawer that can be operated one side at a time, as one large cooking area, or as a dual zone fryer that can cook two things at once, meaning it's incredibly versatile in size.
Clare is an award-winning cookbook author who enjoys creating easy, delicious and low-energy recipes for air fryers and slow cookers. The titles, both available on Amazon are The Ultimate Air Fryer Cookbook and The Ultimate Slow Cooker Cookbook
What I wish I had known before buying an air fryer
You've got the basics down, and while they will help you find a great air fryer, it's only after you've used them for a while, that you can work out whether air fryers are worth the hype.
Personally, I wouldn't be parted from mine – due to the convenience and ease of use – however, these are some things I wish I'd known before buying an air fryer.
1.They're big
Firstly, size does matter. I was fooled by the fact that an air fryer is a small kitchen appliance, thinking they would seamlessly fit onto my organized kitchen countertops. In reality, they're surprisingly bulky. Unless you're cooking for one, you're going to want to invest in an air fryer with a large capacity and that means you need to find space for it.
"Make sure you have enough space on your work surface too as you don't want your air fryer too close to the walls, you need to keep and safe space around to let the air flow," advises Claire.
If I'm honest, I don't have space for one in my kitchen and it does encroach on my worktop, but it's a payoff that works for me.
Alternatively, you can stow it away, I found that doing so resulted in less frequent usage. Claire concurs, saying, "I always recommend selecting a model that complements your kitchen style, as I never put mine away."
If you want a small air fryer, our Head of Ecommerce Millie Fender suggests the Cosori Lite, £99, which is powerful but with a small footprint.
2. They're not foolproof
While they are pretty straightforward to use – you put something in the basket, turn on the temperature, function and time and press start – it is easy to make air fryer mistakes.
My first attempt at cooking air fryer crispy kale was a disaster. I incinerated a big bag of kale in minutes. And yes, I also burned the first batch of chips I cooked. But like any new appliance, it takes time to learn the nuances.
For this reason, it's a good idea to look for things such as timers and temperature settings, all of which should make things easier.
AO's air fryer expert Thea Whyte says: "Having a timer function on your air fryer means you'll never have to worry about overcooking your food. Models with this will either let you know when your food's done, or they'll simply turn themselves off." We can recommend the best Ninja air fryers as exceptional models to use.
What I will add to that is when you use your air fryer for the first time, always err on the side of caution. Opt for a shorter cooking time rather than a longer one to ensure you get a feel for how the appliance operates.
3. They don't fry
Despite their name, air fryers don't fry food in the traditional sense. Instead of submerging food in hot oil, they use convection to circulate hot air around the food. The appliance typically has a heating element and a fan that rapidly circulates the hot air, creating a crispy layer on the food similar to frying.
In essence, air fryers are miniature convection ovens with a concentrated airflow, which is why many compare air fryers to ovens. They still need oil to get that delicious crispy texture, but essentially, they are a healthier way to enjoy traditionally fried foods.
This is one of the reasons, I put off buying one for so long. My family and I don't eat fried foods, but once I realised what you can cook in an air fryer extends beyond chips and chicken nuggets, I was hooked.
4. And they're more versatile than I first thought
"Some air fryers also come with lots of different cooking functions, meaning you can make all sorts of meals," says Thea. "They're great for baking, frying, roasting and more, giving you everything you need no matter what's on the menu."
Since I've had my air fryer, I've done all the regular stuff like making homemade chips, heating sausage rolls and cooking burgers. I've also pushed the boat out and made a cake, a mini-Christmas dinner (including the sprouts) and even poached eggs using a silicon mould. We also discovered you can cook toast in an air fryer, who knew?
I'm fully embracing Clare's passion for air fryers and their incredible versatility. "I always go with the same rule – whatever you can cook in an oven, you can most definitely cook in an air fryer," she tells me.
Yet, certain things shouldn't be cooked in an air fryer, like pasta and rice. And when it comes to popping popcorn, it's advisable to stick with the trusty microwave, as my son and I discovered the hard way. Our attempt in the air fryer left many kernels unpopped, as it couldn't quite reach the necessary temperature. Safe to say for popcorn the air fryer vs microwave debate is solved.
5. They need a lot of cleaning
Thankfully, the removable components of air fryers, such as the basket and tray can be bunged in the dishwasher to make cleaning an air fryer a relatively easy task.
"Lots of air fryers come with dishwasher-safe components," says Thea. "They're removable, meaning nothing gets in the way of wiping the inside and putting everything in the dishwasher makes the clean-up easy."
However, our basket is quite sizable and occupies a significant chunk of the dishwasher space, prompting me to occasionally opt for handwashing. It's not the most enjoyable task, dealing with leftover fat and gunk at the bottom, but sometimes you've got to do what you've got to do.
Given the glossy finish of most air fryers, regular surface wipes are also essential to keep them looking pristine. Mine really shows up the dust and fingerprints.
To keep the interior low-maintenance, you can invest in some air fryer liners that keep the basket grease-free.
Is there a downside to air fryers?
The popularity of air fryers doesn't seem to be waning. Recent annual sales figures from Lakeland show that sales of this popular appliance were up 1,175% on last year. But surely there must be some negatives? Air fryer devotee Claire can't seem to see any but does say they do require that initial outlay.
"I personally can't see any downsides to air fryers, but of course I would say that as I love them!" she says. "The cost can be quite steep. It's an investment for sure, but well worth it in my opinion, they save you time and money off your electricity bill."
For me, it is definitely the size that put me off buying one for so long – even after I'd tested them and was converted. I wish they were a bit nicer looking as well – many are just large black and silver pieces of plastic – but I can't deny that the end product makes it all worthwhile.
Don't expect them to be the only appliance you'll need either. Even though fans like Claire cook everything in them, there's nothing quite like a roast dinner cooked in an oven or crunchy green beans steamed in the microwave.
Overall, air fryers are a versatile and convenient addition to the kitchen, as long as you know what to consider when buying one.
Sign up to our free daily email for the latest royal and entertainment news, interesting opinion, expert advice on styling and beauty trends, and no-nonsense guides to the health and wellness questions you want answered.
With over 22 years' experience in journalism, Jayne has written about a variety of subjects. She spent the start of her career within the world of film, interviewing Hollywood stars, attending premieres and lusting after red carpet outfits, and then moved into fashion, launching websites for big magazines such as Look, Woman's Own and Wedding and working with top fashion brands such as Westfield, LK Bennett and Hunter.
Career highlights include dressing up as Kylie (in gold hot pants!) for a national newspaper and working on big fashion events alongside Giles Deacon, Henry Holland and Naomi Campbell.