What can I cook in an air fryer? 11 fast, delicious and easy ideas
Air fryers are the latest culinary must-have, promising to save time and money while minimizing the need for oil. Here are the best dishes to cook in an air fryer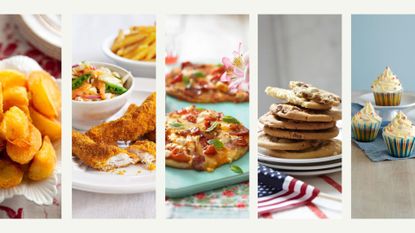 (Image credit: Future)
Air fryers have never been so sought after, with promises of being cheaper to run, healthier to cook in, and much faster than conventional ovens. If you haven't already got one you may be asking yourself what can I cook in an air fryer? Turns out most things, from everyday meals to baked goods.
From the best Ninja air fryers to supermarket alternatives, there's an air fryer for every budget, and you can find some of the best air fryers for as little as £40.
"The average family could save 80% on their energy usage and bills related to cooking by making some small switches in the kitchen. The top way to save, backed by our recent research, is moving from oven cooking to an air fryer," says Caroline Ross, kitchen electricals specialist at Tefal (opens in new tab). "Not only does it use up to a staggering 80% less energy than a conventional oven, but it cooks up to 50% faster and with 99% less added fat from cooking oils."
What can I cook in an air fryer? 11 easy things to cook
"Essentially an air fryer is a mini oven that can cook almost anything that a conventional oven can", according to Curry's (opens in new tab)kitchen expert, Lara Brittain. "The difference is, it uses rapid air technology to create heat quickly, so you don't need to pre-heat an air fryer in the same way that you should a conventional oven." Plus, their small size allows the hot air to circulate quickly and more evenly. Even mastering how to clean an air fryer is an easy task, so it's a winning cooking solution all around.
Here are 11 easy things you can cook in an air fryer to get you started on your new food journey.
1. Crispy bacon
"Cooking bacon in an air fryer is great for a crisp texture, plus it contains any fat splatters making cleaning up much easier," says Rose Fooks (opens in new tab), Deputy Food Editor at Future plc.
Cooking bacon in an air fryer allows us to consume it in the healthiest way possible, as well as the tastiest. Its fat content means you can negate the need for oil when you put it in an air fryer, and as it cooks, its contained fat will drain away, enabling the bacon to crisp up beautifully – and all in ten minutes.
In more good news, they'll be no hob nor oven splatter to leave you seeking tips for how to clean your oven as it'll all be contained in the air fryer, many parts of which can be cleaned in the dishwasher, and, as long as you don't set the temperature too high, they'll be no ominous smoke either.
2. Roast potatoes
A Sunday roast isn't complete without the all-important roasties. There's something about roasting that transforms those pale, unassuming things into irresistible delicious mouthfuls of heaven – fluffy on the inside, crispy on the outside. But they can be tricky to get right. Your roast potatoes won't crisp up if there's too much oil or the oven's overcrowded. Plus, they can take a tiresomely long time to cook.
Cue the air fryer. You'll still need to peel, chop, and par-boil (yawn) the potatoes, but once drained and fluffed up with a fork, just season, drizzle with oil (1 tbsp per 1kg of potatoes is a good rule of thumb), pop in the air flyer, and they'll be restaurant-worthy in fifteen minutes.
One note of caution, overcrowding an air fryer basket is an absolute no-no. Air fryers work by circulating hot air around the basket so you need to give food space to enable the air to reach it on all sides. So, unless you have an oven air fryer or an extra large one, you might need to place the potatoes in a single layer and cook in batches if need be.
3. Pizza
A frozen pizza may not be the healthiest lunch choice, but it will cook in an air fryer, straight from the freezer, in about six minutes.
"Reheating pizza in the air fryer is a revelation," Rose tells us. "The base stays nice and crisp just like it's freshly cooked. If you have leftover slices from a takeaway pop them in for about 10 mins until piping hot."
But if time allows for a little prep work – and it really is a little – make a homemade version by placing a wholewheat tortilla wrap or pitta bread in the air fryer basket, spread over a spoonful of passata or barbecue sauce (not right to the edges, to ensure it doesn't drip when cooking), sprinkle with grated cheddar and mozzarella, top with peppers, pineapple chunks, strips of ham – or whatever you like – and air fry for six-seven minutes.
The hot air flow of the air fryer will result in a perfectly crisp pizza base that's hard to achieve in a regular oven.
4. Fries
The word, 'fryer' is invariably associated with the prefix, 'deep fat' and an image of greasy chips, but as Curry's Kitchen Expert, Lara Brittain attains, "you no longer need to submerge your chips into deep vats of fattening oil that then ends up on your plate. The hot air system of an air fryer cocoons your food in heat and the circulating air crisps your chips to perfection". And all of this with just a small amount of oil or none if you're cooking frozen chips.
Homemade, thick-cut chips will take around 30 minutes in an air fryer, allow 10-15 minutes for frozen fries and 10-20 for frozen chips. Ensure you cook them in a single layer, with minimal overlapping. If you need to cook in batches, do so, but return the chips/fries to the basket once they've all been cooked for a few minutes to heat through.
5. Roasted chickpeas
A healthy, delicious, high-protein snack, you can make roasted chickpeas in an air fryer in just 12-15 minutes. Drain and rinse your cooked chickpeas before patting dry. Coat them in olive oil and seasoning (we recommend smoked or spicy paprika, salt and black pepper), then cook them for 15 minutes, ensuring you shake the basket a few times to prevent them from sticking. You don't need much olive oil, and can even skip this altogether if you want.
6. Potato chips
Making your own potato chips in an air fryer may be a step too far for some, but they'll be healthier and superior in taste to any shop-bought variety.
Wash and slice (no need to peel) a starchy potato – namely, a King Edward, Maris Piper, or Russet – as thinly as you can (use a mandolin if you have one), and place in a bowl of very cold water for 20 minutes. This will extract the starch from the potatoes so that'll they'll crisp up. Rinse and pat dry, coat with olive oil (only half a tablespoon), and air fry for 10-12 minutes. Sprinkle over salt - and any other herbs and spices you wish when they're still hot and crunchy. Divine.
7. Chicken breasts
Chicken breasts are a supper staple for many of us, but there's a fine line between perfectly moist and decidedly dry. Cook them in an air fryer, though, and they'll cook faster and more evenly.
There are a few caveats though; firstly, it is essential that you flip the chicken breast halfway through cooking (just as you would in a frying pan) to ensure it's evenly cooked. Secondly, don't over-season it as the hot air will literally just blow the salt and pepper away. Instead, spritz with a little oil, then lightly season – the seasoning will adhere to the oil).
Another advantage of air frying is its impressive caramelizing credentials, thanks to its high heat and constant airflow. So slathering on a thick glaze (honey and sweet chili sauce works wonders) will achieve next-level deliciousness. To prep, pound the raw chicken breast with a rolling pin to ensure it's a similar thickness, then pat dry and flavor as above. Air fry each side for around seven minutes.
You can also cook raw or frozen meat joints in an air fryer, but the success of this will be dependent on the size of your air fryer as well as the meat joint. A small whole chicken can be cooked in a medium-large sized air fryer in around an hour; the key is to have enough space around it to allow the air to circulate. If the meat is almost touching the sides of the air fryer, it's unlikely to cook evenly – with the outside cooked before the inside is even warm.
If you cook chicken regularly, Rose recommends looking out for a machine with a temperature probe. "Look out for air fryers with a probe thermometer function, this makes cooking chicken easy as it will stop the program when the chicken is perfectly cooked and the interior temperature is 74C," Rose advises.
Knowing how long cooked chicken lasts in the fridge a whole chicken will serve you well for leftover meals too, to save you cooking again for the next few days – saving even more time.
8. Cupcakes
Experts warn against cooking wet batter in an air fryer, "you wouldn't get the best results, and the batter would just run off and cause a mess", explains Lara. So, sadly, that's pancakes and Yorkshire puds out. But if you combine thick cake batter with a pack of humble cupcake holders, you can conjure up some delicious, no-mess cupcakes. Yes, you can put cupcake holders in an air fryer, as well as glass, ceramic, and silicone – in fact, anything that is ovenproof will also be air fryer proof.
Beat together your cake batter, spoon evenly into the holders until each is three-quarters full and cook for around 15 minutes. You may need to bake these in batches (depending on the size of your air fryer) as the holders will take up some space, but we suggest that you freeze the batter in the cupcake holders, ensuring that any future cake cravings will be satisfied speedily!
Avoid the temptation to open the air fryer while baking, advises Rose. "Cooking cakes can be a little tricky as unlike in the oven you can't peek through the glass as they cook. Trust the recipe and avoid opening the air fryer during the cooking time as it may cause the cake to sink giving it a stodgy texture."
9. Cookies
It's surely a universal truth that cookies are so good when they are baked well, but incredibly disappointing when they're not. Slightly crispy on the outside, and gooey in the middle, is what we all covet, and it's easier – and quicker - to achieve this in an air fryer than in a conventional oven.
"To make clean-up easy, line the air fryer with foil or parchment paper first'" suggests Lara. "Then place 2-3 portions of cookie dough mixture on the parchment paper, slightly pressing down and allowing them room to spread. Cook for around five minutes (this would take more like 11 minutes in a conventional oven). If it's a treat just for you, a giant cookie could be preferable to 2-3 smaller ones, then you wouldn't need to check that the cookies don't overlap as they cook and spread."
When it comes to flavorings, it's best to stick to ones that can be mixed into the cookie dough such as chocolate chips, lemon, or peanut butter rather than just sprinkled on tops such as jam or extra sugar – as these will heat up faster and even burn before the rest of the cookie is cooked.
10. Frozen vegetables
It's no secret that frozen vegetables contain as many, sometimes more, nutrients than fresh vegetables, as they've been picked quickly and frozen fast. Not to mention the other obvious advantages of ease, speed, and convenience. But can you cook frozen veg in an air fryer? Yes, you can
Just load the ingredients into the fryer basket, sprinkle on some spices and seasoning if you wish, and air fry for about five minutes. The excess moisture drips out of the basket, leaving you with veg in all its glory; without any signs of mush. Just note, that some frozen veg, such as thickly stemmed broccoli or chunks of butternut squash, will take longer to cook (20 minutes rather than five).
Fresh vegetables can of course, also be cooked in an air fryer; they'll take even less time than the frozen kind, but don't waste your efforts trying to conquer fresh leaves such as spinach and kale – they will literally just fly about everywhere, and so won't be cooked evenly. With an easy-to-follow guide to vegetable gardening for beginners, you could try growing your own to ensure it is always fresh.
11. Frozen fish fingers or goujons
Be it battered fish fingers or breaded chicken, the hot air element of an air fryer comes into its own when it comes to freezer food that calls for a crispy finish.
The upside of cooking these freezer foods in an air fryer rather than an oven is that not only will it be quicker, but the fried texture of the breadcrumbs or batter will be achieved. Oven-cooked soggy fish fingers, begone!
Fiona Galley has been a freelance journalist since 2015, contributing to lifestyle titles both online and in print including Modern Gardens, Ideal Home Christmas, goodto.com, Candis, and idealhome.com. Her career in interior journalism has spanned almost 20 years, previously she was the in-house Lifestyle Editor at Essentials magazine, where she styled shoots, compiled shopping sections, and looked after the reader's homes pages.