Sunday lunch ideas and recipes that your family and friends will love
On the hunt for crowd-pleasing Sunday lunch ideas? Look no further than our specially curated selection of mains, sides and desserts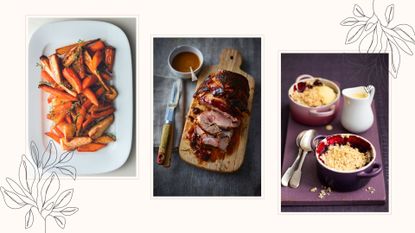 (Image credit: Future)
Entertaining this weekend and on the lookout for some impressive Sunday lunch ideas? Whether you're hosting a family lunch or a get-together with friends, these main, side and dessert ideas are guaranteed crowd pleasers.
It's easy to get stuck in a cycle of cooking the same thing every Sunday, so we've included some interesting alternatives to what you might normally cook. From perfectly marinated meats to herb-packed stuffing and a range of both decadent and light desserts, these recipes are a mixture of low-effort, cook-ahead meals, and more involved dishes. To come up with our selection we dug deep into the woman&home archive to find recipes that we've returned to over and over again throughout the years.
We've largely focused on various forms of roasts, but if you're looking for something a little lighter check out our guide on lunch ideas for entertaining friends, followed by our easy dessert recipes.
Sunday lunch ideas and recipes
Mains
Slow Cooked Pork Shoulder With Plum Sauce
If you're feeding a crowd, try this melt-in-the-mouth slow-cooked shoulder of pork. Marinating the meat the day before can save you some extra time the next day while allowing the flavors to fully develop. This tender and succulent pork pairs perfectly with a sweet sauce; a homemade plum sauce is the ideal accompaniment and tastes far better than anything you could buy in the shops.
Get the recipe here: Slow cooked pork shoulder with plum sauce (opens in new tab).
Whole Tikka roast chicken
Curry is one of the UK's favorite dishes, but it needn't be limited to a Friday night takeaway. Why not try a spicy spin on your Sunday roast with this tikka roast chicken? Indian side dishes like sag aloo and a vibrant chutney complete make for a fragrant and flavourful take on this family favorite.
Get the recipe here: Whole tikka roast chicken (opens in new tab).
Roast Rib of Beef with Red Wine Gravy
What better way to honor a beautiful piece of beef than with a robust red wine gravy? A truly special gravy needs to be made with a good quality stock - it's worth investing a little to get the best results. Serve with all the usual trimmings to upgrade your classic Sunday roast.
Get the recipe here: Roast rib of beef with red wine gravy (opens in new tab)
Asian-Glazed Gammon
This gammon is baked rather than boiled, giving it extra flavor and a crisp and golden finish. An Asian glaze adds sweet and slightly spicy flavors of the East which will keep you going back for more.
Get the recipe here: Asian-glazed gammon (opens in new tab).
Roast Chicken with Wild Boar Stuffing
Mix up your classic roast chicken dinner by serving it with a mouth-watering wild boar stuffing and sweet garlic gravy. Cooking the garlic in the chicken infuses your gravy with even more flavor, and you can make your stuffing while the chicken is roasting to save time.
Get the recipe here: Proper roast chicken with wild boar stuffing and garlic gravy (opens in new tab)
Roast Chicken with Rosemary and Anchovy Butter
Salty anchovies give a flavor boost to this regular roast recipe. The butter can be made using a microwave for extra ease and to free up space on your hob. Spreading this homemade butter under the skin adds moisture and flavor to the meat whilst ensuring a crispy skin.
Get the recipe here: Roast chicken with rosemary and anchovy butter (opens in new tab)
Roasted Pork Loin with Baked Apple and Onion Chutney
Pork and apple is a classic combination. Making your own chutney is easy, and a great alternative to shop-bought apple sauce. The sharp chutney makes a great contrast to the crispy pork crackling, without being too sweet.
Get the recipe here: Roasted pork loin with baked apple and onion chutney recipe (opens in new tab).
Marinated Roast Lamb with Oregano, Garlic and Lemon
Tender and flavor-packed roast lamb makes for a perfect roast. Marinating the meat overnight in the zesty and herby blend of oregano, garlic, and lemon ensures you get an even better texture and taste to your joint of lamb. This recipe gives you a few options on cooking time so that the meat is cooked just as you like.
Get the recipe here: Our marinated roast lamb with oregano, garlic and lemon (opens in new tab)
Easy Roast Duck with Sour Cherry Chutney
Duck is a smaller bird, so can be a great choice for a Sunday roast or Christmas lunch if there are 2-4 of you. The tangy chutney complements the richness of the duck perfectly, and if there is any leftover it makes a wonderful addition to a cheddar or ham sandwich.
Get the recipe here: Easy roast duck with sour cherry chutney (opens in new tab)
Best Nut Roast
This is a mouth-watering iteration of the classic vegetarian roast. Packed with nuts and seeds and enhanced with fresh herbs and punchy Worcester sauce, vegetarians will love this centerpiece. Serve with all the trimmings for a moreish meat-free meal.
Get the recipe here: The best nut roast (opens in new tab)
Whole Baked Salmon with Fennel, Ginger and Lemon
Seafood is often disregarded when serving a Sunday roast, but it shouldn't be. Serving a whole fish not only looks impressive, it also makes sure the fish stays moist and delicious while cooking. The cooking juices, infused with lemon, ginger and fennel, can be served alongside the fish as a sauce.
Get the recipe here: Whole baked salmon with fennel, ginger and lemon (opens in new tab)
Sides
Don't just save red cabbage for your Christmas dinner. This sweet and subtly spiced side adds a wintry twist to your Sunday roast and is also a great source of fiber and vitamin C. This can be made up to a month in advance and frozen until needed.
Get the recipe here: Braised red cabbage with cranberries (opens in new tab)
Crispy Roast Potatoes
Making perfect roast potatoes are a key component of a roast dinner and the best ones are crisp on the outside but fluffy on the inside. The trick to getting your potatoes to stay crisp is making sure the fat or oil is hot before combining with the potatoes so it isn't absorbed.
Get the recipe here: Crispy roast potatoes (opens in new tab)
Pork and Herb Stuffing
These stuffing balls are so easy to make, and the addition of fresh sage, parsley and thyme means they are packed with flavor. They can be made ahead and frozen, only needing to be defrosted and then baked for 40 minutes before being served.
Get the recipe here: Pork and herb stuffing balls (opens in new tab)
Roasted Parsnips and Carrots in Caramel
These sweet and roasted root vegetables are a lighter alternative to a whole serving of roast potatoes but are still full of flavor. The sweet glaze transforms ordinary vegetables into a stunning side which is a great accompaniment to roasted pork or chicken.
Get the recipe here: Roasted parsnips and carrots in caramel (opens in new tab).
Best Bread Sauce
This easy yet impressive condiment is the perfect partner to a roast dinner. Making your bread sauce with stock gives a fuller flavor, and the addition of crème fraîche, as well as butter, makes this sauce even richer and more luxurious.
Get the recipe here: Best bread sauce.
Pigs in Blankets
Pigs in blankets make great nibbles for a drinks party, but are also perfect when served with a Sunday roast. Adding a little maple syrup or honey just before they are finished cooking adds an extra sweet and sticky glaze to these festive favorites.
Get the recipe here: Pigs in Blankets (opens in new tab)
Desserts
Apple and Dark Fruit Crumble with Vanilla Custard
Fruit crumble is undoubtedly a warming winter favorite. The addition of almonds to the crumble mix gives an extra crunch and a smooth, nutty flavour. Best served with a rich vanilla custard or ice cream.
Get the recipe here: Apple and dark fruit crumble (opens in new tab)
Blackcurrant, Mint and Cassis Sorbet
For a light and refreshing way to round off lunch, try making your own sorbet. Making sorbet is far easier than you'd expect, with this simple recipe. An added bit of cassis makes this sorbet go down a treat but can be missed out to make the recipe more suitable for the whole family.
Get the recipe here: Blackcurrant mint and cassis sorbet (opens in new tab).
Boozy Tiramisu Torte
Add some italian flair to your dessert with this torte inspired by the popular pick me up. Coffee and Tia Maria make this rich and decadent treat a great grown up end to a Sunday lunch.
Get the recipe here: Boozy tiramisu torte (opens in new tab)
Millionaire's Ice Cream
You don't even need an ice cream machine to make this delicious ice cream. The three layers of salted caramel, chocolate, and biscuit-flavored ice creams are simply layers into a tin and frozen overnight before being served with a drizzle of melted chocolate for the ultimate luxurious treat. We'll admit, it looks a bit sloppy, but it tastes divine.
Get the recipe here: Millionaire's ice cream (opens in new tab)