Can you toast bread in an air fryer?
Air fryers can seemingly cook just about anything in a fraction of the time, with less oil - but can you toast bread in an air fryer?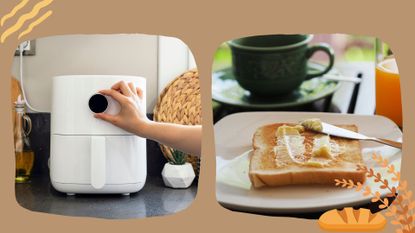 (Image credit: Future / Getty)
woman&home newsletter
Sign up to our free daily email for the latest royal and entertainment news, interesting opinion, expert advice on styling and beauty trends, and no-nonsense guides to the health and wellness questions you want answered.
Thank you for signing up to . You will receive a verification email shortly.
There was a problem. Please refresh the page and try again.
Air fryers are the appliance of the moment with the ability to seemingly cook everything, from full roast chickens to the perfect fries. But can you toast bread in an air fryer? It's a surprisingly common question, but luckily the answer is straightforward.
Many of the best air fryers offer a range of functions and are able to toast, grill, dehydrate, reheat and of course, air fry food. The cost of running an air fryer and the variety of foods you can cook in an air fryer is impressive, not to mention the fact that cooking this way requires less oil than conventional methods. So it's no wonder that people are eschewing their ovens for the nifty countertop device.
But their capabilities do have limits, and some foods are simply better when cooked the original way. What about a humble slice of toast? We chatted with chefs and foodies to find out if you can toast bread in an air fryer - and crucially, if you should.
Can you toast bread in an air fryer?
The short answer is yes, you can toast bread in an air fryer.
"Airfryers are everywhere at the moment and you'll be happy to know that yes, you can make your morning toast in an airfryer," says Chef Al Roberto, founder of private dining and events caterering company Simmer Kitchen (opens in new tab)
"Simply spray with oil (for best results make sure you give it an even spritz), and place in your airfryer at around 400F/200°C for 4-6 minutes." If you want to upgrade your breakfast, you can make french toast using the same method. "This is so easy and quick and will come out perfectly golden," adds Al. You can also reheat or toast bagels, rolls or muffins.
If you have one of the best toaster air fryer ovens, the whole process is a little more straightforward as these contain a grill component. Simply place your bread on the baking pan or oven rack, following the same instructions as above.
Should you toast bread in an air fryer?
We've covered how to use your air fryer to toast bread, but is it actually effective, or would you be better just popping your bread in the toaster or grill?
The consensus here is that you should keep using your grill or toaster if you can. Once you've preheated your air fryer, added the bread in, then turned it, the whole process will take around 6-8 minutes. In contrast, a basic toaster would take around three minutes. Moreover, because of its lightweight nature, bread is likely to fly around your air fryer which means you'll have to secure it to the tray (more on that below). Once you've factored that in, you'll could spend around 10 minutes making a piece of toast, which isn't a great use of your time. In light of this, toast is actually one of the items that Jen Bedloe, w&h's Food Director stated toast and toasties as some of the foods you shouldn't cook in an air fryer.
In summary, if you have no other method, you can definitely toast bread in the air fryer and it will taste good. But you'll save time and energy by making it in a toaster.
How do you stop toast from flying around your air fryer?
Because air fryers work by circulating hot air around the food with a powerful fan, lighter foods can end up flying around. This can present a hazard if they get too close to the heat source, but it also means they might not get cooked properly.
Depending on the weight of your bread and the size and power of your air fryer, you might find that your bread flies around. "If this problem occurs, simply place a metal baking rack on top," advises Al. A small metal rack or oven proof will do the job, it doesn't need to be super heavy.
You might be tempted to use parchment paper to line your air fryer in order to make cleaning your air fryer lighter work. For heavier foods this is fine, but avoid using parchment paper when toasting bread as neither the bread or parchment paper are heavy enough to stay put, meaning they could both precariously float near the heating element of your air fryer.
Can you make toasties in an air fryer?
Once again, it's possible to make toasties in the air fryer, but you might not get the most desirable results unless you're using a toaster oven air fryer.
On the subject, Jen previously advised to "put the sandwich on a sheet of baking paper and make sure you have spread the outside with butter and you have plenty of cheese in the filling." The filling will weigh the toastie down so it doesn't stray away from the tray.
Anna is an editor and journalist, specializing in SEO and digital content production. First carving her career in communications and advertising agencies in Berlin and Barcelona, Anna's former life saw her work for film studios and inside a fashion house, before she moved to Metro.co.uk (opens in new tab) where her career highlights include heading up the SEO desk during the Covid-19 pandemic. Anna's published work ranges from culture and films to human interest features and live news coverage.

In her spare time, she enjoys watching movies, discovering the next big thing in music, traveling, online shopping, and poring over poetry and magazines. When she's not consuming those things, she's probably writing about them.

Originally from Glasgow, Anna has lived in Berlin, Barcelona, and London, not to mention stints in Guernsey and Athens. When she's not struggling to navigate a new language, she's always chasing the next hot trend and perfect black dress (you can never have too many).