How to use an air fryer: A full beginner's guide to cooking healthier food
Follow our simple step-by-step guide to find out how to use an air fryer for endless cooking possibilities, from crispy bacon and healthier fries to deliciously light cookies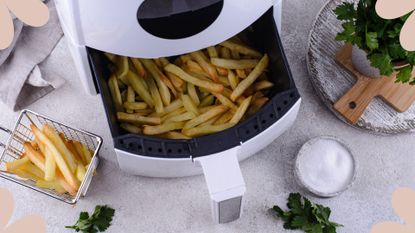 (Image credit: Getty Images | Yulka3ice)
If you are using an air fryer for the first time or need a refresher, follow our comprehensive guide on how to use an air fryer to take you through every step with ease.
There's so much potential for healthier meals you can cook in an air fryer, some unexpected too. Air fryers are famous for replicating deep-fried foods without the need for lots of oil, but most have additional cooking functions too so the range of things that can be cooked in an air fryer is vast - from ultra crispy roast potatoes to tofu to hard-boiled eggs.
Ocado recipe developer, Jules Domanski, explains "Air fryers are a great way of making quick, energy-efficient meals - and they go far beyond simply making great crispy chips."
As well as being versatile, air fryers are useful kitchen gadgets as they are a fast and energy-efficient way to cook. It will soon become your go-to kitchen tool and you'll be regularly using an air fryer. Especially with our simple step-by-step guide that makes using the best air fryers a breeze.
How to use an air fryer in 6 easy steps
Using a new tool in the kitchen can be daunting, but using an air fryer is easy. Follow this easy six-step guide explaining how to use an air fryer and you'll be enjoying all the air-fried food in no time. In this guide, we are using an air fryer to cook chips, but the method is the same for whatever you fancy air frying.
Air fryer models vary, many have additional functions too for grilling, baking, dehydrating, or pressure cooking. This guide is applicable to most common air fryer models such as the popular Ninja air fryers, however, there may be variations or additional features in your machine. If in doubt, check the manual. And if you have lost the manual that came with your air fryer, have a look online on the manufacturer's website.
If your air fryer is brand new scroll down to the 'What should I do for my first time using an air fryer?' section where we explain where to position your air fryer and what to check the first time you use it.
1. Switch on your air fryer and allow it to warm up
It's important to position your air fryer on a worktop with space around it. Check that the air fryer drawer or tray is empty and clean. Next, as with how to use a food processor, plug the appliance in and switch it on at the socket.
The air fryer will take about three mins to heat so have your food ready to cook. Do not put anything in the basket while the air fryer is preheating as it may cause it to burn.
Top tip: For perfect fries, we soaked the peeled and cut potatoes in cold water for 15 mins before air frying. To make them crispy we patted them dry with a kitchen towel before tossing in oil and seasoning.
2. Select a program to preheat
Select the programs you wish to use from the display. For fries, we are using the air fryer function. Choose a temperature and time from the display - for reference, we used 200C for 20 mins.
Next press the start button to heat the air fryer. It's likely that your air fryer will come with a booklet (or even an app) containing suggested cooking temperatures and times, however, as a general rule we would advise cooking 10C less than the pack or recipe suggests for the same amount of time.
Most air fryer models have the following cooking methods and programs:
Air fry: For replicating deep-fried foods, but using much less oil. Some air fryers come with a crisper basket or cooking tray: use them when using this function so the air can circulate in the machine to make the food crispy.
Roast: Most similar to an oven and good for meat, fish, and vegetables.
Bake: This setting is ideal for cakes. You can use any oven-proof case that will fit in the air fryer. We suggest covering bakes with foil to prevent the top from overcooking.
Dehydrate: This function cooks at a low temperature for an extended time to remove the moisture from fruits and vegetables.
Reheat: Great for warming leftovers, woman&home food director Jen Bedloe loves this function for reviving day-old pizza.
Grill: Replicates grilling without the smoke. If your air fryer includes an extra grill plate, use this when using this function.
3. Add your food to begin cooking
When the 'Add Food' message appears on the digital screen use an oven glove to protect your hands and remove the basket. Place the food inside, distributing it evenly to ensure optimum cooking. Not all models will display this message when they have heated up - others may make a sound or display a different message.
Close the air fryer and it will automatically begin the cooking program you have selected. The display will show the time and program the air fryer is set to.
4. Turn the food
If using the 'air fryer' or 'grill' function part way through cooking, the air fryer will beep to signify this next step. At this point remove the basket and turn or toss the food.
Return the basket and the cooking will resume. This is not essential but will ensure even cooking. For extra crisping toss the food more regularly. Simply remove the basket to pause the cooking which will resume once you return it to the air fryer.
5. Take the food out
When the program is finished the air fryer will beep. Remove the basket with the food using an oven glove. If cooking meat we suggest resting it for five mins to improve the texture. Check the food is cooked through, returning to the air fryer, and turn it on again if it requires additional cooking time.
6. Switch off and allow to cool
If keep your air fryer out on an organized kitchen countertop it's still a good idea to turn it off at the plug when you're not using it as it uses electricity to power the digital display.
Let the air fryer cool down before cleaning it.
Clean your air fryer after every use
Cleaning an air fryer is an essential step as a clean air fryer will work more efficiently and produce less smoke. Although not as rapid as cleaning a blender. It's still worth doing every time you use it.
When the air fryer has cooled remove the cooking chamber and basket or tray and wash in warm soapy water. For a deep clean, some parts of the air fryer may be dishwasher safe (check the manual to see if yours are). If your model has a cover over the fan or splatter guard you may be able to release the casing to clean this too. Ninja also suggests deep cleaning the removable splatter guard by putting it into a pan of boiling water and boiling for 10 mins before rinsing.
Wipe the rest of the air fryer clean. Allow everything to dry before reassembling the air fryer and storing it.
What should I do for my first time using an air fryer?
Before using an air fryer for the first time remove the packaging. There may be films and stickers that need peeling off, however it's advisable to leave the safety stickers on.
Before turning on your air fryer also check inside for any packaging and clean the cooking chamber and basket or tray.
Choose a location for the air fryer with ample space around it. Be mindful that when using an air fryer it may heat up and the vents on air fryers, that are often positioned at the back, should not be against a wall as this may block them.
Once you have done this plug the air fryer into a socket. It's advisable to test the air fryer before cooking in it for the first time.
For the warranty you may also need to register your product with the manufacturer.
Do you put oil in an air fryer?
You will still need to use oil when using an air fryer, especially when cooking things that you would usually deep fry. Although using an air fryer is much healthier than deep frying, as it requires much less oil.
Jenny Tschiesche, the author of Air-fryer Cookbook on Amazon, (opens in new tab) has a great way of reducing the amount of oil that you need when cooking in the air fryer. She recommends "buying a spray bottle in which you keep olive oil or avocado oil. Spritz the foods before they go into the air-fryer, especially breaded foods as this is how you're going to achieve that delicious, golden crumb."
As Jenny explains, it's the oil that will give a crisp texture. For crisping foods, it's also a good idea to toss the food regularly so that the air can circulate and everything crisps and cooks evenly.
Rose Fooks is the Deputy Food Editor at woman&home. Rose completed a degree in Art at Goldsmiths University before beginning her career in the restaurant industry as a commis chef at The Delaunay in 2015. She then worked at Zedel and went on to become part of the team that opened Islington's popular Bellanger restaurant.
To hone her patissier skills, Rose joined the Diplome de Patisserie and Culinary Management course at Le Cordon Bleu. She ran a food market in Islington and cooked for a catering company that used only surplus food to supply events, before finding her way into publishing and food styling.