Tefal Jamie Oliver Ingenio collection review
We put the Tefal Jamie Oliver Ingenio collection to the test to see how it stacks up against the competition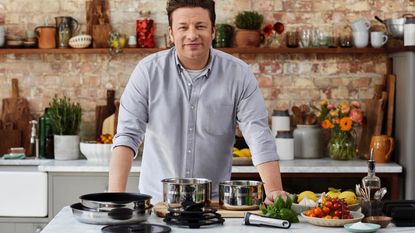 (Image credit: Tefal)
Flexible uses and various sizes make the Tefal Jamie Oliver Ingenio pans perfect for feeding a family
Reasons to buy
+

Versatile

+

Space saving

+

Thermo-Spot technology

+

Good everyday set
Reasons to avoid
-

No lids for frying pans

-

Potential for handle grips to scratch non-stick coating

-

Handles stiffen over time
Thinking about buying the Tefal Jamie Oliver Ingenio collection? We don't blame you. While a pan set is certainly a big investment, if you want to get a set of cookware that will last – and that you will love – for years, we think it's worth splurging. If you cook everyday (and have an induction hob) you'll be looking to find the best induction pans to take your meals to the next level.
When it comes to everyday cookware, you want practicality and versatility in equal measure; we think the Tefal Jamie Oliver Ingenio collection offers both. Better still, you aren't restricted to one type of hob with these pans – the magnetic steel coating means they work on any stovetops, including induction, which can't be said of all competitors' products. Additionally, these mix-and-match pans have removable handles so, as well as smoothly transitioning from hob to oven, grill to tabletop, they can be easily stacked and stored in your cupboards (or even in the fridge, if you have leftovers).
While the Tefal Jamie Oliver Ingenio collection pans certainly aren't cheap, we do think you get good value for money, whichever size set you opt for. The smallest three-pan set is priced at around £50, while the largest nine-piece set costs £185. If you break that down, each item in the larger set costs just over £20 – a fair price point based on the quality. It is, however, worth noting that the set is not nine pans but nine pieces, including handles and lids. Price comparison is tricky as a limited number of retailers carry the range, and we haven't ever seen it for sale in store anywhere. You can often find the pan sets on Amazon though, making for a relatively simple ordering process from a big-name retailer.
Read more...
Functionality
The design of this range has clearly been very carefully thought through, in order to ensure they are flexible and suitable for a busy cook. This is the area where the Ingenio collection really comes into its own, in fact. We love that the handles are removable and interchangeable; just click the handle on to cook, then remove it for the oven, dishwasher or even fridge. Essentially, it means that as well as being adaptable they are easy to store and, more than that, they work from a safety angle (less chance of accidental burns).
In general, the pans are fairly lightweight – even with their heavy bases they are easy to manoeuvre – and they conduct heat well to reach temperature fast. The familiar Tefal Thermo-Spot is used on the frying pans, so you know when everything is at a good temperature to start cooking – although, despite this visual aid, we did find that there were a few uneven heat spots when cooking pancakes, indicated by an uneven browning. Internal measurement lines, easy-pouring lips and space-saving stacking ability were all further plus points.
Durability
One slight concern for us was that there was no cushioning on the handle where it attaches to the pan – we felt that, over time, this might have the potential to scratch the non-stick coating. Using metal utensils didn't seem to scratch the non-stick coating at all, and the stainless steel exteriors will undoubtedly wear well too.
Style
These pans are pretty functional – they aren't going to be statement pieces that you display on open shelves, but they're by no means unattractive. With stainless steel exteriors and a sleek matte line around each they have a utilitarian feel, which gives them a point of difference.
Materials
The Tefal Jamie Oliver Ingenio collection is fabricated from polished stainless steel, with a brushed metal decorative stripe around each exterior. Interiors are coated with a titanium non-stick coating, and the patented handles are made from Bakelite with a brushed stainless-steel section on each.
Guarantee
There is a 10-year guarantee on the pans, although that does come with quite a lot of clauses; for instance, putting your handles in the dishwasher will render your guarantee unusable, and you are unable to claim for things such as discoloration on the exterior.
Oven safe?
All of the Tefal Jamie Oliver Ingenio pots and pans are oven-safe up to 260C. This guide temperature doesn't cover lids or handles though, meaning neither should be used in the oven.
Dishwasher safe?
The pans are listed as being dishwasher safe (although the handles aren't) and we put ours through a few cycles without any trouble. As ever, when it comes to cleaning products, we'd avoid using anything harsh or abrasive on these pans.
Summing up... the Tefal Jamie Oliver Ingenio collection
Overall, we loved this collection of pans for its multifaceted functions; the stackable design makes them a real godsend for self-confessed neat freaks, while the option to pop them in the dishwasher is perfect for busy cooks.
The potential for the handle to wear away the non-stick coating could, over time, become irritating. However, we think they'd last well for a good amount of time and if used in rotation, wear and tear could be kept to a minimum. This is possible as there are multiple sets to choose from, meaning you can mix and match to get a set of matching cookware that really works for your particular needs.
We check over our reviews periodically, and this one was last updated in October 2020. However, if you spot anything that you think might need updated, or have additional information you think might be useful to other Woman&Home readers, we'd love to know!
Rosie Conroy is a food and drinks journalist with over a decade of experience working for big-name titles in both print and online. Formerly the Digital Food Editor of woman&home, Rosie went on to head up the team at SquareMeal, reviewing the best London restaurants and hunting out emerging culinary trends. With previous experience in food styling and recipe development, Rosie knows what to look for in a good piece of kitchenware and has extensive experience testing consumer goods—from kitchen electricalz and cooking accouterments through to new foodie treats.