10 best woks for cooking fast and fresh meals
From stainless steel to cast iron pans, we've tested the best woks in our own kitchens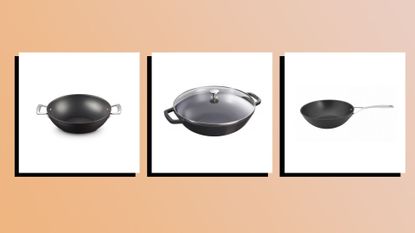 (Image credit: Future)
Our guide to the best woks is essential reading for any keen (and also time-poor) cook. Woks are made from robust materials that can reach—and withstand—higher heat levels for faster, fresher cooking, with a curved base for even heat distribution. Our tester whipped up stir-fries using a variety of ingredients, as well as trialing simple culinary exercises like frying an egg to find out which woks yielded the most impressive results in the kitchen.
Woks have come a long way from the traditional cast-iron variety, now crafted from materials like aluminum, steel, and copper, sometimes with a non-stick finish. You can also opt for specialist induction woks—which make some of the best induction pans on the market—that offer an even speedier response to temperature. Like much of the best cookware, there are plenty of choices, but when it comes to finding the right wok, there's no substitute for advice from someone who's tried and tested the products in their own kitchen.
The best woks as tested by our expert
Why you can trust Woman & Home Our expert reviewers spend hours testing and comparing products and services so you can choose the best for you. Find out more about how we test.
1. Staub Cast Iron Perfect Pan Wok Black 30cm
Best wok overall
Specifications
RRP: $261/£189
Warranty/guarantee: 30 years
Oven safe?: Yes
Dishwasher safe?: No
Materials: Cast iron
Reasons to buy
+
Two control handles
+
Generously sized
+
Incredible heat transfer
+
Attractive design
+
Heritage brand
Reasons to avoid
-
Needs seasoning before use
-
Not dishwasher safe
A standout piece from our testing was the Staub wok, and at nearly $275 (£200) for a pan, you'd want it to be special. The double control handles meant it was super steady on the hob and ensured easy movement from cooker to tabletop (with it being attractive enough to cut the need for a serving dish). The generous size gave ample room for tossing ingredients and the high sides meant no food escaped during our testing.
The combination of a flat base and the sloping interior is perfect for modern cooks who want both form and functionality in their pieces—as it sits snugly on any hob yet performs like a more traditional rounded wok. The lack of one long handle meant it could also be used in the oven—including a traditional range size—for a wide range of dishes, and the lid added versatility (we found this pan was perfect for reheating leftovers in an even way to get piping hot food that didn't dehydrate and end up dry). We did have to season our pan before use but it was done at low heat, as per the instructions, and only took a few minutes. Following this simple procedure we found frying eggs in it for dishes like Nasi Goreng a doddle and with clear instructions on how to care for and clean your pan, we thought Staub set the bar high for all-around pleasant user experience.
2. Jamie Oliver by Tefal Hard Anodised Grey Wok 30cm
Best budget wok
Specifications
RRP: $134/£99
Warranty/guarantee: 2 years
Oven safe?: Yes
Dishwasher safe?: Yes
Materials:: Hard anodised aluminium
Reasons to buy
+
Secondary control handle
+
Great non-stick means less need for oil
+
Even heat distribution
Reasons to avoid
-
Potential for the exterior to mark over time
-
Separate base forged to body, could weaken with use
With polished stainless steel sides and subtle branding, the Jamie Oliver wok for Tefal looks good enough to display on open shelving or kitchen hooks. With such a nice exterior we do worry that it would mark over time, but from a few runs through the dishwasher we saw little degradation. We liked the addition of the secondary handling which made moving the pan when full feel safe and comfortable. Woks can often be unpredictable to heat properly but Tefal's signature red spot was a nice bonus feature that made handling it easy from the get-go. The non-stick coating performed well and meant we could cook with very little oil for a pleasingly easy fried egg and a fresh, well-made stir fry. The thick, weighty bottom ensured quick and even heating, but it is constructed separately from the body, meaning it's potentially not as sturdy as singly forged pans. Lower sides meant occasionally ingredients escaped, but this is only a problem when working quickly, like when flash-frying prawns or vegetables.
3. Skeppshult Traditional Cast Iron Wok 30cm
Best luxury wok
Specifications
RRP: $173/£125
Warranty/guarantee: 25 years
Oven safe?: No
Dishwasher safe?: No
Materials: Cast iron, wood, steel
Reasons to buy
+
Built to last
+
Incredible heat distribution
+
Fully rounded interior
If you're interested in high-end cookware you may already have heard of Skeppshult—it's the last remaining foundry in Scandinavia and makes each of its pans by hand from only natural materials. This combination results in precise, beautiful pieces that are built to last and its wok is no exception. We thought this performed particularly well when compared to the others we tested, coming up to heat at a medium rate but reaching an incredible temperature that it then maintained ferociously and evenly. The dual design of a flat bottom with a rounded interior meant cooking on any hob type worked, while the internal curves ensured stir-fry could be tossed easily with a spatula for perfect results.
The pre-seasoning helped a fried egg crisp and then slip out easily, while the naturally grippy texture of the cast iron meant the white didn't disperse too much, and we were really impressed with the size which hit the sweet spot between being easy enough to store but generous enough to allow cooking for a couple of people at once. Cleaning just required warm water and a quick dry, and we didn't find anything stuck as we worked, but the weight of it did make it a little tricky to maneuver. If you can forgive its weight we think this pan would repay you tenfold over the years in your kitchen, and because of the cast iron body, it'll keep getting better with age as its patina builds up.
4. Le Creuset Toughened Non-Stick Wok
Best non-stick wok
Specifications
RRP: $228/£165
Warranty/guarantee: Lifetime
Oven safe?: Yes
Dishwasher safe?: Yes
Materials: Hard anodised forged aluminium
Reasons to buy
+
Double handles
+
Lid included
+
Stand-out non-stick coating
+
Lifetime guarantee
+
Relatively lightweight
+
Dishwasher safe
Reasons to avoid
-
Doesn't get quite as hot as cast iron
-
Large to store
Unusually for a wok, Le Creuset's one comes with two small control handles rather than one long one. Not only did this mean it was easy to store, it also allowed us to steadily toss ingredients as they were added using the combined power of both hands, and when cooking over gas rings this feature meant the pan didn't unbalance itself—which is a common gripe of ours with long, one-sided handles. This might not get quite as hot as a cast iron pan, but the non-stick coating meant stir-frying was a dream, with consistent movement easily achievable for even cooking. It came up to a high enough heat in minutes, allowing us to make dishes in minutes. This was one of the best pans for the fried egg test, with no uneven sticking spots at all, with it sliding right out. The flat bottom was good for mixed dishes where you might want to caramelize a piece of protein—like fish or steak—before removing it and following it with rice or noodles. Being dishwasher safe we thought this would be great for families, with the large size also lending itself to batch cooking outside of an Asian recipe repertoire. And if Le Creuset feels a little too expensive, see our guide to the best Le Creuset sales here.
5. Circulon Infinite Wok with Lid 36cm
Best wok for induction
Specifications
RRP: $207/£150
Warranty/guarantee: Lifetime
Oven safe?: Yes
Dishwasher safe?: Yes
Materials: Hard anodised
Reasons to buy
+
Dishwasher safe
+
Induction hob compatible
+
Lid included
+
Oven and dishwasher safe
+
Heritage brand
Reasons to avoid
-
Large size not ideal for small kitchens
The largest of any of the woks we tested, Circulon's one is generously proportioned, so perfect for families. It's induction hob safe and has a non-stick coating, making it a versatile piece of kit for most homes. We loved that while it felt durable it was also reasonably lightweight and that the two control handles meant you could toss ingredients using both hands if you prefer to use a flick of the wrist rather than utensils. This wasn't the fastest pan to come up to temperature, but once it was heated it maintained its state well, even with a good amount of ingredients thrown in, which can sometimes cool pans too much and result in steamed veg.
The addition of the lid meant we reached for this a couple of times to make things other than our standard stir fry and fried egg combo, and because the whole thing is oven safe it's a great pan for keeping food warm in until you're ready to serve, perfect if you do a lot of entertaining. Being dishwasher safe was a bonus too and we thought this would be great for busy households with lots of mouths to feed—a great, flexible, and multi-use addition to any kitchen.
6. Smeg Cream Wok 30cm
Best wok for gas stove
Specifications
RRP: $192/£139
Warranty/guarantee: None
Oven safe?: Yes
Dishwasher safe?: Yes
Materials: Cold-forged aluminium
Reasons to buy
+
High-end design
+
Large, flat bottom for increased heat contact
+
Lid included
+
Fast to react to heat changes
Reasons to avoid
-
Large handle
-
Hard to store
Turns out Smeg doesn't just make beautiful fridges and the best blenders, the design-conscious company has recently turned its hand to pots and pans too. With the precision engineering you'd expect from Smeg, the wok is as beautiful as it is practical, with a retro yet contemporary design. There's a choice of three colors—cherry red, classic cream, or black—so there are options to suit all kitchen styles, and even seemingly gratuitous elements like the ribbed handles have actually been designed with performance in mind. These, you see, help the handles dry more quickly for easy washing up, which we did actually find to be true.
The large base of the pan meant frying an egg was straightforward and the roughcast non-stick coating kept it neatly shaped for a pleasing finish. This one has a large, flat base which meant you didn't get the range of movement you can find in some more upward styles, but it did lend itself to generous quantities and the high sides kept ingredients well contained. While the long handle did prove tricky to make room for in kitchen cupboards, there is a slightly hidden hanging hook on the back side, meaning you can easily display it on hooks if your kitchen has a pan rack. Overall we thought this was well-designed and high-functioning, coming up to heat extremely quickly and demonstrating exceptional non-stick properties. It's also dishwasher safe, so great for everyday use.
7. Demeyere Aluminium Non Stick Wok Alu Pro 30cm
Best wok for stir fry
Specifications
RRP: $136/£99
Warranty/guarantee: 30 years
Oven safe?: Yes
Dishwasher safe?: Yes
Materials: Cold-forged aluminium
Reasons to buy
+
Lightweight
+
Easy to maneuver
+
PFOA-free non-stick
+
Even heat distribution
Reasons to avoid
-
Functional design
-
Un-flattened rivets
Sturdy yet lightweight, this non-stick wok has a super tough PFOA-free coating and is made from cold-forged aluminum. It had the deepest sides of any of the woks we tested (a quite traditionally Chinese conical shape), which meant all ingredients were easily tossed when making stir fry, and with no angular edges where the sides meet the base, there's a continuity to your cooking which other, flatter pans lack. Because of the non-stick coating, we didn't bring this up to as high a heat as some of the other samples we tested, but over a medium/high heat this performed extremely well. It came up to temperature quickly and maintained the level well, even when plenty of ingredients were added.
The flat bottom was great for frying eggs, with no heat spotting evident, and the slightly textured surface caught droplets of oil across the base so that it didn't all just disperse immediately to the edges. The rivets are slightly raised, so needed careful cleaning to make sure nothing stuck behind them, but such a small negative was far outweighed with positives and we loved how lightweight this was for easy tossing.
8. Ninja Foodi Wok with Lid 28cm
Best lidded wok
Specifications
RRP: $83/£59.99
Warranty/guarantee: Warranty/guarantee: 10 years
Oven safe?: Yes
Dishwasher safe?: Yes
Materials: Hard-anodised aluminium
Reasons to buy
+
Well balanced on all hob types
+
Lid included
+
Easy to clean
Carefully balanced, this sturdy pan sits well on any stovetop and is suitable for all hob types, including induction. The non-stick coating was the best we tried, and even after continuous use for a few days, we saw no evidence of deterioration. We think this one would far outlive its 10-year guarantee. When making stir-fry sauces with sugar—which are commonly the culprit for burnt-on remains—the interior is still just wiped clean at the end of cooking with no remnants left in the pan. It wasn't the fastest of the woks to heat up, but the solid base meant that once it had come up to temperature it retained its level extremely well, and showed no evidence of heat spotting when we made a quick omelet in ours in the initial stages of egg fried rice.
While a lid may not be traditional, it does make this wok incredibly versatile, and we loved that the flat handle meant it could be flipped upside down on the worktop, balancing itself without making a mess. This additional feature took it beyond its standard uses and opened up a whole new load of uses, from making curries through to slow cooking stews in the oven, and the glass design makes it easy to monitor whatever you're cooking. An additional control handle and a hanging hook are other benefits that make this pan stand out.
9. Kuhn Rikon Essential Wok 32cm
Best everyday wok
Specifications
RRP: $110/£79.95
Warranty/guarantee: 3 years
Oven safe?: No
Dishwasher safe?: No
Materials: Iron
Reasons to buy
+
Traditional curved shape
+
Lightweight but sturdy
+
Glass lid with steam hole
Reasons to avoid
-
Slightly awkward helper handle
-
Not dishwasher safe
With pleasingly curved sides, this wok has quite a traditional shape and so is perfect for stir-frying. Having been designed by American chef, Christopher Kimball of Milk Street, this pan feels carefully considered. The well-rounded bottom works well with a spatula to allow you to move ingredients quickly, and the carbon body is lightweight yet sturdy and reacts to temperature changes extremely quickly. We loved the generous size too, making this ideal for family cooking, yet because of the high sides there was still room on our hob to simultaneously cook sides like rice or noodles while stir-frying.
The addition of a glass lid meant we could make more than just stir-fries in this though, and keep an eye on stews and pasta sauces while they bubbled away on the hob. The lid fits snuggly and there's a steam hole too, to ensure things stay warm but don't overheat. The helper handle was thin, so felt a little awkward to hold, but with an oven glove on it's large enough to allow for the extra padding when gripping it. The high sides come with the additional benefit of making the pan suitable for deep-frying. The only slight niggle we have is upkeep, this pan isn't dishwasher safe and needs quick cleaning and drying after use to help it build up its natural non-stick patina and avoid the interior rusting.
10. Kuhn Rikon Black Star Iron Serving Pan
Best small wok
Specifications
RRP: $221/£159.95
Warranty/guarantee: Limited lifetime
Oven safe?: Yes
Dishwasher safe?: No
Materials: Materials: Spun iron
Reasons to buy
+
Multifunctional use
+
Double helper handles
+
Attractive design
Reasons to avoid
-
Not specifically designed as a wok
-
Only big enough for a couple of portions
While this isn't actually technically a wok we tried it in a similar way—making stir fry and eggs in it—and it performed surprisingly well against the other specially designed pieces of kit. We loved the slope of the sides for keeping ingredients within the confines of the pan and the expansive flat bottom meant doing other jobs like frying eggs was much easier than some of the alternatives. Being attractive enough to serve straight from the hob to the tabletop was a further bonus, and the double helper handles made maneuverability straightforward and safe.
The pan comes with a guide on how to season it properly which we found easy to follow, but naturally, this wasn't quite as high-performing in the non-stick arena as some with synthetic coatings—with some sticky sauces burning a little on the bottom. If you only use a wok occasionally and want a multifunction pan, this is a great middleman and looks good too—so is perfect for displaying on open shelving. The size would suit a couple best, but because the pan retains its heat well it would also be quick to make two rounds of vegetable stir-fries if you were cooking for more people. Were this tested outside of best woks, we would score this even more highly.
How we tested the best woks
As with all of our buying guides, we tried and tested each of the items in our round-up thoroughly, to be able to bring you the very best recommendations. To ensure we were testing each wok fairly we performed the same couple of cooking tasks in each pan. First of all, we made a crispy fried egg, testing the pans' non-stick credentials, and then we made a simple stir-fry to check how easily ingredients could be tossed around the pan.
Not forgetting storage, we also took into consideration how easily the pans could be stashed away, and whether they came with additional features like a lid, for instance. Design played a factor too because we think even functional items should be beautiful, and so for each example, we weighed up how it looked in our kitchens =, too.
As any busy cook knows, making the meal is only half the job, so lastly we tested each of the woks for how easy they were to clean. Could they be thrown in the dishwasher or were they hand wash only? If the latter, how well did they clean up with a mild wash? We scrubbed and scoured each one to check how easily they'd be maintained and how durable they were.
Which is better—a flat or round bottom wok?
The answer to whether a flat or round bottom wok is better really lies in what kind of hob you have.
Flat bottomed woks—best if you use your pan infrequently and have an electric or induction hob as it will connect with the heating elements in a flush way and bring the base up to heat quickly.
Round bottomed woks—for gas hob users, rounded woks are great, and retain many of the original stand-out features of this pan-shape. On some gas hobs, you'll find a dedicated wok ring that holds the base tightly and ensures your pan doesn't slip all over the place. The main benefit of a round-bottomed wok is in its functionality when cooking things hot and fast. The curves allow for easy tossing and nothing gets stuck in the curves, meaning constant rotation and even cooking. Fewer angles also mean easier cleaning.
THE VERDICT
Essentially, we think a round bottom wok is superior in functionality, but isn't practical for most modern stove-tops so a flat-bottomed wok can be a good compromise. If you're determined to use a round bottom wok, you can easily come by wok rings that work with various hob types to make them compatible.
A good alternative is to look for a flat bottomed wok with a rounded interior, like some of our favorite examples below. These can be a little trickier to find but are a good meet-in-the-middle solution for the best of both worlds in our experience.
Should I buy a cast iron wok?
These large-scale pieces of cookware are often non-stick pans, too, and can be made of stainless steel, aluminum, or even cast iron. Traditionally, woks were made of cast iron, but this heritage style has slightly fallen out of fashion due to its heaviness. If you can withstand the workout, cast iron woks do come with some serious benefits. First of all, these types of pans with thick bases conduct heat really, really well, and that means the bottom and sides can maintain a high temperature throughout cooking, which in turn equals top-quality stir-fries.
Cast iron woks may not be for everyone—they're undoubtedly clunky to use if you're not used to them. A secondary strong contender for the best wok style is contemporary non-stick ones, which are lightweight and easy to use as well as being simple to clean.
What is a good size wok?
Woks come in all shapes and sizes, but generally, you'll see them between 12-16 inches (or 30-40cm). The best size for you will depend on how many people you're looking to feed (as well as your pan storage situation) with smaller woks being ideal for couples and the larger ones—naturally—suiting families best. If you have the kitchen space we think the best all-rounder is typically around 14 inches (35cm). It's the perfect middleman, where it's small enough to heat up quickly and evenly, while also being large enough to feed up to four people at any one time.
Does a wok need a lid?
Not all woks come with lids, but we think they're a great addition if you can get your hands on one. Because woks are most suited to stir-fry recipes—like Pad Thai—for instance, you probably won't use a lid every time you cook with one, but they are great for converting your pan into a piece of kit that can steam, boil and bake rather than just fry. Where possible we'd always buy a wok with a lid so that we can then utilize this large size of pan for all sorts of other kitchen jobs.
Do you have to season a wok?
Certain types of wok require seasoning before use. This process of seasoning a wok involves baking it high and hot with a coating of fat or oil to create a natural non-stick coating which then builds up over time with consistent use. This is typically used in cast iron woks—although some modern ones come pre-seasoned—but can also be done for stainless steel woks if needed. Some cooks will kick-start their seasoning process with a bit of wok hei, which translates as 'wok's breath'. This technique is used by chefs to instantly season the pan with a few ingredients. Think flash-frying ginger and spring onions for the lightest flavoring before you start cooking.
To make sure you're getting the most from your wok, try not to overcrowd it. If you add too many ingredients things will begin to steam, rather than fry, and you'll end up with a sad stodge rather than a vibrant meal. The trick to ensuring perfectly cooked ingredients is heating up the pan before use. Get your wok extra hot before adding cold oil followed by your ingredients. If you heat the oil while you warm your pan your produce will stick and may burn. And after you've finished cooking your meal, take a look at our guide to how to clean a wok thoroughly.
Rosie Conroy is a food and drinks journalist with over a decade of experience working for big-name titles in both print and online. Formerly the Digital Food Editor of woman&home, Rosie went on to head up the team at SquareMeal, reviewing the best London restaurants and hunting out emerging culinary trends. With previous experience in food styling and recipe development, Rosie knows what to look for in a good piece of kitchenware and has extensive experience testing consumer goods—from kitchen electricalz and cooking accouterments through to new foodie treats.