8 types of pans every enthusiastic cook needs—whether you want to flip, fry, boil or bake
These are the different types of pans that every cook needs in their kitchen, whatever cooking task you're planning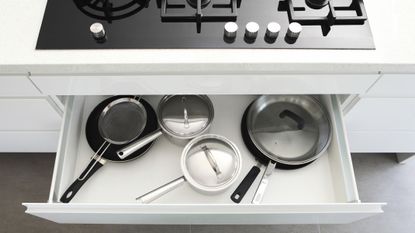 (Image credit: Getty Images)
Not sure which types of pans are essential for you to have in your kitchen? The best pots and pans are those that you can rely on to turn out a multitude of different dishes—from fried eggs to casseroles, to pasta dishes and soups.
While the best cookware options are arguably subjective, there's no doubt that having the right mix of pans in your home means that you will be properly equipped to complete any cooking task—be it frying, boiling, baking, slow cooking, or more fiddly tasks like caramelizing or creating sauces.
Having the right type of pan ensures you can complete the cooking task properly and with ease—after all, not all pans can properly make all dishes, and not having the right one to hand sometimes only makes cooking things properly harder.
When it boils down to it, we reckon there are just eight types of pans every keen cook needs, whether you're an amateur or expert chef. This essential combination will ensure you have cookware for every eventuality. And they'll be items you return to time and time again.
The eight types of pans every kitchen needs
Whether you're looking to add to your collection of cookware, or are starting yours from scratch, having these eight types of pans in your arsenal will make preparing meals easier, quicker, and more efficient.
1. Frying pan
If you're anything like us, your frying pan will be your most-used piece of kitchen equipment, able to step up to the plate to create all kinds of recipes. That's why it's an absolute kitchen essential. Our favorite dimensions are somewhere between 24-26cm, which is usually big enough to cater for meal components for two to four people. However, you may need bigger if you're cooking for a larger family. A frying pan is a great all-rounder pan, which is why it's made it onto this list. For example, you could whip up quick egg-fried rice—thanks to the non-stick coating that is frequently used to line frying pans, no egg or rice sticks, resulting in a perfectly fluffy finish. And if you are after a non-stick frying pan, see our guide to the best non-stick pans here.
Best for making: Fish, omelets, fried rice
---
2. Saucepan
People have been cooking in pots similar to saucepans for thousands of years and, as the saying goes, if it ain't broke, don't fix it! Of course, saucepans now come in all kinds of shapes, sizes and finishes, including fancy copper and functional stainless steel (see our guide to how to clean copper and how to clean stainless steel here, once you're done cooking). We think every kitchen needs a good three-piece set; the large saucepan will cover batch cooking and hearty dishes, while smaller pans are perfect for whipping up sides, such as mashed potato. And if you're on the hunt for a new induction saucepan, take a look at our guide to the best induction pans, where we've rounded up our favorites—you could even pair them with one of the best portable induction hobs if you need a bit of extra cooking space or want to take them on-the-go.
Best for making: Chilli, mashed potatoes, curry
---
3. Stockpot
Even if you typically don't cook for crowds, a stockpot is invaluable for regular batch-cooking, or odd moments in the year when your home might be filled with guests. Stockpots are great, most simply because of how big they are, meaning they're the one piece of kitchen cookware you need to prepare big quantities of your favorite recipes. Whether used to make a big dish of warming, winter stew, or to boil down bones for a rich stock, these stovetop heroes are super versatile, too. Another neat tip is to use your stockpot to make preserves and chutneys—this way you eliminate the need for a separate (rarely-used) jam pan.
Best for making: Soup, stock, stews, jams
---
4. Cast-iron casserole pot
A cast-iron casserole pot (otherwise known as a Dutch oven) is one of the most versatile types of pans, loved—among other things—for its ability to cook up a one-pot meal and save on the washing up. A cast iron (a solid cooking material) casserole pot has the potential to slow cook, bake, fry, boil and brown, meaning you'll never not use it. And because it can be taken from stovetop to oven, you can fine-tune temperature and atmosphere to get the optimum outcome, whatever your dish.
For example, did you know you can use one of these pots to bake sourdough bread too? Even heating, plus its ability to seal in a little moisture, means the cast iron gets as close as possible to mimicking a professional baking oven as you can in your own home. The results are a higher rise on your loaf, as well as a great crust. And whether you prefer an induction hob or gas hob, a casserole pot should generally work on both of them. Plus, cast iron casserole pots can be taken from kitchen to tabletop too—for even less washing up.
Best for making: Bread, casseroles, slow-cooked meat
---
5. Milk pan or mini frying pan
A dinky pan might not, at first consideration, seem particularly handy, but stick with us. Small milk pans or little frying pans are some of our most-used kitchen items. Saving the need for getting out a bigger frying pan that might not be necessary, they're perfect for whipping up steak sauces and flavored melted butters, boiling or frying single eggs or reheating leftovers. For this reason, they're also handy for those who might live alone. And then, of course, there's their original purpose—heating up milk. These pint-sized pans are, in fact, a great receptacle for making an evening hot chocolate or milky breakfast coffee. And because of their smaller size, milk pans are also ideal for use on the best portable induction hobs, too.
Best for making: Sauces, reheating leftovers, boiled eggs, milk-based drinks
---
6. Griddle pan
Griddle pans are similar to frying pans in size and material, but instead of a flat surface, they are characterized by rigged, raised edges throughout the pan. They are often rounded or square pans, but can also be large and flat cooktop surfaces too.
These kind of pans are essential for any kitchen, as they're a great tool for cooking things like steaks, chicken or any kind of meat. Griddle pans provide those rather satisfying char marks that you often see on food, which not only look lovely but also improve the taste of the food, giving it a delicious, smoky crunch.
Best for making: Steaks, BBQ veg, red meat in general
---
7. Cast-iron pan/skillet
A heavy cast-iron handled pan, or skillet in the US, is in every top chef's armory. These heavy pieces of kit work so well because they conduct heat brilliantly, cooking their contents evenly and creating a wonderful crust on all kinds of food—from caramelized steaks to crispy-skinned chicken breasts. Because they're generally cast in one piece with solid handles, these pans are also great if you want to start your food on the hob top before moving it to the oven to finish cooking.
The trick for keeping a cast-iron frying pan producing beautiful food is to not use soap on it; washing with soap (or washing-up liquid) strips the barrier that gradually builds up from any oil in the pan being routinely reheated, which eventually creates a natural non-stick coating. For more information, see our guide to how to clean a cast iron skillet.
Best for making: Fried eggs, steak, fried chicken
---
8. Wok
No home should be without a wok, which is why it's made it onto our list of the types of pans you must have. It's without doubt the best piece of cooking equipment for creating Asian recipes—such as stir-frys—as it has a narrow bottom and wide, elongated sides that allow for quick cooking and plenty of speedy mixing. The small base of a wok is perfect for quickly heating up oil, so they can also be brilliant for deep-frying too, everything from dumplings to chicken.
And when you're finished with your wok, see our guide for how to clean a wok to keep it in the best condition possible.
Best for making: Asian recipes such as stir frys and curries
---
Rosie Conroy is a food and drinks journalist with over a decade of experience working for big-name titles in both print and online. Formerly the Digital Food Editor of woman&home, Rosie went on to head up the team at SquareMeal, reviewing the best London restaurants and hunting out emerging culinary trends. With previous experience in food styling and recipe development, Rosie knows what to look for in a good piece of kitchenware and has extensive experience testing consumer goods—from kitchen electricalz and cooking accouterments through to new foodie treats.