How to clean a wok—simple solutions to help you care for a hob-top essential
If you know how to clean a wok properly after use, stuck-on stir-fries will be a thing of the past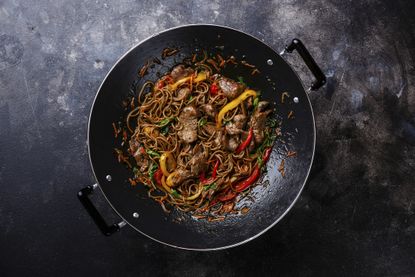 (Image credit: Getty)
Understanding the intricacies of certain pieces of kitchen kit—such as knowing how to clean a wok effectively—is important if you want to keep your cookware in good condition (and your food tasting as good as it should, too). Yes, maintenance is key. But sometimes, it's not all that obvious how best to care for particular pieces of kitchenware.
A perfect example of this is the trusty wok. It may not be used for every meal, but this specialist piece of cookware—thought to have originated more than 2000 years ago in Han dynasty China—is undoubtedly a kitchen essential. While their original heavyweight cast-iron forms have been replaced by lighter metals, which are easier to maneuver over heat, one classic feature remains: woks are hard to clean.
Unlike many other types of pans, before its first use, a good wok needs to be 'well seasoned' (as the professionals say)—meaning a protective layer or patina is built up on the metal, through a process that's designed to create a natural, non-stick coating. Obviously, this isn't necessary with designs manufactured with non-stick surfaces but, with more classic-style woks, this is the path to longevity.
Even so, if things get too hot in the kitchen, ingredients can stick or burn, making the wok itself less efficient and the food you cook with it less flavorsome. When this happens, the task of getting your wok sparkling clean again isn't always straightforward. Luckily, we've uncovered the best tips on how to clean a wok, so you can keep cooking with ease.
How to clean a wok after use—4 simple solutions
Whether or not you've seasoned your wok before use (more on that later), there's a tailored approach for how to clean a wok properly after you've finished cooking, whatever state it's in. Our four tried-and-tested cleaning solutions each answer a specific problem, allowing you to get your wok looking as good as new again with as little bother as possible. Just be sure to store your wok well afterwards, so that it stays in the best condition possible (check out our pan storage ideas if you're stuck on creative solutions).
1. Use warm soapy water for an everyday clean
If you're simply looking to maintain your wok day-to-day, cleaning it couldn't be easier. Well, it could if you put it in the dishwasher, but we strongly advise against that; while it's a convenient part of any kitchen cleaning routine, the dishwasher can be harsh on specialist kitchen kit, such as woks. Instead, wash yours by hand using warm soapy water and a soft cloth. If there are any stubborn sauces or ingredients that don't want to part ways with the pan's surface, leave to soak for a few minutes before gently buffing with a scrubbing sponge. Finally, rinse, dry, and store. Easy.
2. Clean rusty or sticky woks with salt
If you remove your wok from the back of a cabinet, where it's been lying unloved for longer than you care to admit, it might look a little worse for wear. Whether it's built up a little rust, or has become sticky to the touch (from insufficient cleaning previously), this salt-based cleaning technique is a real savior.
Set your wok over a medium heat and add a cup of salt. Stir the salt round the pan in a circular motion, using a metal spatula, for around 20 minutes. Remove from the heat, discard the salt, and leave to cool. Once the wok is cool, wipe it with a little oil— any rust or sticky surfaces should have disappeared, as if by magic.
If you don't fancy using salt to remove rust from your wok, there is another way: simply soak your wok in warm soapy water for a few minutes and then scrub it gently to remove all the rust and any flaking. If needed, you can use a scourer such as wire wool, but beware—this may remove some of the built-up patina (seasoning) on the surface of your wok. If this is the case simply re-season your wok, as per our instructions below.
3. Use vinegar to clean a non-stick wok
If you're worried about damaging a non-stick surface, this is the wok-cleaning technique for you. Instead of using abrasive cleaning materials, we suggest you create a cleaning 'cocktail' that will gently allow you to clean the surface; the acidic nature of vinegar makes it a great option for dissolving away any stubborn deposits.
To do this, add half a cup of white vinegar, along with a cup of water, to your wok. Gently warm over a low heat on the hob for ten minutes, then allow to cool. Rinse away the 'cocktail' with warm, soapy water, using a soft cloth—any previously stubborn debris should now come away easily.
While your vinegar is out, you can also learn how to descale a kettle or how to clean a dishwasher using this store-cupboard essential.
4. Use dishwasher tablets to remove tough, stuck-on food
For super-stubborn food remnants, that just won't budge from your wok's surface, you may need to pull out the big guns—dishwasher tablets. Note: not the dishwasher itself! While these genius little inventions might not be your first thought when it comes to how to clean a wok, they are great at budging stubborn stains or burnt-on food. This is because the enzymes in them are specifically designed to loosen food debris.
Half-fill your pan with water, add a dishwasher tablet and bring to a simmer on the hob. Leave to simmer for ten minutes, before removing from the heat and allowing to cool. When the wok is properly cooled, wash with a soft cloth and warm soapy water. The dishwasher tablet should have done the hard work for you, so this step only needs a light touch.
How to season a wok
If you've invested in a new wok to cook up your favorite Chinese recipes, or even just want to maintain an existing one, knowing how to season this piece of specialist kitchenware correctly will stand you in good stead. Ideally, a stainless steel or cast-iron wok should be seasoned before its initial use, so it's in prime condition right from the get-go.
Seasoning a pan essentially means oiling and heating the inside surface, to create a non-stick barrier. This will offer longevity, as well as better cooking conditions for tasty meals.
That first seasoning won't last forever—especially if you've used some of the more rigorous cleaning methods above, to remove rust for instance. It is, therefore, likely you'll have to do this process more than once, but trust us when we say, it's worth the extra effort.
1. Wash your wok in soapy water
To get the best results, start with a clean surface. Simply wash your wok in warm soapy water, lightly buffing it with a scrubbing sponge in a circular motion. This will remove any dirt or debris from the factory or shop, and ensure the wok's interior is ready for use.
2. Heat your wok on the hob
Next, heat your wok on your stove top until it's smoking hot, rotating and tilting it to ensure all surfaces are evenly warmed. Depending on the metal of your wok it may darken or turn a bluish-black as it's being heated; this is normal and is caused by impurities being burned off. Contrary to what your instincts are probably telling you, this is actually a good thing. For the whole wok to be properly seasoned, you need to make sure you get an even coloring across the whole pan.
3. Cool and rinse your wok
Once sufficiently colored, remove the wok from the heat and leave to cool away from the hob, so it's not affected by residual heat—we'd advise leaving it for around 10 minutes before you touch it again. When it's cooled, wash the wok once again in warm, soapy water, before drying thoroughly.
4. Oil your wok
Warm the wok again—this time over a medium heat—and add a tablespoon of oil to the pan (olive oil is best, but any cooking oil can work). Wipe the oil around the entirety of the interior surface with a few pieces of kitchen paper, using tongs to hold these if you prefer. Ensure there's no standing oil in the bottom of the wok, then remove from the heat and allow to cool fully, before storing away until needed.
If you've splattered any oil on your hob in the process, never fear—our guide to how to clean a stovetop can help return yours to pristine condition.
You can season your wok every few months, but cooking in it regularly will also ensure you're maintaining it properly. The consistent use of plenty of oil and directly applied heat works up a coating that, over time, becomes non-stick.
Rosie Conroy is a food and drinks journalist with over a decade of experience working for big-name titles in both print and online. Formerly the Digital Food Editor of woman&home, Rosie went on to head up the team at SquareMeal, reviewing the best London restaurants and hunting out emerging culinary trends. With previous experience in food styling and recipe development, Rosie knows what to look for in a good piece of kitchenware and has extensive experience testing consumer goods—from kitchen electricalz and cooking accouterments through to new foodie treats.