How to choose the best color for a front door: 7 tips to boost your home's curb appeal
Here's what to think about when choosing the best color for a front door to suit your home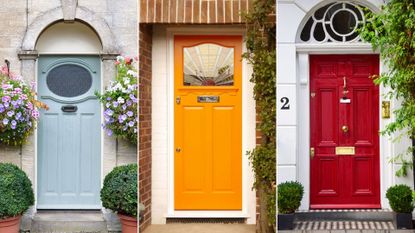 (Image credit: Getty Images)
It's the easiest way to make a good first impression but choosing the best color for a front door can be overwhelming. If you get it right, you not only make your house look great, but also improve its selling prospects. Get it wrong though and it's a door you won't want to go through!
Your front door is an easy way to inject personality into your house, inspired by the latest interior paint colors of 2023, but as well as choosing the right shade that fits in with your taste, there are other things to consider.
Lighter colors may need repainting more often and, if you live in a very subdued neighborhood, a bright orange door may stick out for all the wrong reasons. The design of your door may also affect the color you choose.
For Charlotte Condon, a designer at London Door Company (opens in new tab), the front door is one of the most important elements of any house, considered a feature that can sell your house even. "The front door is the first impression of a property, it sets the tone for the style and attention to detail within the property," she explains.
How to choose the best color for a front door: 7 things to consider
With all this pressure on the exterior, it can be hard to know where to start when choosing the best color for a front door. Aaron Markwell, COAT Paints (opens in new tab) color lead and interiors expert, says the right color will connect the outside of your house to the inside.
"The front door has to connect your interior scheme and the exterior of your home," he says. "I tend to go for darker versions of neutrals used in the interior or bolder tones that compliment."
He also suggests ensuring you choose the right exterior paint and fully prep your door to ensure the best finish.
He says: "Prep-wise, make sure that any flaky or old paint is sanded back so that it's smooth. Apply a primer if your door is bare wood and hasn't been painted before, and then apply two coats of paint around 4 hours apart. Use a brush for details and a gloss roller for the flat planes."
With all the basics covered, here's what else you need to consider when choosing that stand-out door color.
1. Classic shades suit every house
Nothing says luxury like a glossy black or white door. Not only do these staple shades suit every house style, but they won't date. If you prefer something with a bit more color, try darker neutrals such as grey or navy blue.
Not only are these front door shades chic, but they can also increase the value to your home. Real estate website Zillow (opens in new tab) found that a black or blue door can add thousands to your home.
Other classic colors include dark green and deep red. Yes, they are bright, but they're perfect for period houses — both shades were popular in the Victorian era. Interior designer Jenny Branson (opens in new tab) believes you can never go wrong with a red door.
"I think there's something really smart about a glossy pillar box red on a brick period property, especially combined with traditional Victorian floor tiles," she says.
And let's not forget all that potential your new red door has for festive Instagram pics when it comes to outdoor Christmas decorating ideas.
2. Think about the overall look of your house
When looking for the best color to paint a front door, take into consideration the whole front of your house, from the brick color to the windows, and even the path that leads to your door.
Aaron advises picking tones from your brickwork that complement the rest of your house. "With bolds, pick colors that have the same undertones as your interior scheme and the brickwork or masonry outside," he suggests. "This will create a welcoming pop of color that doesn't feel out of place."
If you have stained glass windows or a colored glass inset in the door, choose a contrasting or matching shade. The same goes for a patterned tile entryway. You can even take it one step further by planting your favorite cottage garden plants in coordinating shades to really offset the pop of color.
3. Consider the type of door you have
You may want to take inspiration for the color of your front door from its style. Edwardian doors with stained glass, for example, were often painted in darker colors such as green or black, while in the '20s and '30s, they started to choose lighter, fun shades such as yellow.
"If you have a period home, nothing quite brings back the authenticity of the era than a period front door to complement it," says Charlotte, who says their clients with period doors are choosing dark green and blue shades.
Modern doors, which are often larger and more minimal, can take fashion-led colors, such as the Dulux color of the year 2023 soft green. As the door furniture is usually discreet, the color can really lead the way.
4. Look at the neighborhood
While the best color for a front door is one you love, it's always good to take in the surrounding area.
"It's your home and you can do what you want (unless it's a listed property), but bear in mind painting the exterior a crazy color could annoy your neighbors," says interior designer Rebecca Kerry (opens in new tab)
"Unless you live on a street renowned for its brightly painted houses, it's probably best to take your cue from the rest of the people on your road. That's not to say you can't paint your front door pink, just tone it down a few shades so it's subtle rather than shocking."
It's equally good to take inspiration from the wider area that you live in. "Look to your surroundings," advises Rebecca. "For example, you'll see more blue houses by the sea, while in the countryside there's more brown and green."
5. Don't neglect other elements
Yes, you could paint the doorframe the same color as the front door, but adding a contrasting color can give the front of your house a designer feel.
As well as door frames, there are also exterior walls, window sills, and soffits, such as eaves or the undersides of balconies, to consider. Contrasting these with your door color is an easy way to create maximum impact.
"Having the door and windows the same color helps tie a scheme together, but equally having your front door in a different color to your windows also works," says Rebecca.
She continues: "If you're thinking of this, go for the bolder color on the door. Another trick is making sure you choose a color which will complement the building material used in your home."
A monochrome theme, where you paint the door, trim window frames, and exterior the same color, is not only stylish but also a great visual trick, like how to use paint to make a room look bigger if your house is small it will appear to make it seem larger in size.
6. Bold can be better
Just as you would choose calming bedroom paint colors to help with a good night's sleep, when it comes to the best colors for a front door, think about those shades that will suit your personality, such as a bold or bright shade.
Using bright colors on a front door is a much smaller commitment than painting the entire house – and also easier to cover up a door you really don't like it.
"Brights and pastel shades are becoming more common," says Joan Gair at Housetastic (opens in new tab). "These provide your home with a unique look. When teamed with matching window frames, you can really add some personality to your home."
When picking a bright shade, make sure you check how it will look outside. Colors look very different inside than they do in the bright glare of day. The best way to do this is to paint a swatch of color directly on the door.
Unless you love to clash if you're going down the bold route keep the rest of the house front neutral to allow the door to shine. Don't forget this also includes curtains or blinds.
7. Don't forget the interior of the front door
While the rest of the world sees the outside of your front door, you will mostly see the inside of it. Don't think that you have to stick to the same shade front and back.
"The colors on the exterior and interior sides of your front door don't need to be the same," says Rebecca. "Pick out a color from your entrance hall décor so the inside ties in with the rest of the area."
Extending the color from your walls to the door will also make a small hallway look a whole lot bigger – a great way to make a small room look bigger on a budget.
Rebecca says a contrasting color can also be fun. "If there's not a lot of color going on in your entrance, why not have a bit of fun and paint the inside of the door in your favorite color? Most people won't notice it till they're on the way out of your home, and it's an unexpected pop of color that'll make you smile every day."
What is the most popular color for a front door?
While for some black is a paint color that can devalue a home when used inside, black front doors are still very much in vogue.
"Black is the most popular front door color for 2022," says Joan. "This is a color that suits any style of home and works well regardless of your home's aesthetic. With a wide range of black doors available on the market, it's easy to find one that goes well with your home."
Daniel Copley, the consumer expert at Zoopla (opens in new tab), says that while classic colors are here to stay, there is a rise in popularity with more earthy shades.
"Colors with earthy hues are popular for front doors at the moment allowing for an injection of color without being too bright with shades of olive green, navy, and grey being favorites," he says.
Jenny says that while she would love to see streets full of rainbow shades, in reality, darker colors will always be popular.
"Monochrome is here to stay, although I am seeing a lot more of bold greens being used internally at the moment, so I'm hoping this bravery will make its way to the nation's front doors as well," she says.
Ultimately though, the best color for a front door is one that makes you happy, after all, following trends over your personal taste is one of the common interior design mistakes to avoid!
What color front door has the most curb appeal?
"If you are considering adding a splash of color, ensure it's in keeping with your property and surrounding neighbors," advises Daniel. "First impressions can count for a lot when putting your home up for sale and whilst you may like something a little unusual, it can be marmite to potential buyers."
However, it's not just about choosing the best color for a front door, but also making sure everything looks neat and tidy.
"Make sure the paintwork is in good condition if you have a wooden door or ensure a plastic or composite door has been cleaned thoroughly," he says.
"Be sure to polish any house name or numbers, letterboxes, and door knockers too, and sweep the entrance or porch if you have one."
Jenny agrees that maintenance is actually more important than the actual shade when it comes to curb appeal. "Unless you've gone tester pot mad, the color of your front door isn't going to put off serious buyers – indeed it might just make your property stand out from the crowd," she says.
"Curb appeal is much more about making sure the frontage is smart and well maintained."
With over 22 years' experience in journalism, Jayne has written about a variety of subjects. She spent the start of her career within the world of film, interviewing Hollywood stars, attending premieres and lusting after red carpet outfits, and then moved into fashion, launching websites for big magazines such as Look, Woman's Own and Wedding and working with top fashion brands such as Westfield, LK Bennett and Hunter.
Career highlights include dressing up as Kylie (in gold hot pants!) for a national newspaper and working on big fashion events alongside Giles Deacon, Henry Holland and Naomi Campbell.