Paint color ideas for bathrooms: expert advice for choosing the best shades
From calming neutrals to uplifting brights, these bathroom paint color ideas will help inspire your space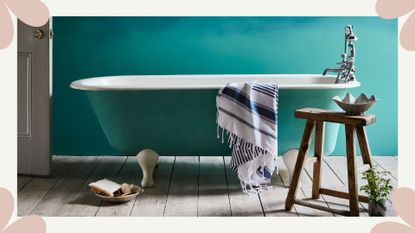 (Image credit: Annie Sloan)
Looking for paint color ideas for bathrooms? We've consulted interior designers and paint experts to discover the best shades guaranteed to elevate any bathroom color scheme.
As with the interior paint color trends for 2023, paint color ideas for bathrooms come in all hues, from calm and relaxing to bright and bold, so there's something for everyone.
Bathrooms can often be neglected when it comes to color, with white being the default 'safe' shade chosen by many. However, things have moved on somewhat and instead of just being a functional room, bathrooms are becoming places to relax in style. With that movement, we're seeing bolder bathroom trends in 2023 where color is used more liberally to express personality.
"We're seeing a demand for people injecting their own style and personality into their bathrooms, and there's no sign of this slowing down for 2023," says Emma Bestley, co-founder of YesColours.
Paint color ideas for bathrooms – 9 inspiring shades
"When deciding on colors, it's important to consider the fittings and fixtures already in place in your bathroom," advises Paula Taylor, head stylist of paint specialists Graham & Brown. "Rich navy and green are a good choice for complementing metallics, such as silver tap faucets, to accentuate the overall look of your bathroom."
With that in mind, here are the expert-recommended paint colors that will bring your bathroom up to date for 2023.
1. Bold Blue
After the rise of calming neutrals and the Japandi interiors trend, bold colors are making a comeback. "2023 is going to be the year for bold, charismatic paint choices," says Helen Shaw, director of marketing (International) at Benjamin Moore. they're a great choice for bathrooms."
"The bathroom, which is often a smaller space with less natural light, is a perfect space to try a richer hue to make a real feature of the space and inject such color. Starry Night Blue is much like the dark indigo of dusk and will offer a playful twist on the soft blues often seen in bathrooms, whilst still creating a serene oasis."
If you like the idea of bolder colors but are a bit scared to try them on all walls, Helen suggests instead introducing accents into your bathroom: "Try a classic bright white and use blue accents on cabinetry and accessories. This works particularly well when paired with natural materials and soft flowers."
2. Restful Lilac
If you're looking for a fashionable shade that's also relaxing, lilac is a great choice. Chosen by trend forecasters WGSN as their color of the year for 2023, it's a shade that's becoming more popular when it comes to interior design – with Danish pastels being one of the biggest interior design trends of 2023.
"Lilac is rising through the ranks of popularity," explains Emma. "A once underappreciated color, lilac is now working its way from the catwalks into our homes, and even the bathroom."
While it might seem a very feminine choice, Emma says it's actually a truly versatile shade, making it one of the top paint color ideas for bathrooms in 2023. "The cool blue tones mixed with subtle red offers up an inspiring space, which pairs very well with brass, chrome, or matt black detailing," she explains.
Just like the best bedroom paint colors, lilac is not only stylish but also relaxing, which is perfect for those calming bathroom moments. To keep that gentle feel, team it with soft pink or grey tiles or accessories. Alternatively, it also works really well with bright shades such as orange or yellow for a bathroom with a fresh, contemporary vibe.
3. Dark dramatic shades
Black might not be an obvious choice when it comes to paint color ideas for bathrooms, however, used correctly it not only looks luxurious but also makes a powerful statement.
Rikki Fothergill, style expert at Big Bathroom Shop advises using it in a measured way so the room errs more on the side of dramatic, rather than dingy.
"Although black can look truly striking in a bathroom, be sure to use just enough to ensure that the space still feels open," she says. "Matt black is definitely still having a moment so why not install some statement taps or even a shower fitting against a neutral backdrop for an industrial and contemporary feel?"
If you still want some drama, but black is too gothic for you, go for a dark bronze or dark green shade instead. Aaron Markwell, color consultant at COAT, suggests their shade 'Hardback' for a touch of bathroom drama.
"This dark bronze is a bit green, a bit beige, and a bit brown but is really undefinable," he explains. "A sure-fire way to create a beautiful bathroom that feels effortless when combined with woods, brass finishes, and some greenery."
4. Warm neutrals
One of the major bathroom trends 2023 predicts will be big is the use of natural elements and this gels nicely with warm neutral shades. Forget boring beige though, these neutral paint colors are anything but dull.
"Neutrals have taken on a whole new meaning," says Erin Lichy, founder & president of renovation & design firm, Homegirl. "They are no longer just beiges and grays, they have morphed into soft and muted versions of the colors we know and love."
Two of Erin's favorite new neutrals are Reiticent from Sherwin-Williams and Cord by Farrow & Ball, both of which ooze warmth, to help create a relaxing sanctuary.
Aaron also recommends looking at plaster tones for inspiration. "Similar to the more neutral tones, plaster tones are going to get knocked back a bit this year," he explains. "Dulling down the saturation, by using a beigey, gray-pink-like Pudding will make a bathroom feel both soft and moody."
Shades like this work best with natural materials such as wooden bathroom furniture or granite and marble fixtures and fittings.
5. Tropical brights
For a place where you go first thing in the morning, bright shades can help lift your mood and get you fired up for the day.
"Bathrooms can still be a place for fun and pops of color like an olive green, zesty orange, bright pink, or deep aqua," suggests Emma. "All are colors, which are reminiscent of the tropics and inject that energetic holiday spirit."
Color expert Annie Sloan agrees, saying the bathroom is a place to experiment with bold colors. Annie recommends looking at your wardrobe to find the best shades to suit you.
"I'd look to your wardrobe for colors that flatter you and base your color choices around that," she suggests. "We spend a lot of time in bathrooms looking at our reflections so choose a color that suits you!"
Choose a feature wall in one super bright shade to add a bang without being too in-your-face. White or neutral accessories also help tone down this look, so you won't need your sunglasses to shower in each morning.
6. Serene green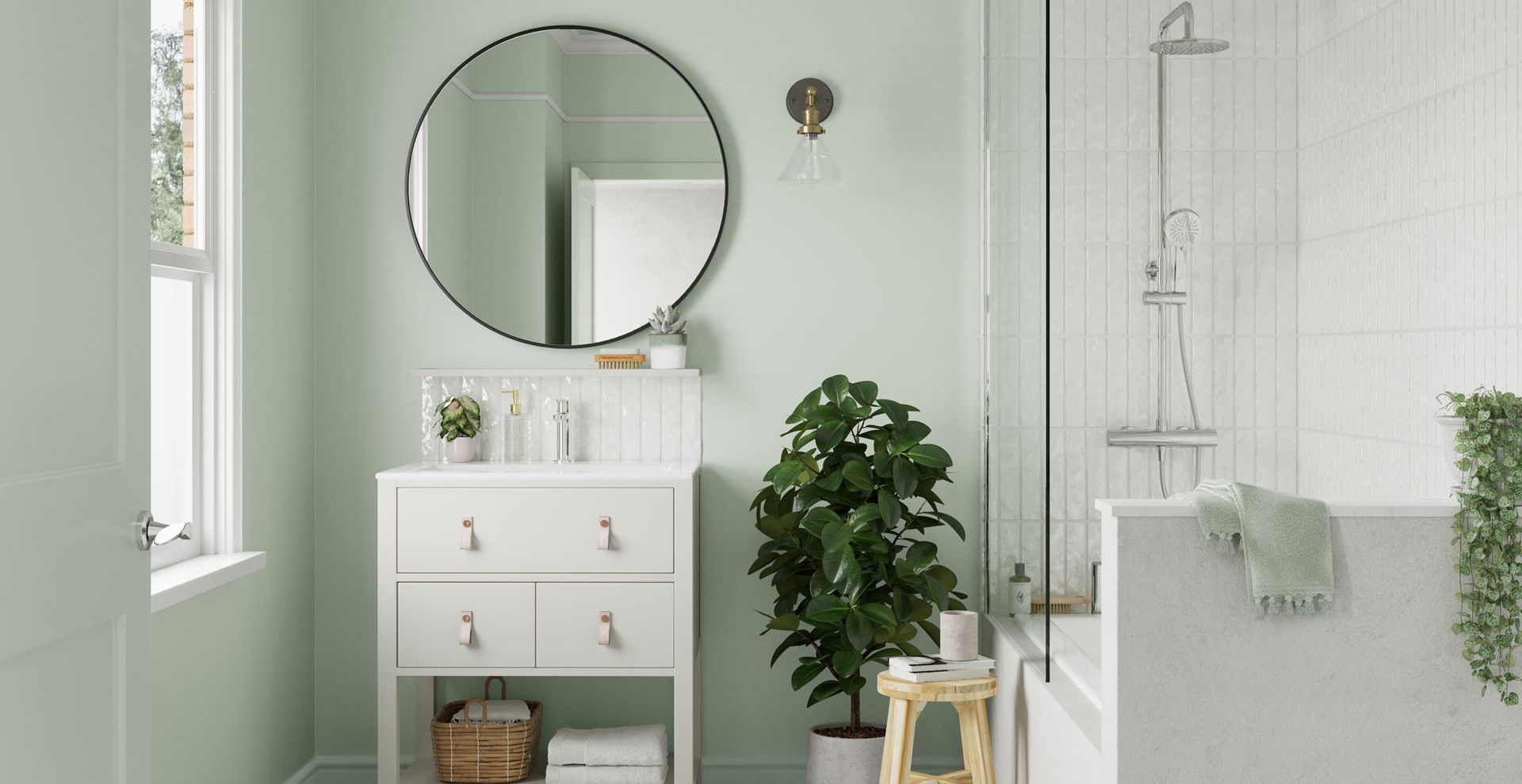 Soft sage greens were one of the most popular paint color ideas for bathrooms in 2022 and they show no signs of disappearing this year. One of the best living room paint colors, the shade also works well for bathrooms, thanks to its restorative and restful properties.
"Some of the most popular greens we can expect to see in 2023 are mint, olive, and sage," says Rachel Jones at DIY specialists Home How. If you want to mix it up a bit Rachel says there are other shades that pair well with greens, but it all depends on the exact shade.
"Greens go well when darker shades are mixed with lighter shades or when natural greens and mixed with earthy tones," Rachel explains. "Greens also work very well when paired with blues. This creates a relaxing and calming atmosphere which is perfect for the bathroom."
7. Earthy shades
If you like the natural look but green isn't for you, warm, earthy shades are becoming more popular, especially in the bathroom.
Jack Gibson from Hovia says: "For a crisp and fashionable look, try abandoning the idea of a white and dull bathroom, try instead using warm, welcoming colors such sandy beiges, ochres, and browns."
These are the colors reminiscent of holidays abroad says Sophie Smith of Zhoosh Paints – and they'll help create a joyful, cozy feel in the bathroom.
"We are expecting lighter colors to lead the way in bathrooms in 2023: earthy beiges and soft yellows that evoke warm, sunny climates and create a calm atmosphere," she says. "Our Rhythmic Yellow is reminiscent of beaches, summer grasses, and lazy hay - perfect for relaxing and unwinding."
Sophie recommends accessorizing these shades with complementing natural materials and plenty of greenery, saying: "Lots of plants and natural materials like wood will complement these colors, which work equally well in classically designed or contemporary styled rooms."
8. Pale (but interesting)
When it comes to paint color ideas for bathrooms, taupes, and beiges might not seem revolutionary, but they work because they create a chilled-out, restful vibe, perfect if you're attempting to create a spa-like feeling.
"Pale taupes aren't going anywhere when it comes to bathrooms this year," says Aaron. "These calm neutrals are perfect for a chilled evening in the bath, and work in most lighting conditions."
To keep the look fully relaxing, team with neutral tiling for a luxe monochromatic feel. Alternatively, beige and taupe walls allow you to have more fun with other elements. Think about adding a patterned floor tile in a similar shade to the wall or a contrasting shade of wall tile. Green or even a jazzy terrazzo tile would look bring a splash of color and look very contemporary.
These shades are also great if you're renting or thinking of moving, however, one of the common interior design mistakes to avoid is making everything too beige, so jazz it up with bathroom accessories such as towels or bath mats in ochre, orange or green.
9. Soft pinks
If you're after a relaxing and feminine look, you're in luck, as one of the big paint color ideas for bathrooms this year is soft pink.
"Soft shades of pink are increasing in popularity when it comes to decorating the bathroom," says Rachel. "Think mauve, blush pink, and light peach shades. These shades provide a softness to the room with an element of sophistication."
One of the top paint color ideas for hallways as well, soft pink paint colors are so versatile because they are not only relaxing but also complementary to so many other shades.
"These softer colors work well with this year's popular finishing colors such as brass, copper, and rose gold," explains Rachel. "Soft pinks also work well with earthy tones and natural elements. With a shift in home design in general to include natural elements, soft pinks work well in lending a hand to this trend. Consider adding some plants to the room to bring some life to the room."
What's the best color to paint a small bathroom?
Not sure how to make a room look bigger with paint? While white might be an obvious choice, Dulux's creative director Marianne Shillingford says soft, muted tones are the best bet to create an illusion of a bigger bathroom. "Try receding colors that make your walls appear further away than they really are," she advises.
"Colors like Tranquil Dawn and Coastal Grey are two classic soft muted shades of nature that work beautifully to make the most of even the tiniest bathroom with simple white sanitary ware. Just add the fluffiest of fluffy white towels to complete the look."
Sophie also suggests that it's not only about the colors you choose, but also about how you use them to make your bathroom look bigger.
"You can use paints and tiles together to gradually lift the colors as you move up the wall, then use the palest paint on the ceiling - it doesn't have to be white," advises Sophie. "Large plain mirrors attached to walls leave surfaces clear but bounce the light around the room, giving the illusion of space."
It's also a good idea to declutter your bathroom to keep products and accessories minimal to aid with creating a feeling of space.
Overall though, Marianne believes you should embrace your small bathroom and create a treasure from it with jewel-like shades. "Small bathrooms are like the jewelry boxes of our homes and just as you lift a lid to reveal the treasures inside, so it should be when you open your bathroom door," she says.
"It's the perfect opportunity to have a bit of fun with colors you may not be brave enough to use on a larger scale. Dive right into something deep, dark, and rich like Sapphire Salute, a luxurious velvety blue for the walls and ceiling, or try Teal Voyage, the color of a clear warm sea under a tropical sky."
What is the most relaxing color for a bathroom?
Blue is thought to be the color of the mind and so is seen as very soothing, however, for some it may have negative connotations, making people feel, well, blue!
Rikki says that mixing up the shades of blue in the bathroom color scheme can help ensure you feel relaxed and not miserable. "Using lighter and jewel shades of blue will help to curate a relaxing space."
"Create a focal point around a wet room shower or statement tub that celebrates the color through a shimmering multi-tonal splashback of turquoise, azure, and sapphire."
Another great choice for relaxing paint color ideas for bathrooms is green. A symbol of nature and well-being, it can help you feel grounded. It also brings nature inside, giving a fresh, airy feel, which is perfect after a long day at work.
"Create a self-care space ­that brings the outdoors in," suggests Rikki. "Incorporate shades of forest and sage green, which pair well with gold and brushed brass fittings. Add houseplants and materials like rattan for a well-rounded natural look."
With over 22 years' experience in journalism, Jayne has written about a variety of subjects. She spent the start of her career within the world of film, interviewing Hollywood stars, attending premieres and lusting after red carpet outfits, and then moved into fashion, launching websites for big magazines such as Look, Woman's Own and Wedding and working with top fashion brands such as Westfield, LK Bennett and Hunter.
Career highlights include dressing up as Kylie (in gold hot pants!) for a national newspaper and working on big fashion events alongside Giles Deacon, Henry Holland and Naomi Campbell.