I tried doing Pilates every day - here are all the benefits I found after just two weeks
Doing Pilates every day can help to improve your strength, flexibility, and posture, as writer Samantha Priestley found out following her two-week challenge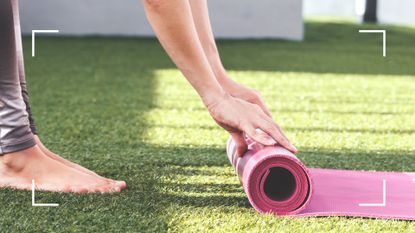 (Image credit: Getty Images)
woman&home newsletter
Sign up to our free daily email for the latest royal and entertainment news, interesting opinion, expert advice on styling and beauty trends, and no-nonsense guides to the health and wellness questions you want answered.
Thank you for signing up to Woman & Home. You will receive a verification email shortly.
There was a problem. Please refresh the page and try again.
The idea of doing Pilates every day might seem a little intense. As an exercise that focuses on core work, muscle balance, strength, and flexibility, it may not seem like a workout we need to do every day. That's true - but practising Pilates this often can have some real benefits for your fitness.
I'll be honest, I never considered giving Pilates a proper go until my daughter started doing it and raving about the results. She's 25 and I'm 52 so at first I thought it might not be for me and my menopausal body. But the more my daughter talked about the wonders of Pilates and how much she loved it, the more I thought I had to at least try it out for myself.
What I learned very quickly was that Pilates is much like yoga in many ways. It focuses on toning and strengthening rather than getting your heart rate up, so it's not high-intensity. That's not to say it's an easy workout though - after my first day of Pilates for beginners, my stomach muscles were aching in ways I hadn't experienced for years. I could definitely tell I was working parts of my body I otherwise don't use too often.
Normally, I tend to go for more outdoor exercises like running 30 minutes a day or walking 30 minutes a day, but I'm always interested in trying something new - especially if it has different benefits to the exercises I know and love - so I took on the challenge to do Pilates every day and found some unexpected benefits of the exercise as a result.
Benefits of doing Pilates every day
1. Pilates builds strength
After just one week of doing Pilates every day, I noticed how much stronger I felt. While my day-to-day strength remained much the same, my weekly strength training routine in the gym felt much easier.
I do think this is down to how much Pilates strengthens the core, which helps us to feel stronger everywhere else as the core muscles are a key stabiliser in the body.
Andrea Speir, who has been teaching Pilates for 18 years explains how such a gentle form of exercise does this. "The style of movement in both mat and reformer work elongates the muscles while challenging them and building strength."
It's one of the many reasons why some people do Pilates for strength training, rather than classic weightlifting and body weight training.
2. It helps with flexibility
Thanks to menopause symptoms, I experience a lot of stiffness in my joints. That, coupled with the fact I work at a desk all day, means I often struggle with my flexibility.
Two weeks of Pilates later and I feel like everything has loosened up. Simply moving around in day-to-day life feels easier with fewer aches and pains, and I can be more fluid in my movements.
Pilates works the mind and body in conjunction with one another though. This additional mobility has, in turn, helped with a lot of the anxiety I feel around my menopausal aches and pains. One informed the other: my stress and anxiety weren't only eased by exercise, it was also helped by worrying less about my mobility.
3. Pilates can help you relax
Having done yoga every day for a fortnight, I'm familiar with just how well this meditative type of exercise can work to help me relax.
As well as physically easing a lot of the stress on my body, Pilates took me out of my daily stresses and forced me to focus so much more on what I was doing with my body that I didn't have the mental space to think of anything else. This worked in the moment, while I was engaged in the routine, and carried me through the hours after the session was over. I found Pilates helped to focus my mind on the tasks I had to perform throughout the day, it gave me a kind of mental clarity and kept me more in the moment. And because of this, I could relax a lot more easily when I needed to.
But you don't have to just take my word for it. There's plenty of research to back up the idea that working out regularly - regardless of the activity you choose - can have a seriously good impact on your mental health.
A study, for instance, reveals that simply working out regularly can improve brain functions such as attention span, problem-solving abilities, verbal fluency, and decision-making skills, as well as actively helping to reduce cortisol (stress) levels and raise levels of neurotransmitters like dopamine, epinephrine, and norepinephrine - otherwise known as endorphins - which produce that feel-good, post-workout feeling.
The review, published by the University of New York, specifies that either low-intensity or high-intensity activity can offer this benefit and it doesn't actually matter how long you exercise for, provided you do so regularly enough.
4. It can help you lose weight
Pilates can help you lose weight if it's done in conjunction with a calorie deficit over time but, to be honest, I didn't notice any difference in my actual weight after doing Pilates every day for two weeks.
What I did notice was a difference in how my body looked and felt. My clothes do now feel a little looser and with a tightening of my core, I think that my clothes fit me better, plus I feel lighter, so doing Pilates lost me inches rather than weight.
This is only to be expected when it comes to doing this activity, explains Speir, who is also the co-founder of Speir Pilates. "Pilates is one of the best ways to build lean muscle with low-impact movement, versus high-intensity cardiovascular work, so I wouldn't think of Pilates as a way to lose weight," she says. "What you will lose is clothing sizes. Essentially, it takes your muscles and stretches them out while building a super-defined and sculpted look, with incredible postural connections due to the major core work (which helps support your spine and stabilise your hips)."
If you are looking to lose weight, doing Pilates for weight loss alongside other forms of cardiovascular exercise may help. "Having this deep core strength and intricate muscle strengthening will help your cardio work by connecting you to every muscle efficiently in addition to the larger muscles, helping you to more effectively lose weight," she explains.
5. Pilates can improve your posture
After just a week of doing Pilates every day, I noticed a big improvement in my posture. As noted, I work at a desk, hunched over a computer all day, and I often find it hard to remember to sit up straight. Practising Pilates like this something I didn't have to think about as posture and alignment is a core element of the workout that you consciously think about in every movement. I'm now naturally sitting straighter, feel less heavy, and I feel less inclined to slump.
Liz Hilliard, owner and creator of Hilliard Studio Method says this is very much a physical element of Pilates but it's also just as much about the mind. "Pilates promotes the strength of the spine," she explains. "A consistent Pilates practice improves posture as well as flexibility and mobility because a strong core improves balance while flattening the midsection and sculpting the entire body and strengthening the mind."
Is it good to do Pilates every day?
It's perfectly fine for your body to do Pilates every day, Speir says. "Unlike other forms of fitness, you could do the exact same Pilates routine every day and it would become harder and more effective each time because your body is learning how to properly connect, and therefore working harder. There is very little impact or duress placed on the muscles and joints, and there are so many fun and effective ways to mix up and challenge your body in Pilates that it stays fun, creative, and challenging."
This is certainly true, I mixed up the Pilates workouts I did. Starting with a 20-minute beginner routine, I mixed things up throughout the fortnight I was doing daily Pilates. Some days, when I had less time, I did a ten-minute routine and some days when I had a little more time and space, I invested in a 30-minute routine.
However, I personally don't think I could keep doing Pilates every day in the long term. I found it really challenging and the impact of the workout on my core muscles was uncomfortable at points. I also prefer to mix up my exercise routines and do different activities, so continually doing daily Pilates I think would be too much for me. Instead, I'm going to work on a program of regular Pilates interspersed with some cardio routines.
"One of the unique things about Pilates is it's very much based on the mind-body connection," says Speir. "So, the more you can understand how to properly engage your core and connect to your form, the more effective it becomes." This means, as a beginner, you may start doing Pilates every day to better understand the movements but once you've honed the mind-body connection, everyday workouts may not seem so necessary.
"I also always advocate for one day of rest, no matter what the style of movement and impact level is," she adds. "There are so many benefits, both physical and mental, to giving your body and soul a day to not ramp up. The resting state is also when your muscles change and grow."
How long does it take to see results from Pilates?
Two weeks of doing Pilates every day probably wasn't enough to see some of the benefits you'd get over time, such as weight loss, but other results were evident after the first week. My mental clarity improved, my stress levels were lower, and my core was stronger. My posture was also much better.
"You'll feel the results almost immediately," says Hilliard. "You'll see results depending on how often you do it. My suggestion is three to four times per week to see results within two to four weeks."
Speir agrees with how often you should do Pilates to see fast results, and it isn't every day. But, much like how often you should do yoga, doing it almost every day will get you the results faster.
"I recommend doing Pilates three times per week for fantastic results, and up to six days a week for absolutely incredible and quicker results. You would see results in two weeks, but it would mostly be in feeling much stronger and feeling energized. Pilates works such intricate muscles, noticeable physical results are best seen after about six to eight weeks of consistent practice."
Sign up to our free daily email for the latest royal and entertainment news, interesting opinion, expert advice on styling and beauty trends, and no-nonsense guides to the health and wellness questions you want answered.
Samantha is a freelance writer from Yorkshire, writing about health and wellbeing for Woman & Home, Reader's Digest, Giddy, and Good Housekeeping. For the past 15 years, she's combined her personal experiences with reporting, to write about menopause, fitness, sleep, and healthy eating. She also writes about travel and food and drink for The Independent, The Good food Guide, Lonely Planet, Frommer's, and more.