Pilates for weight loss—how it can help you shape up and slim down
Want to burn calories and tone your body? Try Pilates for weight loss...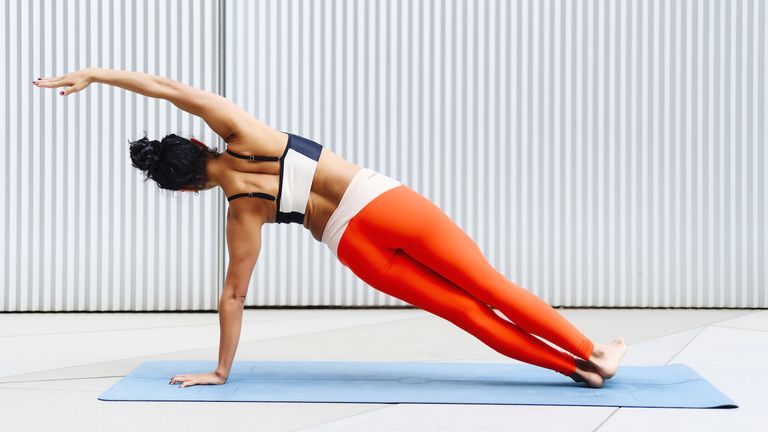 (Image credit: Getty Images / Westend61)
If you're looking to get lean, Pilates for weight loss could be the exercise to try. This full-body workout is a great way to gain core strength, improve balance and flexibility, and help keep aches and pains at bay. Plus, an unexpected benefit is that Pilates can dramatically change your body shape too. 
Joseph Pilates founded this form of exercise in the early twentieth century and he believed Pilates to be totally transformational both mentally and physically. "You will feel better in ten sessions, look better in twenty sessions, and have a completely new body in thirty sessions," he said about his method.
So, if you've spotted a Pilates class on your gym timetable or are tempted to give it a go at home, grab yourself one of the best yoga mats and get ready to burn some calories.
Is Pilates good for weight loss? 
In the same way that yoga for weight loss isn't the most obvious choice, a common misconception is that Pilates is boring or slow and that it isn't an effective way to shed fat compared to other high-impact activities. In reality, it's one of the best exercises to burn belly fat. 
"Often, people think Pilates is used only for rehabilitation work and I've even heard it described as a form of gentle stretching," says Pilates instructor Paola Langella. The truth is, this mind-body fitness technique focuses on lengthening, strengthening, and toning the whole body and is a great fat-burning exercise when practiced regularly.
"The techniques used in Pilates target both the big and the small stabilizer muscles that help to elongate the body and correct posture," says Paola. "Your waist will get smaller, your stomach flatter, and the difference is not only seen on the scale but also in dress size." 
One study showed that practicing Pilates can lead to a significant decrease in body weight, body mass index (BMI), and body fat percentage of obese and overweight people. And when it comes to fitness for women over 50, Pilates can be an ideal way to help manage menopausal weight gain and improve your biological age.
"When students advance in Pilates, the class becomes more intense and cardiovascular," explains Paola. "Your heart rate increases and that's when you start to notice how challenging Pilates is and how it can be a great fitness activity that negates the need to supplement your fitness regime with running or high-intensity cardio."
How many calories does Pilates burn? 
Depending on your current weight and fitness levels, you could expect to burn around 170-200 calories in an hour's session of Pilates. You can monitor this by wearing one of the best fitness trackers while you work out.
When doing Pilates for weight loss, movements will be dynamic. This means each exercise transitions from one to another with minimal rest, so that you burn calories. It's important to notice how you feel after a class too as this can make a real difference to other lifestyle choices that you make throughout the day.
"The main focus in Pilates is to keep the breathing flowing, and you'll soon see that you feel calmer and more at peace," says Paola. "You'll start to make better food choices, you'll feel happier and more connected to your body and this leads to a ripple effect of eating more nutritious food with fewer calories."
How often should you practice Pilates?
Want to know how to lose belly fat and lose weight while doing Pilates? Practice regularly. Joseph Pilates recommended practicing his method at least four times a week to get the best results. "If you're pressed for time though, even just 10 minutes every day from Monday to Friday can be very beneficial," says Paola. "After just five days, you can notice visible results in your waistline."
Many online Pilates studios have workout plans divided per body part, with a different length of class for each. This makes it possible for you to choose a Pilates for weight loss workout according to how much time you have available. All you need is a pair of workout leggings, a mat, and your best sports bra and you're good to go.
How does Pilates change your body shape? 
When comparing yoga vs Pilates, Pilates stands out as one of the best workouts you can do to gain waist definition. Not long after starting to practice Pilates for weight loss, you'll notice that the oblique muscles—which are the outermost abdominal muscles—become more visible. 
"Then the shape of your legs will change as the quad muscles on the front of your thighs will get longer and more defined. You'll also notice how you stand with better posture and that your glutes are stronger and more toned," says Paola. 
"Get ready for your clothes to fit better too. In fact, I recommend trying on a pair of jeans or a skirt that is tight and then try it again after ten Pilates sessions to see a real difference," she says.
What type of Pilates is best for weight loss?
Traditional or Classical Pilates are the terms used for Joseph Pilates' original sequence of 34 functional exercises that are performed on a mat. It might be a good idea to invest in one of the best thick yoga mats so that you are comfortable when practicing mat work Pilates. A specific sequence of exercises can also be performed on the Pilates reformer bed, which is a piece of apparatus originally designed by Joseph Pilates. 
When the Traditional Pilates method is blended with adapted movements and an instructor has the flexibility to switch up sequences and the apparatus used in a class, it is known as Contemporary Pilates.
For weight loss, the perfect combination is all the full-body, functional exercises with a mix of mat work and standing with light, strength training weights, says Paola. 
"The technique combined with the correct breathing is essential to see results," she says. "The moment you engage the deep abdominal layers—known as the transverse abdominals, the whole body will work on a different level. Ten repetitions for each of the exercises will be enough to feel the magic Pilates burn."
5 of the best Pilates for weight loss workouts
1. Cardio Pilates full-body workout
Paola Langella's 30 minute full-body workout combines Traditional Pilates exercises with cardio blasts to boost your metabolism and tone your body from head to toe.
2. 10 minute lower belly flattener
If you're looking to target tummy fat, challenge yourself with this short but effective sequence from Cassey Ho. Do it daily and you'll feel the burn—and see results, in your lower abdominal muscles. 
3. 15 minute lower body workout 
With these toning and sculpting Pilates exercises from Juliana Spicoluk, you'll effectively target your core while working your inner and outer thighs, glutes, and hamstrings–all in just 15 minutes.
4. 30 minute fat melt
Ready to burn some calories? Hannah from Moving Mango turns up the heat in this 30-minute Pilates sequence that blends fast and slow movements to get your heart racing. 
5. 45 minute calorie burn
This Pilates for weight loss workout by former ballet dancer Desiree Errico engages your whole body to burn fat and sculpt muscles. Prepare to sweat in her challenging 45 minute class.
Senior Health Writer Ali Horsfall has almost 15 years experience as a journalist and has written for national print titles and women's lifestyle brands including woman&home, Woman, Woman's Own, BBC magazines, Mothercare, Grazia and The Independent. She currently specialises in health and fitness content and loves sharing the best expert advice on staying well.