The best calorie counter apps and food diary apps that will help you achieve your goals
If you want to lose weight or adopt a healthier lifestyle, these calorie counter apps and food diary apps will help get you there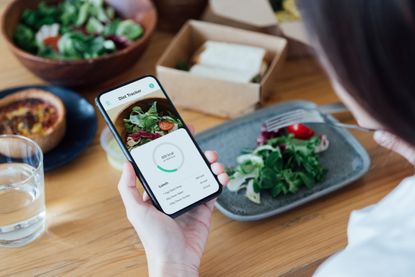 (Image credit: Getty)
If you've ever tried to lose weight, build muscle or simply eat more healthily, you'll know that keeping track of your calorie, fat, protein and sugar intake can be a full-time job.
Throw in meal planning, cooking for partners and kids and eating out with friends and the temptation to throw the towel in is all too real - which is where calorie counter apps comes in.
Recent research conducted by comparison site Uswitch (opens in new tab) - as part of its analysis of the best health and fitness apps worldwide - revealed that health app downloads have increased by 75% since the pandemic started in 2020, with more people than ever wanting to take charge of their diet and overall health.
Calorie counter and food tracker apps fit into this mould, and put the answer to your diet and fitness goals, quite literally, in your hands. Yes, we know the befuddling array of figures, tables and pie charts on the App Store might make them seem like just another thing you don't have time to faff around with, but hear us out, because the right calorie or food tracker app might just put your diet dreams within reach.
Read on for our pick of the best food diary apps and calorie counter apps around...
Best Food Diary App: See How You Eat (opens in new tab)
You've seen it on TV: the dieter who can't understand why they can't seem to shed those extra lbs is confronted by a table heaving with the foods they actually eat in a day. It's all too easy to underestimate our daily calorie intake, to mentally discount those chips you swiped from your partner's plate or to forget that, yes, your customary morning latte/after dinner glass of red does count. And that's where food diary apps come in.
The findings from one study (opens in new tab) suggest that keeping a food diary can double (yes, double!) weight loss. And what's even better than a food diary? A food diary which confronts you with the visual evidence of everything you've eaten in a day, on a single page of your smartphone, of course. The free See How You Eat app, available on iOS (opens in new tab) and Android, allows you to track your daily food intake with snaps of everything you eat. Resist the temptation to cheat and it'll be the best motivational tool at your disposal.
The app has an impressive 72% review score from ORCHA (the Organisation for the Review of Health and Care Apps) which reviews health apps for the NHS, and require successful ones to have a score of over 65% - something only around 20% manage after undergoing ORCHA's rigorous testing.
I like this really simple app "See What You Eat." It keeps me accountable, but is more doable than calorie counting. pic.twitter.com/uF0DXVimJ3January 3, 2019
See more
Most calorie counting apps are aimed at US users, but this one is targeted squarely at a UK audience. It's extensive database enables you to search for calorie and nutritional information for over 300,000 UK foods and more than 70 eating out venues. You can also scan foods by barcode. It will also help you set calorie and nutrient intake goals based on your height, weight, activity levels and personal goals. You can choose to track your daily sugar, protein, carbohydrate, salt, fat or saturated fat intake alongside your daily calorie tally, water intake and 5-a-day count. There's also a dedicated 5:2 diet setting.
The app has an 81% review score from ORCHA for the iOS App and 80% for the Android App.
Best Nutrition App: MyFitnessPal (opens in new tab)
Chances are you've already heard of MyFitnessPal. It's the most popular diet app around, and for good reason. Although it was originally designed for American users, it will read the barcodes of most of the foodstuffs you can pick up in UK supermarkets, and lists nutrition information for dishes at UK restaurants like Pizza Express. Serious about nutrition? This free app is no simple calorie tracker. Oh no - it tracks the fibre, sugar, fat, saturated fat, polyunsaturated fat, monounsaturated fat, trans fat, cholesterol, sodium, potassium, vitamin A and C, calcium and iron content of your meals, drinks and snacks, too.
The same Uswitch research referenced above placed MyFitnessPal as the third most popular health app worldwide, and the top app for calorie counting and weight loss (opens in new tab).
This app achieved an ORCHA score of 62%.
Food tracking and calorie counting are all very well, but what if you need a helping hand figuring out what to eat in the first place? Enter Diet Point ·Weight Loss. This app provides more than 130 weight loss diet plans with quick and tasty breakfasts, lunches and dinners to suit your goals and dietary preferences, from low carb, paleo (opens in new tab)and low GI (opens in new tab) to blood type-based plans. Some plans are free, but going 'pro' gives you access to weekly shopping lists (with automatic adjustments for the number of people you're cooking for) and additional plans.
The app has an average rating of 4.5/5 from more than 30,000 users, but does not have an ORCHA score.
Do you work better when you have encouragement to reach your goals? Fitbit: Health & Fitness enables you to set goals, earn achievement badges & celebrate milestones. You'll also find free workouts, nutrition programs, meditation tracks and sleep tools. There are also tools that enable you log food and water and track calories in and out.
This app has an impressive ORCHA score of 82%.
Best Food and drink Barcode Scanner App: FoodSwitch (opens in new tab)
Hitting the supermarket aisles and want a snapshot of the nutritional content of each product you come across? Then look no further than this free app. Created by campaign groups Action on Salt and Action on Sugar, in collaboration with The George Institute for Global Health (TGI), FoodSwitch lets you scan food and drink barcodes determining whether they are high (red), medium (amber) or low (green) in fat, saturates, sugars and salt. It also scans its extensive database to find healthier alternatives, making it easy to swap.
This app achieved an ORCHA score of 75% for iOS and 74% for Android, with the slight percentage difference likely to be down to differences in usability.
Still have room on your phone for more health-changing apps? Why not try one of these top health and fitness apps (opens in new tab)?
Miriam worked for woman&home for over five years and previously worked on the women's lifestyle magazines Woman and Woman's Own.