Garmin vs Fitbit: Which is the better fitness watch for you?
We outline the positives and negatives of Garmin vs Fitbit to help you choose the best tracker for you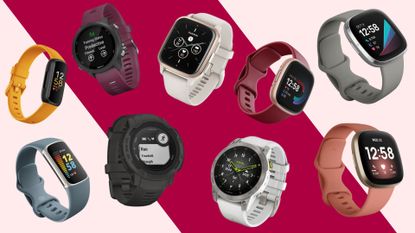 (Image credit: Garmin/Fitbit)
woman&home newsletter
Sign up to our free daily email for the latest royal and entertainment news, interesting opinion, expert advice on styling and beauty trends, and no-nonsense guides to the health and wellness questions you want answered.
Thank you for signing up to . You will receive a verification email shortly.
There was a problem. Please refresh the page and try again.
If you're in the market for a new fitness tracker, you may be weighing up Garmin vs Fitbit. As two of the biggest brands around, both have a range of devices suited to different lifestyles and health goals.
As woman&home's digital health editor, I've tried my fair share of fitness trackers, testing each one against certain criteria to establish how it works, who it would work best for, and the pros and cons of each. Fitbit and Garmin devices are among some of my favorites, with so much choice between the two, it can be difficult to find exactly the right one for you - or even decide between the brands themselves.
To help you pick in the big Garmin vs Fitbit debate, I've weighed up each brand's devices against these important criteria. So whether you opt for one of the best Fitbits or the Garmin model designed perfectly for you, no matter your budget, you'll be able to choose the fitness tracker for your lifestyle.
Garmin vs Fitbit
1. New models
Where new models are concerned, Garmin has a great variety available with running, hiking, and skiing-specific trackers and smartwatches aplenty, while the newest Fitbit selection is a lot more refined with just three new models released this year.
The Fitbit Versa 4 is one of them, a sleek and stylish tracker with all the benefits of the previous model - plus the side button is back. The Sense 2 is a great one for those who want to focus on all elements of their health, and the Inspire 3 is an upgrade in substance from its previous model but lacks the same impressive battery life.
Garmin has released many new models this year, which is unsurprising given the vast selection of ranges sold by the brand for different activities. You have the Forerunner 955 for enthusiasts on more of a budget at one end of the spectrum, and on the other end, there's the Epix 2 and Fenix 7 Sapphire Solar. Also released relatively recently was the Garmin Instinct range, a perfect pick for outdoor adventurers with unique battery-saving modes. There's also the Garmin Venu Sq 2, which has a slightly shorter battery life, but more smartwatch-like features. The Garmin Vivoactive 4, also a new release, is one of the brand's more affordable options and one of the top picks for those new to fitness trackers, in my opinion.
2. Features
It's difficult to break down all of Garmin's incredible fitness features in one hit, but I'll give it a go. I tried and tested the newest Garmin Venu Sq 2 for two weeks and still couldn't get to the bottom of all the brilliant features on offer. Garmin's devices all differ depending on which model you buy, and as expected, the more advanced devices offer more advanced features. However, all the most basic fitness tracking is available across all models.
Firstly, you can track your fitness sessions and general wellbeing 24/7 on Garmin. This means you'll have a total rundown of your heart rate, step count, calorie burn, and workout statistics - including an interesting in-app feature where you can see which muscles you've targeted during a strength training session - whenever you need it. Sleep monitoring is also included, although I'd argue that Fitbit Premium offers more insights into this, as is stress monitoring, guided on-wrist workouts, breathing exercises, women's health tracking, and a specialist fatigue-monitoring feature called 'Body Battery'.
While Fitbit's range tends to offer more choice in workouts - for example, the Fitbit Versa 4 offers over 40+ workout modes to choose from while basic Garmin models offer around 20 to 25 as standard, Garmin does cover all the basics - including running, weightlifting, swimming, and cycling. Although, it doesn't automatically differentiate between spinning and outdoor cycling - this has to be added within the app. If you're investing more and looking for a specialized watch, like the Forerunner 955, then you can track more specific activities. These include favorites like hiking, rock climbing, and even water sports like surfing.
3. Cost
The most expensive Fitbit comes in at $299/£269 and it's the Fitbit Sense 2. The most expensive Garmin watch is the Marq Expedition, a specialist hiking watch, and it comes in at an eye-watering $1,500, but even the so-called 'mid-range' watches sit around the $499 / £479 mark.
If you're looking for the best Garmin watch at a relatively affordable price, you could spend around $299 / £279 on the Garmin Forerunner 245, a specialist running watch. However, this is almost as expensive as the most expensive Fitbit, but with Garmin, you're essentially paying for a specialty product. The watches are more specialist, designed with specific activities in mind such as running or hiking with on-screen maps, daily suggested workouts, and suggested recovery times, so in buying one of these, you are committing to an activity. Although all Garmins have multiple workout modes, they can track other activities too. Fitbit devices sit at a lower price range for many reasons, but mostly they are significantly more generalized to help people improve their overall fitness and health.
4. Design
Many types of Fitbit look almost the same aesthetically, although there's a difference between trackers like the Fitbit Charge 5 and smartwatches like the Versa collection. But, for example, it's very difficult to tell the difference between a Fitbit Versa 4 and the new Fitbit Sense, unless you know the model's unique colorways. This reliability works for some people, like myself, who enjoy the square-shaped screen and sleek design and want that over and over again with every new device.
However, if you're looking for a little variation to this design - which the Apple watches also notably have - then a Garmin could be for you. Most devices (apart from the Venu collection) have a thick, round clock face more similar to a traditional watch.
Both types of devices are suitable for taking with you in the shower or pool, but neither brand offers completely waterproof watches. The Vivoactive, Forerunner, Venu, Instinct, and Fenix collection watches from Garmin and most Fitbits are water-resistant up to 50m.
5. Battery life
In many cases, Garmin wins out on battery life, boasting up to 11 days. Whether you opt for something on the cheaper end of the spectrum like the Vivofit fitness tracker or more expensive, such as the Forerunner 945, they all have at least a week's worth of battery life on a single charge. Importantly, the brand also considers the battery usage of GPS or heart monitoring, with the outdoor-based devices offering a unique battery-saving mode that increases its life per charge while decreasing how often it records GPS and other data. You can also enable a power-saving mode that switches off battery-draining features you don't use as much, in favor of powering the ones you do.
Fitbit isn't too far behind though and we may even see the brand catch up in the next couple of years as the Fitbit Inspire 2 can last up to 10 days without a charge in some cases. For now, though, most of the smartwatches and fitness trackers last around the 6-day mark, which is still more than enough in my experience to capture all the health and fitness tracking data you'll need.
Where Garmin fails and Fitbit succeeds in battery life is the 'quick-charging' option that comes with the Fitbit Versa 3. While Garmin's watches often come with a 60 to 90-minute charging time, you can fuel this particular iteration of the Fitbit range to full power in just 12 minutes. Trust me, I've done it myself.
Both brands have watches that offer an 'always-on' mode so you can use your fitness tracker like a regular watch, with the clock face always available. However, this will drain the battery life significantly faster in both cases than just flicking your wrist to bring the device to life.
Is Garmin or Fitbit better?
Garmin indeed has lots more features than Fitbit if you're looking to hone in on one particular sport, improve your recovery time, and cover the basics - like step count, heart rate, and calorie burn. However, there's something to be said for simplicity and ease of use, so even if you want all those features, you can still find the perfect Fitbit for you.
If you're a runner, you'll undoubtedly be better off with a Garmin. The Forerunner collection is one of the best around, offering multiple styles to suit everyone from those who are doing their first 5k to marathon runners. The same goes for hiking enthusiasts with the Instinct collection, skiers with the Fenix, and golfers with the Approach.
However, these specialty watches come with a price tag as noted. If you're looking to improve your overall health and fitness, a Fitbit device could be a perfectly good one for you. With over 40 different workout modes to choose from on some newer devices, on-wrist GPS, and plenty of wellness-tracking, workout, and meditation features available in the Premium app, there's really nothing you can't do.
A digital health journalist with over five years experience writing and editing for UK publications, Grace has covered the world of health and wellbeing extensively for Cosmopolitan, The i Paper and more.
She started her career writing about the complexities of sex and relationships, before combining personal hobbies with professional and writing about fitness. Everything from the best protein powder to sleep technology, the latest health trend to nutrition essentials, Grace has a huge spectrum of interests in the wellness sphere. Having reported on the coronavirus pandemic since the very first swab, she now also counts public health among them.