What is the newest Fitbit watch to launch in 2022/23 and is it worth the hype?
We outline the newest Fitbit releases for this year and what you need to know about them before buying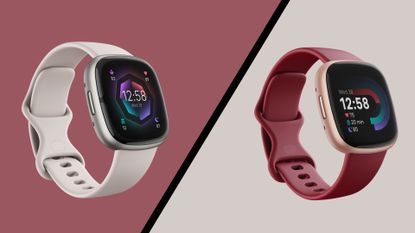 (Image credit: Fitbit)
Wondering what the newest Fitbit is all about? While the brand has a range of excellent fitness watches, they do release new devices every year with a host of hardware and software updates - and 2022's releases are no different.
From those wanting to make small changes to their health to serious fitness fanatics, millions rely on Fitbit to register their fitness, sleep, stress, and overall wellness statistics. I'm one of them, having been a Fitbit fan for the last few years, trialing and testing all the top picks and several of the latest devices to come out of the Fitbit world.
If you're in the market for an upgrade and searching for the best Fitbits, or you're just looking to find out more about what a Fitbit is, you're in the right place. Here, we outline everything you need to know about the newest Fitbit models - and whether either of them is worth buying.
What is the newest Fitbit?
The Fitbit Versa 4 and the Sense 2 are the newest Fitbit types on the market as they were both released in September 2022. As smartwatches rather than trackers, they both have wide, square faces, come with the classic Infinity wristband, and have more features compatible with a smartphone, such as the ability to receive calls, texts, and calendar notifications.
Fitbit Versa 4
The Fitbit Versa 4 ($229.25 / £199.99) is the upgraded version of the Fitbit Versa 3. While it's very similar in many ways to the previous model, welcome additions are the reintroduction of the side button to turn the device on and off and new software updates, like a full-color LED screen and the user Sleep Profile feature through the 6-month free Premium version of the app, which comes with the watch. It's available in four different colorways: Graphite Black (as above), Waterfall Blue, Pink Sand, and Beet Juice.
The Versa 4 is ideal if you're an all-rounder in the world of wellness and you're not hugely invested in serious metrics. For example, you exercise a couple of times a week, you're trying to change your sleep and stress habits for the better, and you'd like a wrist assistant for the smaller things in life - like checking the weather or setting a timer. All of these features are available on the Fitbit watch, with many more insights into your stress levels, breathing, heart rate, oxygen saturation levels, and skin temperature also available on the app, which is also initially free to download.
When it comes to the big difference between the Fitbit Versa 3 and 4, it's all about ease. The latest model is much easier to use than the previous, in my experience, with your top workout modes and most useful statistics available in just two touches of the screen rather than four.
Fitbit Sense 2
The Fitbit Sense 2 ($299.95 / £269.99) is another upgrade from a previous model - the original Sense. Much like the previous version, this watch focuses on four key pillars of wellness: fitness, sleep, stress, and heart. This makes it an exciting buy for those looking to focus on their wellbeing through a holistic approach, rather than one that focuses primarily on fitness. This one's also available in three colorways: Shadow Grey (as above), Luna White, Blue Mist.
It comes complete with an ECG app for heart rhythm assessment, a great way for anyone concerned about their heart health to monitor irregularities at home, a skin temperature sensor, and an EDA scan app that alerts you when your body is experiencing signs of stress.
The Sense 2 is also sleeker with the inclusion of a gyroscope, a feature that detects angular motion. This means that it's likely to offer slightly more accurate tracking for specific sports and it will pick up a flick of the wrist more easily to turn the device on automatically.
Is the newest Fitbit worth buying?
Yes, it's always worth buying the newest Fitbit if your budget can stretch. Not only will the software be the most up-to-date and naturally more accurate with various software updates installed, but you'll also have access to significantly more features than those offered by previous models.
For instance, both the Versa 4 and the Sense 2 have in-built GPS tracking so you don't have to take your phone out with you, over 40 different workout modes to choose from rather than the standard 20, and full-color screens. Earlier models of Fitbit smartwatches such as 2018's release, the original Fitbit Versa, don't offer such features.
Is one better than the other? That comes down to personal preference. The two watches are relatively similar so if you're invested in buying the newest Fitbit and you're not sure which one to choose, then it's worth asking yourself what you want out of your device - and how much you're willing to pay for it. If you want highly accurate health data and you can handle the higher price point, then the Sense 2 is the one you should opt for. However, if you're all about fitness and just improving your overall health, then the Versa 4 is perfectly good.
What are the other recent releases from Fitbit like?
Fitbit Inspire 3
The Fitbit Inspire 3 was also released in the fall of 2022 and it's a fitness tracker rather than a watch. This means it looks a little different, with a smaller, narrower face, and a different wrist strap. Its focus is also primarily on basic fitness tracking rather than overall wellness, but it does include some stress and sleep statistics.
It's the ideal model for anyone looking to incorporate one of the best fitness trackers into their life but not be too invested in the metrics that a Fitbit Sense 2 would offer, for instance. Much like the smartwatches, the Inspire 3 records heart rate, calorie burn, step count, hours and quality of sleep, and basic stress levels with the Stress Management Score feature.
One main advantage of a fitness tracker generally from Fitbit, and the Inspire 3 in comparison to the other new 2022/23 releases, is the price point. While it might be missing some features - such as in-built GPS tracking - it's the only one out of the three to come in at under $100/£90. However, many top models also appear in the list of best Fitbit deals, depending on the time of year, so it's always worth a look at this.
Google Pixel
All Fitbits are compatible with Apple's iOS, meaning they work perfectly with all types of iPhones and the debate of Fitbits vs Apple Watches is a common one because of this. Interestingly, however, another one of Fitbit's latest releases - the Google Pixel - is only suitable for use with Android devices.
We haven't had a chance to try one of these just yet, but it appears as though many of the features available on the two new Google Pixel x Fitbit watches are similar to the newest Fitbit models. It boasts Fitbit's "most advanced" heart rate tracking features, built-in GPS, over 40 exercise modes, and all-day activity tracking, alongside standard metrics.
Android phone users will benefit most from the host of Google apps already available with the Fitbit watch though. These include on-wrist calls, Gmail and Calendar, Google Assistant, Music and Podcasts, and Smart Home Control, among others. Some of these programs, such as Google Maps and Google Wallet, are set to be released for Sense 2 and Versa 4 users but this hasn't happened at the time of publishing.
A digital health journalist with over five years experience writing and editing for UK publications, Grace has covered the world of health and wellbeing extensively for Cosmopolitan, The i Paper and more.
She started her career writing about the complexities of sex and relationships, before combining personal hobbies with professional and writing about fitness. Everything from the best protein powder to sleep technology, the latest health trend to nutrition essentials, Grace has a huge spectrum of interests in the wellness sphere. Having reported on the coronavirus pandemic since the very first swab, she now also counts public health among them.