Fitbit Inspire 3 review: Is going back to basics the way forward?
Health Editor Grace Walsh delivers the Fitbit Inspire 3 review, complete with all the best features and comparisons to other models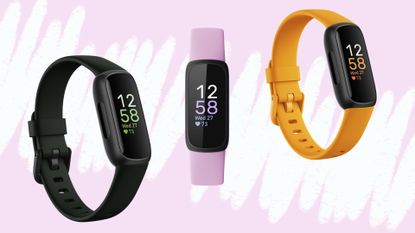 (Image credit: Fitbit)
Reasons to buy
+

Simple to use

+

Full-color AMOLED display

+

Comfortable to wear

+

New colors to choose from
The Fitbit Inspire 3 is the newest fitness tracker released by the wellness tech brand. Instead of advanced insights and sensors though, this device prioritizes the essentials - and we're pleased to see it.
If you're looking for a device to help you reorganize your life and prioritize your overall wellness with a focus on holistic elements like advanced stress insights, we suggest you take a look at another one of the best Fitbits. If you're looking to move more, sleep more, and stress less, keep reading.
The Fitbit Inspire 3 goes back to basics by highlighting key metrics - chosen by the user - such as step count and heart rate, calorie burn, and activities such as running, walking, cycling, and treadmill workouts. You can track your sleep activity, your stress levels, and follow guided sleep meditations, but that's about as advanced as it gets. It's the perfect pick for anyone who wants to make positive changes in their lives, without devoting more than a minute to technology.
So, is the Fitbit Inspire 3 worth buying? I've delved deep into the new fitness tracker, having tried and tested this pick of the newest Fitbits for three weeks in a wide range of workouts, and offered a rundown of the essentials you need to know about, from stand-out features to waterproof rating.
Fitbit Inspire 3 review specifications
Size: 1.55" l x .73" w x .46" h
Type: Fitness tracker
Battery life: Up to 10 hours
Charge time: 2 hours
Water rehsistant: Yes, up to 50m
RRP: $99.95 / £84.99
What are the best Fitbit Inspire 3 features?
1. Activity tracking
Whether you're looking to complete 10,000 steps every day, start training for a 5km race, or record your metrics during strength training, the Fitbit Inspire 3 has you covered. From a simple glance of my wrist, I can view my step count for the day, heart rate, and calorie burn, along with the day's date and (importantly) the time.
There are over 20 different workout modes to choose from on the Inspire 3, with your favorites available to activate easily via a quick right swipe of your finger. You can only have six workouts on your device at once, making a change from other devices, but I found during testing that six was more than enough. It gave me the chance to prioritize the activities I actually did on my wrist, making finding the mode quickly before starting my session the simplest process it could be.
At the end of a workout, I found it easy to end the session and view my vital statistics - such as distance traveled, time, and pace if I was running or walking. The rest of the stats are available via the Fitbit app, which is free to download, and the Fitbit Premium subscription. Here, I could see the layout of my workout - such as a map that syncs with Apple Maps to highlight my running route and heart rate progression through the session. Sure, it's not as detailed as the Garmin Venu Sq 2, but it also doesn't cost the same amount.
2. Sleep tracking
After at least one night of wearing the tracker to bed (although I'd suggest at least seven days to get an accurate reading), you can view the time you spent asleep and what kind of sleep you were in - REM, light, or deep sleep - which can be beneficial to understanding any issues you might have. All available to view in the Fitbit app, you're also given a Sleep Score, which is a number out of 10 that rates how well you've slept.
If you're looking to learn how to sleep better, whether that's the best time to wake up and fall asleep for you or how to reduce wakefulness during the night, buying a Fitbit is a great idea. The insightful sleep tracking features aren't unique to this model but if you're new to the Fitbit world, in my opinion, this model is a great one to buy to make the most of these metrics. As it's lighter and smaller than many of the others, especially smartwatches like the new Fitbit Versa 4, I found it was more comfortable to wear while sleeping.
3. Guided breathing meditation
Many of the Fitbit models offer a guided breathing meditation but the Fitbit Inspire 3 does it a little differently - and much more simply. While by no means a long-term stress reliever, a couple of minutes of mindful breathing can make a lot of difference.
To activate this feature, swipe along the slides on the watch to find an icon of a person sitting cross-legged. Tap once to start the session and try to match your breathing with the shapes on screen, or if you want to look away from the screen for your few minutes of peace, follow along with the buzzes that gently vibrate on your wrist.
Who does the Fitbit Inspire 3 suit?
The Fitbit Inspire 3 is best suited to those who want to take things back to basics and focus on key metrics such as step count, heart rate, logging exercise sessions, tracking sleep, and practicing mindfulness, without having a wrist-bound distraction. For those new to fitness trackers or anyone who wants to scale down how often they use technology in their day-to-day life, this is the top pick of the many Fitbit types.
While two new smartwatches (the Fitbit Sense 2 and Fitbit Versa 4) were released around the same time as this one, they're incredibly different from the Inspire 3 both in design and function. The Fitbit Inspire 3 focuses on delivering the essentials well. As noted, it's easy to record your favorite exercises, view vital statistics, and access guided breathing techniques and your sleep data. It does offer SpO2 (blood oxygen) tracking but that's about as advanced as it gets. The Fitbit Sense 2 meanwhile focuses more on an overall picture of health, heavily monitoring factors such as stress levels, sleep quality, and the potential for underlying health conditions, such as an irregular heartbeat, through advanced sensors - many of which the average person won't need. The Fitbit Versa 4 is an elevation of the previous model, complete with a side button, full-color AMOLED display, and 20 more exercise functions, but in many ways is the same as the Fitbit Versa 3. These smartwatches both have a lot to offer but if you're looking for a fitness tracker you can ignore, except when you need it, and simplicity manufactured well then the Inspire 3 is the one for you.
Fitbit Inspire 3 vs Charge 5
First, let's start with appearances as this is one area where the Inspire 3 and Fitbit Charge 5 are so very different from each other. As detailed in this Fitbit Inspire 3 review, the new model has a sleek, black plastic, capsule-like body with thin silicone straps that clasp together with a buckle at the wrist. The Charge 5, on the other hand, has a larger, aluminium casing around the screen and straps that come together in an infinity loop - much like the smartwatches. Having tried and tested both for a number of weeks, I'd say the Fitbit Inspire 3 is more comfortable because of this detail since the underside of the silicone doesn't press so heavily against the skin. However, straps and bands are interchangeable on both devices and both have colorful AMOLED displays, which doesn't add any extra feature but I find it makes data more exciting to look at.
Secondly, function. The Fitbit Charge 5 is an intense activity tracker, designed for those who regularly exercise and want a device to keep up with their always-on-the-go lifestyle. It has two main features that are missing from the Inspire 3 to support this: in-built GPS, ECG, and EDA sensors to measure electrical signals from the heart to monitor signs of an irregular heartbeat and increasing stress levels respectively. By comparison, the Fitbit Inspire 3 is much more low-key, focusing instead on the basics of health tracking and simple wellness rituals. Both offer Sp02 (blood oxygen) tracking, which tells users how well oxygen is distributed throughout the body. While some may find this beneficial, I've personally never found a use for it.
Thirdly, reliability. This is all about how easy it is to use, how long the battery lasts, whether it's easy to charge, and how seamlessly it fits into daily life. On these accounts, the Inspire 3 performs better than the Charge 5 but only because it's designed to fade into the background. Other than pre-programmed alerts to stand up and move every hour and notifications (which can, thankfully, be turned off via the app), you'd hardly notice it's there. Battery life is far superior on the Inspire 3 and I can confirm it does last, having used the tracker for 11 days with five activities logged, with one charge. The Charge 5 only promises 7 days and I did find in testing that the battery drained quicker, thanks to the in-built GPS.
When it came to using the Inspire 3 compared to the Charge 5, the only downside I think is worth flagging is that the screen on the Inspire 3 is smaller. Much smaller, measuring under 39mm in length and 18mm in width as the screen doesn't reach the corners of the tracker's body. If you have issues with viewing smaller screens, it may be safer to opt for the Charge 5.
Fitbit Inspire 3 vs Luxe
Comparatively, the Fitbit Inspire and the Fitbit Luxe are incredibly similar. Both are fitness trackers designed for a lifestyle wearer rather than a fitness fanatic and prioritize aesthetics. Design-wise, they look incredibly similar and come in a similar range of colors. In fact, comparing two black models side-by-side as I'm doing now while writing this Fitbit Inspire 3 review, it's hard to spot the difference. The only noticeable ones are that the Inspire 3 is a little rounder than the other and the charging ports are slightly different. The Luxe also offers a jewelry band option for those eager to get away from silicone straps.
The main key differences, at least at the time of writing this review, are in battery life and price. Looking at price first, the Fitbit Luxe may have been released in 2021 but at least on the retailer's website, it sits consistently at around $130 / £129. The Fitbit Inspire 3 was released last year and is already beating this price point at a reasonable $99.95 / £69.99, making it among the cheapest of all the best fitness trackers out there. The Fitbit Luxe also only offers 5 days of battery life compared to the Inspire 3's impressive 10 days, which is certainly something to consider.
Is Fitbit Inspire 3 waterproof?
The Fitbit Inspire 3 is water resistant up to 50 meters, making it the perfect pick for anyone who enjoys casual swimming or reckons they'd end up showing with their Fitbit on. If you're planning to go any deeper than this, or spend excessive time in the water, it may be better to remove the watch before heading in.
When it comes to wearing the Fitbit Inspire 3 in the water, I did find that it was less noticeable than many of the other Fitbit devices I've tried and tested in this setting, owing to the smaller size of the device overall.
A digital health journalist with over five years experience writing and editing for UK publications, Grace has covered the world of health and wellbeing extensively for Cosmopolitan, The i Paper and more.
She started her career writing about the complexities of sex and relationships, before combining personal hobbies with professional and writing about fitness. Everything from the best protein powder to sleep technology, the latest health trend to nutrition essentials, Grace has a huge spectrum of interests in the wellness sphere. Having reported on the coronavirus pandemic since the very first swab, she now also counts public health among them.