Fitbit Luxe review: A discreet fitness tracker for gym-goers
We tried and tested the Fitbit Luxe to help you decide which fitness tracker to buy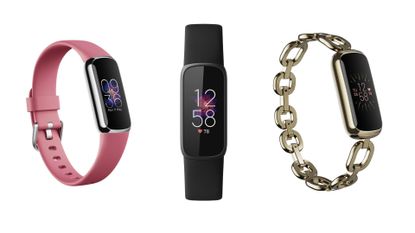 (Image credit: Fitbit)
A super easy-to-use fitness tracker for those who don't mind compromising space for style
The Fitbit Luxe is one of the brand's newer models, having only been released in April last year. However, it's already built quite a fan base as it's the only model that doubles up as jewelry.
I've tested almost all the Fitbits over the years, both fitness trackers and smartwatches, looking at how easy they are to use, how many features they have, how comfortable they are to wear daily, and what their battery life is like. The Fitbit Luxe is the latest to go through this scrutiny and it's passed with flying colors.
As one of the best Fitbits, the Luxe is definitely worth considering if you're in the market for a fitness tracker as a first-time wearer or long-standing fan of the brand. This review covers everything you need to know about the Luxe before you decide if it's for you.
Fitbit Luxe specifications
Size: 36.30mm x 17.62mm
Battery life: Up to 5 days
Charge time: 2 hours
Water resistant: Up to 50m
RRP: $129.95 / £109.99
Who does the Fitbit Luxe suit?
The Fitbit Luxe is undoubtedly a fitness tracker for gym-goers, rather than runners, who want to keep their tracking visibly low-key while still getting all the important stats and insights on their health.
As a fan of both these activities myself, I noticed that the Luxe doesn't have onboard GPS (unlike the Fitbit Versa 3 and the newest Fitbit models). This means that running and other distance-measured activities aren't always 100% accurate, but normally only by less than a kilometer. The biometrics, including heart rate tracking abilities, more than compensate for this though if you're only looking to use your Fitbit in the gym, or other activities where GPS isn't a requirement.
With five simple swipes on your Luxe, you can access a two-minute breathing relaxation session. While it's not as advanced as those available when you purchase a membership to the Fitbit Premium app, it's certainly better than nothing - and it's more than many alternative fitness trackers offer at such ease. You can also track your sleep quality, skin temperature variation, and oxygen saturation levels (SpO2) through this app. It's what makes the Luxe an excellent choice for those wanting a more wellbeing-orientated tracker for handling stress and anxiety throughout the day.
Appearance-wise, it's definitely one for those who don't want to make a statement out of their tracker. While other Fitbits, even other trackers like the Fitbit Charge 4, will take up all available space on your wrist, the Luxe can even be worn discreetly on the side of your regular watch. Available with the limited edition gorjana Soft Gold Stainless Steel Parker Link Bracelet strap (at $70 / £70 more), you could also easily style it out as jewelry.
What is the Fitbit Luxe like to use?
The Luxe is incredibly easy to use, with all essential programs available in just a few steps. But this is hardly surprising; Fitbit just doesn't make hard-to-use fitness trackers. Out of all those I've tested, none have been particularly difficult to work thanks to the brand's standard on-screen navigation system and accompanying app. The Luxe is no different, with its simple time display homepage and easy swipe-through list.
With four swipes, you can access the exercise menu and start your workout. In two, you can check for any unread messages (providing you've enabled this feature), and in just a few more than that, you can schedule an alarm or set a timer.
It's worth noting the size of the screen on the Luxe though if you (like me) don't have 20/20 vision. At 36.30mm in length and just 17.62mm in width, it's one of the brand's smallest models. There were points, sweaty post-workout, where I just wanted to end the session and flick back to the home screen but the small screen made this slightly harder than it should have been. The smaller surface area also means that it doesn't always pick up on your swipes, so I've found it can be slower to react than other models at times. However, discreet and large don't tend to go hand-in-hand with anything, so you have to decide which is more important to you.
For those who've had other Fitbits before, one difference on the Luxe that I found took some getting used to was the lack of a side button. If you don't have the 'Always On' mode enabled, to bring the screen to life, you have to either double-tap the screen or you can flick your wrist. But as with all Fitbits, if you want to learn how to change the time on a Fitbit or alter your measurements, you can change the metrics and many features using the app.
Is the Fitbit Luxe comfortable?
Yes, the Fitbit Luxe is an incredibly comfortable fitness tracker to wear. So much so, I often forgot it was there and wore it into the shower. Luckily, the Luxe is water-resistant up to 50m and swim-proof.
As a general note on Fitbits generally, I've found that if you use the strap that comes with the device (known as the Infinity strap) and don't clean it and the bottom of the actual tracker regularly, a red itchy rash appears on your wrist. However, as noted, the tracker is water-resistant so this shouldn't be an issue.
Battery life and charging the Fitbit Luxe
The battery life on the Fitbit Luxe lasts for about five days, according to the brand, and I found this to be pretty accurate in my testing. While other Fitbit models like the Charge 5 and Versa 3 will last for well over a week if you just leave them to track workouts independently on your wrist, the Luxe runs out of battery without too much effort.
Charge time for the Luxe is two hours, which is relatively standard across the range. Overall, I didn't find the battery life to be a major hindrance and much like charging your phone every evening, you've just got to remember to do it.
Like all other Fitbit models, the charging system is super simple. One USB cable connects to any head that goes into the mains, with a magnetic receiver on the other end for the watch. Even some of the best fitness trackers don't have something so easy to use.
What features does the Fitbit Luxe have?
These are the best features offered by the Fitbit Luxe:
All-day Activity tracking: Track your heart rate, calories burned, steps, and distance through the whole day automatically.
20 different exercise programs with SmartTrack, so you'll be tracking your workouts even when you don't enable the program.
Active Zone Minutes
Daily Readiness Score
Menstrual Health Tracking
Irregular Heart Rhythm Notifications
Oxygen Saturation (SpO2) Monitoring
Stress Management Tools, including Mindful Minutes and Guided Breathing
Sleep Stages and Sleep Score
Skin Temperature Variation
Call, Text & Smartphone Notifications
The Luxe has an impressive number of features for such a small device. As a result, many of the stats and information about your exercise and wellbeing are only available to view through the Fitbit app, but this is free to download and offers loads of other useful features - like workouts, wider health-orientated tutorials, and nutritional tracking.
Is the Fitbit Luxe worth buying?
Yes, the Fitbit Luxe is an excellent choice for anyone looking to buy a discreet and simple fitness tracker that offers all the basics, from step count and calories burned to alarms and timers, alongside more advanced wellbeing-orientated features.
The Luxe has a higher price tag than many of the other Fitbits when it's not on sale at full price and not one of the many Fitbit deals available online. But, if these features are important to you, then it's worth the extra investment if your budget allows for it.
A digital health journalist with over five years experience writing and editing for UK publications, Grace has covered the world of health and wellbeing extensively for Cosmopolitan, The i Paper and more.
She started her career writing about the complexities of sex and relationships, before combining personal hobbies with professional and writing about fitness. Everything from the best protein powder to sleep technology, the latest health trend to nutrition essentials, Grace has a huge spectrum of interests in the wellness sphere. Having reported on the coronavirus pandemic since the very first swab, she now also counts public health among them.