The 7 Fitbit types: which one will suit you best?
Our guide to all the different Fitbit types will help you choose the right fitness tracker for you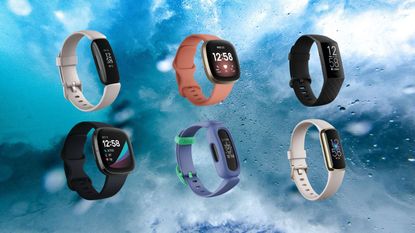 (Image credit: Future)
If you're on the hunt for a Fitbit, you've come to the right place. We break down all the different Fitbit types on the market—so you choose the right one for you, and kickstart your journey to hitting your health and fitness goals.
Stylish, simple and easy to use, it's no surprise Fitbits are among some of the best fitness trackers out there and are a popular choice among fitness fans.
The brand has continued to evolve over the years, and now there are several different Fitbit types to choose from. With every new update comes a new feature that can help us monitor and track our health and fitness a little clearer, from better sleep analysis to music streaming abilities.
The brand's line-up now consists of a whole range of fitness trackers, smartwatches and even scales—all of which can help you track your progress, whether you're walking for weight loss, dipping your toe in strength training, or turning to Pilates for weight loss.
Starting life as a tracker, the original Fitbit design features a smaller, slimmer wristband while the smartwatch design is a little bigger and bolder, designed for better interaction with other apps, such as music streaming services, contactless payment and more.
Fitness trackers and smartwatches have similar features, but smartwatches tend to have even more functions that can help you prioritize your health and wellbeing by helping you track your sleep and understand how to sleep better, keep track of your menstrual cycle and take time out for mindful moments during the day through on-screen guided breathing meditations.
Here we explore all the different types of Fitbits and who they are best suited to.
Fitbit Smartwatches
Fitbit Versa
Among the best fitness watches, this smartwatch series is a bit of an all-rounder. It's ideal for those who want to monitor daily activity, but who also track wider lifestyle goals.
The Versa tracks your activity throughout the day—in steps, distance, and even floors climbed and calories burned. It also tracks the intensity of your workouts, whether that's a couch to 5k run or at-home workouts, monitors your heart rate and sleep, and has a menstrual cycle tracking feature.
The latest version of this particular Fitbit type, the Versa 3, has fresh features too, including a built-in GPS, Google Assistant and Amazon Alexa. It boasts a waterproof design—along with two and five-minute guided breathing exercises to help you unwind.
Available in a range of colors, this smartwatch has a bigger screen than some of the other Fitbits and a long-lasting battery. You can get a full day's charge in just 12 minutes! A must-have feature for those of us who often forget to charge up our tech.
Fitbit Sense
Health-conscious and want a more detailed picture of how your body is functioning The Sense smartwatch is a good option for you.
Deemed an advanced smartwatch, it monitors factors such as your heart health and skin temperature, potentially alerting you to any new illnesses. The watch even has a function to manage your stress levels, made possible through the EDA Scan app, a thoughtful integration that measures and details your body's response to stress. The sensors on the smartwatch's base give you a daily stress score to help you keep track, and encourage users to log how they're feeling daily.
Additionally, if you are looking for a better night's sleep, the Sense will also score your sleep quality every night and track the stage of your resting cycles which you can view and track in the Fitbit app.
Similar to the Versa, the Sense has a large watch face and comes in a range of different colors.
Fitbit Fitness trackers
Fitbit Charge
Some Fitbit are specifically geared towards those who just want to track their fitness and exercise routines. Step forward—the Charge.
Classed as fitness trackers rather than smartwatches, the newest design in Charge the collection—the Fitbit Charge 4—has clever functions such as SmartTrack™ automatic exercise recognition and cardio fitness score, which allow you to track workouts and routes.
The built-in GPS will also give you a more detailed analysis of your workout, with real-time pace and distance results without having to refer back to the app. Other features include reminders to move, sleep analyses, and heart rate tracking. For those who want to know how to lose weight, the calories feature estimates how many calories you burn every day which could be a helpful addition to your nutrition tracking.
Fitbit Inspire
The Fitbit Inspire is great for those who want a slim fitness tracker that still looks stylish. One of the highlights of the Fitbit Inspire range is the built-in sleep tracking abilities that help you better understand your sleep patterns.
Wear the tracker throughout the night and check your Fitbit app when you wake up to analyze your sleep cycles and set reminders for when to go to bed the next evening.
What's more, like with all the other Fibit types, you can track your daily activity, the intensity of your workouts and your stress levels. You can also wear it swimming and the tracker will automatically track your lengths. What's more, you can also receive smartphone app alerts and track your menstrual cycle, which makes it a sort of smartwatch-fitness tracker combo.
Fitbit Luxe
The latest Fitbit launch is the brand's most stylish fitness tracker yet. The Luxe marries intelligent features with trend appeal, ideal for the workout fanatic who's eager to track in style.
Part tracker, part chic wardrobe essential, this launch tracks daily activity, workout intensity, stress levels, sleep patterns and heart rate activity. It also features on-wrist guided breathing meditations for those moments you need some R&R.
Just like with the other devices, you can take a look at all your data on the Fitbit app and set health and fitness goals.
For long-distance runners, it's a must-have as it provides you with real-time insights into pace and distance as you hit the trails via the built-in GPS.
With the Luxe, you'll also get six months of Fitbit Premium to explore even more health insights. Plus, it's got five days of battery life, a clear touchscreen color display, and a snooze mode to mute notifications when you need some headspace.
Fitbit Ace
Fitbit's Ace range is great if you want to show your children the connection between regular movement and the positive effects it can have on the body and mind.
Fitbit's Ace range, including the Ace 3, is a way for children aged six and above, it's easy to use and can help them build healthy habits via a fun interface that tracks their daily activity and sleep patterns.
The brightly colored bands also have parental controls, so you can work on healthy habits as a family. It also can be worn in the water, be it pool or ocean. Bring on the family swimming trips!
Fitbit Smart Scales
Fitbit Aria Air
As a smart Bluetooth scale, the Fitbit Aria Air transcends standard fitness monitoring, offering a full overview of your weight and BMI data. If you're working on your health and fitness, whether you want to lose, gain weight or improve cardiovascular health, the Aria can help you understand your health metrics in a little more detail and track your progress.
By design, the Aria Air syncs with the Fitbit app featured on the brand's wearable devices. When connected, the scale will display activity, heart rate, sleep, and nutrition data in one place. The app also enables users to document nutrition information, examine their calories consumed versus calories burned in real-time, and assess overall health, exercise, and weight patterns to stay on track.
---