The 7 Fitbit types: which one will suit you best?
Our guide to all the different Fitbit types will help you choose the right fitness tracker for you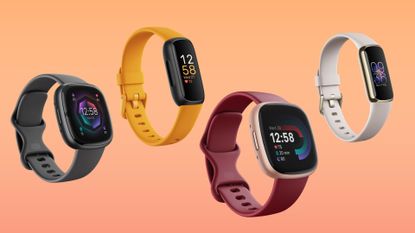 (Image credit: Fitbit)
There are so many different Fitbit types on the market, it can be difficult to decide on the one for you. The brand has continued to evolve over the years, and now there are several different ones to choose from. With every new update comes a new feature that can help us monitor and track our health and fitness a little clearer, from better sleep analysis to music streaming abilities.
The brand's line-up now consists of a whole range of fitness trackers, smartwatches, and even scales - all of which can help you track your progress, no matter what your health goal is. Fitness trackers and smartwatches have similar features, but smartwatches tend to have even more functions that can help you prioritize your health and wellbeing by helping you track your sleep, figure out your menstrual cycle, and take time out for mindful moments during the day through on-screen guided breathing meditations.
If you want to buy one of the best Fitbits and aren't sure of the one to choose or you're looking to upgrade, woman&home has you covered. Here, we explore what a Fitbit is, plus all the different varieties of watch and tracker offered by the brand and who they're best suited for.
Fitbit types: Smartwatches
Fitbit Sense
The Fitbit Sense and the Fitbit Sense 2 are two of the newer smartwatches for the health-conscious among us who want a more detailed picture of how their body is functioning before, during, and after exercise.
Compared to some of the trackers or earlier smartwatch models, the Sense and Sense 2 are advanced smartwatches. They monitor factors such as your heart health and skin temperature, potentially alerting you to any new conditions to be aware of. The watch even has a function to manage your stress levels, made possible through the EDA Scan app, a thoughtful integration that measures and details your body's response to stress. The sensors on the smartwatch's base give you a daily stress score to help you keep track, and encourage users to log how they're feeling daily.
If you are looking to learn how to sleep better, the Sense model is perfect for you. It will score your sleep quality every night, track the stage of your resting cycles, and even detect when your sleep has been disrupted through snoring or noise. These are all insights you can view and track in the Fitbit app, which comes with a free 6-month Premium subscription when you buy the device.
The Sense is very similar to the Versa in many other ways though, including in appearance. Both models have a large watch face with a full-color display, come in an exciting range of colors, and offer six or more days battery life with just 12 minutes of charge.
Fitbit Versa
There are several versions of this smartwatch now: Versa, Versa 2, Versa 3, and the Fitbit Versa 4. We love it here at woman&home because it's such a brilliant all-rounder, ideal for those who want to monitor their daily step count, calorie burn, and keep an eye on their heart rate in and out of exercise, as well as those who want more detailed insights. Aesthetically, it's a smartwatch you can wear casually too, unlike many of Fitbit's trackers, which often have a more sporty design.
The Versa tracks your activity throughout the day, in steps, distance, and even floors climbed and calories burned. It also tracks the intensity of your workouts, whether that's strength training or a run, monitors your heart rate and sleep, and has a menstrual cycle-tracking feature.
The latest version of this particular Fitbit type, the Versa 4, has fresh features too. There are over 40 different workout modes to choose from, which is 20 more than the previous model, along with a Daily Readiness score to rival the WHOOP 2.0, in-built GPS so you can track your run in real time, Google Apps like Maps and Wallet, and 6 months of Premium subscription for free.
It boasts a waterproof design as well - essential if you're a swimmer - and it can provide a two-minute or five-minute guided breathing exercise to help you unwind.
The Versa is available in a range of colors, has a full-color display, a wider screen than the trackers thanks to the square-shaped face, and a long-lasting battery. In fact, much like the Fitbit Sense and Sense 2, you can get a full battery with just 12 minutes of charging time. This is a must-have feature for those of us who often forget to charge up our tech. Plus, if you're deciding between Garmin vs Fitbit and want something that bridges the gap between the two, the Versa is a good choice at a reasonable price point.
Fitbit types: Fitness trackers
Fitbit Charge
The Fitbit Charge 5 is the latest model of the Charge, an upgrade from the Charge 4 and 3 models. It's a tracker designed with fitness in mind but a sleeker, smoother device compared to some of the other trackers, with a rectangular face rather than a square one.
If you're after a high-quality fitness tracker without the bells and whistles of a smartwatch then this could really be the one for you. It has clever functions such as SmartTrack™, an automatic exercise recognition and cardio fitness score, which allows you to track workouts and routes without having to remember to program in your workout from your wrist.
If you're a fan of LISS cardio or running then you'll love the built-in GPS, which also includes real-time pace and distance results without having to refer back to the app. Other important features include reminder to move, sleep analysis, and heart rate tracking software. For those who want to know how to lose weight, the calories feature estimates how many calories you burn every day, which could be a helpful addition to your nutrition tracking and getting into a calorie deficit for weight loss.
Fitbit Inspire
The Fitbit Inspire 3 is an even smaller fitness tracker than the Charge 5. It's lighter than most of the others as well and the straps come in fun colors like orange and lilac. The Inspire is also the only Fitbit compatible with a custom clip, so you don't even have to wear this tracker on your wrist for it to work.
Ideal for those who want a simple daily tracker with many of the best features of a Fitbit but without the same hefty price point of the Versa 4 or the Sense. Currently in its third generation, the Fitbit Inspire 3 retails at under $100, making it the cheapest model in the selection of new releases.
Along with the standard features of heart rate, calorie burn, and step-counting, the Inspire 3 has an Active Zone Minutes feature where you can be sure you know how much exercise you should be doing every week and track your progress. This is also present on all the other Fitbit devices, but it's a highlight for those looking to improve their fitness levels gradually. The Stress Management Score, another great feature, will track your stress levels from your wrist when you're awake just as it reveals your Sleep Score when you're in bed. You can also wear the Fitbit Inspire 3 swimming and the tracker will automatically record your lengths so you don't have to.
You can receive smartphone app alerts and track your menstrual cycle with this device too, which makes it a sort of smartwatch-fitness tracker combo.
Fitbit Luxe
The Fitbit Luxe is the perfect fitness tracker for anyone who wants to be discreet about wearing a fitness tracker. Not only is the low-key interface simple and stylish, you can buy different straps for the Luxe so it looks like jewellery on your wrist.
Part tracker, part chic wardrobe essential, this device tracks your daily activity, workout intensity, stress levels, sleep patterns and heart rate activity just like many of the other top Fitbit types. It also features on-wrist guided breathing meditations for those moments you need some R&R.
Just like with the other devices as well, you can take a look at all your data on the Fitbit app and set health and fitness goals.
For long-distance runners, it's a must-have as it provides you with real-time insights into pace and distance as you hit the trails via the built-in GPS.
While its battery life isn't as extensive as the Versa or the Sense, it does have five days of battery life, a clear touchscreen color display, and a snooze mode to mute notifications when you need some headspace.
Fitbit Smart Scales
Fitbit Aria Air
The Fitbit Aria Air is a smart Bluetooth scale, meaning it transcends standard fitness monitoring and offers a full overview of your weight and BMI data. If you're working on your health and fitness, whether you want to lose or gain weight, or improve cardiovascular health, the Aria can help you understand your health metrics in a little more detail and track your progress.
By design, the Aria Air syncs with the Fitbit app featured on the brand's wearable devices. When connected, the scale will display activity, heart rate, sleep, and nutrition data in one place. The app also enables users to document nutrition information, examine their calories consumed versus calories burned in real-time, and assess overall health, exercise, and weight patterns to stay on track.