The best high-impact sports bras: 12 supportive styles to invest in this year
The best high-impact sports bras offer support for whatever you do, from HIIT to running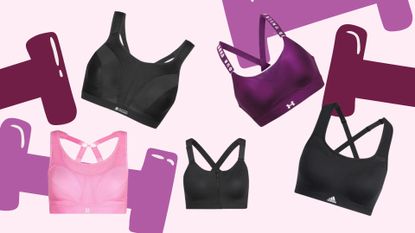 (Image credit: Sweaty Betty, Shock Absorber, Under Armour, Adidas)
The best high-impact sports bras need to have enough support to see you through the most intensive of workouts, from running and sprinting to HIIT workouts, boxing, and more. But high-impact support shouldn't equal a compromise on comfort or an aesthetically-pleasing design.
A well-fitting, comfortable sports bra is a workout essential. Sports bras support your alignment and posture as you exercise, so you can focus on your workout of choice, rather than distracting thoughts of an uncomfortable fit or worrying that you're not supported enough. But with so many activewear brands to choose from with a range of sports bras available, it can be difficult to know which bra will best suit your needs, especially when it comes to preparing for a more intense style of workout.
Like the best sports bras, these high-impact sports bras will offer comfort, design, and ultimate support for all manner of high-energy exercising. Our list below spans a wide range of prices, materials, and styles, with bras from top brands such as Nike, Under Armour, Gymshark, Sweaty Betty, and more.
How we tested and selected the best high-impact sports bras
Why you can trust Woman & Home Our expert reviewers spend hours testing and comparing products and services so you can choose the best for you. Find out more about how we test.
As someone who regularly runs and works out at a high-intensity, including in HIIT classes, and as a shopping writer at woman&home, there were a few factors I knew to be important when testing the best high-impact sports bras.
I also consulted with Rachael Sacerdoti (opens in new tab), a personal trainer and wellness coach, to advise on the practicalities of shopping for a sports bra. "It's important to concentrate on two things," she tells me. "Your bust size and the activity you will be using it for." With this in mind, I looked at the following criteria:
Support: This should, unsurprisingly, be at the top of the list for consideration. These bras are used for high-impact exercises such as running, sprinting, and jumping, so they need to have enough built-in support to make you feel comfortable without the fear of anything falling out of place. Support for your chest is also important health-wise, as you could hurt yourself by wearing a sports bra that isn't suitable for this sort of exercise.
Material: When considering the material of these bras, comfort was a big factor, but it was also important that the material was sufficiently sweat-wicking, too. Doing high-impact exercises are more likely to get your heart rate up, so it makes sense that high-impact sports bras should be able to absorb the extra sweat that will probably be involved.
Comfort: While high-impact sports bras will usually feature more compression than those designed for lighter exercises, there's no reason why they should be any less comfortable. I rarely wear a 'proper' bra, preferring to wear comfy bralettes and my favorite supportive sports bras day-to-day, not just when working out. The best high-impact sports bras should be able to support you through an intense workout, while also being comfortable enough to wear outside of the gym.
RRP: As anyone who shops bras, in general, will know, buying for a bigger chest can (unfairly) cost more than for those with smaller boobs. The same can apply when shopping one brand over another and opting for a higher-quality material over lower-quality materials. It makes sense to spend a little more on a bra that will last you through many a workout, but equally, I made sure to test a lot of brands with affordable gym wear options that don't break the bank.
The best high-impact sports bras, tested by us
1. TALA Solasta Seamless Sports Bra
Best high impact sports bra overall
Specifications
RRP: $38.78 / £32
Materials: Upcycled polyamide, Elastane
Sizes available: XS, Small, Medium, Large, XL
Reasons to buy
+
Highly supportive, compression fit
+
Stretchy material
+
Made by a sustainable activewear brand
As a sustainable activewear brand that's made waves in the industry, TALA certainly doesn't disappoint, across all its products. I'm a big fan of the brand's cycling shorts and leggings, but my absolute favorite product of theirs is their Solasta sports bra. I've got three different colors, and in the summer I basically wore them on rotation when I didn't want to put on an uncomfortable bra that would bunch up and fail to stop sweating. I've worn this bra to lift weights, run sprints, jog, do pilates, and even climb Mount Snowdon. I'm yet to find a bra that's just as supportive, flattering, and comfortable.
This is a 'compression' sports bra, but that doesn't make it any less comfortable. The material is a fairly thick, super stretchy upcycled Polyamide, and the band that sits across my ribs is wide enough that it stays in place throughout any workout, without the need to keep yanking it down. You absolutely can wear this bra as a top while working out, as you don't really need anything on top of it. Even as someone with a 32E chest, the bra comes up high enough to cover my cleavage without being restrictive and the bottom of it sits low enough that it's basically like a crop top for the gym.
If you're slightly put off by the idea of a high-compression bra, I've found that sizing up can give you the option of a slightly looser fit. I'm around a US size 6, and I've purchased two of the Solasta bras in a size Small for a snug, super-supportive fit, but after buying one in a size Medium as well, I now tend to wear this roomier option for something like a low-impact yin yoga class or a heavy strength training session. I honestly love this bra and I've sung its praises to everyone I know since I got it. Plus, the fact that TALA is wholly committed to inclusion, diversity, and sustainability practices within the activewear industry is just another string to the brand's bow.
2. Shock Absorber D+ Max Support Sports Bra
Best high impact sports bra for large breasts
Specifications
RRP: £42 / $65
Material: 57% Polyamide, 39% Polyester, 4% Elastane
Sizes available: 32D - 40H
Reasons to buy
+
Good size range for larger chests
+
Padded and adjustable straps
+
High compression for maximum support
It's not always easy to find supportive and comfortable sports bras when you have a larger chest, but there's no reason why those with big boobs should struggle to find one of the best high-impact sports bras, either. Our tester, health editor Grace Walsh is a size 34GG and she loves the Shock Absorber D+ Max Support Bra, having been buying it for years. "It's just next level in terms of support, so it's a great all-rounder", she says, noting that this is her choice for the best sports bras for larger breasts overall. This Shock Absorber choice is available in cup sizes D-H, with a back size of up to 40 inches, so this is also a great option if you're looking for a plus-size sports bra.
"This is definitely a bra for those who like to jump about during their workouts," she says, noting that it's "a full-coverage bra, with contoured, blanket-like strapping support across your chest so you avoid the dreaded mono-boob look without them actually being separated by underwire. The thick shoulder straps offer a long range of length, too". Grace also loved the triple-hook-and-clasp system on the back of the sports bra as it adds that extra level of support.
"If you're only going to buy one high-impact sports bra or a sports bra in general for bigger boobs, I'd honestly suggest this one. I've worn it for everything over the years, from running a half-marathon to boxing, strength training, and spinning. It's just the perfect catch-all sports bra."
3. Nike Training Indy Swoosh Mesh Bra
Best Nike high impact sports bra
Specifications
RRP: $35.82 / £30
Material: 72% Polyester, 28% Elastane
Sizes available: XS, Small, Medium, Large, XL
Reasons to buy
+
Soft, sweat-wicking material
+
Removable pads
+
Stretchy feel
Reasons to avoid
-
Sizes aren't measured by bra size
-
Straps are a little thin
Nike is well-known for being an affordable yet high-quality sportswear brand, and this high-impact bra is no exception. The Indy bra would be great for someone with a smaller chest, but I also found it supportive for me at a 32E. However, it should be noted that you'll experience a slightly more low-cut fit if you do have bigger boobs, which is definitely flattering but might not be for everyone.
The band that sits under your boobs is stretchy and not too thick, but still keeps everything in place during high-impact exercises, and there are four colors available of this bra. I especially loved the deep, royal blue colorway, with a subtle Nike tick on the left cup.
As soon as I felt the material of this sports bra, I knew it would sufficiently absorb sweat, and it didn't disappoint. The mesh panels on the sides of the cups and down the center of the front ensure breathability and mean that sweat doesn't pool as you work out. On the inside of the bra, there are also tiny holes across the material, which enhances the breathable aspect even more. You can easily remove the pads underneath this material too, but as they weren't too thick or uncomfortable, I decided to keep these pads in for extra support.
My only gripe with this Nike bra is that the straps are a little thin. While I found that this made it the perfect sports bra to wear underneath 'normal' tops (the blue color would look great peeking out from a crop top in warmer weather) it would've been good to have slightly thicker straps for high-impact exercises, just for that extra bit of reassurance. However, this is a really comfortable yet supportive bra that also looks great.
4. Empreinte Collection INITIALE Sports Bra
Best plus-size high impact sports bra
Specifications
RRP: $131.39 / £110
Material: 84% Polyamide, 16% Elastane
Sizes available: 28E - 42F
Reasons to buy
+
Molded cups
+
Fully adjustable, thick straps
+
Back size goes up to 42
Reasons to avoid
-
Expensive compared to other options
The best plus-size lingerie is supportive, comfortable and flattering, and plus-size sports bras should be no different. This maximum-support option from Empreinte has a soft, supportive underwire, with cups that range from sizes C to H and a back size of up to 42. The straps can either be worn in a racerback style or as a standard bra fitting, but the sweat-wicking, quick-drying fabric is definitely suited for high-impact exercise, as it molds to the shape of your chest without being restrictive or digging in anywhere.
Made from a mix of polyamide and elastane, the super-stretchy material of this bra ensures comfort for larger chests, while still being flattering. The seam down the middle of the bra's front makes this an encapsulation bra, which means that each breast is supported. The thick straps and back panel sit comfortably.
I also loved how the straps are fully adjustable, whichever style you choose. While it's not quite as suited for energetic workouts as, say, the Shock Absorber D+ Max Support Bra, this Empreinte option will definitely support you through exercises such as running, sprinting, jumping, and other cardio workouts, while its soft material means it's comfortable enough to wear for long periods of time.
The activewear industry still has a way to go before it becomes fully inclusive of all shapes and sizes, there have been big changes in the last few years which have seen more and more sports brands offering workout clothing to fit a wider range of customers.
5. Women's UA Infinity High Sports Bra
Best Under Armour high impact sports bra
Specifications
RRP: $59.75 / £50
Material: 87% Polyester, 13% Elastane
Sizes available: XS, Small, Medium, Large, XL
Reasons to buy
+
Racerback style as well as a hook-and-eye clasp
+
Supportive, thick band
+
Great value for money
For a supportive, flattering, and comfortable high-impact sports bra, this was one of my favorites of all the ones I tested. The UA Infinity High Sports Bra features thick, stretchy straps that sit on the shoulders and trace back into a racerback style, but there's still a clasp along the back of the band, so you don't have to wrestle the bra over your head. The cups feature light, molded padding, which can't be removed - but I found that all this offered was more support and a comfortable feeling of being 'strapped in', without creating the effect of one of the best push-up bras or feeling too restrictive. This subtle molding, along with the thickness of the material, makes this a highly supportive option.
As opposed to the Nike Indy Training Bra, the UA Infinity bra does sit a little bit higher on the chest, but it still has a super flattering fit that shows a little cleavage without giving you the feeling that you're going to spill out over the top of the bra. The only downside of the bra is that the hook and eye closure of the clasp on the back of the bra is quite thick and obvious, especially if you were to have the closure on the loosest setting, and I think it could get a little uncomfortable if you were sat with your back against a hard surface for a while. However, considering this bra is best - in my opinion - for activities like running, sprinting, and high-intensity exercises, I don't think the comfort level of the bra would be compromised by this minor fault in the long run.
In terms of sizing, I would say that this Under Armour option comes up smaller rather than on the large size, possibly due to the level of compression the bra offers. I wore a size Small in this bra as a 32E and found that with a little adjusting of the straps, it was the perfect fit. While the material is very comfortable, it's not exactly stretchy - much less so than, for example, the TALA Solasta bra - so getting the right size for this one is really important.
6. Adidas TLRD High Support Training Bra
Best Adidas high impact sports bra
Specifications
RRP: $53.77 / £45
Material: 79% Recycled polyester, 21% Elastane interlock
Sizes available: 2XS (A-C) - XL (D-DD)
Reasons to buy
+
Molded cups which sculpt your chest
+
Soft, stretchy material
+
Subtle Adidas logo
Reasons to avoid
-
Not quite as highly supportive as other options in this list
Fans of the sportswear brand Adidas looking for a high-impact sports bra will be pleased to see the TLRD High Support Training Bra at a reasonable price. It's very similar to the Under Armour option, with racerback straps and a hook and eye closure. But, as the thick straps aren't too stretchy, I found it easier just to pull the bra on over my head rather than clasp it beforehand. The padding on this bra is built-in, rather than in the form of removable cups, but I found that the cups were easily moldable and provided a good level of support without being restrictive.
I loved the sculpted feel of this bra, and because of this, it made its way onto our list of best high-impact sports bras. I feel like it would work for a lot of different sizes. The sizing offered is impressive in its range, including sizes of 2XS - 2XL for each cup size from A to DD. While I feel slightly more supported in an option like the Shock Absorber D+ sports bra, this Adidas bra is definitely suited for running, sprinting, burpees, and more. I also love the simple design, with a subtle decoration of Adidas stripes on one side and a small logo at the front. The black color means it would look great with a range of the best workout leggings.
7. FALKE Maximum Support Sports Bra
Best high impact sports bra for running
Specifications
RRP: £73 / $88.41
Materials: 70% Polyamide, 30% Elastane
Sizes available: XS, Small, Medium, Large, XL
Reasons to buy
+
Stretchy but supportive material
+
Sculpted and molds to your shape
+
Would be suitable for a range of exercises
Reasons to avoid
-
Could be higher compression
When I'm running or sprinting, I want a highly supportive sports bra that's not going to feel restrictive. This means the best sports bra for running probably isn't going to feature an underwire, since this would probably dig into my ribs after a longer period of time. Instead, I want a thick, stretchy band that sits comfortably under my chest and doesn't ride up, even when I'm sprinting at high speeds. Enter: the FALKE Maximum Support Sports Bra.
A seamless, soft, and sculpted option, this bra is so flattering because it features clever structuring panels on the chest area, and although it's a high-compression sports bra, the elastic material molds to your shape while keeping everything in place. I loved the high neck of this option and found it perfect for running as I felt completely supported. That said, you could definitely wear this bra for exercises such as pilates for beginners, hiking, or weight training, as it's so stretchy and comfortable. It's also worth noting that I wore this bra not just for working out but also underneath a crop top when I went to a concert one evening and I can definitely attest to its sweat-wicking capabilities in both scenarios. While it's not the cheapest bra, I could see this option lasting for a long time and the fact that it can be worn for so many different purposes is a huge plus.
8. Adidas TLRD Impact Luxe Training High Support Zip Bra
Best high impact sports bra with zip front
Specifications
RRP: $77.65 / £65
Material: 79% Recycled polyester, 21% Elastane interlock
Sizes available: 30A - 48E
Reasons to buy
+
Huge array of sizes
+
Zip moves easily
Reasons to avoid
-
Not quite as comfortable as the Adidas TLRD black option
Much like the Adidas High Support Training Bra, this white option from the popular sportswear brand has soft, molded cups that aren't removable but provide gentle support while also being very flattering. The zip which runs down the middle of the chest is easily moved up and down. I found that it didn't get stuck, which isn't always the case with sports bras that feature zips. Another thing I loved about the bra is just how soft the material is: for such high-impact support, there's no compromise on the comfort level of this bra.
Testing this sports bra while doing a HIIT workout, I found that the bra was very supportive, though it didn't have the compression feel of some other options on this list like the TALA Solasta bra. Instead, it's a more sculpted, comfortable fit, but I still felt that it would be great for running or sprinting. The zip element of the bra means that you can adapt how much cleavage you want to show and how supportive the bra is. Even just the aesthetic appeal of the zip was pleasing to me and I felt it made this simple white racerback option more interesting to look at.
9. Gymshark Cut Out Back High Support Sports Bra
Best white high impact sports bra
Specifications
RRP: $53.76 / £45
Material: 78% Polyester, 22% Elastane
Sizes available: 32B/C - 42D/DD
Reasons to buy
+
Very breathable
+
Stretchy material
+
Molded cups
Reasons to avoid
-
White color could put people off
White sports bras might not be the obvious choice for exercises that are likely to have you sweating. If you're used to getting sweaty while working out, you'll know that the look of sweat patches on white material isn't exactly the most flattering. For that reason, you need a white sports bra like the Gymshark Cut Out Back High Support Sports Bra. It has high sweat-wicking abilities and is made from a good-quality material that isn't going to be compromised by perspiration.
I'm not embarrassed to say I'm a very sweaty gym-goer and I tested this white bra while doing a very high-impact, cardio-heavy workout. Not only did the racerback design and stretchy material make for a super comfortable high-impact sports bra, but I found that it was also really breathable, which is ideal if you don't want sweat to build up during your workout with no option for ventilation. The open-back design also meant that the bra wasn't suffocating while I worked out and the band that sat under my bust was really thick and moisture-absorbing.
The bra has a slightly more revealing fit than I'd probably reach for when headed for a run or planning to do some sprinting but I was really impressed with the quality of this white sports bra, and I'd definitely feel comfortable getting a sweat on while wearing it.
10. Sweaty Betty Ultra Running Bra
Best high impact sports bra for comfort
Specifications
RRP: $65.71 / £55
Material: 100% Polyamide
Sizes available: 30A - 38F
Reasons to buy
+
Non-padded for comfort
+
Can be worn as racerback or U-back
Reasons to avoid
-
Not a big range of sizes
It's not generally recommended to wear a high-impact sports bra every day, as their higher level of compression means that they may feel restrictive. But honestly, I could wear this Sweaty Betty option all the time. The Ultra Running Bra looks quite similar to the Shock Absorber D+ Max Support Bra but it's made from a slightly thinner, more malleable polyamide material. The high support cups are molded to your shape and the adjustable straps can be worn as a typical bra style or a racerback style. This is definitely a high-compression bra but not so much that I ever felt restricted while wearing it.
To see if it held up to its name, I wore this bra whilst on a run and I found that I felt really supported while never having to yank down the stretchy band that sat underneath my chest.
I think it's actually the band on this bra that makes it so comfortable. It's not too thick or very low-sitting, and I would definitely wear this underneath another sports top, rather than as a stand-alone bra for working out. But the fact that it's a thinner band than, say, the TALA Solasta bra, means that it sits comfortably underneath my boobs without being an awkward length that digs into my ribs or causes sweat to pool in uncomfortable places.
The front of the shoulder straps on this bra is also fairly thick, though they merge into a thinner strap at the back. But these thicker front straps do mean that a larger chest will definitely be supported and there's no chance of the material digging in. Even though it's a running bra, I plan to wear this bra for pilates, weightlifting, and when I do walking as a workout, as it's the perfect mix between a snug, comfortable fit and a high-quality compression bra that keeps everything in place no matter what you're doing.
11. Gymshark Racerback High Support Sports Bra
Best racerback high impact sports bra
Specifications
RRP: $47.79 / £40
Material: 100% Polyester in the cups, 75% Nylon and 25% Elastane in the mesh
Sizes available: 32B - 42D/DD
Reasons to buy
+
Molded cups
+
Comfortable material
+
Lightweight
Reasons to avoid
-
Quite padded which might not be for everyone
One of the best things about this racerback option from Gymshark is how easily adjustable it is. Along the back of the band, the fastening can connect to five different places along either side, meaning that the width of the band can be as tight or as loose as you like. The band is also extremely stretchy, so although this high-impact sports bra has a supportive fit, it's also really malleable. The material that sits across the back is a double-layered, moisture-wicking meshed nylon, and there are two small holes that allow more ventilation as you work out.
My favorite thing about this bra is that, unlike lots of sports bras, the racerback straps can't be adjusted. Flexibility comes from the band of the bra instead, leaving the straps free of any fastenings. This meant that when I did a HIIT workout in this bra and needed to lie on my mat for exercises such as crunches, nothing was digging into my back. The lightweight material of the bra's back was also really comfortable to wear. On the cups, the polyester material is a little thicker and has that moldable feel which really sculpts and supports the chest.
If I were to choose a high-impact sports bra for running, I'd probably be more likely to reach for the M&S GoodMove bra (if you order from the UK) or the FALKE option, but if I wanted a more comfortable, breathable bra that could see me through a sweaty HIIT workout or high-intensity exercise class, I'd definitely choose this one.
12. M&S GoodMove Ultimate Support Serious Sports Bra
Best underwired high impact sports bra
Specifications
RRP: £28 / $33.45
Material: 87% Polyester, 13% Elastane
Sizes available: 32A - 42E
Reasons to buy
+
Very supportive
+
Great price
Reasons to avoid
-
Some people might not want an underwire option
The most comfortable bras are often styles that omit underwires entirely, so the idea of wearing a sports bra that featured an underwire was slightly baffling to me. I was pleasantly surprised though, and am definitely now a convert to this style of high-impact sports bra - this M&S option was one of the best bras I tested.
I wore this bra while doing a 20-minute at-home workout that included exercises like running on the spot, burpees, and jumping squats. Despite the intensity of this workout, I felt completely supported by this bra the whole workout, with the underwire providing the right amount of support for my chest without digging into me or leaving any marks. I wouldn't say the bra is padded, but the cups are made of a fairly thick but soft material, which I found to be incredibly sweat-wicking. The straps are fully adjustable, and I found the bra to be very true-to-size (even as someone who can be in-between bra sizes sometimes).
I can't believe I was ever suspicious of this type of sports bra. I've worn this in my day-to-day several times now, not just for exercising, as it's just so comfortable. At such a reasonable price as well, I'm so impressed with this bra.
How to choose the best high impact sports bra for you
Size: When you go to buy a high-impact sports bra, opt for your regular bra size to begin with. If you don't know what this is, many big-name retailers will have bra fitters in store and they'll be happy to measure you. Alternatively, measure yourself at home.
Support: Don't compromise on high-impact sports bras and go for something that's medium or low support if you know you're going to be doing lots of running and jumping around - or you just want one bra to suit all needs. After all, you can wear a high-intensity bra for yoga but most people can't wear a low-intensity bra for running.
Style: High-impact sports bras don't tend to be the cheapest around, especially if you have larger boobs, so when choosing yours, make sure you find a style that works for you. Whether that's the classic bra style or a racerback, you'll want something you like the look of and find easy to get on and off. Some sports bras double up as a workout tops too and some are designed to be worn underneath another top for exercising.
Closure: Many high-impact sports bras come with hook and eye closures on the back strap but overhead designs are also common. Find the closing mechanism that works best for you, the support you need, and your mobility.
What are high impact sports bras for?
High-impact sports bras should be comfortable but supportive enough to see you through those explosive exercises that require things like jumping. Sacerdoti explains, "High-impact sports bras are designed to compress and provide us with extra support whilst undertaking high-intensity physical activity that requires a lot of bouncing. They reduce discomfort, lessen breast movement, and can help to prevent some types of injury."
Even if you don't have larger breasts that tend to move around a lot as you exercise, it's still really important to make sure that your chest is supported during physical activity, especially if your workout of choice includes exercises like burpees, sprints, and jump squats, for example.
"It's important to protect the breast tissue and ligaments, as these hold your bust shape," Sacerdoti tells us. "Making sure you have adequate support is vital." If you're wondering how to wear a sports bra, you should also make sure you know your correct size when purchasing a high-impact sports bra. "It's definitely worth getting refitted for your bra size regularly as your size can fluctuate, especially if you have been lifting weights and working out a lot."
Can you wear a high-impact sports bra all day?
Some of the options in this list are definitely comfortable enough to wear outside of the gym, but when it comes to wearing a high-impact sports bra every day, Sacerdoti says she "certainly wouldn't recommend it, as the tighter fit can put unnecessary pressure on your shoulders and back muscles, causing pain which in turn can play havoc with your posture."
Her recommendation? "Use them during your most intense workouts only, and if you want something to wear all day, choose a softer, less supportive sports or lounge bra, made from a breathable, quick-dry fabric."
How tight should a high-impact sports bra be?
"Your sports bra should hold with a firm structure but it shouldn't restrict anywhere front or back. By this I mean it should be a tight enough fit to provide ample support and minimize movement during your high-impact activity, but not so tight that it causes discomfort or restricts your breathing," the personal trainer suggests.
If you find yourself unable to perform high-intensity exercises without the feeling of restriction or discomfort, your sports bra is probably too tight.
Hannah is the UK Shopping Writer for woman&home. As a shopping writer, Hannah has written on everything from period pants to wine subscriptions, and is especially interested in sustainable alternatives to well-known products, as well as books and homeware accessories.
Before she joined the team at woman&home Hannah headed up the social media accounts for Wonderland in 2019, where she was also a Contributing Editor for the magazine's sister titles. During the COVID-19 pandemic, Hannah also explored evolving shopping trends at New York Magazine's The Strategist UK, researching everything from face masks to status candles and even pens.