How to wear a sports bra depending on the design, with tips from the experts
Experts explain how to wear a sports bra, whether it's back closer, racerback or convertible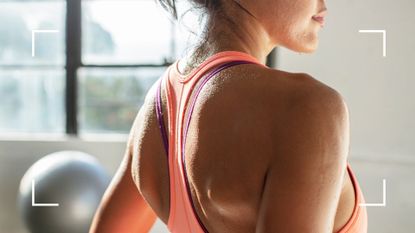 (Image credit: Getty Images)
woman&home newsletter
Sign up to our free daily email for the latest royal and entertainment news, interesting opinion, expert advice on styling and beauty trends, and no-nonsense guides to the health and wellness questions you want answered.
Thank you for signing up to . You will receive a verification email shortly.
There was a problem. Please refresh the page and try again.
When it comes to how to wear a sports bra, the design and how tight it is will determine the best way to put it on. Unlike regular bras, where everyone has their way of getting it on. Back clasp, racerback, crop top, and more, we'll tell you how to wear sports bras of all different kinds.
It may be hard to believe, but sports bras were only invented in the late 1970s. Linda Lindahl, a university student, took up running and couldn't find adequate support in her local bra shop - so she tied two jockstraps together. The invention enabled millions more women to take up sport and 50 years later, many of us wouldn't think to exercise without one.
Sports bras have come a long way since then, with major sports brands now selling some of the best sports bras out there. There's even an uptick in those offering the best sports bras for bigger boobs. But that doesn't mean putting one on has got any easier. So, whether you've just got a new sports bra or want to try out a different design, this is what you need to know about how to wear a sports bra - according to activewear founders and a personal trainer.
Why should you wear a sports bra?
By supporting the breast tissue during exercise, you will vastly reduce any discomfort that you would feel without specialized support, explains personal trainer Lotti Sorrell (opens in new tab). "This means you can train for longer, train harder, and most importantly, enjoy the experience of training more."
Studies in association with Kyoto Women's Junior College (opens in new tab) have also shown that wearing a support sports bra reduces the activity of the pectoral muscles that goes on in the background while you work out. "This may sound counter-intuitive," Lotti says, "But reducing the background activity of the pecs actually means you'll have more energy for your workout, less muscular fatigue in this area, and you can generally perform better as a result."
On top of this, sports bras are specially designed to deal with sweat and moisture, she adds. "They keep your skin healthy while you workout - unlike regular bras which won't be as breathable."
So whether you're wearing a sports bra to try out pilates for beginners or you're taking on a challenge like nordic walking, these are the different types and how to wear them.
How to wear a sports bra
1. Back closure sports bras
The process is just the same as a normal bra. Whether you put your arms through the straps, boobs in the cups and then fasten at the back, or fasten around your middle, swivel round and then pull up over your shoulders, they go on just the same. Start at the tightest hook if you can and adjust once the bra is on.
"When it comes to the perfect fit, the bra should be tighter than a regular bra, but not so tight that your breathing is restricted," says Courtney Black, founder of Sofina Active (opens in new tab). "If you are spilling out of the cup, even after adjusting it, it's an indication that the bra is too small. You want to feel comfortable and supported while moving around, straps should not be falling down or be pulling too tight."
However, when figuring out how to wear a sports bra of this kind, it's important to be aware that a compression back closure sports bra may be harder to get on than an encapsulation sports bra. Encapsulation sports bras look most like typical bras, with two cups to hold each of your boobs separately and supportively.
Compression sports bras are (as the name suggests) thicker, as they pull your boobs into your chest. Even though they are one of the best high-impact sports bras, they can look a little more like the crop top style. They tend to be tighter much tighter from the first hook as well. This shouldn't change how you put them on though, just be prepared to have to pull a little more.
2. Crop top sports bras
These are normally the easiest type of sports bra to put on as they go over your head like a regular top, just tighter. So firstly, hold the bra out in front of you upside down so the straps are pointing to the floor. Then put one arm at a time through the armholes, pulling the bra on over your head.
At this point, the bra should be sat just above your boobs. Pull it down until it covers them and you feel supported.
It's important to note, however, that this type of bra is likely to feel a little less supportive overall compared to other styles. It's one of the reasons why crop top bras often become must-have pieces in the list of most comfortable bras to wear.
"These are more like pullover pieces, so they won't have adjustable straps or an adjustable back, two vital pieces for getting a personalized fit," Lily Rice, creative director at climate-positive brand Presca Sportswear (opens in new tab), says. "Many of these bras are only suitable for very small chested women doing a low-intensity activity."
3. Racerback sports bras
When it comes to how to wear a sports bra, the racerback style can go two different ways. One, if it's a crop top racer back-style sports bra then you pull it on the same as you would a crop top: over your head, arms through the holes, and under your boobs. If it's a racerback style that has a back closure, that's harder.
You'll need to start by pulling the bra on over your head, arms through the holes. Then if you can, reach around behind you and try to fasten the hook and eye system together on the tightest one - or whichever one feels the most comfortable for you.
Some racerback sports bras have J hooks midway up the shoulder straps on the back to turn them from a standard back closure bra into a racerback. To get these in place, if you can, lift your arms above your head and bending from the elbow, reach behind you to fasten the hook. If this isn't an option, you can fasten the J hook before putting on the bra and then put it on as you normally would a t-shirt or sweater.
4. Convertible sports bras
Convertible sports bras are very similar to racerback but they have two individual straps that can cross the back, rather than one strap split two ways. They're also fully adjustable, meaning you can hook the straps into the underband or cups of the bra in any way that you choose - typically as a racerback or as a normal, double strap bra.
But because they often have hooks on the underband or top of the cups for the straps to slide into, they can be harder to put on once already fastened up at the back. So if you want to know how to wear a sports bra of this type, it's easiest to start with the bra's underband just done up around your middle, hook-and-eye clasp system touching your belly button.
To fasten the shoulder straps traditionally, reach behind and fasten the hook attached to the strap through the loop on the underband of the same side. To make it racerback, which can be more supportive for those with bigger boobs, fasten the hook to the loop on the opposite side. Then swivel the bra around so the cups are facing you.
Grab one of the cups in each of your hands and lift upwards so you can put the bra on, then slide your arms through the holes that the shoulder straps have made. A good way to know that you've done it right is if the shoulder straps lie flat against your back, rather than twisted. If this happens, start the process again.
Should you size up or down in sports bras?
While it might be tempting to size down in your sports bra to keep your boobs in place, avoid doing this. Sports bras are made to be naturally tighter than normal bras so sizing down could mean it compresses your breasts too much to be comfortable, or your boobs don't fit so the bra doesn't do its job.
There are some cases where you will need to go up or down a size though. "If you can easily get one finger stacked under your underband, or if any of your breast tissue is escaping out of the bottom of the bra's underband, or if the underband is rising up at the back even on its tightest setting - go down a size," suggests Lizzie Gordon, CEO, and founder sustainable sports bra brand B.X.M (opens in new tab).
"Conversely, if your underband is causing you difficulty breathing or excessively cutting into you when on the loosest setting then you need to go up an underband size."
Ultimately, the best bra finds a balance between comfort and security so if you find that balance then you've found your size. "Your sports bra should prevent any discomfort, without restricting movement, which is actually quite a tall order considering that every body is vastly different in size, shape, and movement style," Lotti says.
How do you know if a sports bra fits correctly?
Whether your sports bra fits correctly is basically down to how you feel in it. As PT Lotti says, it should be tight and supportive without being uncomfortable or restricting. If you're unsure whether your sports bra fits you, ask yourself these questions:
Is it too tight? - "A sports bra shouldn't be too tight," says Dharmesh Suraj Bali, founder of activewear brand Havah (opens in new tab). "They're made to be tighter than a regular bra but it should still allow you to breathe properly. You should be able to fit two fingers in under the shoulder straps, for example."
How's the cup size? - "Wrinkles on the cup means it's too big and if you're spilling out of the cup, they're too small," Dharmesh says.
Does it pinch? - "Move your arms and upper body to imitate the type of activity you'll be doing. If you feel a pinch, it's too tight and if it's moving around, it's too big."
Does the bra ride up? - "If you put your hands up and the band rides up, it might need adjusting or it's too big. Sports bra are made to be snug," she says.
Is the underwire digging in? - If your sports bra has an underwire, it's important to check how this feels. "The underwire should not pinch or dig in. If it does, it's too tight. Also, make sure that it lays flat below the breast tissue against the rib case."
How much movement should a sports bra allow?
Ideally, you want to minimize breast movement as much as possible. But as with everything to do with women's bodies, every one is different. Someone doing strength training will need a different bra to someone running for weight loss, for instance, as the two exercises are very different in terms of movement.
"It really also depends on activity and breast size," says Lily Rice. "If you're doing a high impact activity such as running, where the breasts are moving repeatedly, you want to look for an encapsulation bra. These will separate and contain each breast preventing side-to-side breast movement as well as up and down."
A digital health journalist with over five years experience writing and editing for UK publications, Grace has covered the world of health and wellbeing extensively for Cosmopolitan, The i Paper and more.
She started her career writing about the complexities of sex and relationships, before combining personal hobbies with professional and writing about fitness. Everything from the best protein powder to sleep technology, the latest health trend to nutrition essentials, Grace has a huge spectrum of interests in the wellness sphere. Having reported on the coronavirus pandemic since the very first swab, she now also counts public health among them.