The '90s denim staple you probably have in the back of your closet is coming back with full force
Denim maxi skirts are set for a resurgence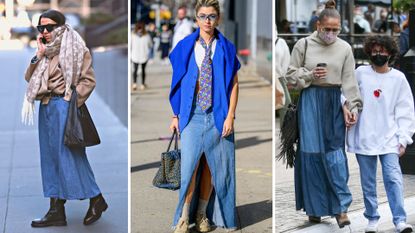 (Image credit: Getty Images)
A '90s closet staple you probably have hidden in the back of your wardrobe are seemingly having a revival - yep, denim maxi skirts are back, baby.
Denim, in whatever form it takes (wide leg jeans, mini skirts, overalls, etc.) can sometimes be tough to wear - literally. Even some of the most comfortable jeans can be quite stiff, leaving little room for the legs to breathe, possibly causing you to discreetly unbutton that top button after a meal (we've all been there).
One of hottest denim trends of 2023, however, will hopefully give a more free-flowing feel to your denim bottoms and have you leaving your best jeans in a drawer for spring. As indicated by the trends at New York Fashion Week, denim maxi skirts are everywhere and are set to be one of the biggest 2023 fashion trends - and they could even be hiding in the back of your closet right now.
When a denim maxi skirt comes to mind, you may think of Britney Spears' legendary all-denim look with ex-boyfriend Justin Timberlake, or perhaps even Jennifer Aniston in one of her many stylish outfits as Rachel Green on Friends. Celebs like Jennifer and Britney paved the way for denim maxis to be popular in the '90s - but now, you're about to see them on everyone.
These maxi skirts are a great staple to have in your wardrobe this spring. For one, they're incredibly comfortable, giving you the style of jeans without the restriction and ever-complicated debacle of finding the right fit.
Plus, these maxi skirts are so versatile, even if you feel like you may not be able to pull it off. Going on a coffee shop date? Pair your denim maxi with your favorite tee and some trendy white sneakers to give your skirt a more casual look. Out to dinner with friends? Your skirt will look super chic paired with your favorite boots and a moto jacket. With denim maxi skirts a key part of the Diesel fall/winter collection during Milan Fashion Week 2023, the styling options are plentiful, making this a worthwhile piece to invest in.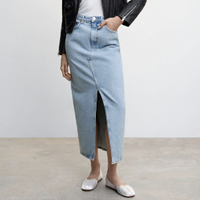 (opens in new tab)
Slit denim skirt, $69 | MANGO (opens in new tab)
Denim style cotton fabric. Straight design. Long design. Medium waist. Five pockets. Loops. Zip and one button fastening. Back-slit hem.
Every day at New York Fashion Week, there were new celebs, models and influencers sporting denim maxi skirts, proving that they are absolutely here to stay. On runways, models were pairing their denim skirts (which came in a multitude of styles from utilitarian to slender and chic) with
Another great aspect of denim maxis is that, similarly to jeans, there are many silhouettes to choose from. If you're feeling as though you want a look that's more curve-defining, you might opt for a slim-fitting skirt that perfectly hugs your silhouette. However, if you're anything like this writer, you probably agree that a looser fit, perhaps with a slit going down the front for maximum air flow, is the way to go.
Suffice it to say, anybody can pull off this uber-versatile and comfortable piece. Even Jennifer Lopez wears denim maxi skirts, which is convincing enough for us to go out and buy one.
Madeline Merinuk is woman&home's US lifestyle news writer. She covers celebrity, entertainment, fashion, and beauty news but is also obsessed with internet trends - you can find her reciting trending TikTok sounds out loud at any given time.
After winning multiple student journalism awards for her investigative work, she graduated from Hofstra University in 2021 with a B.A. in Journalism. After graduating, she worked at today.com, the digital site for the Today Show, where she wrote pop culture news and interviewed big-name personalities like Emily Ratajkowski, Haley Lu Richardson, Emma Corrin, and more.
Her personal interests, in no particular order, are: cheese, Joni Mitchell, reading, hot yoga, traveling, having multiple chapsticks in every handbag at all times, and dancing to ABBA songs as if she were in the Mamma Mia movies.