Moon calendar 2022: Mark your diaries for New Moons, Full Moons, and Eclipses
Moon calendar 2022: If you're obsessed with the lunar cycle and how it affects us, you need to get ready for these important dates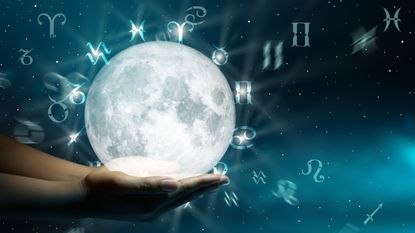 (Image credit: Peach_iStock)
woman&home newsletter
Sign up to our free daily email for the latest royal and entertainment news, interesting opinion, expert advice on styling and beauty trends, and no-nonsense guides to the health and wellness questions you want answered.
Thank you for signing up to . You will receive a verification email shortly.
There was a problem. Please refresh the page and try again.
The Moon calendar 2022 is filled with all the dates of New Moons, Full Moons, lunar and solar eclipses - and which sign of the zodiac they fall in. In light of the gravitas of these events in astrology, it's definitely worth marking them down in your calendar ahead of time.
Your Moon sign is an indicator, in your astrology birth chart, of your deepest desires and needs. On top of what it shows in our chart, the Moon is also an important factor in the astrological events in 2022, as are eclipses in astrology.
The Moon and the lunar cycle have been a source of fascination since humanity began. Many still believe that the lunar cycle can affect moods and how people behave - often with a more negative connotation. Move over Mercury in retrograde 2022 - we'll get to you later.
In fact, words like 'looney' and 'lunatic', which are insensitive and outdated words often given to people with mental illness, have their origins in 'luna' - the Latin word for moon. And in fairness, before humanity knew the science behind the lunar cycle and eclipses - they had the capacity to cause widespread anxiety and panic.
Heck, even during the information age, any staunch disbelievers in astrology could find themselves all aquiver if they took a deep dive into the Royal Family's link to eclipses.
Spooky correlations aside, the cycle itself offers an opportunity to take pause, meditate, think about what you'd like to leave behind, and what you'd like to focus on moving forward.
So when you're making your plans, as well as checking out your 2022 horoscope, you had better consider when to schedule Full Moon rituals to help you manifest bliss this year.
woman&home will keep you up to date with monthly guides from expert astrologers, the meaning behind each Moon's name, and all the tips and tricks to make the best of your year.
January
New Moon—Sunday, January 2, 2022, Capricorn.
Full Moon—Monday, January 17, 2022, Cancer.
The New Moon in Capricorn, January 2022, hits like a tonne of bricks. Not only is it in the midst of Mercury retrograde in Aquarius 2022 shadow period, it's so close to the Christmas and New Year's festivities that everyone is just spent.
The January Full Moon 2022, known as the Wolf Moon, presents its own challenges owing in no small part to the presence of Pluto.
February
New Moon—Tuesday, February 1, 2022, Aquarius.
Full Moon—Wednesday, February 16, 2022, Leo.
The February New Moon 2022 in Aquarius says it's time to look at the bigger picture. It also heralds the Chinese New Year celebrations and the Chinese zodiac 2022 predictions for the Year of the Water Tiger.
After a pretty intense beginning to the year, as it was filled with a hell of a lot of astrological events, the February Full Moon 2022 in Leo brings an opportunity to buckle down with the lessons of previous lunar cycles. It also says open up to love!
Use this time, during the Snow Moon as it's also known, to really focus on you!
March
New Moon—Wednesday, March 2, 2022, Pisces.
Full Moon—Friday, March 18, Virgo.
The New Moon March 2022 is in Pisces. This Piscean New Moon is asking you to believe in something greater than yourself and take in all that Pisces season energy!
March Full Moon 2022 brings dual energies that are all about letting go of the idea of perfectionism. This lunation is a Virgo Full Moon and also known as the Worm Moon.
It comes just before the seasons change, beckoning us into the Spring Equinox.
April
New Moon—Friday, April 1, 2022, Aries.
Full Moon—Saturday April 16, 2022, Libra.
New Moon—Saturday, April 30, 2022, Taurus.
Solar Eclipse—Saturday, April 30, 2022, Taurus.
The fourth month of the year has a heck of a lot to consider when looking to the skies and the lunar calendar It's a month with Venus conjunct Jupiter AND Jupiter and Neptune in Pisces—one of those once-in-a-lifetime magical conjunctions.
Also this month sees the first Solar Eclipse of the year, which falls on the same day as April New Moon in Taurus and Venus conjunct Jupiter.
It's bookended by two powerful lunations, starting with the New Moon April 2022, and April New Moon in Taurus at its end.
Bang in the middle of the month we saw April Full Moon 2022 in Libra, a powerful lunation tied up with one of the biggest astrological events of 2022.
May
Full Moon—Monday, May 16, 2022, Scorpio.
New Moon—Monday, May 30, 2022, Gemini.
Somebody ring the alarm, because fate just called and it wants a chat. The Full Moon May 2022 falls on a Lunar Eclipse, meaning fate is taking over. As well as this, this stunning lunation falls on a total Lunar Eclipse! The Blood Moon total lunar eclipse 2022 means a heck of a lot of supercharged supermoon energy—so be vigilant!
June
Full Moon—Tuesday, June 14, 2022, Sagittarius.
New Moon—Wednesday, June 29, 2022, Cancer.
June Full Moon 2022 is hot on the heels of Mercury Retrograde 2022, and is in the sign of Sagittarius. This lunation, also known as the Strawberry Moon 2022, is also a Supermoon so prepare yourself for supercharged lunar energy!
Cancer season 2022 kicked off just after Summer Solstice 2022 and June New Moon 2022.
July
Full Moon—Wednesday, July 13, 2022, Capricorn.
New Moon—Thursday, July 28, 2022, Leo.
Cancer Season 2022, which begins on June 21, is in full swing when the July Full Moon 2022, also known as the Buck Moon 2022, lights up the sky. This Supermoon in Capricorn is here to tell you that the truth has been revealed and you need to speak up.
Following this, the July New Moon 2022 calls on you to let your inner light shine and be free. Also, Leo Season 2022 hits us like a freight train of opportunity to roar, preparing us for a cosmically charged August.
August
Full Moon—Friday, August 12, 2022, Aquarius.
New Moon—Saturday, August 27, 2022, Virgo.
Leo season 2022 is in full swing and the big brave lion brings the drama you need to shake up the universe in the August Full Moon 2022. This lunation is preceded by the huge cosmic event that is The Lion's Gate Portal opening. So you'd better get your Lion's Gate Portal manifestations at the ready!
September
Full Moon—Saturday, September 10, 2022, Pisces.
New Moon—Sunday, September 25, 2022, Virgo.
The September Full Moon 2022 is a Pisces Moon, which calls on you to speak your dreams into reality - but will your actions speak as loudly as your words?
The New Moon September 2022 is in Libra and screams love from the top of its lungs. What more would you expect from a New Moon during Venus-ruled Libra season 2022?
October
Full Moon—Sunday, October 9, 2022, Aries.
New Moon—Tuesday, October 25, 2022, Scorpio.
Solar Eclipse—Tuesday, October 25, 2022, Scorpio.
The October Full Moon 2022 says heal from the past so you can move forward - but some signs need to proceed with caution.
Not to be dramatic, but the chaos mode gets going as the balancing act of love-led Libra season 2022 makes way for Scorpio season 2022, which brings many transformations.
The New Moon October 2022 coincides with solar eclipse and not to be dramatic - but it's destined to transform your entire life.
November
Full Moon—Tuesday, November 8, 2022, Taurus.
Lunar Eclipse—Tuesday, November 8, 2022, Taurus.
New Moon—Wednesday, November 23, 2022, Scorpio.
Phew, after that solar eclipse you're probably ready for some chill energy. Did we mention that Mars retrograde 2022 is in full swing during this period? Yep, chill time is off the cards - or is it? Change is in the air on November 8, 2022, as the November Full Moon 2022 and lunar eclipse culminates at 16 degrees of Taurus.
December
Full Moon—Thursday, December 8, 2022, Gemini.
New Moon—Friday, December 23, 2022, Capricorn.
Aoife is Junior News Editor at woman&home.
She's an Irish journalist and writer with a background in creative writing, comedy, and TV production.
Formerly Aoife was a contributing writer at Bustle and her words can be found in the Metro, Huffpost, Delicious, Imperica, EVOKE and her poetry features in the Queer Life, Queer Love anthology.
Outside of work you might bump into her at a garden center, charity shop, yoga studio, lifting heavy weights, or (most likely) supping/eating some sort of delicious drink/meal.