Chinese zodiac 2022—what each animal sign can expect in Year of the Water Tiger
Chinese zodiac 2022—as Chinese New Year approaches, here's what to expect in the Year of the Water Tiger depending on your Chinese zodiac sign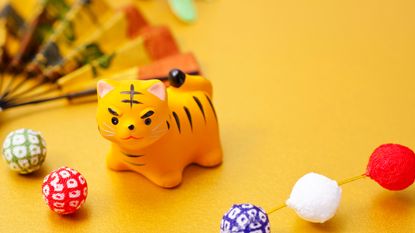 (Image credit: kuppa_rock/Getty Images)
woman&home newsletter
Sign up to our free daily email for the latest royal and entertainment news, interesting opinion, expert advice on styling and beauty trends, and no-nonsense guides to the health and wellness questions you want answered.
Thank you for signing up to Woman & Home. You will receive a verification email shortly.
There was a problem. Please refresh the page and try again.
Chinese zodiac signs are represented by animals and as we prepare ourselves for the Lunar New Year on 1 February 2022, get ready for a whole new energy change.
Yep, if you follow the western astrological events in 2022 and keep an eye on the moon calendar 2022— you'll be aware that the February new moon 2022 is bringing a whole new kettle of fish.
In Chinese Astrology, there are twelve animal signs and five elements. Each year a sign is paired with an element. With twelve signs and five elements, in a 60-year cycle.
Chinese New Year 2022 will see the water Tiger come bounding in. After 12 long months of metal Ox and taking cautious steps forward now, we have completely different energy.
If you compare this energy shift side by side to Venus in retrograde 2022 coming to an end and Mercury retrograde in Aquarius 2022 coming juddering to a halt, you can see the correlations between the Chinese Zodiac and western astrology.
So here's everything you need to know about the Chinese zodiac and how the Year of the Water Tiger will affect your animal sign.
What are the five elements?
---
The elements are Wood, Fire, Earth, Metal and Water. Think of these elements as building blocks or categories. The elements represent a color, a material, a shape, a taste, a feeling, a planet and an energy.
Wood represents the color green, things made out of wood, things that are tall like a tree, things that taste sour, the feeling of anger, the planet Jupiter and the energy of growth.
Fire represents the color red, things on fire or made of plastic, things that are triangular in shape, things that taste bitter, the feeling of joy, the planet Mars and the energy of action.
Earth represents the color yellow, things made of earth, clay, or stone, things that are low and flat in shape, things that taste sweet, the feeling of rumination, the planet Saturn and the energy of stillness.
Metal represents the color white, things made of metal, things that are round, things that taste pungent, the planet Venus and the energy of organization.
Water represents the color blue, things made of water or glass, things that are shapeless and organic, things that taste salty, the feeling of fear, the planet Mercury and the energy of communication.
---
What does the Year of the water tiger mean?
The Water Tiger year is focused on connecting with others, taking risks, and having a good time. We're all going to want to meet new people and have new experiences this year.
For individuals in 2022, this means parties, excitement and rule-breaking because Tigers are rebels.
On a global level, world leaders may circle each other, growl and argue—Tigers are fighters after all. Countries will talk of firming up borders, as these beautiful animals are territorial.
At the same time, individuals will want fewer boundaries and limitations, to be free—Tigers love freedom after all.
Financial markets will go up and down, with risky moves being very much associated with Tigers. However, just like the animal stalks their prey, profits will be made by those who are paying attention.
There will be marvelous technological breakthroughs, as Tigers are early adopters.
Passionate behavior and wild love affairs will hit the headlines as the combination of friskiness and foolhardiness attached to this year's animal can spell scandal.
All of this year's energy will come in spurts, followed by periods of quiet. The Tiger, just like your average house cat, loves to nap and when they awake—let the excitement resume!
What have previous Tiger years brought?
In 2010 it was metal Tiger and so we combined Tiger energy with the energy of organizing. In that year, just two years after the financial crisis of 2008, we were busy organizing and reorganizing resources.
In 1998 it was earth Tiger. Tiger energy was combined with earth. There was an energy of stillness. This was one year before the change of the millennium when everyone held their breath, wondering if the change of the calendar would disrupt worldwide computer systems (Y2K).
In 1986 it was fire Tiger, and Chernobyl and the Space Shuttle Challenger made the news.
In 1974, it was wood Tiger. Watergate exposed scandalous behavior from President Nixon and top White House officials.
This year, 2022, it's water Tiger. How we communicate and connect with be highlighted. This means more Zoom calls and FaceTime. We'll talk about how to reconnect after two years of periods of isolation. And we'll think about how connected the world is (especially when it comes to viruses).
What should your Chinese zodiac sign expect in the year of the water dragon?
Rat
It's a better year for Rat. There are many opportunities coming in, especially financial ones. A big decision in late April could lead to a new source of revenue. Friendships improve, especially around professional connections. You may get involved in a community organization that boosts your status. You can find love if you're willing to look (and get out of the house). Don't let past hurts block you from happiness. You're more in touch with extended family members this year. You may be doing some house renovations or changing residences. You may receive a promotion or an award at your job.
Ox
You may have to run to keep up with all the opportunities that are coming in. Ox, if you're looking for a change, you'll have a chance for promotion at your current job or a new job entirely. A relationship could bring some real fireworks. You could meet someone and quickly fall in love (faster than you usually do anything). There's a boost in finances in May and September. A long-held investment pays off. Your circle of friends gets larger as you get involved in charity work or a professional networking group. This year the family could expand through the birth of a child or a marriage.
Tiger
Tiger, this is your big year. There's lots of change ahead. The more you explore new options, the bigger your opportunities will be. You can easily find a new job. A promotion is possible in October. Education is challenging this year, but you can tough it out and get your diploma. A past love may return, but it's possible you've already moved on to someone new. The energy is more peaceful at home, and you may be redecorating. Some financial help comes through in the form of a low-interest loan, refinanced mortgage, or some funding for your business. An investment pays off quite handsomely.
Rabbit
Rabbit, this is a planning year as you get ready for your big year in 2023. Relationship opportunities are abundant for both love and friendship. You may reconnect with a high-school sweetheart through social media. In April, some changes at your company may make it a much better place to work. An additional source of revenue is possible, but there is more upfront work than you expect. Your home life is more peaceful this year. A relative or friend may come for an extended stay. A legal matter comes to a happy conclusion when you're willing to compromise. This could lead to a payout.
Dragon
Dragon, 2022 is a year to push yourself towards greatness. Share your ideas with others, and you'll find support. Changes at your company could mean more hours at work (especially in November). You might split your time between a regular job and your side business. A relationship gets quite serious, and you may make a big announcement to friends and family. Money is flowing in, but it's also flowing out. Watch your spending this year or hide it from yourself to accumulate savings. You may receive a special honor from someone you admire. You could receive a standing ovation.
Snake
Love and romance are highlighted in 2022 for Snake. If you're looking for love, you could enter into a long-term connection. You could add to the family by getting engaged or adopting a pet. Some changes at work may not be to your liking, but there is a new job opportunity within the company or with a competitor. You may travel to a family home or ancestral lands this year. Your finances improve by the end of the year because of a calculated risk taken in April. You and your friend may combine forces to get in shape. You might be accountability partners or help each other train for a marathon.
Horse
There's an excellent year ahead for Horse. 2022 brings happier times at home. The family may come together for a milestone celebration or a big graduation ceremony. Finances improve with some benefits coming through real estate or a collaboration with family members. Use caution if signing a contract in May, as you may change your mind. Your love life improves as you have more fun together this year. You may be doing a hobby with your sweetheart. You get the option to work on more high-profile projects or more flexibility in your schedule. You'll have to choose what's best for you.
Goat
This will be a better year for Goat. You may be shifting priorities this year, which is putting you on a better path. A contract or agreement you have been waiting for comes through. Family life is good, and an issue around some repairs or renovations comes to a happy conclusion. A close friend of yours may announce their engagement or pregnancy. You may collaborate on a lucrative business idea with a family member or friend. This is a strong year for you financially. You can ask for more money at your job, raise the prices in your business, and find some good investments that match your risk tolerance.
Monkey
While 2022 can be a challenging year for Monkey, you are so adaptable and clever you may find more windfalls and opportunities than you did in 2021. An additional source of revenue is quite possible as a side business starts to pay off. Avoid changing jobs in October as you may have second thoughts about the choice. A love from your past could return and tempt you to try again. There's a possibility you may change residences due to issues around water. There could be a new addition to the family through the adoption of a pet, or a close relative could get married. You may sing or perform on stage this year.
Rooster
This is generally a good year for Rooster, with a few bumps in the road here and there. 2022 brings good money opportunities, but there are financial obligations such as paying for school or a new car. Relationship opportunities abound. If you're looking for love, you could have several dating choices. A contract for employment could be in your hands by May. However, you may choose to stay in your current job for more money. You could meet an influencer who's willing to collaborate on a business idea. Home life is generally quiet, but there is likely noisy construction going on in the neighborhood.
Dog
There's a great year ahead for Dog in 2022. You're more intuitive this year and able to make better decisions on big life choices. There is good energy around love relationships, especially if you're looking for a committed partnership. You may get engaged this year. There are changes at home. You might be moving or doing some renovations. A family member may be moving in temporarily, bringing a little bit of chaos in October. Finances improve, and because of this, you're raising your standard of living. It's likely you're doing more shopping. A friendship gets closer when you take a trip together.
Pig
A very good year for Pig happens in 2022. You have many opportunities for friendships and expanding your circle of helpful acquaintances. You may be doing some work within the community or actively working with a local charity. You may return to a job you've had before, or an old boss could bring you to their new company. You're lucky this year, and you may receive a financial windfall. It would be wise to put a little aside for yourself in long-term savings before you start giving out the extra to friends and family. Your general well-being improves as you take up a fun activity like swimming or dancing.
Sign up to our free daily email for the latest royal and entertainment news, interesting opinion, expert advice on styling and beauty trends, and no-nonsense guides to the health and wellness questions you want answered.
Astrologer, Feng Shui expert, and author
Donna Stellhorn is an Astrologer, Feng Shui expert and has written 18 books. Donna writes weekly and monthly predictions for Astrology.com, Horoscope.com, and Conscious Community Magazine. She spoke at the 2018 United Astrology Conference in Chicago and the 2019 NCGR Conference in Baltimore and is also on the board of the NCGR - San Diego.