New moon March 2022—zodiac forecast as Pisces moon says 'never lose hope'
New moon March 2022 is all about inspiration and remaining optimistic about the future—here's what that means for your star sign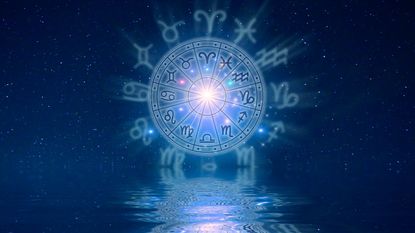 (Image credit: sarayut Thaneerat/Getty Images)
woman&home newsletter
Sign up to our free daily email for the latest royal and entertainment news, interesting opinion, expert advice on styling and beauty trends, and no-nonsense guides to the health and wellness questions you want answered.
Thank you for signing up to . You will receive a verification email shortly.
There was a problem. Please refresh the page and try again.
The new moon March 2022 is in Pisces. This Piscean new moon is asking you to believe in something greater than yourself—but what does that mean for your star sign?
It's Pisces season everybody, and the new moon of March 2022 is all about inspiration—and it's the perfect opportunity to manifest our deepest desires. So what is it about this date in the Moon calendar 2022 that particularly spells that it's time to make your dreams come true?
On March 2, 2022, the stars will align to grace us with a lovely and luscious new moon in the sign of Pisces. Pisces is a fertile sign, which means that it wants to grow and nurture something for itself.
It invites us to explore the depths of our feelings and to transcend the material world to enter a more liminal space where we are free to imagine possibilities that previously seemed intangible. It's about making our dreams come true—literally.
During this new moon, the moon is just separating from a sextile to Uranus, a planet also symbolized by shocks and disruptions. Uranus also asks where can break from the status quo, if necessary, to be truer to our personal vision.
As the moon then meets up with the Sun and Jupiter, who are also close to perfecting their own conjunction, the energy is about the collective consciousness. It will inspire us to focus on the principles which unite us. How it may be paradoxical but no less true that it's our individual differences that bind us together. How we are all connected. We each have a role to play one that's individual, but that ultimately, by contributing our unique qualities, we serve the greater good and nourish our personal sense of self.
This Pisces new moon is about a shared vision for harmony, one of faith, hope, and love. That when we see past our differences we can unite around a common cause. One that inspires us to live our individual truths and set ourselves free from the burdens of restrictions and pessimism. This new moon is about feeling inspired again, reminding us that it's OK to hope for a better outcome. That there is space for all of us to thrive.
WHEN IS THE NEW MOON IN PISCES?
The new moon takes place on March 2, 2022, at 12:34 PM EST at 12 degrees of Pisces. This new moon is particularly special as not only are the two luminaries conjoined together in the sign of the fishes, but the Sun and Moon are also conjunct with generous Jupiter, the ruler of Pisces and the ruler of this lunation.
For this lunation, the archetypal symbolism of Jupiter and Pisces takes on extra power for the two weeks preceding this new moon and after. Jupiter represents collective goodwill and Pisces is associated with personal transcendence. Any manifestation rituals receive a beneficial boost of extra charge, especially when performed within this time frame of the new moon.
WHICH SIGNS ARE MOST AFFECTED BY THE NEW MOON IN PISCES?
While this new moon is powerful and intense for all signs, it is particularly significant for the mutable signs, so take a glance at your astrology birth chart and see where your moon sign, sun sign, and ascendants are.
If you have your sun sign, moon sign, ascendant, or another personal planet between 9-15 degrees of Pisces, Virgo, Gemini, or Sagittarius, you are especially encouraged to harness the manifestation powers of this juicy new moon.
In addition, if you have any planet in any sign at those degrees, the lunation will form an aspect to that placement. Take note of that planet's archetype and see what specific new beginning this New Moon may be signaling for you.
---
NEW MOON IN PISCES 2022—WHAT DOES IT MEAN?
While most of the other planets are still under the influence of strict Saturn, this new moon is fully and finally allowing Jupiter's benevolence to shine through.
Jupiter is the planet of gifts, luck, hope, optimism, and generosity, and in Pisces, inspires all of us to dream a little bigger than we dared dream before. Look back to your experience of Jupiter in Pisces 2021—2022 and the abundance that time provided.
While restrictions remain present, Jupiter's role in this lunation reminds us hope is always present and we can remain optimistic about the future even when we are not sure how the future will unfold.
Free from the confines of strict Saturn, this new moon is fully and finally allowing Jupiter's benevolence to shine through. Jupiter is the planet of gifts, luck, hope, optimism, and generosity, and in Pisces, inspires all of us to dream a little bigger than we dared dream before.
With the Sun and Jupiter so closely conjunct, it also offers us a genuine peacemaking opportunity. It's a chance for a diplomatic resolution to be reached that does the most amount of good for most of the people involved, both in our personal lives and in the collective.
Remember that with new moons, we're always tasked with having faith—to keep going despite being in the literal and proverbial dark. With the moon's light being obscured by the sun, new moons ask us to plant seeds despite not knowing exactly how they will grow.
With this new moon in particular, Jupiter is calling on all of us to have faith in the best outcome. Look to this lunation for healing, even as hazy Neptune and its proximity to this lunation can be enhancing our sense of doubt or uncertainty. Right now, it's a time for optimism as we begin closing out the long winter season and look ahead to the fresh start of spring.
Use this lunation to move forward with confidence and hope, even if no one is entirely sure how it's going to turn out. Stay positive, remain hopeful, and bask in the cosmic optimism. It's a time to bet on yourself and bet on the best possible outcome.
WHAT MARCH NEW MOON 2022 MEANS FOR YOUR ZODIAC SIGN
ARIES
This new moon is an invitation to ask yourself where you may be getting in your own way, Aries. You have big dreams—but do you have the follow-through? Do you lose patience with yourself and others too quickly if it's not going exactly how you thought it would? You have enviable outer displays of confidence. Now is the time to build on your inner resolve, too. To free yourself of any negative self-talk and inner criticism. To identify thoughts or patterns that could be holding you back from crushing your goals. You can do this. Because if anyone can, it's you.
TAURUS
This is your year, Taurus. With the North Node of Fate in your home sign, fate is taking the wheel. But before that happens, this lunation is asking you to think about your biggest hopes and dreams—and be an active participant in them. What do you want? Can you define it? Picture yourself accomplishing one of your dreams. Where are you? How do you feel? Who are you with? This New Moon has Jupiter inviting you to manifest your deepest desires without playing small. Wish big and know that if it's possible for someone, it's possible for you.
GEMINI
Are you happy with your career, Gemini? With Jupiter in Pisces, this next year is getting a career lucky break—and the opportunity to free yourself of anything that isn't aligned with who you are now and where you want to be. When the Lunar Nodes of Fate were in your sign, they asked you to get rooted in who you are. Now, this is a critical lunation for you. It's saying, what will you do next? Does your current job support the new version of yourself? If it does, how can you make it grow? If it doesn't, how can you take the necessary steps now to get you closer to what you want to achieve? Your dream job is in reach—you just have to believe it.
CANCER
If there is a zodiac sign that is known to crave the comforts and security of home, it's you, Cancer. But after the contraction period of the last few years, you're longing for something new. It's time to expand your horizons—literally or figuratively. Where have you been longing to go? What have you been called to study or delve deeper into? Commit to it. Book that trip. Plan that vacation. Sign up for that class. Read that book. It's a signal from the cosmos to nourish your mind and feed your soul. Adventure is calling, Cancer. It's up to you to answer it.
LEO
Leos are ruled by the heart—and indeed, that's how you operate. You love to entertain. You're known for your generosity. You're deeply loyal friend and a personal cheerleader to your loved ones. This Pisces New Moon is asking you to give that back to yourself. It's time to assess if you have any relationship imbalances—at home, at work, in love, or with friends. While you cannot control anyone else's behavior, you can decide where to invest your own time and energy—and to whom—to balance out any unreciprocated dynamics. It's good karma for your soul.
VIRGO
Last month's lunation asked you to release any blocks and self-limiting beliefs in love, Virgo. Now this month's New Moon in Pisces is asking you to open your heart and invite romance in. Let your imagination run free. Dream of the fantastical, dreamy, and yes, attainable love you desire. Believe it's possible. The time is now. Whether it's a budding new romance you desire, or your relationship is already in full bloom, it's never too late for romance to sprout. So, plant those seeds now and see what you harvest by the next Full Moon in Pisces in September.
LIBRA
You're always considering other people's need, Libra, but this is New Moon is telling you to prioritize your own completely and unapologetically. Now is the time to set healthy boundaries—between your career and your family, when you work and when you rest, and even with how you give and what you receive. Pisces energy is known for being sensitive and porous, which is why you're being called to pay attention to where you give out your energy. Replenish your resources, stay hydrated, and commit to a routine that works for all parts of you.
SCORPIO
Scorpio, you're getting a special visit from the muses this lunation. This is a high point for you in terms of creative inspiration and artistic output. Pay attention to your dreams as they could be the gateway to your next creative project or endeavor. Remember that for you, Pisces season is about fun, flirtation and injecting a bit of frivolity into your otherwise alluring and mysterious demeanor. Release any blocks—a writer's block, a creative block, or a shyness block and put yourself and your work out there. Any project you start now has a real chance to shine later.
SAGITTARIUS
This lunation is inviting you to be at home with yourself, Sagittarius? For a travel-ready sign, this can be about your physical location, certainly, but it's also about being at peace with yourself. Where can you stand in your own power, truth, and integrity, regardless of other people or their behavior? Where can you add more generosity and diplomacy to your dealings at home—and towards your own self? Your ruling planet Jupiter is giving you an immense opportunity to heal from within, to plant sturdy roots, to get really grounded in who you are. Treat your body like your sanctuary, wherever you are.
CAPRICORN
On this new moon, release your inhibitions and speak your mind freely. What does that look like for you, Capricorn? More importantly, what does that feel like? You're a sign known to "work hard, play later." But does the play ever come? This Pisces lunation wants you to get in touch with your inner child. To feel your feelings. To not only say what's on your mind but express what's in your heart. Let the intuitive waves of Pisces energy wash over you. Vibe with a good book, a favorite song or movie, a beloved poem, spend time with old friends, or nostalgic memories.
AQUARIUS
This Pisces New Moon is allowing you to feel financial freedom, to be more optimistic about your finances. What are the feelings that come up for you when you think about money—do you operate from a scarcity or abundance mindset? How can you improve your relationship with money so that you can free yourself to live the life you want? Because conceptualizing and intellectualizing your thoughts comes easily to you. But this Pisces New Moon is asking you to feel it. So, when it comes to investing in your future—and in yourself—have you been playing small? And is it time to go bigger?
PISCES
If anyone can reinvent themselves, it's you, Pisces. Reinvention can be a byproduct of necessity, but with this lunation, it's an opportunity to do this with intention. By freeing yourself of any adjectives or labels, old patterns or limiting beliefs that don't serve you. Who are you when no one else is looking? Who are you when everyone is looking? You can integrate these two identities on a spectrum that honors your highest good and highest self. Be the version of yourself you've always dreamed of. Now is the time to let yourself truly be.
Astrologer and tarot reader
Maria Sofia is a Greek-American writer, astrologer, Tarot reader, and intuitive. She is a lifelong lover and student of the stars, who has been practicing divination and magic for 20+ years.
Maria is Leo Sun, Cancer Moon, and Virgo Rising. Her favorite natal placement in her chart is her Virgo Mercury conjunct the ascendant that makes her a fast writer and talker and she smiles anytime she pulls the Queen of Wands or the Nine of Pentacles.