Cancer season 2022 forecast: What each zodiac sign needs to know as Summer Solstice fast approaches
Cancer season 2022 brings with it a myriad of changes: Here's what your star sign needs to know as Summer Solstice approaches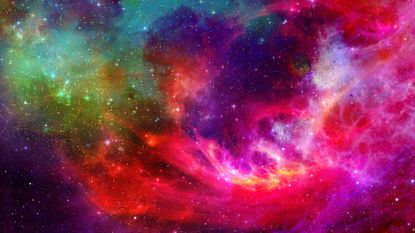 (Image credit: ArtEvent ET/Getty Images)
woman&home newsletter
Sign up to our free daily email for the latest royal and entertainment news, interesting opinion, expert advice on styling and beauty trends, and no-nonsense guides to the health and wellness questions you want answered.
Thank you for signing up to . You will receive a verification email shortly.
There was a problem. Please refresh the page and try again.
Cancer season 2022 kicks off on June 21, when The Sun enters sentimental Cancer ushering in a new cosmic vibe. Each year, this season coincides with the Summer Solstice, marking the first day of summer and the longest day of the year. This marks a new beginning and is the perfect time to get out in nature and connect with the elements.
Water sign Cancer is known to be more emotional, empathic, and sensitive. This Cancer season in particular is dynamic and contains some of the juiciest astrological events in 2022, as we'll experience Mercury and Venus changing zodiac signs along with a bevy of other intense planetary interactions.
Cancer season 2022 starts off on June 21, which is also Summer Solstice 2022, with the Moon in Aries meeting Chiron, the wounded healer, also in Aries. No surprise - we're in our feelings and reflecting deeper on our past pains. This is a triggering and activating time, and a cosmic reminder to be gentle with yourself.
You deserve a little extra nurturing and pampering under these moonbeams. A few days later on June 28, an important date in the Moon calendar 2022, as the New Moon June 2022 in Cancer arrives, sparking an inner sense of renewal. This is after the June Full Moon 2022 - which was a Supermoon.
The New Moon will be angling toward lucky Jupiter, inspiring us to plant seeds about future opportunities. This is a cosmically aligned time to write a letter to the Universe (in present tense, as if it already is) and call in your desires.
As we enter July, there's a dash of confusion. On July 2, Mercury, the planet of the mind, forms a chaotic square with Neptune, the planet of illusion. Words and ideas are murky today. This is fertile ground for misunderstandings and it's best to try your best to not take things personally.
We're not privy to the entire picture. The mood shifts on July 8 and we're feeling more encouraged to share big ideas. We're confronted face to face with some of our emotional baggage on July 8 as the sun, our identity, has a challenging conversation with Chiron. Cancer season 2022 is all about expressing the emotional residue that lives within our bodies. You will be rewarded for speaking your truth and honoring what's coming up for you during this time.
There's an encouraging connection between the sun and Uranus on July 10. Today ideas strike and we're encouraged to try something new. A little bit of rebellious energy can lead to positive outcomes. Relationships come into question on July 13, which is the July Full Moon 2022, also known as the Buck Moon 2022, as Venus forms a harsh angle to Neptune, the planet of deception. This is a day where we may want to opt for wearing our rose-colored glasses and choose to actively avoid red flags. If you haven't checked out your 2022 horoscope in a while, it might be a good idea to take a look again.
Miscommunication and disappointments can take place within our closest one-on-one relationships so if you need time to tend to your wounds, give it to yourself. A major sense of clarity arrives a few days later on July 16 and we feel like we're finally able to see things with a fresh set of eyes. Mercury and the sun meet at the same spot in the sky, in the sign of Cancer, which brings mental clarity and intuitive downloads. Our intuition and psychic senses are working overtime today.
The following day on July 17, Venus, the planet of love, also enters sweet and romantic Cancer. On the same day the sun and Mercury form a supportive connection with Neptune. This blend of energy is incredibly healing and restorative. We're tapping into our creative spark and inner romantic, . This is a romantic day for sure, so if you're swiping–consider swiping right! A powerful message arrives on July 18 as Mercury in Cancer forms an opposition with Pluto in Capricorn. As these two stand off with one another across the sky, the information we receive may push our comfort zone and trigger us in some way. Part of our repressed darkness or secrets are poking their heads out from under our bed. Power struggles can ensue under this energy, so be mindful of being too domineering or giving your power away too easily.
Mercury, the planet of communication, enters gregarious Leo on July 19. Our mental world gets a little more theatrical and dramatic. We are the star of the show and we're making this known through our communication style and storytelling. On the same day, the sun stands off with power planet Pluto, bringing up themes and conversations from the day prior when Mercury danced with Pluto. This energy can feel overwhelming and it may make you lean on reactive behaviors. Do your best to reflect before responding to what's coming up. Pluto uncovers layers of our subconscious and it will take time for the dust to settle. The sun leaves Cancer on July 22, as Leo season begins.
For the most accurate reading, look at your Sun sign, Moon sign, or Rising sign according to your astrology birth chart, to learn more about what pivotal moments Cancer season has in store for you.
What your star season should expect in Cancer season 2022
Aries
The New Moon in Cancer on June 28 ignites something deep within you, Aries. This lunation calls in a fresh start for your home and family. If you're ready to move, renovate your home, find new roommates, or have a healing conversation with a family member, now is the time. This Moon interacts with Jupiter, lending you a dash of luck.
Taurus
Family matters are on the mind starting July 19 as Mercury enters Leo. Mercury, the planet of communication, moves through the bottom of your chart, which can have you in a more reflective mood than normal. You're sinking into nostalgia and also ruminating on your past and where you come from. Listen to any intuitive insights that come through and pay attention to your dreams. They're trying to help you break free from family patterns that no longer serve you.
Gemini
If there's ever been a day to tap into some glamour magic, July 13 is the day for you, Gemini! Dress yourself up, take a selfie, or book a photoshoot–you are ethereal and oozing beauty. Others can't seem to stop staring. Soak it up. Your beauty is undeniable and truly magnetizing. You have the capacity to charm your way into nearly anything under this planetary lineup.
Cancer
A new you is around the corner on June 28, Cancer! The New Moon in your sign is a cosmic reset and asks you to reflect deeper on how you're showing up in the world. Do you feel authentically aligned? Are you comfortable in your own skin? This is a powerful time to give yourself a physical, emotional and spiritual makeover. You won't be the same – and maybe that's a good thing!
Leo
Time to focus on you, Leo! Mercury, the planet of the mind, moves into your sign on July 19. This will spark innovative ideas about how you want to show up in the world. You're spending more of your mental energy focusing on you, your needs and your personal goals. Get ready–progress is about to be made!
Virgo
Work may seem to be a little more than confusing lately and on July 13, wires are crossed and messages are miscommunicated. Take everything you can with a grain of salt. People on your team may be overcommitting and over-idealzing a particular project. Stay as grounded as possible. There's some information that's missing from the big picture.
Libra
Are you ready for a fresh chapter in your career, Libra? If you're feeling under appreciated in your work, the New Moon in Cancer on June 28 is a supportive time to call in aligned work opportunities. You have the chance to reinvent your reputation, too. Take a selfie and take up some space on social media. You deserve some of the spotlight–and you never know who's paying attention.
Scorpio
News about your job or reputation is on the way, Scorpio! July 19 is a big day for you, as Mercury enters the part of your chart that brings the focus to your career. If you've been wondering about a raise or promotion, the news is finally about to be delivered. You may also hear from a CEO or person who could help you further some of your goals.
Sagittarius
Look out for red flags today in your partnerships. Actions speak louder than words and on July 13, as Venus, the planet of love, forms a tough angle toward Neptune, your love life may feel more confusing than ever. You're more likely to grant second chances today, which is fine. People deserve second chances, but be mindful that moving forward their words meet their actions.
Capricorn
If your partnerships have been going through some ups and downs, this new moon in Cancer on June 28 allows you to hit the reset button. If you're partnered up, this is a great time to take a risk and try something new to clear the air and reignite a spark. If you're single, this new moon arrives with luck for finding a special someone.
Aquarius
More of your mental energy may start to be laser-focused on others starting July 19. Mercury, the planet of the mind, enters Leo and activates your seventh house of one-on-one relationships. Either you're spending more time with your BFF or maybe your beloved could just use a little extra of your logical advice.
Pisces
A confusing family discussion or event could leave you feeling exhausted and slightly triggered. Are you asked to take a side in a family argument? On July 13, as Venus has a tough conversation with Neptune, you're sorting through some family drama. Pieces of the puzzle are missing and it's best to avoid choosing sides if you can.
Stephanie Campos-Powell is a Mexican-American astrologer, modern mystic, writer, editor, and serious cat lover. She's got four obnoxious planets in Leo and thanks the stars every day for her grounding Virgo moon. Reading celebrity birth charts just puts the wind in her sails, and so does Zumba. In her spare time, you can find her helping others step into their power with the help of magic, spellwork, astrology and various healing modalities. And creating passive-aggressive astrology memes about her loved ones.